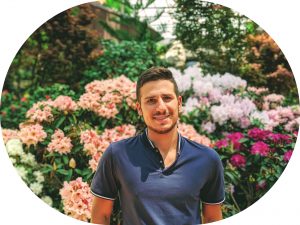 Meet Shai Cohen, a former corporate worker who traded in his high-paying job and comfortable life for a trolley and a taste for adventure.
Born and raised in a small town in Israel, Shai always had a love for travel and trying new things. However, after graduating college he spent 10 years in the corporate world, and he found himself feeling unfulfilled and trapped in a 9-to-5 routine.
That all changed when Shai decided to take a chance and follow his dreams. He quit his job and set off on a journey to see the world and discover new cuisines.
Over the past few years, Shai has traveled to many corners of the globe, immersing himself in different cultures and trying every type of food imaginable. He's hiked through the mountains of Patagonia, sampled street food in Vietnam, and sipped espresso in Italy.
But Shai's love for food extends beyond just eating it. He's also a talented home cook and has spent countless hours learning how to prepare dishes from all over the world. He's even taken cooking classes in various countries to perfect his skills.
Now, Shai shares his adventures and culinary expertise with the world through his blog and social media channels. He hopes to inspire others to pursue their passions and never settle for a life they're not truly happy in.
As Shai continues on his journey, he has no plans of slowing down. He's always on the lookout for new and exciting places to visit and dishes to try. And he's excited to share his experiences and knowledge with his growing audience.
Overall, Shai is a true foodie and adventurer at heart, always seeking out new experiences and flavors to share with the world. His love for travel and cooking knows no bounds, and he's excited to see where his passions will take him next.