Sunflower seeds are present in many nutrition bars, grain bread, and snacks. For many people, sunflower seeds are just a basic crunchy delicacy. Although they make a tasty nutty snack, not everyone knows about the uniqueness of these seeds, as they are loaded with fantastic nutrients. They contain several beneficial minerals and plant compounds that carry diverse health advantages.
Whereas you might be familiar with the benefits of sunflower oil as it has been used in foods for decades, you are probably wondering if sunflower seeds are good for you. We have compiled a list of incredible justifications for you to think about including sunflower seeds in your diet as a response to this question.
Jump to: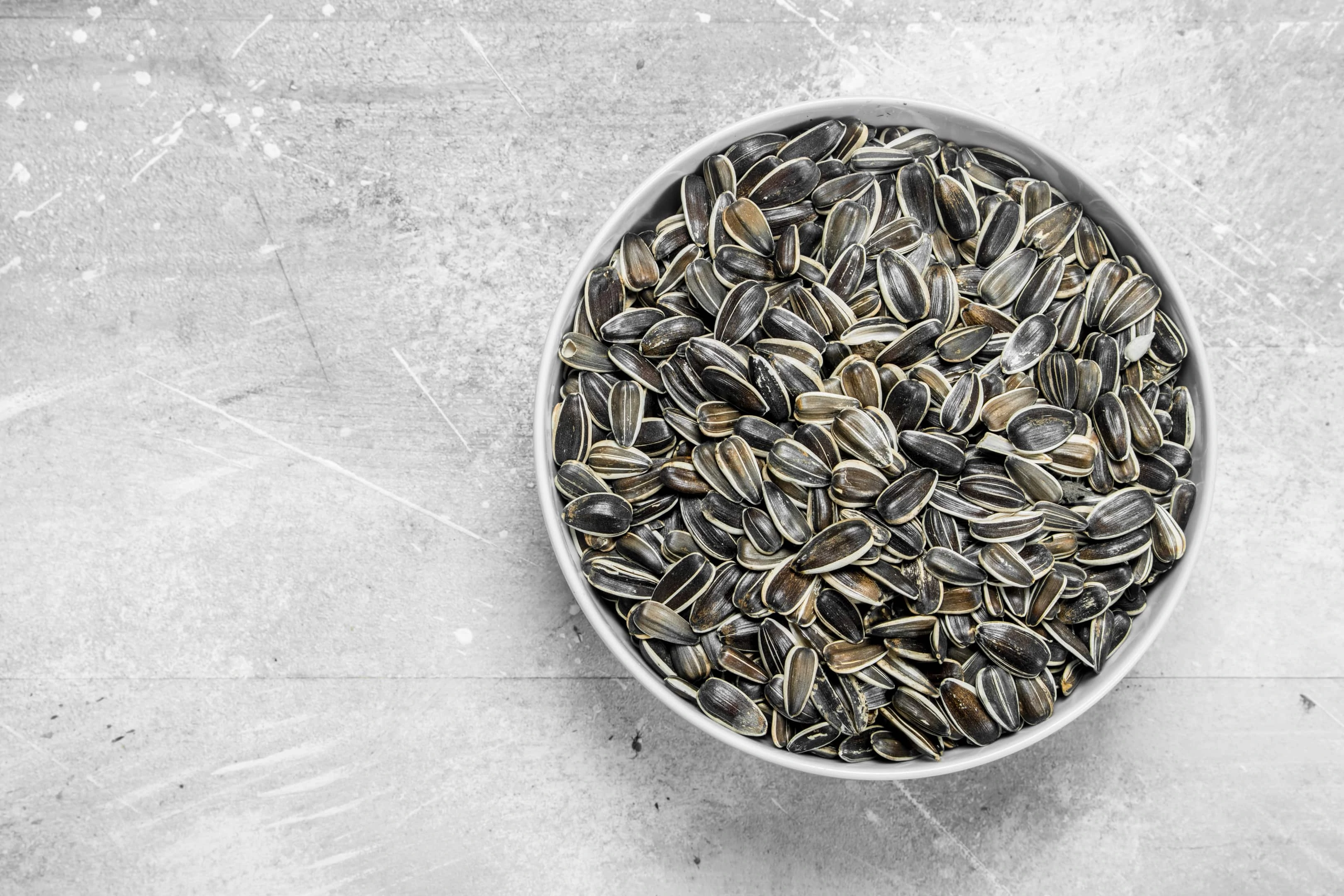 What are sunflower seeds?
Sunflower seeds are derived from the 'helianthus annuus' which is popularly known as the sunflower plant. There are three types of frequently used sunflower seeds. They are linoleic which are the most famous, sunflower oil seeds, and high oleic. Each variation of these seeds contains distinct levels of saturated, polyunsaturated, and monounsaturated fats.
There are two major types of sunflower plants — one is cultivated primarily for oil, while the other is the one that we snack on. The seeds are garnered from the sunflower plant's head. One flower head of the sunflower can contain up to two thousand seeds. The sunflower seeds that we consume are wrapped in a non-edible black and white shell, which is commonly referred to as a hull. The other sunflower crop which is used for sunflower oil possesses strong black shells.
Sunflower seeds have a stiff but tender consistency and a unique nutty taste. They are sometimes roasted to bring out their flavor, but they can also be enjoyed raw in smoothies and different delicacies. It is advised against consuming more than 30 grams of sunflower seeds per day.
Why are sunflower seeds good for you?
Sunflower seeds can be referred to as 'small but mighty.' This is because the tiny seeds of the sunflower plant pack numerous nutrients. In a ¼ cup of dry sunflower seeds, one can obtain about 7g of carbs, 5.8g of protein, 7.4mg of vitamin E, 1mg of sodium, 19g of fat, and 0.7mg of manganese and copper. Sunflower seeds also contain other nutrients like zinc, fiber, iron, potassium, thiamine, phosphorus, and good fats.
Another reason why sunflower seeds are good for you is that they are an abundant source of energy. A hundred grams of sunflower seeds can produce up to 580 calories of energy. In addition, sunflower seeds contain advantageous plant compounds that include flavonoids and phenolic acids, both of which function well as antioxidants. All these nutrients have numerous health advantages that we shall discuss further.
Amazing sunflower seeds benefits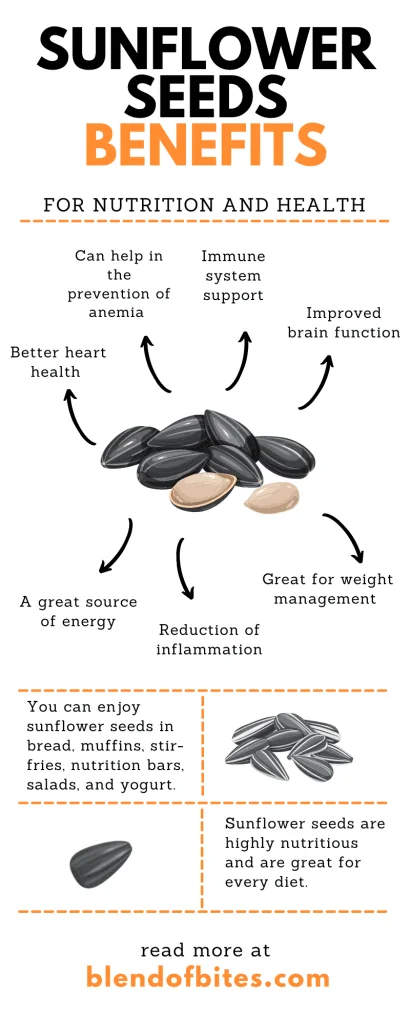 1. Better heart health
High blood pressure is one of the biggest contributors to heart disease. If left untreated, high blood pressure may progress into a stroke or a heart attack. Sunflower seeds contain magnesium and other compounds, which may prevent the enzyme that compresses blood vessels. By limiting the effect of this enzyme, the blood vessels can relax thus reducing blood pressure. Furthermore, sunflower seeds contain high amounts of unsaturated fats, most especially linoleic acid which is a hormone-like compound. This compound can help improve blood pressure. It can also help to decrease the levels of cholesterol in the body. In addition, research has shown that consuming sunflower seeds because of their healthy fats can help decrease the chances of developing cardiovascular disease and high blood pressure.
2. Immune system support
Zinc, selenium, and vitamin E are prevalent in sunflower seeds and are excellent for strengthening the immune system. Vitamin E and selenium are both potent in protecting cells from oxidation. Selenium performs this function by decreasing the number of free radicals in the body. By doing so, selenium can also assist you in lowering your risk of contracting certain malignancies, such as gastrointestinal and lung cancer, as this antioxidant can help decrease DNA damage and eliminate cancer cells.
Vitamin E, on the other hand, can help improve eyesight and toughen your body's natural defense against infection and illness. One major player in the formation of DNA is zinc. Consuming sunflower seeds can also strengthen the immune system thereby helping damaged tissue heal in less time. In addition, because zinc can aid the growth of cells, it is necessary for rapid growth, especially during pregnancy and childhood. This nutrient can also protect the body from invading pathogens and allergies, and strengthen overall immunity.
3. Improved brain function
If you are still wondering if sunflower seeds are good for you, then you should consider this essential sunflower seed benefit. Sunflower seeds contain good amounts of vitamin B6, which can help boost concentration, enhance mood, and improve memory. Reduced levels of norepinephrine and serotonin in the body are associated with depression. When foods that contain vitamin B6 are consumed, it aids the release of norepinephrine and serotonin, which can elevate mood, thereby reducing the symptoms of depression and helping you stay motivated. Additionally, sunflower seeds can help to decrease the symptoms of premenstrual syndromes such as irritability and mood swings.
4. A great source of energy
As earlier mentioned, consuming sunflower seeds can give you up to 580 calories of energy. These seeds contain thiamine, which is commonly referred to as vitamin B1, which can help to break down protein, fats, and carbohydrates in foods and then convert them into energy. Vitamin B1 is necessary for the flow of electrolytes in and out of the nerve cells. Consuming foods which contain thiamine can decrease the risk of several diseases such as nervous and digestive system disorders. One amazing reason why sunflower seeds are good for you is that consuming a handful of them can instantly give you the energy to take over your day.
5. Reduction of inflammation
Sunflower seeds might lessen the signs and symptoms of inflammation, which is especially good for people living with chronic inflammation. To decrease inflammation, you can add sunflower seeds to breakfast cereals, and trail mix and they can also be sprinkled on desserts or salads. In a study conducted on 6000 adults, those who consumed other seeds with sunflower seeds had over a 30% reduction of C-reactive protein. If a body has high levels of C-reactive protein, it can mean that they have a serious health condition and inflammation is the way our bodies control tissues from more damage. Additionally, sunflower seeds contain flavonoids and other amazing beneficial plant compounds that can help alleviate inflammation.
6. Great for weight management
Looking for a versatile and beneficial snack to add to your weight loss diet? Try sunflower seeds. They contain fiber and protein that can help you stay full longer, thereby preventing you from eating or snacking in excess when on a diet. This helps you cut down on the number of calories being consumed thereby aiding weight management.
7. Can help in the prevention of anemia
Sunflower seeds contain iron, so consuming them can help build high iron levels. They can help those dealing with iron deficiency anemia. When the blood lacks the right amount of healthy blood cells to transport oxygen to body tissues, it can cause anemia. This can make a person constantly feel weak, short of breath, and tired. Consuming foods such as sunflower seeds that contain iron can help your body maintain good levels of iron.
What are the downsides of consuming sunflower seeds?
While sunflower seeds are highly beneficial for your health, some adverse effects are attached to consuming them in high amounts. Some of these side effects include:
High in sodium — If you are watching your salt consumption, you should keep in mind that the pods of sunflower seeds that most people enjoy sucking on are covered with more than 30 grams of sodium. However, the good news is that most stores sell versions that contain less sodium. You could also just eat the kernels inside the shells and refrain from sucking on the shells.
Contains cadmium — Another reason to not consume sunflower seeds in excess is that they contain cadmium. Due to the nature of sunflowers, their seeds are great at attracting cadmium. Cadmium is a natural metal occurring out of the ground. Therefore, even if cultivated in places that have no cadmium, sunflower kernels might draw the element. The world health organization (WHO) recommends only 490 mcg of cadmium for a 74 kg adult. About 30 grams per day is great and healthy.
Allergies — If you are allergic to different seeds, then you might probably react to sunflower seeds as well. However, different seeds may cause cross-reactions, which means that if you have a recognized allergy to poppy seeds, you might most likely react to sunflower seeds as well. If you experience any allergy while consuming sunflower seeds, consult your healthcare provider immediately.
Conclusion
With the downsides attached to consuming sunflower seeds, you are probably wondering are sunflower seeds good for you. The answer is yes! Sunflower seeds are highly nutritious and are great for every diet, but as with everything, moderation is important. In addition, ensure you wash and dry sprouted sunflower seeds at a high temperature before consumption to eliminate bacteria. The numerous sunflower seeds benefits include the prevention of anemia, cholesterol level reduction, maintenance of blood pressure, and alleviation of the symptoms of inflammation. You can enjoy sunflower seeds in bread, muffins, stir-fries, nutrition bars, salads, and yogurt.