Eating healthy fats and proteins while restricting carbs to zero can help someone lose weight or manage their health. But if you're new to eating like this, there are some rules to follow when trying out your first meal without any carbohydrates. You should include foods with fat, protein, and fiber. Foods that are high in salt and sugar should be mentioned too. Fried food is not included in these categories. However, other types of food are allowed, as long as they don't contain any added sugars or unhealthy ingredients such as refined flour or hydrogenated oils.
Jump to:
Keto diet explained
The keto diet includes foods high in healthy fats and protein while removing all carbs. The purpose of the keto diet is to make sure that your body prioritizes fats, not carbs, for burning. Therefore, you can lose weight and lower your overall body fat. This process is called the ketosis state.
It is believed that the keto diet helps with weight loss and different cancers. Make sure that you seek professional advice before trying any diet, such as the keto diet, as it can be hard on your body.
Tips to follow on a keto diet
There are a few things to consider when deciding which foods to avoid while on a keto diet. The first is the level of carbohydrates in the food. Foods that are high in carbs are more likely to kick you out of ketosis, so they should be avoided.
The second thing to consider is the fat content of the food. Healthy fats are better for you than others, as they can help you lose weight. However, it is also important to recognize the harmful fats that will lead to weight gain and further medical conditions.
Can you eat fried food on keto?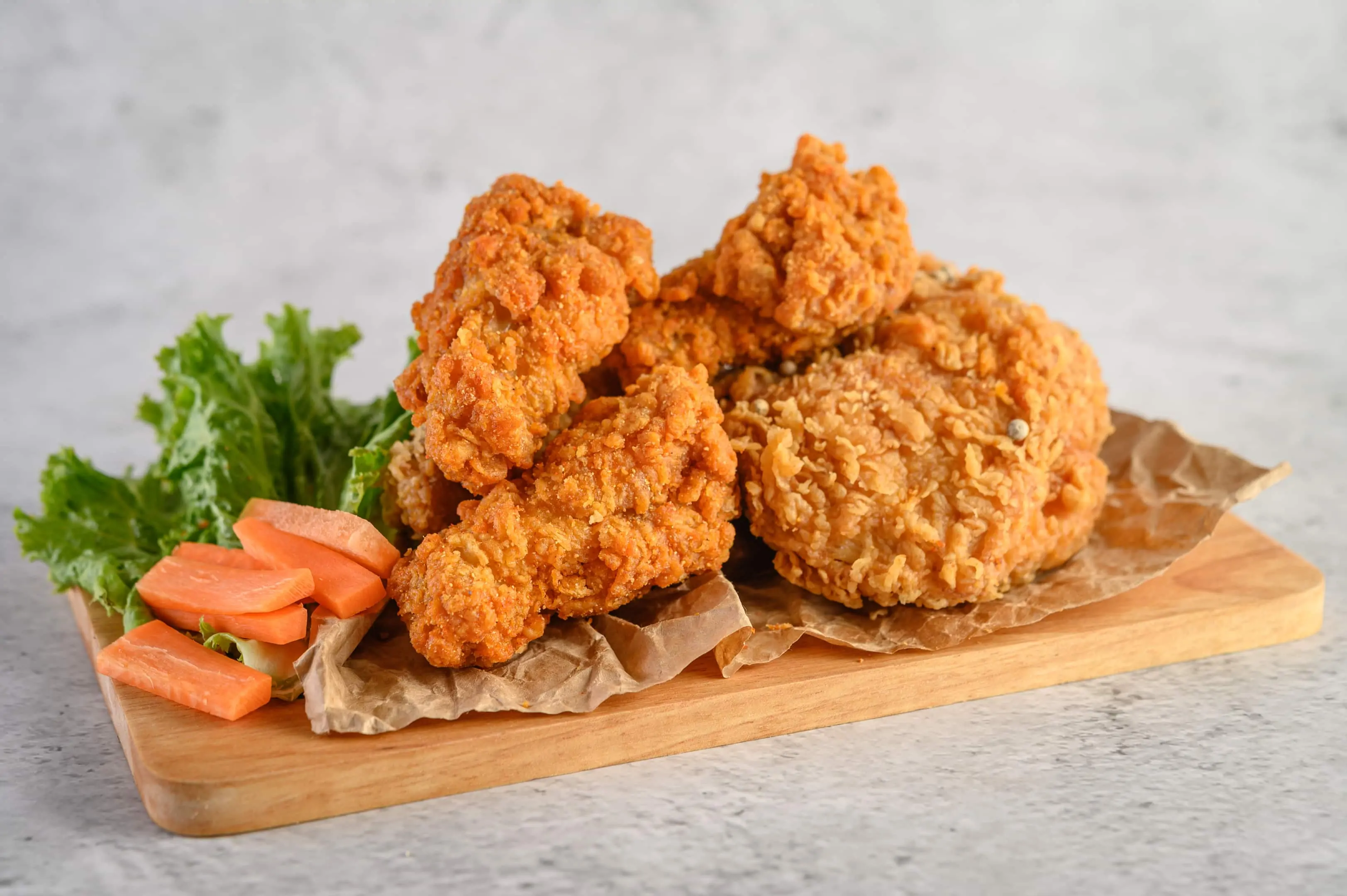 Generally speaking, it depends. It is important to remember that not all fried foods are created equal. Most fried foods contain a good amount of carbs, like French fries. They are generally not considered a good option on a keto diet because they are made with potatoes, a source of carbs. On the other hand, chicken wings or pork rinds would be a better choice as they are usually lower in carbs.
Let's explore frying techniques and the type of oil to use.
1. The type of fat used
One of the most important things to consider is the type of fat used for frying. The most commonly used fats are saturated, monounsaturated, and polyunsaturated. Saturated fats come from meat and dairy products, such as butter, while monounsaturated and polyunsaturated fats originate from plants and fish oil supplements. Both types of unsaturated fats appear naturally in certain vegetables and fruits, nuts, seeds, and avocados.
The type of fat in different foods determines how those foods will impact a person's ability to reach and maintain ketosis. Cooking oils such as olive oil, coconut oil, and sunflower oil contain mostly monounsaturated and polyunsaturated fats. In contrast, animal fat contains mainly saturated fat, which makes it difficult to metabolize quickly enough to achieve ketosis.
The main point is, if you are wondering whether or not you can eat fried foods on keto, you should know that the fat used for frying makes a crucial difference. Opt for coconut oil, avocado oil, and olive oil. These are ideal for those on a keto diet as they are healthy and saturated fats that can help you lose weight and improve your health. The burning point of coconut and avocado oil is higher, so they are ideal for frying. These oils also have a distinct taste that can give your food a unique flavor. When frying with coconut oil, be sure to use a high-quality one. Virgin coconut oil, on the other hand, is usually considered the best option, as it is the most beneficial and is not as processed as others.
2. Frying technique
There is no consensus on which technique is better for keto — air frying or deep frying. While both techniques have their pros and cons, air frying has the upper hand in this case. Air frying is healthier because it uses less oil and produces less harmful chemicals. Less oil usually means fewer calories and, sometimes, fewer carbs. Unlike carbs, we still need fats on a keto diet, as long as they are consumed in moderation.
It is also easier to control the temperature when air frying, so you are less likely to overcook or burn your food. Overcooked and burned foods are harmful to your body, regardless of your diet.
Conclusion
The keto diet is very restrictive, as you are supposed to avoid foods that contain carbs and instead opt for ones that include protein and fats. While it is clear that carbs are out of the question, you might ask yourself, can I eat fried foods on keto? Well, that depends. You should opt for foods that have been fried with olive oil, coconut oil, or avocado oil to get the best results. You should also prefer air-fried foods instead of deep-fried ones, as they will likely include fewer carbs and calories than their deep-fried counterparts.