Imagine a hot sweet and sour soup dripping down your throat on a cold wintery night. Yes, I am talking about the famous Tom Yum Goong soup. If you are a Thai food lover, you may have already tasted this taste bud awakening soup. Any foodie would love to have it in a Thai restaurant. Moreover, if you have the required ingredients, it would hardly take any time to prepare it in your kitchen.
The ancient Thai dish, Tom Yum Goong, has been a popular dish for decades. The recipe has not been confined to just Thailand, but it has been warmly welcomed and imitated in different continents like America and Asia. The zesty taste of Tom Yum Goong soup has never failed to spellbind customers. It is a perfect combination of sour, sweet, and tangy tastes that awakens every sensation in the mouth and leaves a warm and cozy blanket as it goes down the throat. In this article, you will learn every minute detail about this famous soup.
Jump to:
History of Tom Yum Goong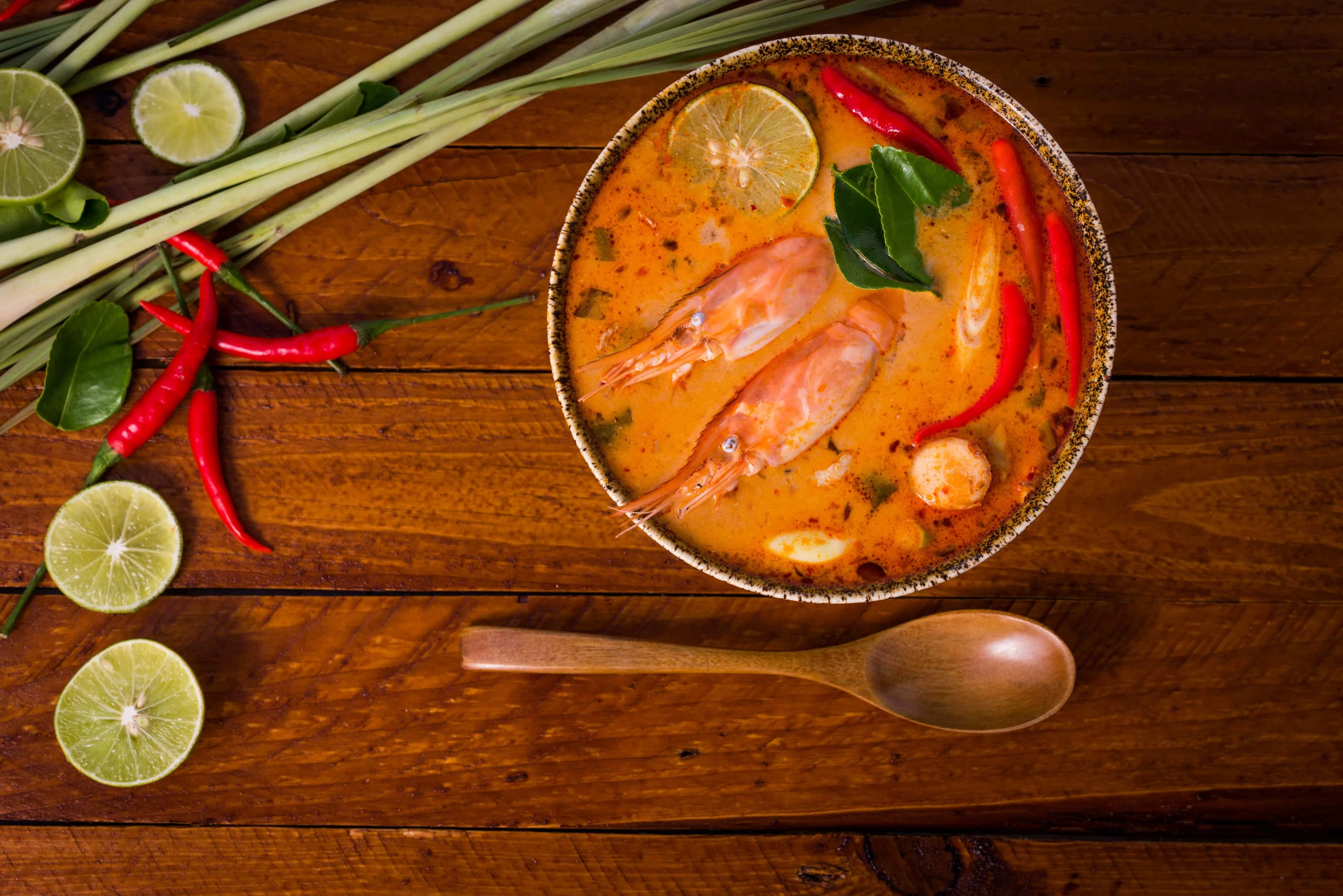 Tom Yum Goong is a soup that has its origins rooted in Thailand. It is authentic Thai cuisine that has been passed on as a legacy. The name 'Tom Yum' is derived from two Thai words, 'Tom' referring to boiling or hot and 'Yum' meaning spicy and sour. The name itself justifies this classic recipe.
If we dig into the history of Tom Yum Goong, there are few interesting facts that you may find. However, there are no mentions of the year when it was first made; however, the reason for making it was discovered. This ancient dish was first made due to the abundance of the main ingredient, i.e., the shrimp in the Chao Phraya River, central Thailand. It soon became the staple food for central Thailand.
The residents of central Thailand used their herbs to prepare the secret recipe of the Tom Yum Goong soup. The herbs grown in Thailand added to the fishy flavor of the soup to make it spicy. How can we forget about the tongue watering aroma of this hot spicy soup? The main protagonists in this sphere are Kaffir lime leaves, lemongrass, and galangal. The blast of flavors due to these magical ingredients is hard to ignore.
Another interesting fact that contributed to the popularity of Tom Yum Goong is the Tom Yum Goong crisis in 1997. It is a financial crisis that struck many Asian countries in 1997. As the origin of the crisis was in Thailand, it was named as Tom Yum Goong crisis. The name spread over different parts of the globe, and so did its recipe. It is no surprise that the tangy soup made its entry into not only kitchens all over, but also into the hearts of millions of people.
This tasty broth was passed from generation to generation until it was modified by the Americans. The modified Tom Yung Goong contained tomatoes and chilies along with the classic ingredients to make the soup spicier. Moreover, the choice was not limited to just shrimps; the same recipe was used to make chicken or prawn soup. As time passed by, the classic Tom Yum Goong has been further modified from clear soup to a creamy one by the addition of evaporated milk and coconut cream. The ingredients were adjusted as per the 'diet' of consumers. There are almost more than a thousand versions of Tom Yum Goong soup, such as gluten-free, vegan, creamy, clear, keto, paleo, and so on. However, the authentic Tom Yum Goong has successfully retained its main ingredients in every version.
Tom Yum Goong has evolved over centuries based on the taste of consumers and the availability of ingredients. The soup that is served in Thai restaurants today is a modified version of the classic fishy broth that can satisfy every taste bud in your mouth.
Is Tom Yum Goong healthy?
Tom Yum Goong has been a patient's soup for decades. Moreover, it has been a way to boost the immune system since ancient times. The goodness of herbs is also known to shoo away the flu. Moreover, the hot and sour spicy taste of the soup can awaken the taste buds of a feverish person. Here's an overview of the health benefits of the ingredients of the Tom Yum Goong soup.
Lemongrass — It serves as a good source of a bunch of vitamins such as vitamin A, Vitamin B complex, etc. It has been an effective ingredient that prevents cough and digestive problems. Moreover, lemongrass has anti-inflammatory properties.
Galangal — This ginger-like ingredient is known for its antibacterial properties, which have shown its results in treating cough and stomach problems over the decades.
Kaffir Lime leaves — Apart from the fantastic blast of citrus flavor, kaffir lime leaves can help to ease your cough and flu.
Thai Chilli — This red hot chili not only spices up your food but also improves your immune system. It has been blessed with a lot of vitamins that serve as a boon in congestion and inflammation.
Tom yum Goong is a dose of nutrients that can enhance your health condition. Moreover, several pieces of research show that intake of the Tom Yum Goong soup is an effective method to keep cancer at bay. Tom Yum Goong is one of the healthiest soups that have been warmly welcomed not only by Thailand but also by Americans and Asians.
The magical recipe of Tom Yum Goong soup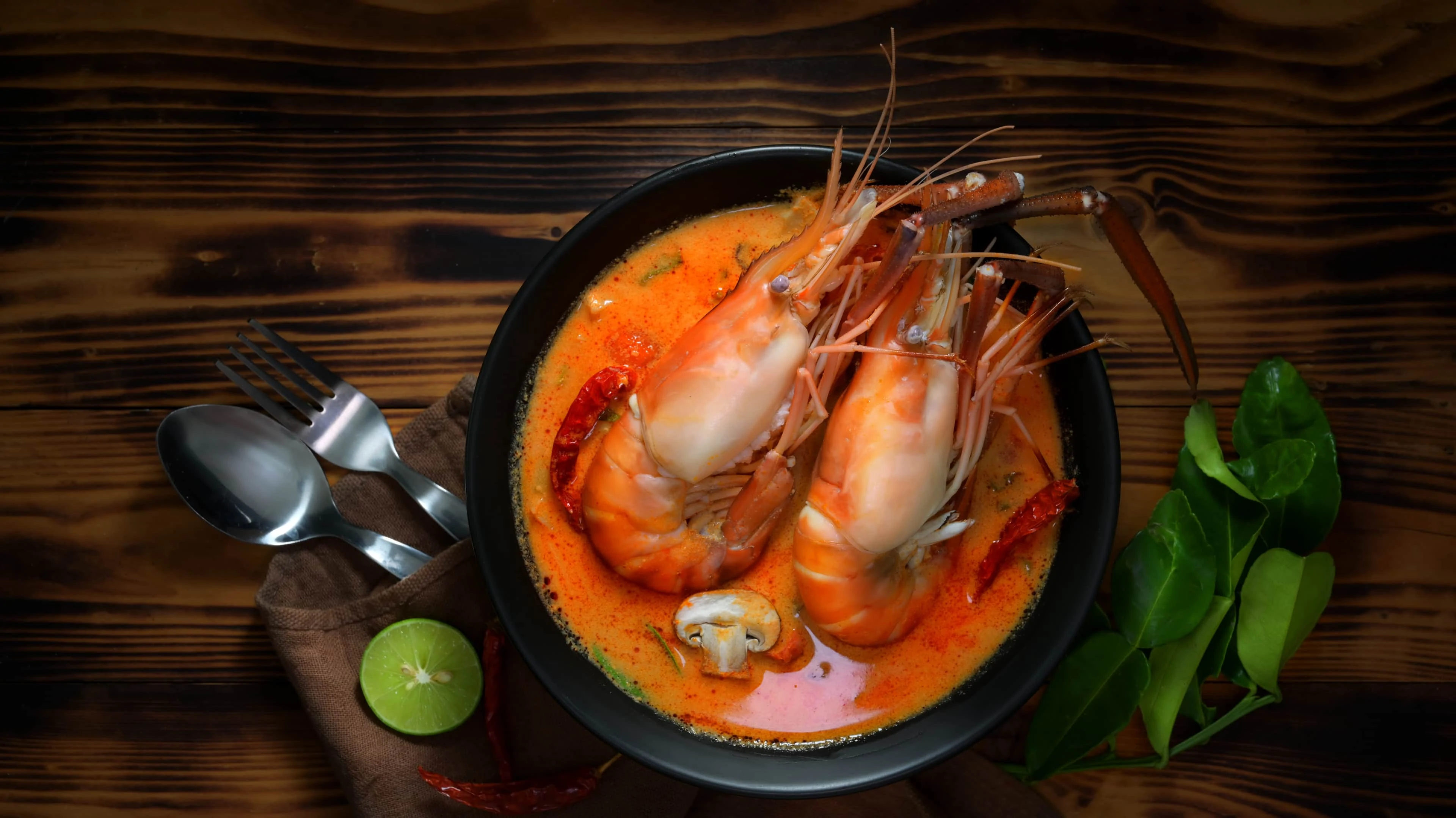 The magical recipe of the Tom Yum Goong soup is no more a secret. You can easily make the authentic Tom Yum Goong soup if you have the three main magic herbs of the soup: lemongrass, kaffir lime leaves, and galangal. Apart from these, here is the ingredient list for the authentic Tom Yum Goong soup.
Shrimp or chicken stock (if not available plain water)
A bunch of shrimps (Do not remove their head or shell)
Thai chilies
Oyster mushroom
Lime juice
Fish sauce
Salt and sugar for taste
You may also use cilantro to garnish the dish.
Preparation:
Take some Thai chili and make a good red paste. Cut some more Thai chilies into pieces.
Take 1 lemongrass stalk and smash or cut into small pieces.
Thinly slice the galangal.
Clean and boil the shrimps with their heads and shell on for almost 5-10 minutes.
Now, take a pan and add 4 cups of shrimp/chicken stock or water, 5-6 kaffir leaves, galangal, and Thai chili pieces. Bring it to boil for 3-4 minutes.
When the aroma of the herbs tingles your sensation, add the oyster mushroom and bring it back to a boil.
Now, it's time for the shrimps to be added to the broth.
After adding the shrimps, add chili paste, sugar, salt, and fish sauce as per your taste. Stir them for 1-2 minutes and turn off the oven.
You may add cilantro (fresh coriander) to garnish the soup.
The mouth-watering Tom Yung Goong Soup is ready to serve! It takes hardly any time to make and ensures you of a heavenly taste.
Is Tom Yum Goong gluten-free?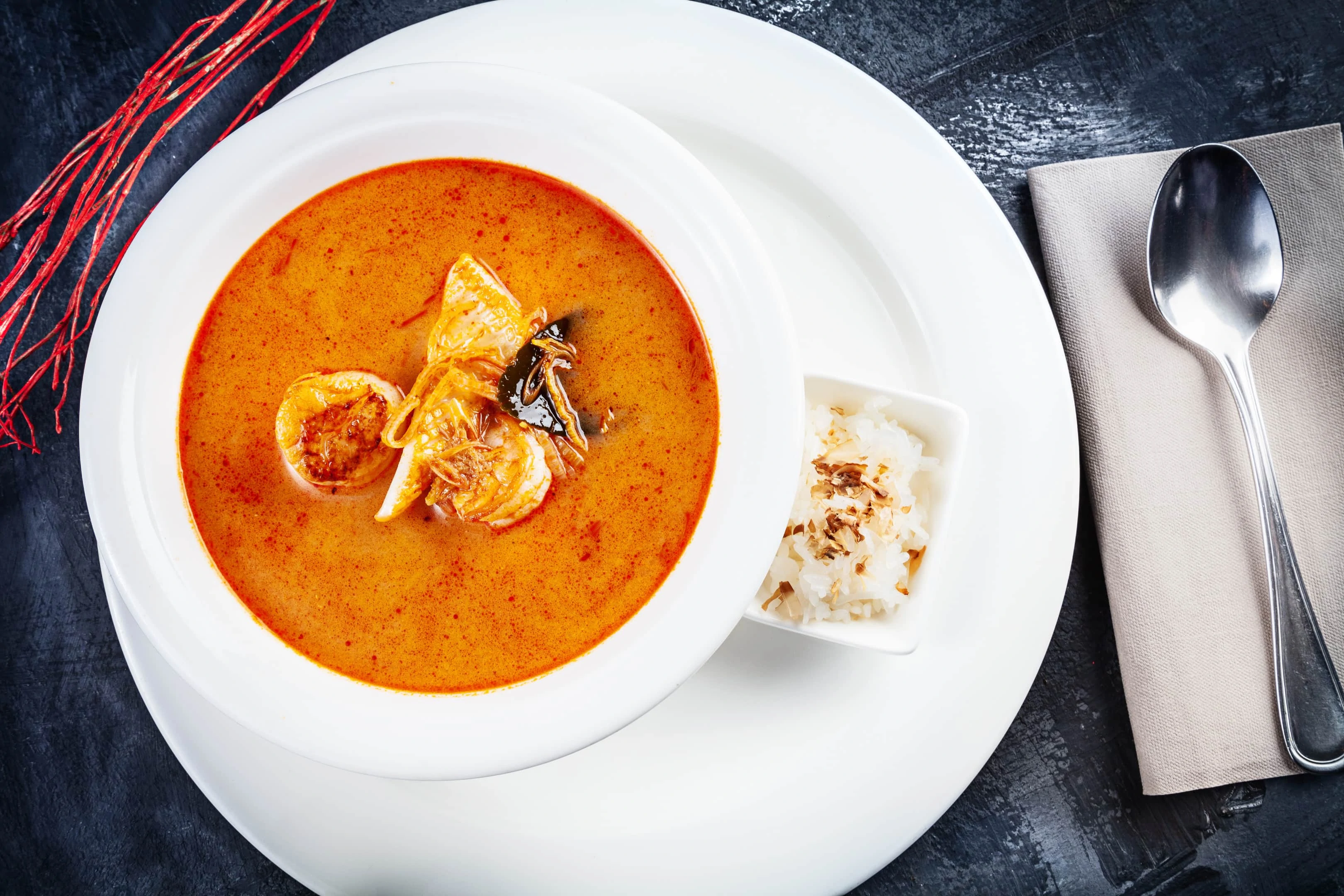 The spicy and salty yet sweet Tom Yum Goong soup is an authentic Thai food that is gluten-free in its classic recipe. Thai foods are often found to be gluten-free and thus are a boon for almost every gluten intolerant person.
Considering the modifications of the classic soup, there are chances that the Tom Yum Goong served in a restaurant may contain gluten in the form of certain salad dressings, soy sauce, malt vinegar, and so on. Another common presence of gluten in Tom Yum Goong may be the addition of flour to thicken the soup. Some people even add noodles to this soup, which again brings in gluten.
Due to the awareness about gluten, many people require gluten-free food to avoid celiac disease. The authentic Tom Yung Goong recipe is devoid of gluten and, thus, is perfect for those looking for gluten-free Thai food, due to the main trio Kaffir lime leaves, lemongrass, and galangal for being gluten-free.
Can Tom Yum Goong be vegan?
The authentic Tom Yung Goong is a soup of fresh shrimp. People have loved it with prawns and oysters. However, to the delight of vegans, Tom Yung Goong can be made as a vegetarian dish as well.
All you have to do is replace shrimps with mushrooms and tofu. Here's the ingredient list for a vegetarian Tom Yum Goong.
vegetable stock
lemongrass
Kaffir lime leaves
Thai chilies
Clove garlic
Baby bok choy or broccoli or bell peppers
Cherry tomatoes
Coconut milk (it is optional, add if you want creamy texture)
Brown sugar
Soy sauce
Lime juice
Fresh basil and coriander leaves
The process is similar to the authentic Tom Yum Soup. You just have to add the ingredients and boil them until the aroma hits your senses.
Is Tom Yum Goong keto-friendly?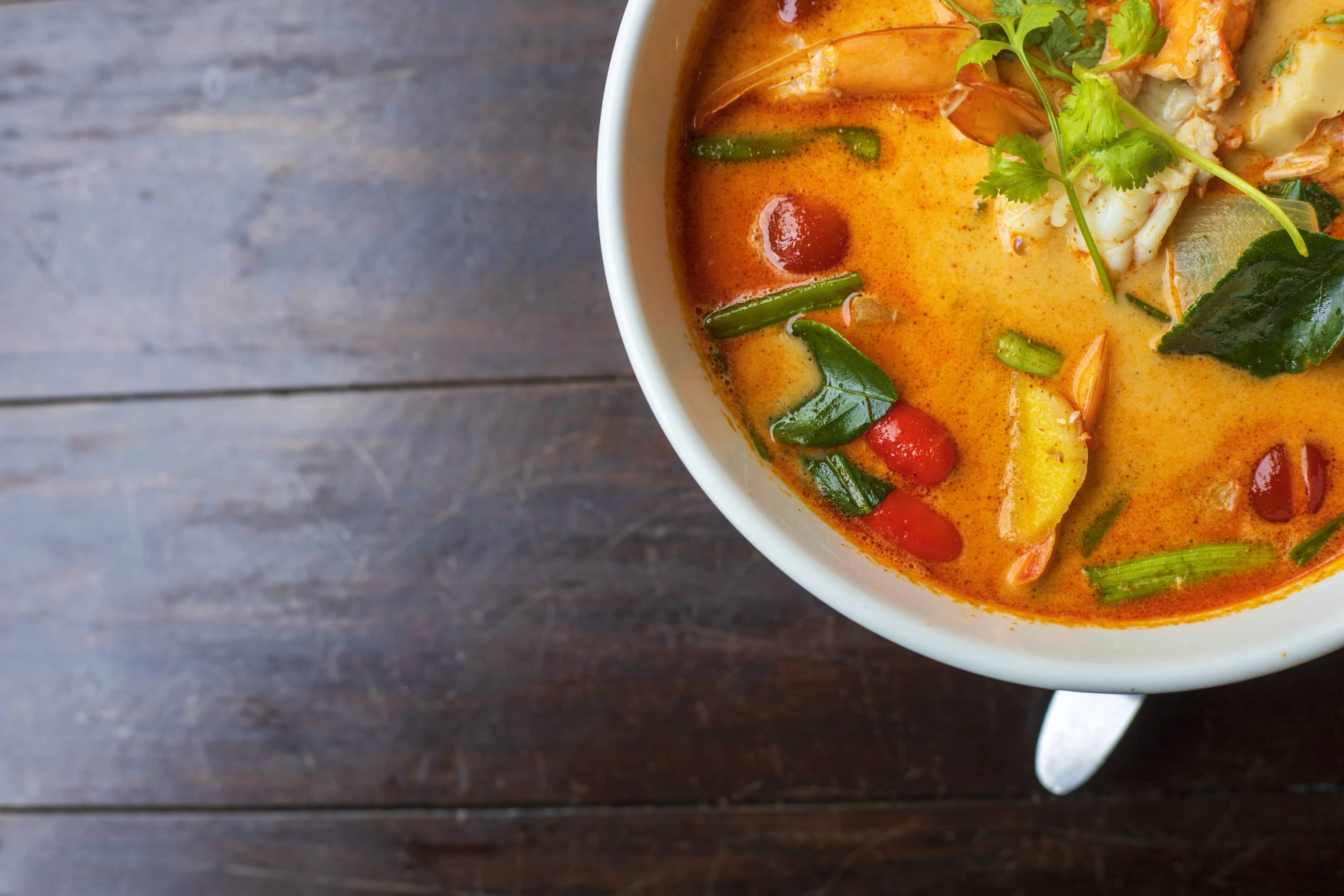 The Keto diet has become one of the trending diets for health eccentrics. This diet is a diet with high-fat content, moderate protein content, and low carbohydrates content. Unlike other Thai food, Tom Yum Goong is a perfect pick for a keto-friendly diet.
If we consider a single serving of this delicious soup, it contains 4 grams of carbohydrate, 12 grams of fat, 18 grams of protein, and 5 grams of carbohydrates. The proportion of nutrition keeps with the parameters of the keto diet.
The clear, as well as the creamy variant of the Tom Yum Goong soup, is an excellent choice for those following ketogenic diets.
Is Tom Yum Goong soup paleo-friendly?
A Paleo-friendly diet comprises meat, shrimp, nut, and every whole-based food item while it strictly restricts processed food, sugar, and soy sauce. Paleo-friendly diets mainly focus on the food diet of ancient times. What can be more ancient and Paleolithic than Tom Yum Goong soup?
The ancient broth fits perfectly in a paleo-friendly diet as it contains shrimps, mushrooms, and herbs that have been passed on through ages. However, if you are following a paleo-friendly diet, you must refrain from adding fish sauce into your soup. Moreover, you should not add sugar to your paleo-friendly Tom Yum Goong soup.
Tom Yum Goong soup is considered a staple in the Thai diet. Unlike other Thai food, it does not contain any starchy vegetable or processed ingredients. Moreover, the shrimps in the soup contribute to the protein content. The spicy fresh herbs, along with the nutritious shrimps, fit perfectly in your paleo diet. However, if you wish to try this as a paleo-friendly dish in a restaurant, Beware! Most restaurants use sugar and processed sauce in this soup to enhance the taste. You may request little or no salt and sugar, and no sauce.
Is there sugar in Tom Yum Goong soup?
Due to the rising awareness about sugar consumption and the rising number of diabetics, it is not unusual if anyone asks about the sugar content of Tom Yum Goong. Let me give you good news; you can have the Tom yum Goong soup without sugar.
The main flavor and taste ingredients of the holy broth lie in the trio ingredients, i.e., lemongrass, kaffir lime leaves, and galangal. You may find the mention of sugar in the ingredient list of Tom Yum Goong. However, you may just avoid it as it is added only as per the preference of your taste bud.
The conventional Tom Yum Goong soup recipe has sugar or brown sugar in minute quantities. But you can easily overlook it and enjoy the hot, sour, and spicy Tom Yum Goong soup. If you are diabetic, you may as well add a bit of sugar alternative in the soup. The sugar is added to provide a sweet taste and, if not to lower down the sourness of the soup.
Is Tom Yum Goong spicy?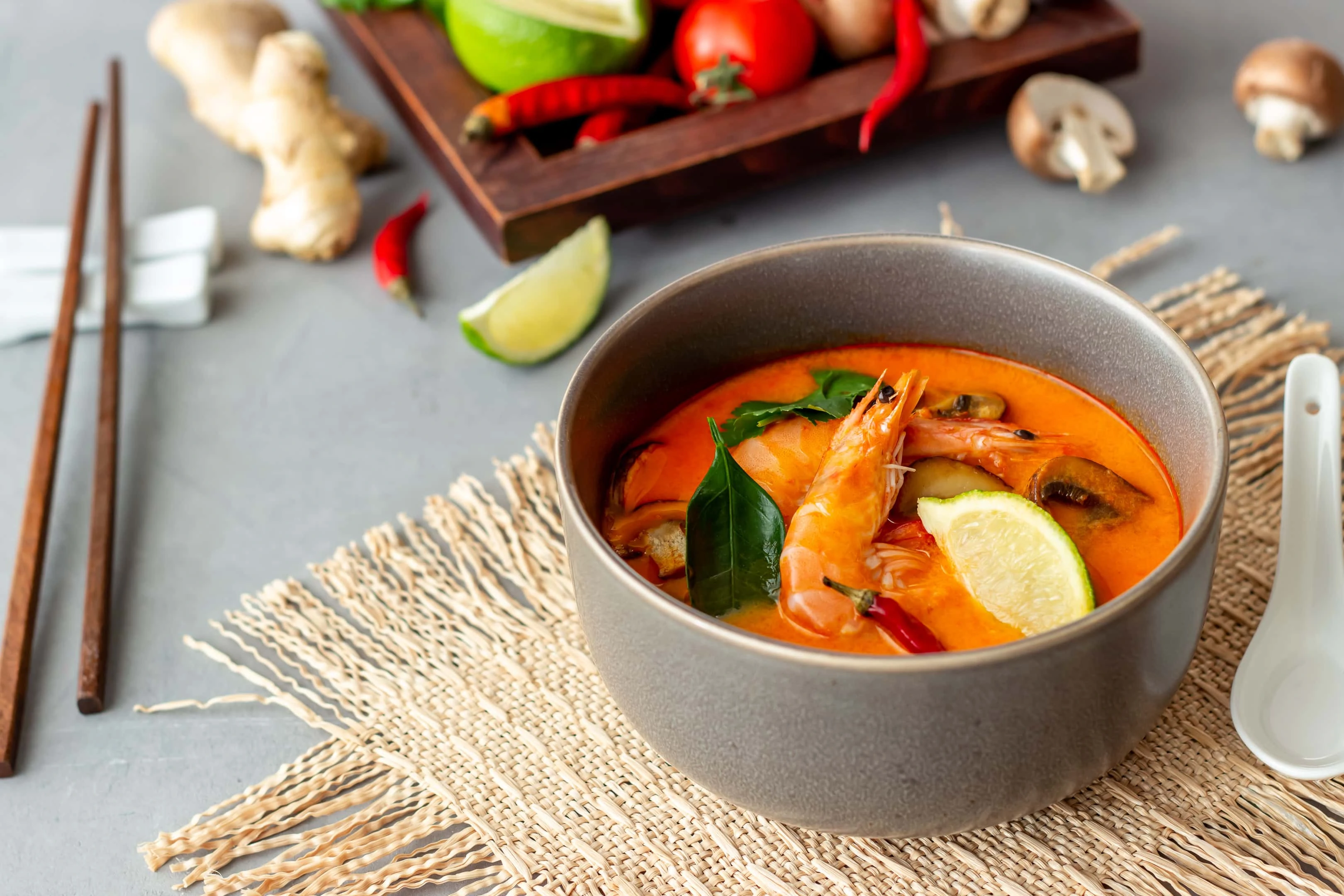 Of course, Tom Yum Goong soup is spicy. This fishy broth is all about spices. It contains Thai chili, lemongrass, galangal, and in some cases, coriander.
If you are someone who hates spicy food, you can reduce the amount of Thai chili to save your taste buds from burning. But it is the only alteration that can provide you the least spicy Tom Yum Goong. On the other hand, if you are a foodie who loves spicy cuisine, you may add cloves, pepper, more chili paste, or chili sauces to spice it up more.
Does Tom Yum Goong contain high sodium content?
Salt is an integral ingredient of every dish, and its content in the food is responsible for the sodium content of the food. Tom Yum Goong is no exception to this. The Thai dish is salty and thus has a high sodium content.
Apart from the salt added to the broth, the salt or sodium content further increases due to the addition of soy sauce or fish sauce. These salts contribute to the salty taste of the soup. If you are on a diet where you are minimizing sodium content to minimize water retention, a bowl of Tom Yum Goong soup in a Thai restaurant may crash your diet down on the floor.
It is needless to say that the salty taste of the Tom Yum Goong cannot be avoided as it is one of the dominating tastes of the soup. But if you are looking at how to minimize it, the only way is to avoid the use of soy sauce or fish sauce in the preparation of the broth.
Is Tom Yum Goong fattening?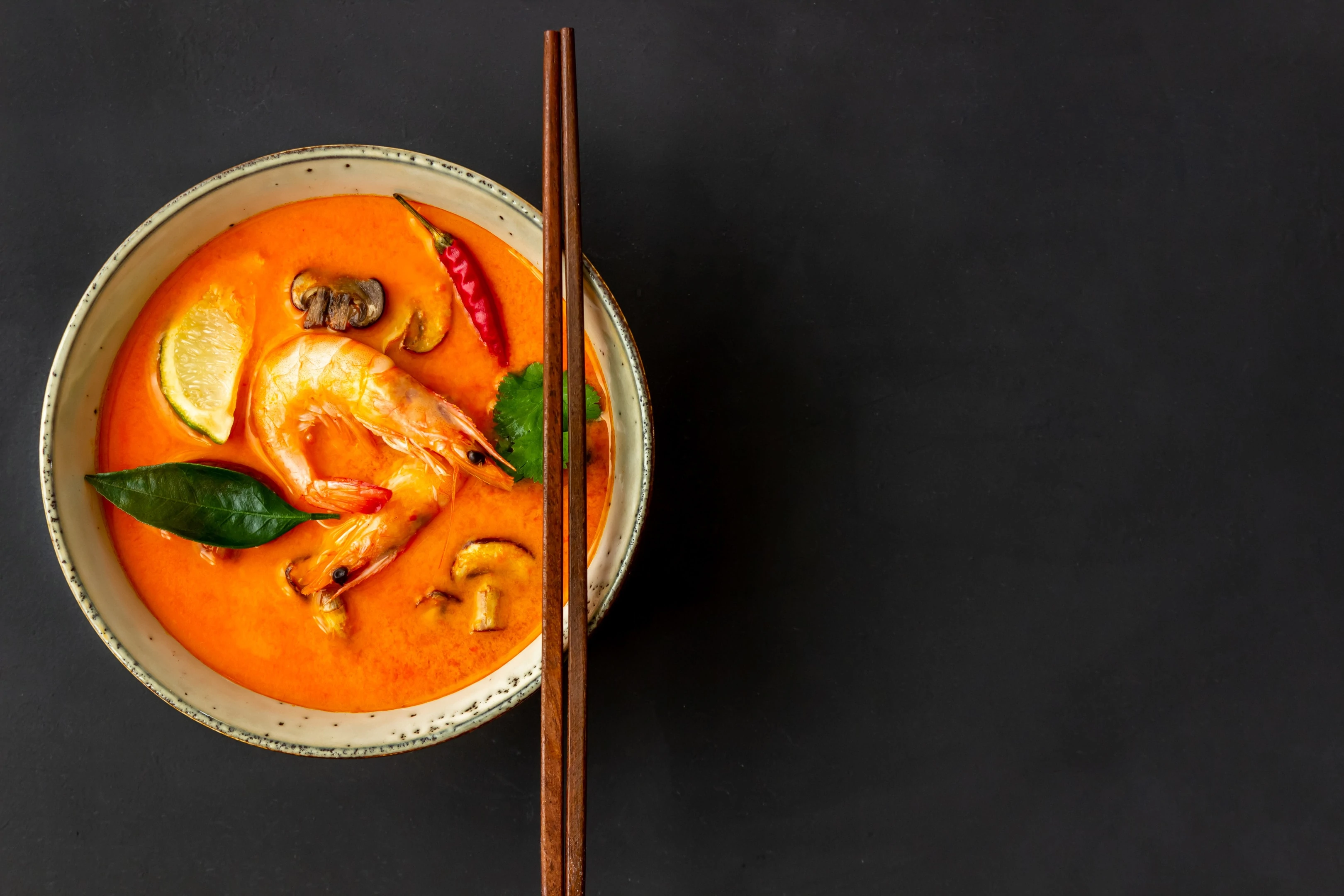 Talking about the calories, one cup of authentic Tom Yum Goong soup contains only 31 calories. However, as said earlier, the recipe has been modified with time and taste. Therefore, if you consider a single serving of Tom Yum Goong with noodles is 247 calories, you may require more than 30 minutes of workout to lose it.
If we consider the fat content, a serving of clear Tom Yum contains 12 grams of fat. Thus, Tom Yum Goong cannot be considered fattening if you are making it authentically. However, if you want a Tom Yum Goong noodle or pizza, there is no doubt that it will be fattening. However, the authentic Tom Yum Goong soup can be a pick on your regular diet as a healthy, non-fattening, and filling option.
Are Tom Yum Goong and Tom Kha soup the same?
If you have been researching Tom Yum Goong, you must have come across the name 'Tom Kha' soup and be confused if they are the same or different? Here is the answer.
Yes, Tom Yum Goong and Tom Kha are the same broth. But there is a single difference: Tom Kha is the modified version of authentic Tom Yum Goong. Tom Yum Goong is the clear broth, while Tom Kha is the creamy version of it.
You name Tom Yum Goong as Tom Kha when coconut milk or evaporated milk is added along with a bit more chili paste. The ingredient list for Tom Kha is the same except for the addition of coconut milk or evaporated milk. The cooking process remains similar. Just add coconut milk or evaporated milk at last and keep the soup simmering for 1-2 minutes. The rich, creamy, tangy Tom Kha is equally satisfying as Tom Yum Goong.
How to fix any goof-up in your Tom Yum Goong?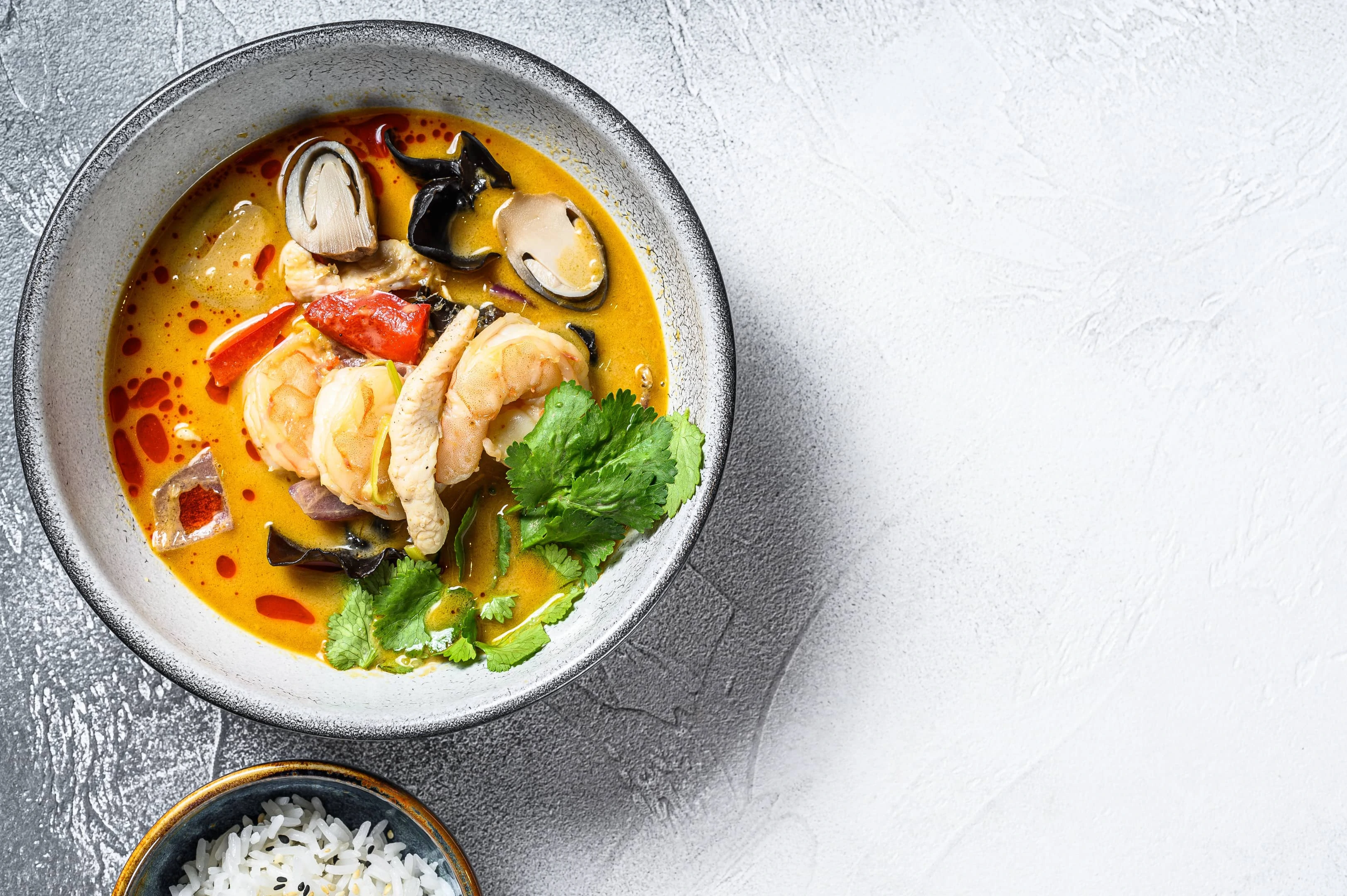 When you are cooking Tom Yum Goong at home, there are high chances that you may make mistakes in estimating the quantities. But, fear not! Here are a few quick tips that can assist you in managing any mistake in the estimation of the ingredients.
Since the vegetable or chicken stock prepares the base of the soup, make sure to make it strong. The stronger is the taste of stock, the better your Tom Yum Goong soup tastes.
If you find it less spicy at the last minute, just add a pinch of chili paste to make it spicier. Stir it well for a few seconds, and then the hot spicy soup is ready to be served.
If you find the soup to be sour due to the excess of lemongrass and galangal, just add sugar or any natural sweetener.
In case you have slipped in excess salt, just squeeze and add lime juice to get rid of the salty taste. You can use the same tip for excess sweetness in the soup.
If the soup lacks salt and yet you are determined not to pour any more salt, just add a cup of stock to the soup, and the work is done.
Even though it is a simple and easy recipe, one can slip off the estimate of ingredients while cooking. These tips will ensure that you do not end up sipping the not-so-tasty Tom Yum Goong or crying over it.
Conclusion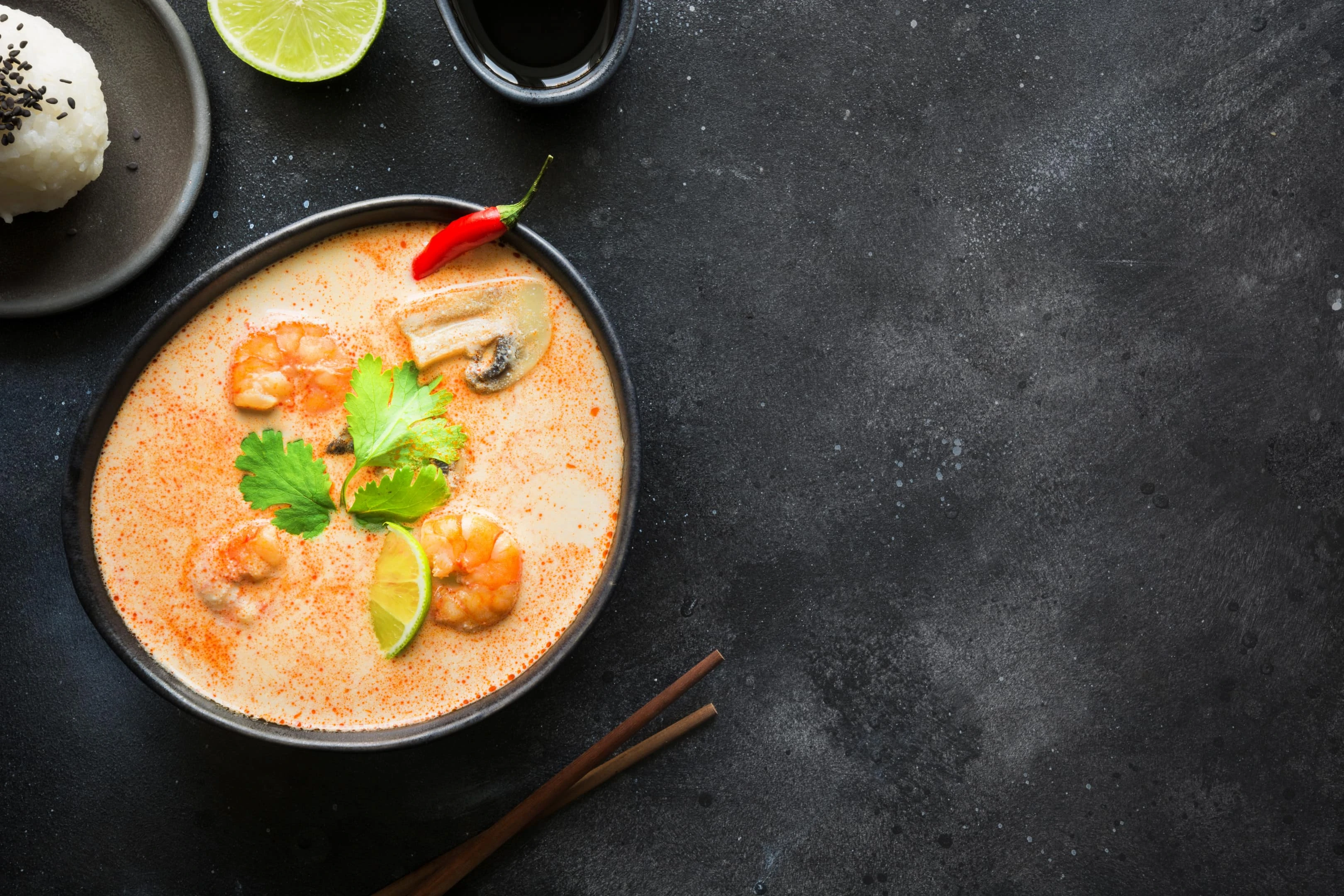 The magical concoction prepared with ancient herbs and fresh shrimps has become famous worldwide. You can hardly find a Thai restaurant without Tom Yum Goong as a best seller. This staple Thai dish has positioned itself into the keto and paleo diets as well. The modifications of Tom Yum Goong have created variants that are gluten-free and vegan. It is a nutritious broth that can be an appetizer, as well as the main course (when served with noodles). It is a healthy soup packed with nutrition that boosts the immunity as well as awakens the taste buds of someone feverish. The citrus power of lemongrass and Kaffir lime leaves may also drive away cancer. The hot sweet and sour Tom Yum Goong never fails to provide a warm and cozy feeling, especially during the monsoons and winter.