As time flies by, kitchen techniques continue to evolve. One thing that remains classic and timeless is fermentation. One vegetable that caught the eye of some fermenting enthusiasts around the world is cauliflower.
While famous all over Asia and Europe, cauliflower remains underappreciated and underrated in other parts of the globe. While it can't compete in popularity with the rest of its family, cauliflower is a powerhouse ingredient.
While cauliflower itself is nutritious enough, it is said that fermenting it can help you make full use of its various benefits.
Jump to:
What is cauliflower?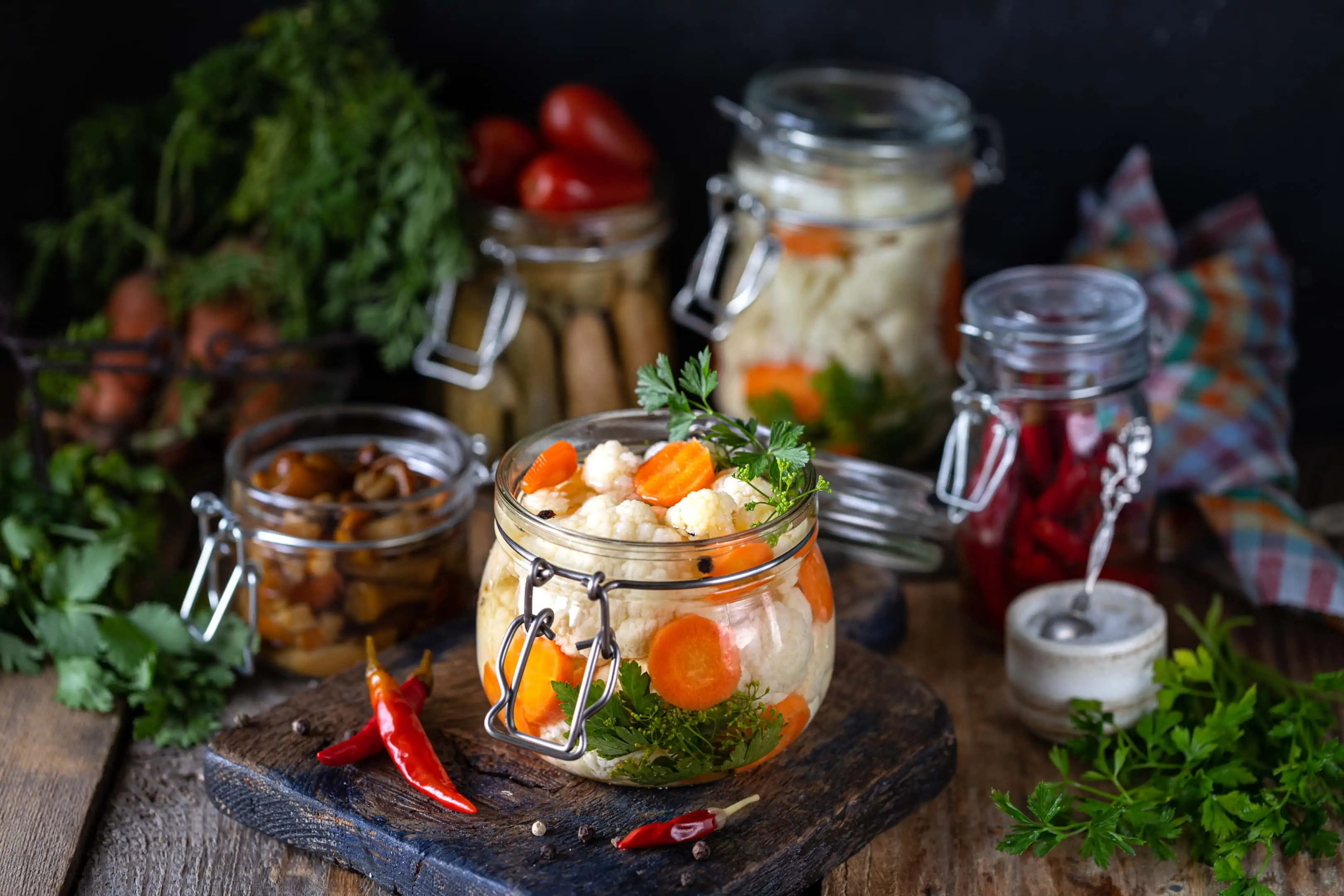 Cauliflower is considered a cruciferous vegetable, making it part of the Brassicaceae or Cruciferae family. It is a mass of tiny, close, and tightly packed curds or flower heads. These flowers grow and form together in a sturdy, central stem, giving off one rounded head and piece. Most cauliflowers are white, but there are also purple and green varieties.
Cauliflower can be easily added to your diet. You can enjoy it steamed, raw, roasted, grated, pureed, or mashed. Don't throw nor discard the stem out; it's just as nutritious as the rest of it. With it, you can make a base for your vegetable soup or add it to slaw.
Health benefits of cauliflower
Cauliflower, in particular, has been found to reduce the risk of several diseases and promote a healthier complexion, lower weight, and increase energy.
Cauliflowers contain several health benefits that can do wonders for the body and health. For starters, its ingredients can help strengthen the bones, prevent cancer, and give the cardiovascular system a needed boost. Here are a few more health benefits of cauliflower.
1. Source of choline
Cauliflower is a fantastic source of choline, an essential nutrient that most people are deficient in. A single cup of cauliflower has about 45 mg of choline, approximately 8% of AI (adequate intake) for men and 11% for women.
Choline provides several essential functions in the body. It is responsible for maintaining cell membranes' integrity, supporting metabolism, and synthesizing DNA.
This nutrient plays a part in the production of neurotransmitters needed for a healthy nervous system. Those who don't eat enough choline are at a higher risk of heart and liver disease. They are also at risk of neurological diseases like Alzheimer's and dementia.
2. Contains various nutrients
The nutrition bank and profile of cauliflower are amazing. It turns out that this vegetable contains almost every mineral and vitamin that your body needs. Cauliflower has folate, calories, fiber, vitamin C, K, and B6, phosphorus, manganese, magnesium, pantothenic acid, potassium, and more.
It just proves that cauliflower is an excellent source of minerals and vitamins, and it can prove itself as a worthy inclusion to your regular diet. In fact, according to Medical News Today, CDC (Centers for Disease Control and Prevention) had placed cauliflower 24th on the list of 'Powerhouse Fruits and Vegetables.'
3. High in fiber
Aside from choline, cauliflower also has a high fiber content, which benefits overall health. Consuming reasonable amounts of fiber can help decrease the chances of acquiring digestive conditions like inflammatory bowel disease, diverticulitis, and constipation. Moreover, a diet consisting of fiber-rich vegetables such as cauliflower can lower the risk of cancer, diabetes, and heart disease.
4. Aids in weight loss
Cauliflower is another vegetable that contains properties for aiding weight loss. Cauliflower can be an excellent substitute for high-calorie foods in your diet, such as flour and rice. Being a good source of fiber, cauliflower also promotes fullness and effective digestion, helping you reduce your calorie intake throughout the day.
The high water content of cauliflower is also a helpful factor in this area. Cauliflower is made up of 92% water. Therefore, eating food that is water-dense and low in calories can help you lose weight faster and more effectively.
5. Source of sulforaphane
Cauliflower contains sulforaphane, which is a well-studied antioxidant. This particular antioxidant has several health benefits, including lowering the risk of cancer. Sulforaphane battles cancer in various ways, like protecting the cells from DNA damage and destroying compromised cells.
Sulforaphane is most protective against prostate and colon cancer, though it can also affect other cancers such as melanoma, breast, pancreatic, and leukemia. It also helps decrease high blood pressure and maintain the health of arteries.
Why you should ferment cauliflowers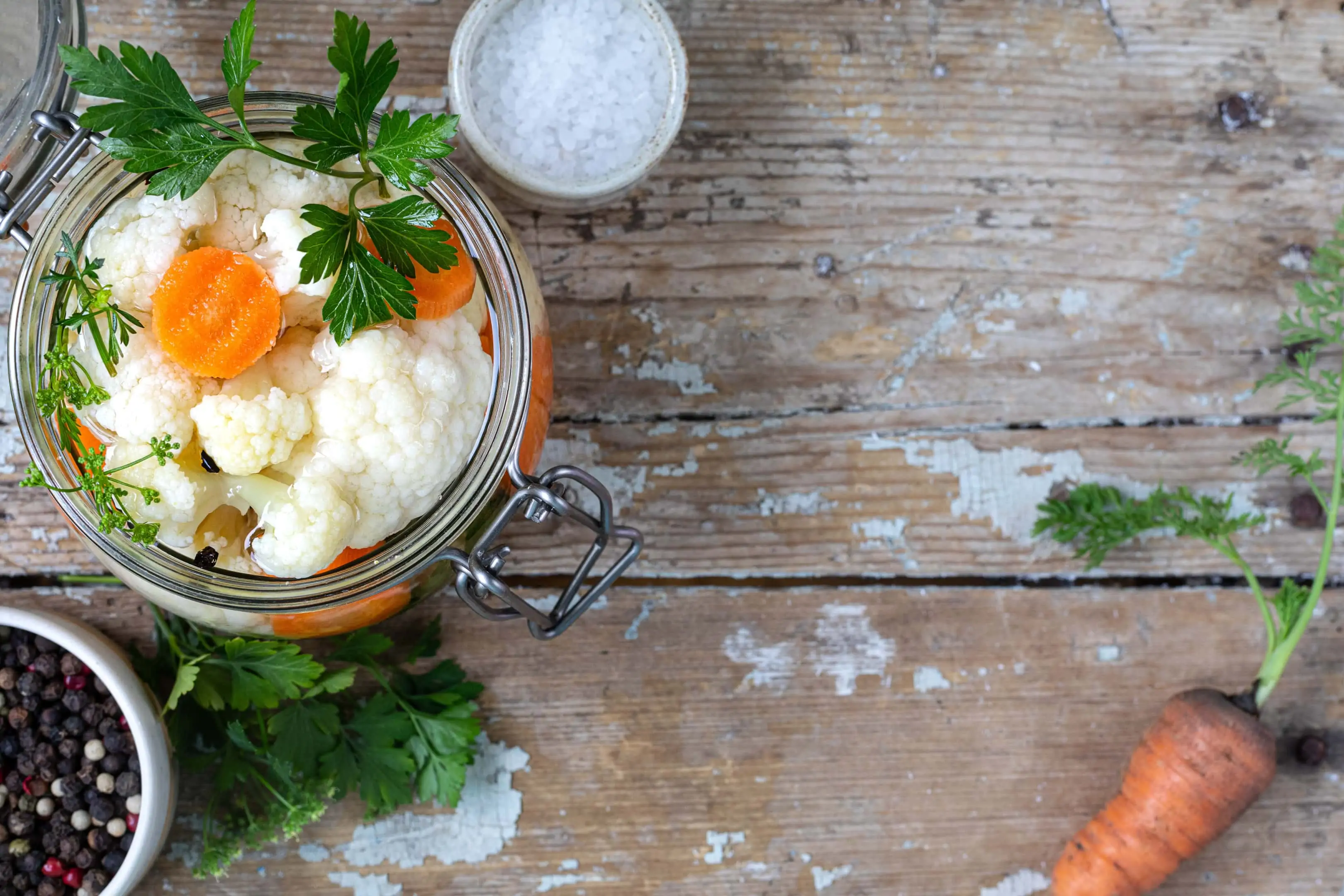 Over the years, cauliflower has evolved and elevated to the 'superfood' status and level. The new position is rightfully so, seeing that it is high in flavor and essential nutrients. It is also inexpensive and fits even the tightest budget.
Cauliflower has subtle flavors that combine exceptionally well with almost any ingredient. It can enhance the texture of any dish and adds a certain uniqueness to its flavor.
However, studies suggest that essential minerals and phytonutrients are lost when cauliflowers are steamed or boiled for a long time.
The preferred choice for your cauliflower to retain and maintain as many nutrients as possible is by eating it raw or preserving it. A good preservation technique to use on cauliflower is fermentation. You will be able to maintain the essential nutrients of cauliflower while retaining its health benefits.
Benefits of fermenting cauliflower
Fermentation is a traditional and ancient technique or form of preservation that dates a thousand years back. It promotes the growth of beneficial bacteria known as probiotics.
Through this preservation process, the bacteria start to break down the starches and sugar in the food. It then produces lactic acid, which stops the growth of bad bacteria. In a nutshell, it preserves your food and prevents it from rotting quickly.
Fermenting cauliflower not only means preserving it, but the process helps it become more healthy and nourished. Here are some of the fermented cauliflower benefits:
1. Absorption and digestion
Since some essential nutrients are broken down through the fermentation process, the cauliflower will be easier to digest and absorb. In addition, fermentation helps destroy the antinutrients in this vegetable.
It is beneficial for people who have a hard time digesting raw vegetables. While eating cauliflower raw will help maintain its nutrients, some people would rather cook it. There are a few who will find eating it raw difficult due to lack of flavor. Furthermore, raw vegetables are also harder to digest.
In this scenario, fermentation will do just the trick. It will help preserve the cauliflower's nutrients and make it easier for you to digest them.
2. Immune functions
A large portion of the immune system (about 80%) is in the gut. This means you have to focus on gut-friendly food, which can equate to a healthier immune system.
Fermenting food, including cauliflower, can lead to the production of probiotic content or the feeding of beneficial bacteria within the body. It results in your immune system growing more robust and reducing the risk of acquiring infections such as the common cold. Also, eating probiotic-rich and beneficial bacteria-friendly food means that you can recover much faster when you get sick.
By consuming these types of food, you are giving further support to the mucosa (the gut lining) as a barrier and makes the immune system stronger.
3. Behavior and mood
Interestingly, the brain and the gut are linked together. The brain-gut connection is made and bridged through the hypothalamic-pituitary-adrenal or HPA axis. The gut is lined up with neurons that can affect and influence your feelings and emotions.
A large amount of serotonin, a neurotransmitter that affects our mood, is created in the gut. Research suggests that probiotic bacteria, which could benefit well from fermented cauliflower, can contribute to a healthy gut. This means that you will have a happy tummy that will link to a happier mindset.
4. Availability and synthesis of nutrients
One more thing to note about fermenting cauliflower is that it can make it easier for vitamins and minerals to be digested and absorbed. By fermenting, additional nutrients can be added to the cauliflower — notably boosting the content of beneficial bacteria that can help keep your gut healthy.
5. Probiotic and prebiotic
The most notable benefit fermented food can offer is that it contains a handful of probiotics that do wonders for the gut. It is also worth noting that fermented food can contain up to almost trillions of beneficial bacteria. However, keep in mind that just because food is fermented, it will not automatically produce this many probiotics.
The only food that can give your body probiotics is those that have undergone the natural process of fermentation. Cauliflower belongs to the cruciferous family, which is known to be rich in prebiotics. These prebiotics are known to feed probiotics.
How do you ferment cauliflower?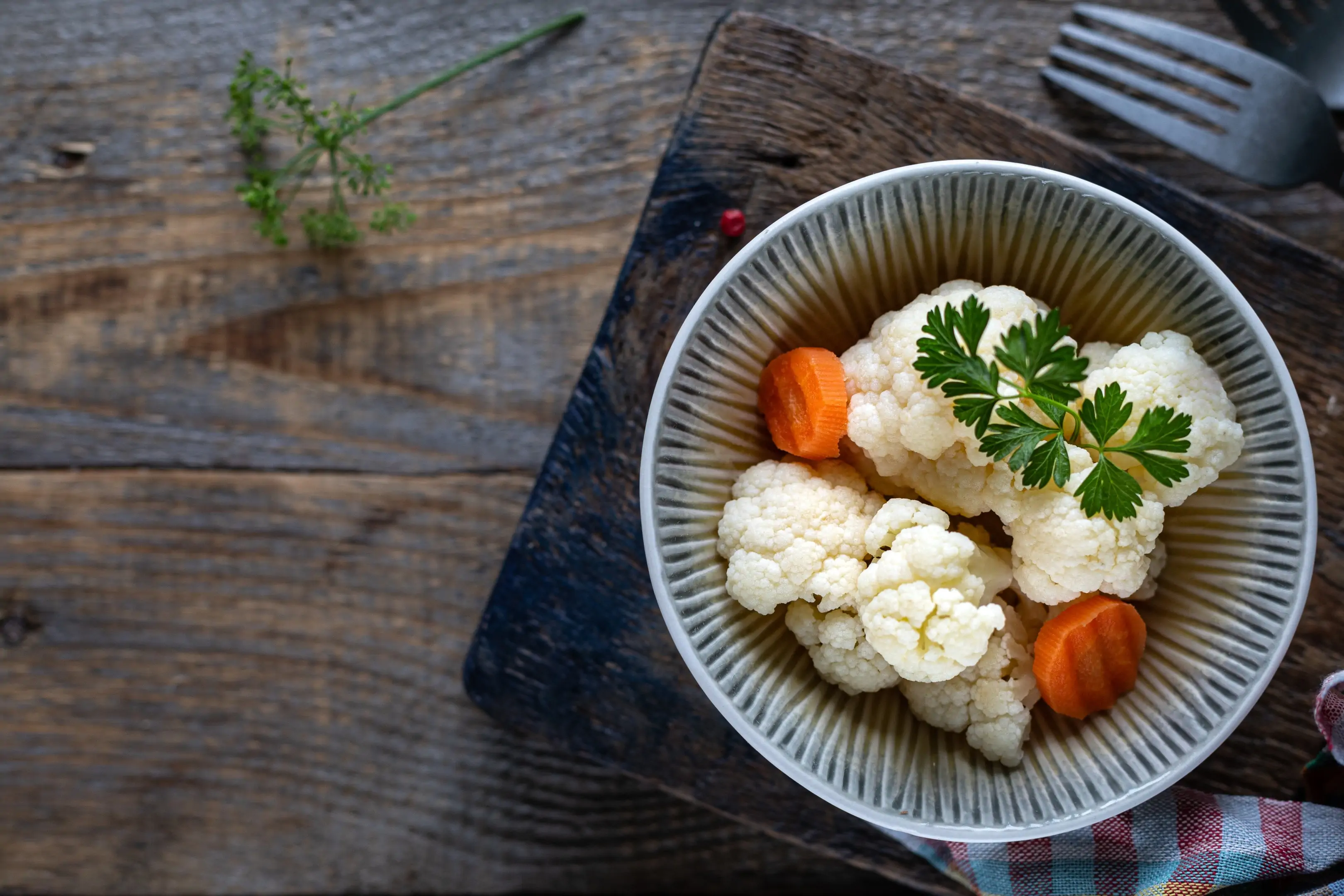 To ferment cauliflower, it is vital to choose the appropriate fermentation equipment. The process won't require any fancy or expensive tools, but using the appropriate ones can genuinely make a significant difference. Mason jars are a favorite when fermenting.
Prepare your cauliflower. You can shred, grate, chop, slice, or leave it whole. It could either be a personal preference, or you could follow a recipe.
You could either use whey, salt, or starter culture — it depends on your personal choice. The water you will use for the brine must be clean and not contaminated. Next, submerge the vegetable under the brine.
Please keep it in an anaerobic environment during the period of fermentation. Then, when it is finished culturing, you can move it to cold storage.
You can follow a different or more customized recipe, depending on your personal preference.
Concerns about fermented food
Aside from the several fermented cauliflower benefits, like most food, there are concerns and risks with fermented food. While fermented food is safe for most people, there will be some who would still experience side effects.
Fermented cauliflower contains high probiotic content. While this may be good for most, others can experience effects like bloating and an increase in gas. Also, remember that not all fermented foods are created equally. There will be products that contain high levels of sugar, fat, and salt.
When fermenting at home, make sure to always follow the instructions closely for safety reasons. Incorrect fermentation times, temperature, or using unsterile equipment can spoil your food.
Conclusion
Currently, fermented food has been steadily becoming more popular thanks to the various claims regarding its health benefits and nutritional properties. One vegetable that is being considered a lot for fermentation nowadays is cauliflower.
Unlike its cruciferous cousin (broccoli) that strived in popularity, cauliflower remained under and outside most people's radar. Despite that, it continues to be a true powerhouse in the kitchen.