Numerous and diverse studies have established that there is a link between the immune system and gut health, as the gut houses more than seventy percent of the immune system. This means that if the gut is not properly taken care of, it could cause a number of issues such as fatigue, skin irritations, migraines, and autoimmune problems.
The gut is an integral part of our bodies' digestive system, as it is responsible for ensuring our body stays in working order. It breaks down the foods we consume and then absorbs the nutrients needed to maintain body functions. To perform its functions, the digestive system contains millions of bacteria; these bacteria are commonly called 'gut microbiome.' While some of these microorganisms can be injurious to health, many of them are significantly beneficial and important to a healthy body. These good ones are what is called the good bacteria, and having many of them can aid the overall functioning of your immune system. This is one of the reasons you should not overlook the importance of consuming foods for a healthy gut.
Jump to:
Signs of an imbalanced gut
There are different factors present in our lives today that work to reduce the good bacteria in the gut. These factors include consuming sugary foods, high-stress levels, eating processed foods, ingesting antibiotics, and not sleeping enough. All these factors affect not just the gut, but also other parts of our health like the brain, immune system, hormone levels, and weight. However, there are diverse signs that your body might manifest to indicate an unhealthy gut. Below are a few of such signs:
1. Stomach upset
You might experience disturbances in the stomach such as bloating, diarrhea, gas, and constipation. This occurs as an unhealthy gut has great difficulty processing foods and getting rid of waste.
2. Sudden weight changes
Losing or gaining weight without intentional changes to diet or cultivating fitness habits can point to an imbalanced gut. Here, the gut is unable to absorb nutrients, maintain blood sugar, and store fat.
3. Skin irritation
Skin conditions like eczema might also be signs of a damaged gut. Allergies or a poor diet can cause inflammation in the gut, which might cause certain types of proteins to leak into the body thereby leading to skin irritation.
4. Regular fatigue and sleep disturbances
The gut is responsible for producing a major amount of the serotonin hormone in the body. This hormone has a great impact on sleep and mood. When the gut cannot produce this hormone, the result is insomnia and tiredness.
5. Autoimmune problems
Some studies have claimed that an imbalanced gut can cause systemic inflammation and affect the functioning of the immune system. This can attract different autoimmune conditions that cause the body to attack itself rather than harmful organisms.
6. Food intolerance
Food intolerance occurs when the digestive system is unable to digest certain foods due to a damaged gut. This can result in further health issues like bloating, nausea, and abdominal pain.
How to boost the functions of the gut
To improve the health of the gut, you can do many things, such as reducing your stress levels, eating slowly, staying hydrated, getting enough sleep, and paying attention to food tolerances. However, one major way to make sure your gut gets the necessary nutrients that it needs is to improve your nutrition; this involves getting rid of high-fat foods and processed foods and focusing on the ideal foods that can improve the health of your gut. Your diet should contain foods that are plant-based, and that contain fiber, protein, and other beneficial nutrients. Check out these nine foods for a healthy gut:
Nine foods for a healthy gut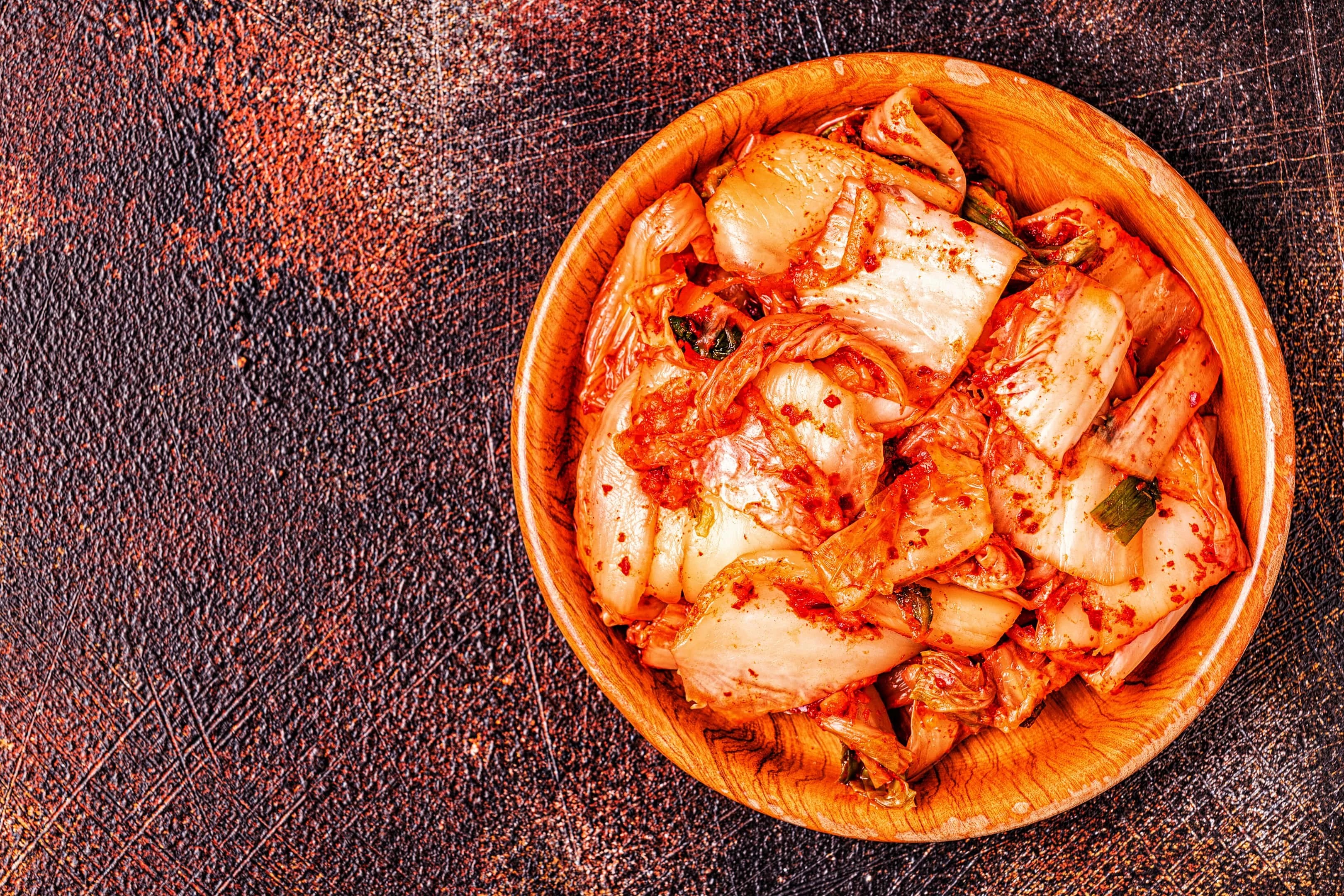 1. Yogurt
Probiotics can greatly improve the functions of the gut. They are living organisms that exist in many fermented foods and dietary supplements. Yogurt contains probiotics; it is made by putting good bacteria and milk together to metabolize lactose thereby producing lactic acid and beneficial organisms. Moreover, if you are lactose intolerant, the probiotics in yogurt might help you enjoy it. You can also opt to purchase vegan yogurts that also contain probiotics. Apart from probiotics, yogurt contains beneficial nutrients such as vitamins, calcium, and protein. These can enhance the health of teeth and bones, ease digestive problems and strengthen the immune system.
2. Kimchi
Another food for a healthy gut is kimchi, a popular Korean dish. Kimchi is a side dish of fermented vegetables that can be enjoyed with other ingredients like fish sauce, meat, eggs, and fish paste. It contains probiotic bacteria along with significant amounts of fiber and vitamins that can heal the damaged gut, reduce inflammation, reduce aging, combat yeast infections, support weight management, and improve heart health.
3. Sauerkraut
Similar to kimchi but instead a composition of fermented and salted chopped cabbage, sauerkraut is popularly known as a German delicacy. However, it is prepared in different versions across central and Eastern Europe. During the process of fermentation, microorganisms eat the sugar in the cabbage and make acids and carbon dioxide. The probiotics produced during the process of fermentation give the body diverse benefits such as improved digestive systems and a healthy gut. You can enjoy sauerkraut on a sandwich or cheese plate.
4. Almonds
Almonds have unique probiotic qualities that can improve an imbalanced gut. In addition, they contain good amounts of fiber, polyphenols, vitamin E, magnesium, and fatty acids. Almonds can also reduce levels of cholesterol, decrease levels of blood sugar, and lower blood pressure. In addition, almonds contain strong antioxidants that can combat certain diseases like aging, cancer, and inflammation. However, according to studies, you should consume them with brown skin as this is where large amounts of the antioxidants are located.
5. Miso
Miso is made by fermenting soybeans with rice or barley. It is common in China and Japan. It contains beneficial enzymes and bacteria that can enhance the health of the gut, and also contains protein, zinc, and folate. Miso has several health advantages such as the promotion of vitamin levels, boosting of immune function, and improvement of brain health. Miso has a sweet flavor and can be enjoyed in many dressings, soups, and dips.
6. Olive oil
Olive oil is good for gut microbes because it contains polyphenols and fatty acids. Olive oil contains high amounts of potent antioxidants that can reduce the chances of developing certain chronic diseases. Olive oil can also be consumed to ease chronic inflammation, hence decreasing the risk of arthritis, obesity, metabolic syndrome, and heart disease. Consuming olive oil can also help your immune system wade off harmful bacteria such as 'helicobacter pylori' that can increase the risk of stomach ulcers. Other medicinal uses of olive oil include the prevention of strokes and the alleviation of rheumatoid arthritis.
7. Tempeh
Tempeh is another healthy food that you should add to your nutrition to boost gut health, as it contains probiotics. To make tempeh, soybeans are fermented and then squeezed into a cake. After this, it can be sautéed, baked, or grilled. Tempeh contains protein, manganese, copper, zinc, and vitamins. Some of its benefits for the body include reduced blood pressure, heart protection, improved insulin resistance, stronger bones, alleviated inflammation, and reduced hot flashes caused by menopause.
8. Onions
Onions are unarguably healthy and can offer the body truckload of benefits. They contain very few calories but are loaded with many minerals and vitamins. Not only has it been used for diverse medicinal advantages for ages, but it also contains prebiotics. Prebiotics are simply a type of carbs that our bodies cannot digest instead they move to the lower part of the digestive tract where they aid the growth of healthy bacteria. Other health benefits of onions include the alleviation of different illnesses like mouth sores, headaches, heart disease, high blood sugar, cancer, and diabetes.
9. Ginger and garlic
Both ginger and garlic have antifungal and antibacterial qualities. Garlic can help regulate the actions of bad bacteria and aid in the balance of yeast in the gut. Fresh ginger can support the production of stomach acid and trigger the continuous movement of food in the digestive system. Consuming both garlic and ginger can fuel the actions of good gut bacteria. Other benefits of these spices include elimination of upset stomach, alleviation of sore throats, protection against cellular damage, enhanced cognitive functions, and better immune system.
Conclusion
The role of the gut goes beyond just digestion; it supports our body in many ways to ensure overall health. What you eat can have a great impact on the health of your gut. It is important to consume healthy foods that can improve their functions to avoid illnesses. In addition to the foods listed above, other foods for a healthy gut include kefir, peas, Brussels sprouts, bananas, asparagus, and raspberries.