If you have ever had bags under your eyes, you might be aware of how uncomfortable they can be. What is the cause of bags under the eyes and why do some people have them while others don't? The factors responsible for eye bags are innate to some people, while other causes are because of lifestyle. These factors can include aging, lack of sleep, smoking, and allergies. Sometimes eye bags can occur due to hereditary or medical conditions like renal disease, thyroid eye disease, and dermatitis. 
Jump to:
What are bags under the eyes?
Bags under the eyes are puffiness or tender swelling under the eyes. They become more common as you become older, as some of the muscles giving support to the eyelids and the tissues around the eyes weaken. When this happens, the fat that is responsible for supporting the eyes can easily flow into the lower eyelids thereby making them appear baggy. Eye fluids can also accumulate in this area. 
Apart from their unappealing appearance, bags under the eyes are commonly harmless and do not need medical care. However, they can be a cause of concern if they bring about vision changes, irritation, or headache.
How can bags under the eyes be treated?
You can reduce their appearance with medications, therapies, lifestyle, and home treatments. Some lifestyle treatments might include giving up smoking and applying sunscreen regularly. Sometimes one might require surgery if the cause of the bags under the eye is extreme and is affecting vision.
A potent way to decrease eye bags under the eyes is nutrition. There are plenty of food items in your kitchen that you can consume to eliminate this cosmetic concern long-term. Continue reading as we discuss more on the foods that get rid of eye bags under the eyes.
Foods to consume for bags under the eyes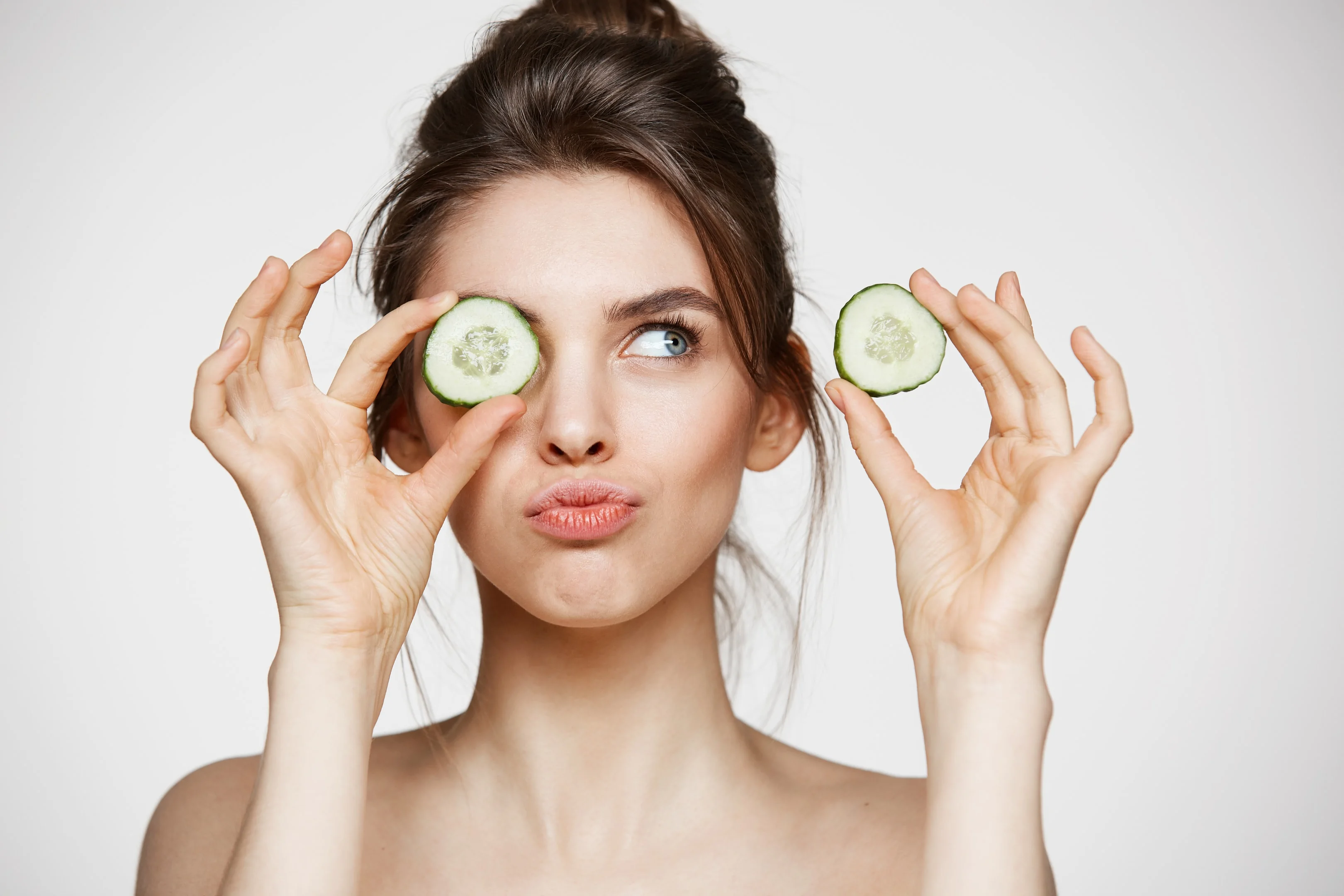 1. Cucumbers
When you hear about cucumbers for the eyes, your first thought might be putting a slice on the eyes. Cucumbers are beneficial for eye health also when ingested. They possess a high-water content that can boost hydration in the under-eye area. More importantly, cucumbers contain large amounts of silica, which can accelerate collagen production. Collagen is a key protein that can provide structure and strength to the body, and can help prevent and eliminate saggy skin and wrinkles. In addition, it can help decelerate the signs that accompany aging, which is one of the culprits of bags under the eyes.
2. Sesame seeds
Sesame seeds have many health advantages, which is why they were used in ancient medicine to combat diseases. They can improve eye bags by reducing the signs of fatigue. They contain vitamin E, believed to be potent against unstable molecules, and can protect your eyes from being attacked by free radicals that can cause eye tissue damage. In addition, vitamin E can also reduce the chance of developing age-linked macular degeneration.
3. Avocados
Avocados contain two powerful antioxidants, lutein and zeaxanthin, that can protect the eyes in many ways. These antioxidants can protect your eyes from light damage especially sunrays. Avocados also can help prevent the under-eye from getting dry, ensuring that the skin here does not stretch and become saggy. Consuming this fruit can also provide nourishment to eye tissues thereby preventing eye dullness. In addition, they contain vitamins B6, C, and E, which can all aid in optimal protection of the eye tissues from oxidative stress.
4. Tomatoes
Tomatoes have been linked to diverse health benefits such as a reduced chance of cancer and heart disease. Tomatoes contain lycopene, which helps to improve the protection of blood vessels, therefore, boosting blood circulation. Consuming tomatoes can aid the alleviation of eye bags by improving blood circulation in the vessels under the eyes. In addition, tomatoes can enhance the skin, which includes protection from sunburn and the prevention of wrinkles, as they contain vitamin C, a collagen producer.
5. Watermelon
In addition to their hydration benefits, watermelons contain diverse antioxidants that are beneficial for eye health. They contain beta-carotene, which can help prevent eye dryness and wade off diseases. Consuming watermelon can ensure that the eyes get enough hydration, hence reducing the indicators of aging such as wrinkles and fine lines. The presence of vitamins C, B1, and B6 in watermelon can also help reduce the chances of getting bags under the eyes. Apart from being a good food to get rid of bags under the eyes, watermelon also possesses anti-cancer effects, can amplify heart health, and diminish inflammation.
6. Celery
Celery is an awesome source of unique antioxidants and nutrients, such as flavonoids, beta-carotene, vitamin C, fiber, and vitamins A and K. It also contains powerful fluid regulators and electrolyte minerals, which can aid the reduction of sagginess under the eyes. It also contains over 20 anti-inflammatory compounds that can help eliminate inflammation. As it has a low glycemic index, it has a slow effect on blood sugar.
7. Mulberries
Mulberries contain fiber, potassium, water, carbs, vitamin K1, and protein. In addition, they are loaded with numerous plant compounds such as chlorogenic acid, rutin, cyanidin, and anthocyanin. Mulberries contain resveratrol, an antioxidant that can help defy the signs of aging. This antioxidant can help improve elasticity in the skin under the eyes thereby boosting skin firmness and eradicating bagginess in this area. In addition, resveratrol can also help smooth out wrinkles and lessen skin discoloration. If you are in search of foods that get rid of bags under the eyes, then mulberries are a perfect choice. Note that pollen from its tree has been reported to cause allergic reactions in some individuals; so, if you are sensitive to birch pollen, you might react to mulberries. 
8. Guavas
Commonly cultivated in many subtropical regions such as South America and Mexico, guavas are an abundant source of antioxidants, especially vitamin C, which is good for reducing the early signs of aging. Apart from its fruit, many people also use its leaves for medicinal advantages. Adding guavas to your diet can help reduce blood sugar levels according to a study. Guavas can also offer the body other health benefits, as well.
Conclusion
Bags under the eyes are commonly just a cosmetic concern and are less likely to be a symptom of a serious medical condition. They can be hereditary and can be caused by aging and other lifestyle factors like smoking and inadequate rest. There are diverse remedies to ease bags under the eyes of which nutrition is a part. Consume foods that remove bags under the eyes, including watermelon, cucumber, tomatoes, guava, and celery. In addition to these foods, ensure you stay hydrated and get enough rest.