An anal fistula is an uncomfortable disease with unpleasant symptoms, sometimes causing the patient to try natural remedies without seeking professional help. However, the best thing you can do is to visit your doctor, as most cases require surgery. The post-surgery period requires extensive care for the patient, as the diet and daily routine need to be adjusted. In this article, we will discuss the foods to avoid with fistula, along with tips to make the process easier. We have also listed the best foods for fistula patients. Let's take a look.
Jump to: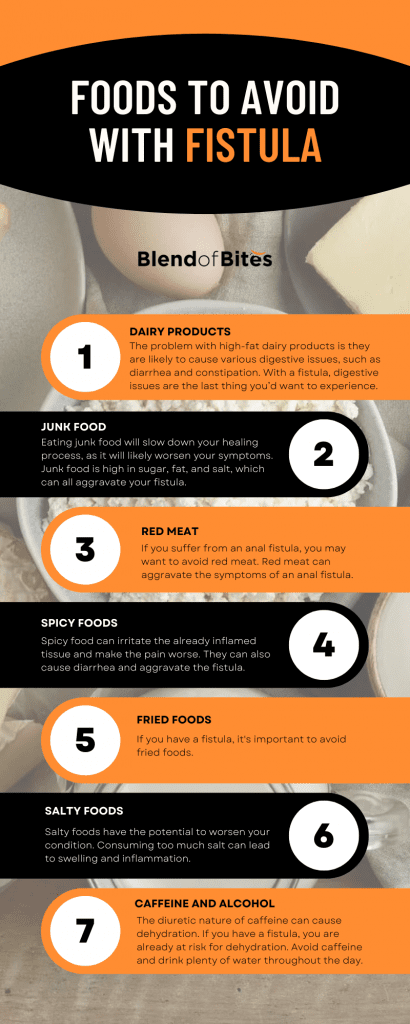 What is a fistula?
A fistula is an abnormal connection between two different organs. Fistulas can occur between blood vessels, organs, and skin. They are usually the result of injury or surgery but can also be caused by infection or inflammation.
Fistulas can be either temporary or permanent. Temporary fistulas often close on their own, but permanent fistulas may require surgery to repair. Fistulas can cause a variety of symptoms, depending on their location. They can also lead to complications such as infection.
They can cause pain, difficulty passing stools, and blood loss resulting in anemia. If not treated properly, they can spread further causing serious complications like pancreatic and anal cancers.
What causes a fistula?
Although there are several causes of fistula, some of which are out of your control, there are a few things to be aware of to prevent fistula. Here are some of them:
Constipation — Constipation is a common gastrointestinal problem characterized by difficult or infrequent bowel movements. If left untreated, constipation can lead to more serious issues like fistula.
Strains during defecation — Anal fistula may occur when you have a strain during defecation. When this happens, the anal muscles can tear, causing a small hole to form. This can lead to leakage of stool and blood and can be painful.
Obesity — Fistula can occur when there is excess pressure on the tissue. This pressure can be caused by obesity, and it is more likely to occur in obese people with diabetes.
Poor personal hygiene — Poor hygiene is a major risk factor for developing a fistula. Open and untreated wounds invite bacteria into our bodies. The bacteria can then infect the surrounding tissue and cause the formation of a fistula.
How to avoid fistula
While causes like post-surgery complications cannot be avoided, the following best practices should be a part of your routine to prevent fistula. These include proper personal hygiene, a proper diet, and staying hydrated.
1. Drink plenty of fluids
This will help keep the bowel and rectum hydrated and will also help flush out any bacteria that may be present. Drinking plenty of fluids to ensure that you are not dehydrated is essential when you have ongoing treatment.
2. Eat smaller meals
Smaller meals can help avoid fistulas by reducing pressure on the tissues. This will help to prevent inflammation and the formation of abnormal connections.
3. Wash your hands
Good hygiene is important when it comes to avoiding fistula. Wash your hands regularly, especially if you use a shared bathroom. You should also avoid sharing personal items such as towels, toothbrushes, or razors, especially if you have an open wound.
Foods to avoid with fistula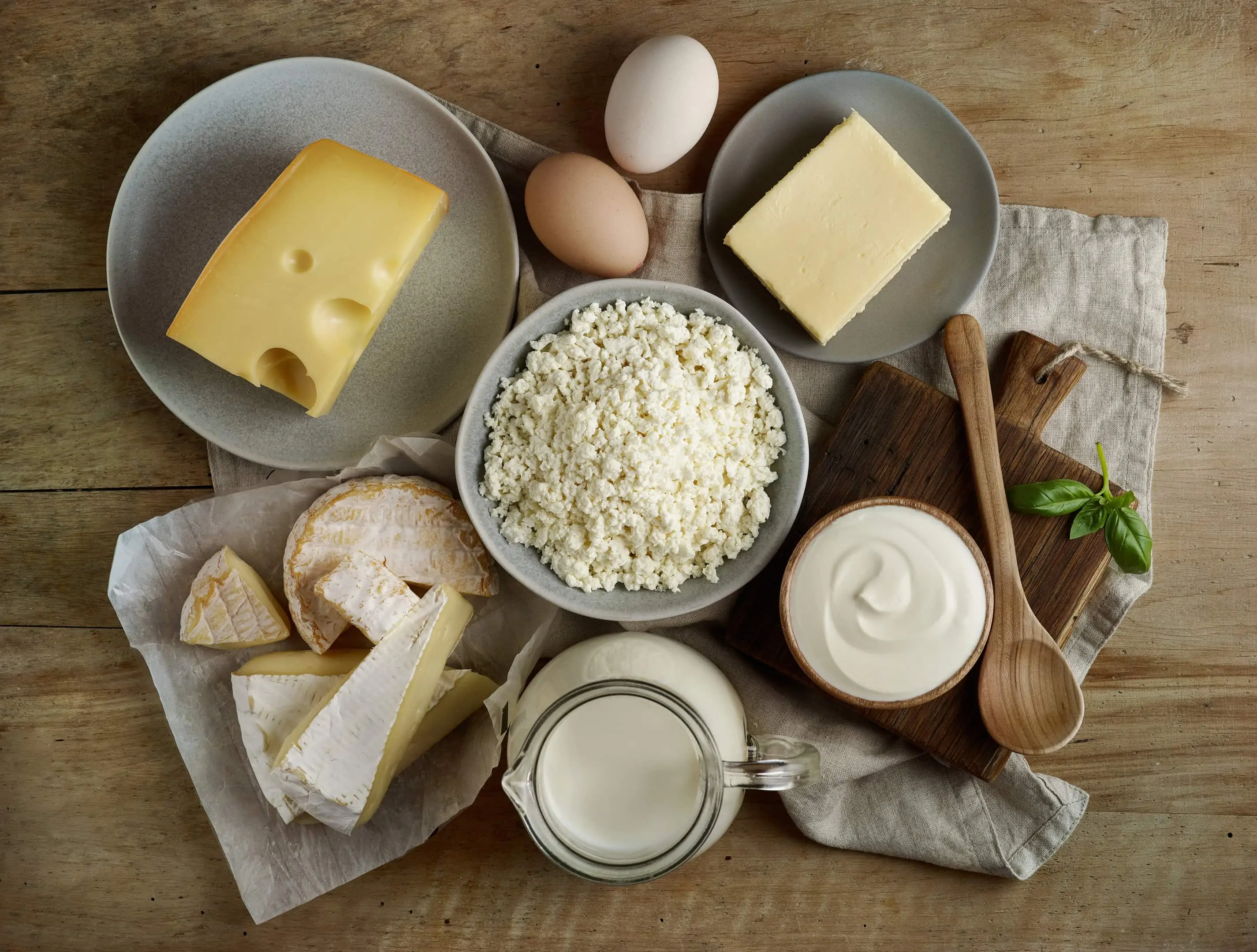 We mentioned above that fistula usually requires professional medical help, but the following are some post-surgery tips that will make life easier for you by providing a smoother transition. Adjusting your diet accordingly is one of them. Make sure that you avoid high-fat and hard-to-digest foods.
1. Dairy products
The problem with high-fat dairy products is they are likely to cause various digestive issues, such as diarrhea and constipation. With a fistula, digestive issues are the last thing you'd want to experience. Frequent visits to the bathroom will only make your condition more painful.
Whole milk, for example, contains eight grams of fat and no fiber whatsoever. The same can be said for heavy cream too, as it contains high amounts of saturated fat that will worsen your fistula. For example, one half-cup of heavy cream contains 43 grams of fat. High-fat cheese can also cause irritable bowel syndrome, worsening your symptoms.
2. Junk food
Eating junk food will slow down your healing process, as it will likely worsen your symptoms. Junk food is high in sugar, fat, and salt, which can all aggravate your fistula. Also, as it's often processed, junk food can lead to several digestive issues, including constipation, diarrhea, and bloating. These conditions will only make your fistula more painful. By avoiding junk food, you will also reduce your risk of inflammation, which is a key factor in the development of fistulas.
3. Red meat
If you suffer from an anal fistula, you may want to avoid red meat. Red meat can aggravate the symptoms of an anal fistula. Red meat is high in fat and cholesterol, which can contribute to inflammation. In addition, red meat is also difficult to digest and may lead to constipation, which can also aggravate the symptoms of an anal fistula.
4. Spicy foods
Spicy food can irritate the already inflamed tissue and make the pain worse. They can also cause diarrhea and aggravate the fistula. Therefore, you should try to avoid spicy foods.
5. Fried foods
If you have a fistula, it's important to avoid fried foods. Fried foods are hard to digest because they are high in fat, which takes longer to digest. It can slow down the digestive process, which can further irritate your fistula, by causing indigestion and constipation.
Fried foods are also often greasy, and as a result, they are hard on your stomach. In addition, fried foods can increase inflammation as they are high in fat and oil, leaving you vulnerable to infections.
6. Salty foods
Salty foods have the potential to worsen your condition. Consuming too much salt can lead to swelling and inflammation. Try to limit your intake of salty foods, and if you eat them, drink plenty of water afterward. This will help flush the salt out of your system and reduce the risk of further irritation.
7. Caffeine and alcohol
The diuretic nature of caffeine can cause dehydration. If you have a fistula, you are already at risk for dehydration, and it is important to stay hydrated. Avoid caffeine and drink plenty of water throughout the day. It is proven that alcohol can cause inflammation in your digestive system, and in your guts, to be more specific. Ideally, when dealing with a fistula, you'd want things to be as smooth as they can in your digestive area. Alcohol is also associated with various complications, such as increased and a slower healing process.
Ideal foods for fistula patients
Adjusting your diet is not simply avoiding certain foods but also replacing them with optimal substitutes. The best foods for fistula patients are rich in protein, crucial for tissue repair. A high amount of fiber intake is also recommended to make things easier for your digestive system. Foods with anti-inflammatory properties are ideal, too, as inflammation will only lead to further infections.
1. Leafy vegetables
Leafy vegetables are a good source of fiber, leading to a healthier digestive system with softer stool. This can help to prevent or relieve anal fissures and fistulas. In addition, they include various vitamins, folate, and other minerals. These nutrients are important for maintaining the health of the mucous membranes, which can help to heal and prevent anal fistulas. Some of the best leafy vegetables include spinach, kale, collards, and Swiss chard.
2. Legumes
There are many benefits to including legumes in your diet, especially if you suffer from a fistula. Legumes have a good amount of fiber and protein, which can help to bulk up stools and promote regularity. They also contain anti-inflammatory compounds that can help to fight infection. Including legumes as part of a healthy diet can help to improve fistula symptoms and promote healing. Opt for lentils, chickpeas, and beans.
3. Fruits
Fruit is an excellent way to treat and heal a fistula. The high fiber content in fruits helps prevent constipation, a common complication of fistulas. Additionally, the nutrients in fruit will help with a smoother post-surgery process. Collagen, found in Vitamin C, is crucial for healthy skin and tissue.
4. Whole grains
Whole grains include high amounts of dietary fiber. Therefore, they will reduce your digestive issues. They can also help to slow down the transit time of food through the gut, which can help to reduce the risk of developing a fistula. Good sources of fiber include whole wheat bread, oats, barley, and quinoa.
Conclusion
Fistula is an unpleasant medical condition that usually requires professional care. However, you can still practice good hygiene, adjust your diet, and stay hydrated to avoid fistula. Adjusting your diet means recognizing the foods to avoid with fistula, which includes high-fat dairy products, junk foods, salty and fried foods, and red meat. On the other hand, the best foods for fistula patients include high-fiber and high-protein foods like leafy vegetables, legumes, fruits, and whole grains. These foods are easy to digest, have anti-inflammatory properties, and help with tissue repair.