Whether it is done by choice or due to certain medical conditions, getting an abortion sometimes feels like the only choice. Whatever your reasons are, it is natural to experience some symptoms after getting an abortion, as your body will go through a healing process. During this period, your diet will be of utmost importance, as you will need certain vitamins and minerals to ensure your body is on the right track. In this article, we will discuss what foods to eat after an abortion and include a brief list of foods you should avoid.
Jump to: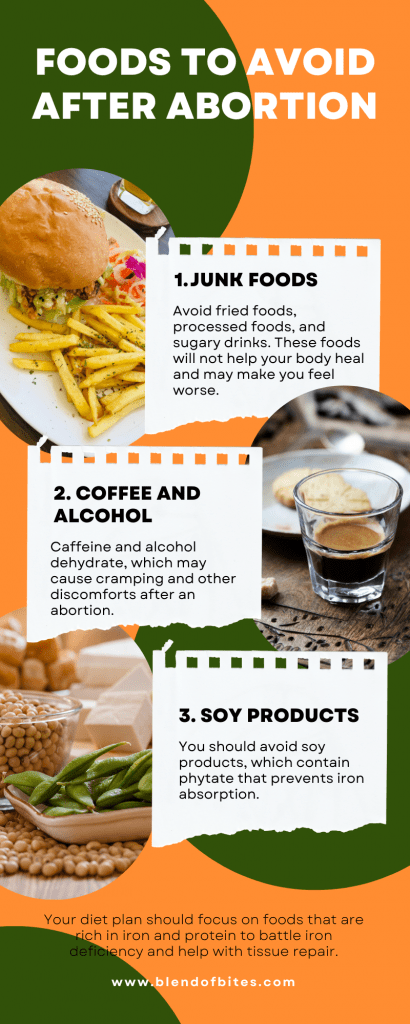 Types of abortion
The procedure of abortion is available in two types: surgical and medical. Surgical abortions are performed in a clinic by health professionals, while medical abortions are done through pills or shots taken at home.
The safety of abortion varies depending on the circumstances, but it can be considered a safe procedure if done by a trained medical professional and with adequate medical care.
Side effects of abortion
Abortion is a safe and legal medical procedure in many countries. Still, there are some risks associated with it. You might experience the following symptoms after having an abortion:
Anemia — Iron deficiency is when your body does not have enough iron to function properly. It can be caused by the heavy bleeding you might suffer after an abortion. On top of that, If you are menstruating after your abortion, you may be at risk for iron deficiency because the blood loss could cause the body to absorb less iron than usual.
Abdominal pain — Cramping and bleeding are expected side effects. It's common to experience cramps, which are similar to menstrual cramps. Some women may experience heavy pains for up to three weeks after having an abortion.
Heavy bleeding — Heavy bleeding after an abortion is a common side effect. It's normal for some amount of blood to be lost during the first few days after you have an abortion. This blood loss may be from your uterus or your vagina.
Nausea and diarrhea — Nausea and diarrhea are two of the most expected side effects of abortion. The use of anesthesia during the abortion can cause nausea. The hormones that are released after the abortion might also be responsible for this. Diarrhea, on the other hand, may be caused by bacteria that are introduced into the body during the procedure, or by the use of antibiotics.
Foods to eat after an abortion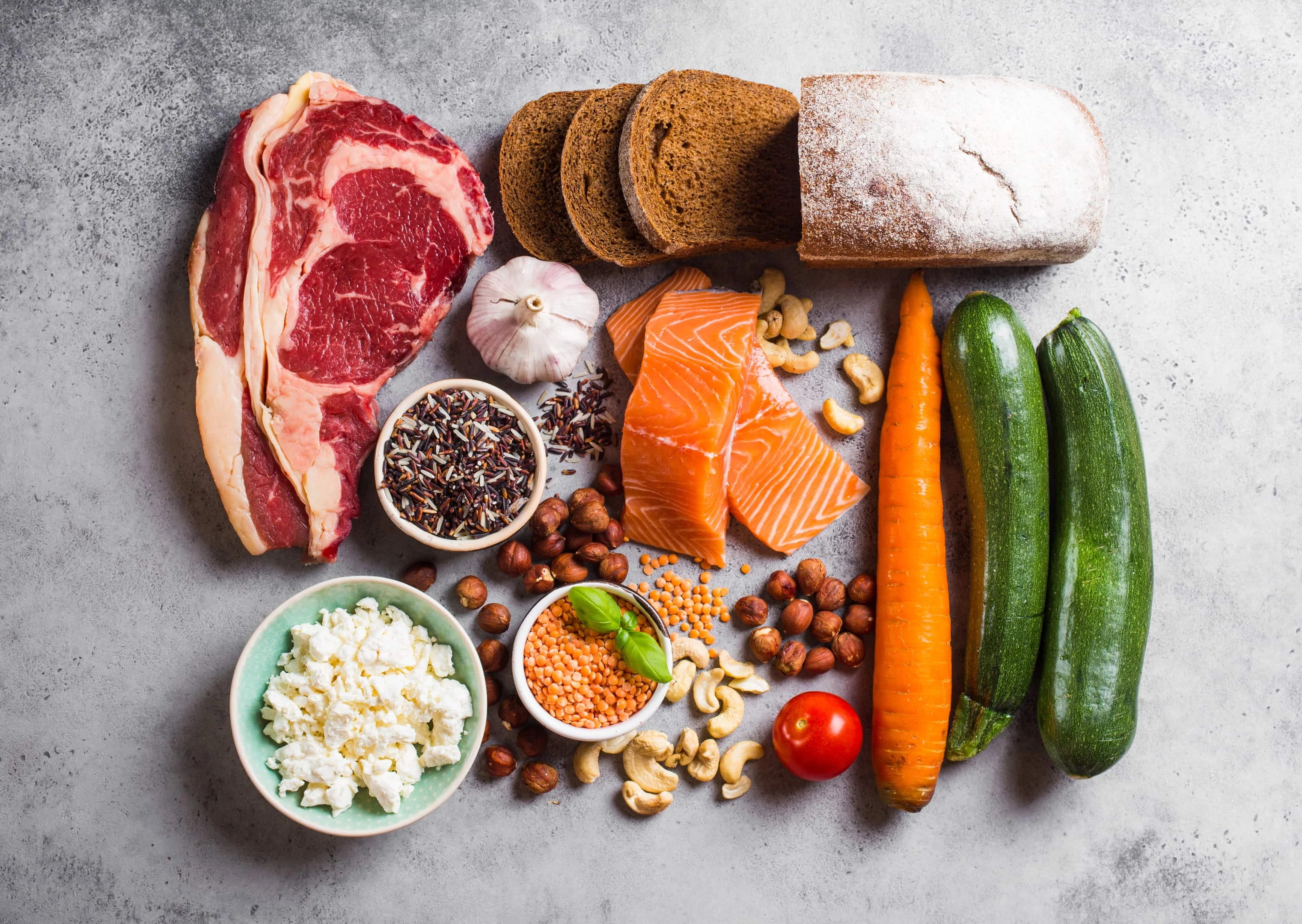 It is likely that, due to the various side effects that are mentioned above, you are likely to experience anemia, which is the result of heavy bleeding, and abdominal pain. Of course, you will also be dealing with the mental effects of the procedure. Fortifying your body with the proper nutrients to ensure that you are on the right track to healing completely is a crucial step during this process. We have listed some of the ideal foods you should incorporate into your diet after having an abortion. Let's take a look:
1. Fatty fish
Unfortunately, your body might experience inflammation after an abortion, most likely due to a vaginal infection. That's where the omega-3 fatty acid found in some foods comes into play, with its anti-inflammatory nature. It is important to note that omega-3 fatty acid also plays a vital role in reducing anxiety and stress, which are also common after an abortion. For a balanced diet, you should add these fish into your diet:
Salmon
Salmon is seafood high in omega-3 fatty acids, which are beneficial for mental and physical health. Omega-3s play a role in reducing inflammation, which can lead to better mental health. Additionally, salmon is an excellent choice regarding protein and vitamin B12 intake, which are essential for optimal mental health.
Tuna
Although tuna has a smaller amount of omega-3 fatty acid than salmon, it is still a great option. Tuna contains a higher amount of protein than salmon and a good amount of vitamin B12, which you'll need to avoid iron deficiency.
2. Poultry and beef
Your body will require a lot of protein to repair damaged or broken tissues after your abortion. Thanks to the amino acids in proteins, your healing process will be smoother. Poultry is rich in protein, which is responsible for maintaining your muscle mass and repairing tissue. Red meat is a good source of zinc, iron, and vitamin B12. All of these nutrients are essential for maintaining good health.
Chicken
Chicken protein is high quality with all the essential amino acids needed for tissue repair. It is also low in fat, so you can eat and not worry about gaining weight.
Turkey
Turkey is a high-protein food that contains tryptophan. Tryptophan is responsible for the production of serotonin, which plays a key role in mood regulation and can help improve your overall emotional state after an abortion.
Beef
Eating beef can help prevent infection and make your post-abortion healing process smooth. As a good source of protein, it can help you to rebuild your strength. Beef is rich in iron too, which can help prevent anemia. Beef also contains a rich amount of oleic acid, a fatty acid that you need to reduce inflammation.
Liver
Liver is packed with nutrients that can help you recover from the procedure. It is high in iron, vitamin B, and vitamin A, all of which are essential for repairing tissue and restoring your energy levels. Although not as much as seafood, liver also contains high levels of omega-3 fatty acids, which you will need plenty of after your abortion.
3. Legumes
Legumes can help you get back on your feet quickly, as they are full of protein. Legumes also contain high amounts of fiber, which is beneficial against nausea and diarrhea, two common symptoms you'll likely experience after abortion. But most importantly, legumes are rich in iron to prevent anemia.
Lentils
Lentils are rich in fiber, which can help with the post-abortion healing process, and they are a good source of protein, which can help rebuild your body. They are also rich in iron, which you must include in your diet to battle against anemia, and are effective in regenerating healthy red blood cells.
Chickpeas
Chickpeas include high amounts of fiber, vitamin C, and vitamin A. They also have a high antioxidant content, which can help speed up the healing process after an abortion. Chickpeas are especially beneficial if you are experiencing cramps or bleeding after your abortion.
Black-eyed beans
Just like lentils, black-eyed beans are high in fiber. They also contain zinc and iron, two essential micronutrients for tissue repair. Finally, black-eyed beans are a good source of vitamin C, which can help prevent infection.
4. Leafy greens
Leafy greens are a great way to help your body heal after an abortion. They have more fiber than the foods mentioned above and many vitamins. All of these are essential for healing post-abortion. Leafy greens can help regulate your menstrual cycle, improve digestion, and strengthen your immune system.
Asparagus
Asparagus is a folate vegetable that helps the body heal quickly. It is also rich in vitamin C, which can help to fight infection. Additionally, asparagus is a diuretic that helps the body get rid of excess water and toxins.
Kale
Kale contains lots of healthy nutrients, including iron and antioxidants. Iron is essential for energy production, and antioxidants can help reduce pain and inflammation. Kale is a great food to include in your diet if you are looking for an easy way to boost your health.
5. Fruits, fresh or dried
Fruits are one of the most beneficial foods to eat after an abortion. They contain many vitamins and antioxidants, which can help protect your body from infection and keep you strong. Additionally, fruits are a good source of dietary fiber, preventing problems with your digestive system. This is important, as nausea and diarrhea are common symptoms experienced after having an abortion.
Foods to avoid after abortion
Unfortunately, including the foods mentioned above into your diet is only half of your process. Do yourself a favor and stay away from the following foods:
1. Junk foods
Avoid fried foods, processed foods, and sugary drinks. These foods will not help your body heal and may make you feel worse. Junk foods do not contain any beneficial or healthy nutrients for your body and are not easy to digest. You might be experiencing some problems with your digestive system, so you should opt for easy-to-digest foods. You will need plenty of iron and protein to help against inflammation, and junk foods do not provide any of these.
2. Coffee and alcohol
After an abortion, you should stay away from coffee and alcohol. Caffeine and alcohol dehydrate, which may cause cramping and other discomforts after an abortion. It will help if you avoid dehydration as it will weaken your body, causing further problems.
3. Soy products
After an abortion, it is important to eat a balanced and healthy diet to recover, which should focus on iron, since it battles anemia and helps with cell regeneration. This means that you should avoid soy products, which contain phytate that prevents iron absorption.
Conclusion
Abortion is a safe and legal medical procedure to which every woman should have the right. Undoubtedly, having an abortion might be a tiresome mental and physical process. You might experience side effects like anemia, bleeding, and abdominal pain. Therefore, your diet should be adjusted accordingly for a better healing process. Your diet plan should focus on foods that are rich in iron and protein to battle iron deficiency and help with tissue repair. Rich omega-3 fatty acid sources like salmon and tuna, protein sources like red meat and chicken, and iron-rich foods like lentils and beans are the foods to eat after abortion.