Citric acid is a colorless and odorless organic acid that naturally occurs in citrus fruits. You get that sour taste when you sink your teeth into certain citrus fruits, especially lemon. Although it is now being used in different processed foods, nutritional supplements, cleaning agents, and medicines, this acid is natural to citrus fruits.
However, it is not just citrus fruits that have citric acid; plants and animals also contain traces of it in small amounts. However, this does not mean that there are no foods without citric acid. It is important to note that the manufactured variant is unlike the natural one; it is made from mold. The ones listed as an ingredient on your favorite food items do not occur naturally but are manufactured.
Jump to: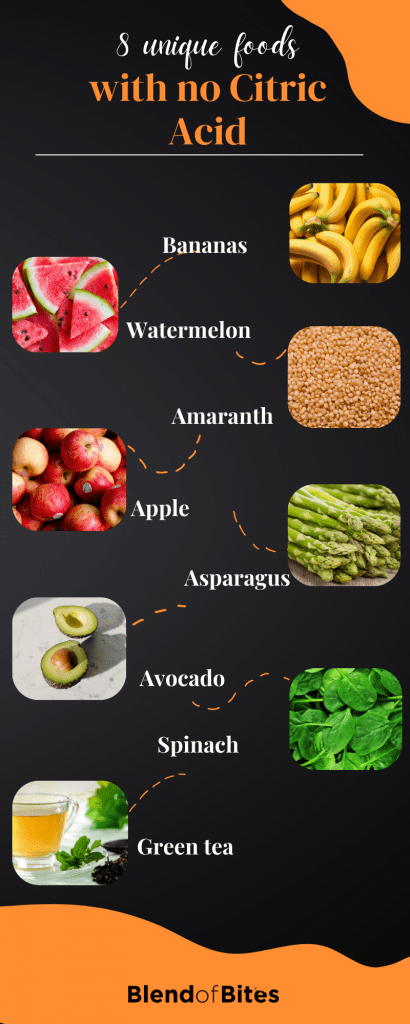 What is citric acid?
Before researchers discovered other sources of citric acid in the 1900s, citric acid was first produced from lemon juice in 1784. Due to its unique sour and acidic taste, it is used for flavoring and preserving products like candies and soft drinks. It is also used to stabilize medicines and for manufacturing disinfecting products.
Natural sources of citric acid include oranges, grapefruits, tangerines, pomelos, limes, and lemons. Other foods with citric acid in small or average quantities include tomatoes, raspberries, cranberries, pineapple, cherries, and strawberries. All food items that are made with these fruits automatically have citric acid in them.
Citric acid is one of the most popular additives in the food industry today and is used to preserve food ingredients, boost flavor and enhance acidity. Today, many dairy products, frozen foods, and beverages contain the manufactured version of citric acid. One primary use of manufactured citric acid in canned food products is to protect against bacteria caused by health issues like food poisoning.
In addition, citric acid is also used to produce dietary supplements and medicines. It is used to conserve and stabilize the active ingredients used in these drugs and to boost the taste of chewable or syrup-like medications.
Is citric acid dangerous?
The answer is no. Most citric acid allergies come from the manufactured versions of citric acid. Without this, citric fruits are safe and have health advantages like energy metabolism, enhanced nutrient absorption, and protection against kidney stones. However, if you are allergic to citric acid, you can experience uncomfortable symptoms after consuming foods with it. Symptoms could range from reddening gums and lips to intense itching of the throat, tongue, and lips. Here is a list of foods without citric acid that you can enjoy:
Eight unique foods with no citric acid
Although citrus fruits are notably one of the most common sources of vitamin C, most vegetables and fruits also contain traces of it. When on a citric acid-free diet, it is vital to avoid beverages or juices that might incorporate fruits that contain citric acid and foods like tomatoes, lettuce, cayenne pepper, and others. Here is a list of foods without citric acid:
1. Bananas
Bananas are at the top of the list of foods that do not contain citric acid. These delicious fruits contain ascorbic acid, a powerful antioxidant potent against infections and diseases. Our body uses it to form teeth, fibrous tissues, capillaries, bones, and connective tissues. Ascorbic acid is the natural version of vitamin C that you can get from foods. Beyond ascorbic acid, bananas contain other nutrients like fiber, carbohydrates, manganese, protein, and potassium. Bananas are great for weight management, insulin sensitivity, sugar levels, heart health, and digestion. Bananas are also a perfect baby food without citric acid.
2. Watermelon
Watermelon contains an amino acid called citrulline, which can be broken down into arginine, an essential amino acid our body needs. Arginine is used in the fusion of nitric oxide and performs the important function of boosting the abilities of the immune and cardiovascular systems. Eating watermelon is an excellent source of water; hence it can help you stay hydrated and refreshed. Moreover, it is packed with unique plant compounds and nutrients that can prevent cancer, enhance heart health, improve skin appearance, alleviate muscle soreness, decrease oxidative stress, prevent macular degeneration, and reduce inflammation.
3. Amaranth
Another food on the list of foods without citric acid is amaranth. Although not many people recognize amaranth as healthy food, this nutritious grain has been in existence for centuries. It has a comprehensive dietary profile with numerous health advantages. Amaranth does not contain citric acid; instead, it is rich in phenolic acids that act as powerful antioxidants. It is regarded as a pseudo-cereal, unlike other cereal grains such as wheat. Amaranth has a nutty and earthy taste, making it versatile for different dishes. It is naturally loaded with micronutrients and antioxidants. What more? It is also gluten-free. The consumption of amaranth can guarantee reduced inflammation, lowered cholesterol levels, weight loss maximization, and protection of the liver from the aftermath of alcohol.
4. Apple
Apples do not belong to the citrus family and do not contain citric acid. Apples have an amazing flavor and are fleshy. They are filled with antioxidants and nutrients like fiber and are great for warding off diseases. Consuming apples regularly can reduce the risk of diverse health issues like cancer. Eating apples can also support weight management and help boost brain and gut health. In addition, they also provide numerous benefits to the skin, such as skin hydration, skin protection, skin toning, and the elimination of puffy eyes.
5. Asparagus
Another food on the list is asparagus. Popular around the world, this vegetable comes in diverse colors, such as green, purple, and white. If you are looking for a low-calorie vegetable, try asparagus. It contains a truckload of vitamins, antioxidants, and minerals such as protein, folate, zinc, riboflavin, phosphorus, fiber, vitamin E, A, K, and C. When pregnant, it is a beneficial vegetable as it contains folate, an important nutrient essential for DNA formation, cell growth, and other body functions. In addition, consuming asparagus can provide the body with anti-cancer and anti-viral qualities through the powerful flavonoids it contains. Asparagus can also help boost the functions of the digestive system, provide support during pregnancy, and decrease blood pressure, thereby reducing the risk of stroke and other diseases.
6. Avocado
If you are looking for a fruit that contains potassium in large quantities, try avocados. Avocados are perfect for any diet and contain beneficial nutrients. They are high in folate, copper, vitamin E, and C. The health benefits of avocados are plenty, including improved digestion, detoxification to support smooth bowel movements, prevention from cancer and osteoporosis, enhanced vision, and better heart health. They can also offer the body anti-microbial qualities and protection from chronic diseases like stroke and obesity. They are good fruits that you can add to baby food without citric acid as they contain B-vitamins, which are great for both pregnancies and enhancing your baby's health. In addition, potassium in avocado is essential in a child's diet for smooth development.
7. Spinach
Spinach is a vegetable containing large amounts of water and is perfect for staying hydrated. It has valuable nutrients like folic acid, iron, protein, vitamin A, C, K1, and calcium. In addition, this leafy vegetable also possesses excellent plant compounds like nitrates, zeaxanthin, lutein, and quercetin. You can enjoy spinach raw or cooked. According to studies, consuming spinach can help combat oxidative stress, reduce aging and decrease the risk of diabetes. It can also strengthen eye health and aid the maintenance of blood pressure. Research has also linked the consumption of spinach to a lowered risk of developing certain cancers like prostate and breast cancers.
8. Green tea
Popularly referred to as one of the healthiest beverages in the world, green tea does not contain citric acid and is great for consumption if you are on a citric acid-free diet. EGCG (epigallocatechin gallate) is the primary compound that gives green tea incredible medicinal qualities. Moreover, green tea has potent bioactive compounds like polyphenols, which combat inflammation. Green tea enhances brain function by combining the dual functions of L-theanine and caffeine. Research has shown that combining these two can have amazing effects in boosting the operation of the brain. Green tea can also help increase your metabolic rate if you want to manage your weight; this is why you see it listed as an ingredient in most fat-burning supplements. Other advantages your body can get from consuming green tea include reduced risk of cancers like breast cancer and colorectal cancer, protection of the brain from neurodegenerative diseases, reduced bard breath, and the prevention of cardiovascular diseases.
Conclusion
Whether on a citric acid-free diet or just looking for foods without citric acid, above is a comprehensive list of foods without citric acid. These foods include spinach, asparagus, green tea, apples, and bananas. Citric acid is predominantly found in citrus fruits; however, manufactured versions developed from a type of black mold are commonly used to produce additives, supplements, cleaning agents, and medicines. While the residues from this mold can cause allergies in exceptional cases, citric acid is generally considered safe.