Although folic acid or folate is an essential mineral, high levels of folic acid intake might negatively affect your body. Therefore, to decrease your folate levels, you should add foods without folic acid into your diet. However, this might be a tough task since so many food items contain folate. Read on to find out the best foods without folic acid.
Jump to: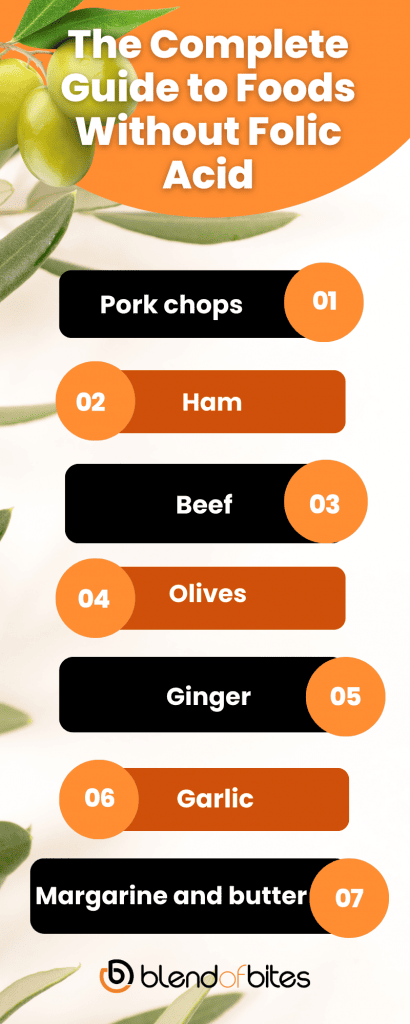 What is folic acid?
Folic acid is a form of vitamin B9, a crucial mineral for our body. It is a man-made chemical added to many food items and multivitamin supplements. Folic acid can be found in most fortified foods that are common in supermarkets.
Folic acid is made from folate, a mineral that is found naturally in foods. After being synthesized, folic acid is produced and added to foods and edibles that naturally lack folate. Keep in mind that folic acid and folate are terms that are frequently interchanged.
What are the side effects of folic acid?
Although folic acid is essential to our body, too much of it will lead to unwanted side effects resulting in serious medical conditions. Here are some of the unwanted side effects of folic acid:
It may mask vitamin B12 deficiency — Since both vitamin B12 and folate have similar benefits for our body, a high level of folate intake could very well keep your vitamin B12 deficiency hidden and undiagnosed.
Seizures — As was mentioned, folic acid regulates the homocysteine levels in your blood. Too much folic acid can result in high levels of homocysteine. High homocysteine levels pose a major threat to healthy blood vessels which can lead to increased chances of developing conditions such as stroke.
Nausea and diarrhea — These side effects result from an upset stomach caused by folic acid. Unlike the two listed above, these are short-term conditions and should go away in a short time.
Foods without folic acid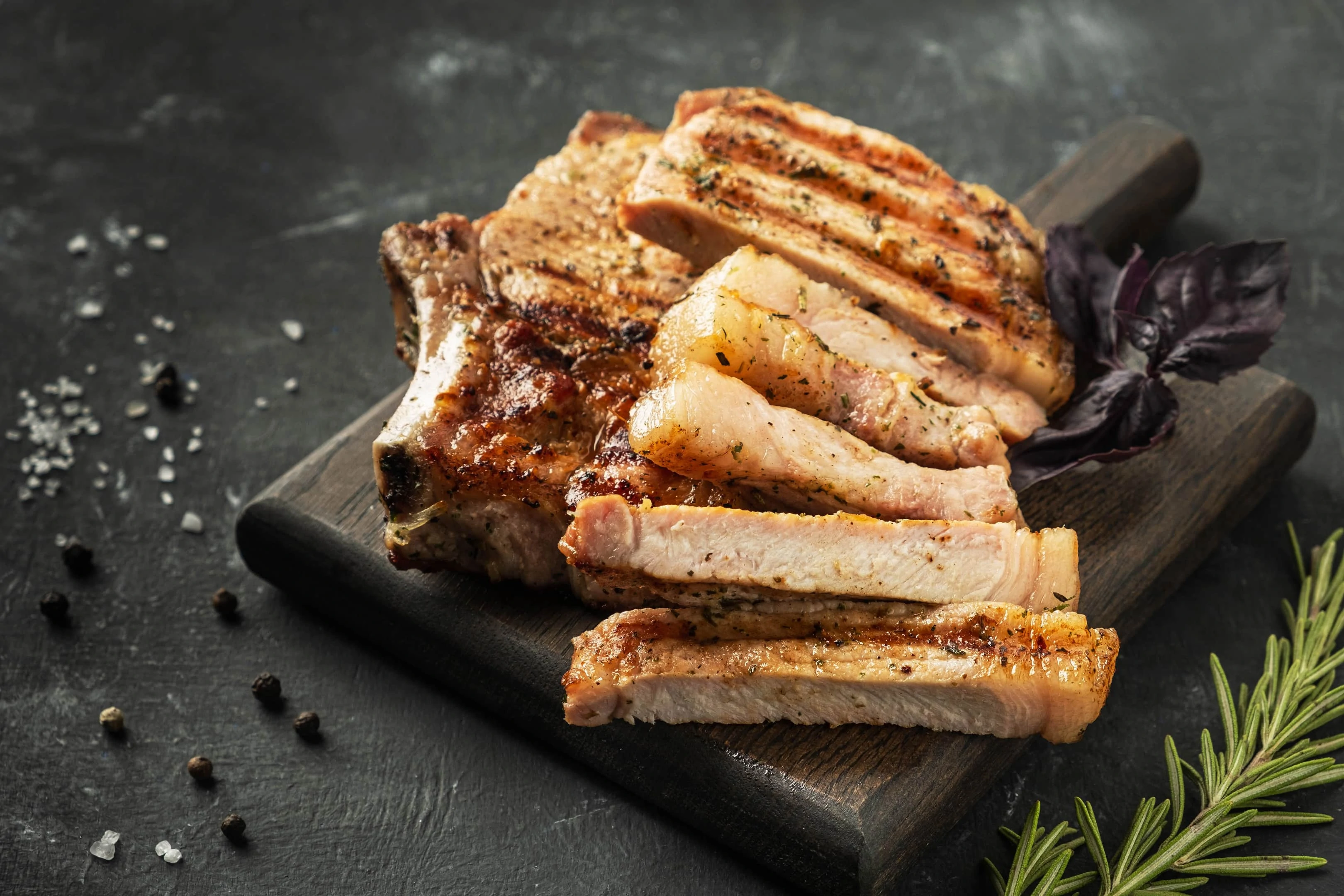 If you are concerned about high folic acid levels, you might want to adjust your diet accordingly by decreasing your folic acid intake. Although it goes without saying that you should avoid supplements and multivitamins that contain folate, the key is adding foods without folic acid into your diet. Here are some of the foods that have little to no amounts of folic acid:
1. Pork chops
Pork chops do not contain any folic acid, making them a cornerstone food item for those on a low-folic acid diet. Except for folate, pork chops contain all of the B vitamins. Three ounces of pork chop is equal to 43 percent of the recommended daily protein intake for men, while this number increases to 52 percent for women. Therefore, they are not only folic-free, but they also boost your protein intake. However, they might lead to high levels of cholesterol, so consume them in moderation.
2. Ham
Ham is one of the low-folic acid options when it comes to meat. Ham contains only 1 mg of folic acid, still a meager amount. Opt for mince ham as it has a lower amount of folic acid than smoked, cooked, or canned ham.
3. Beef
Beef contains only 6 mg of folic acid, making it a great addition to low folate foods that are rich in protein. Avoid beef liver, though, as liver, in all forms, contains a high amount of folic acid and should be consumed in moderation if you are on a low-folic acid diet. Ribs, chucks, and loin should be your go-to options for beef.
4. Olives
Whether it's pickled, canned, or bottled, 100 gr of olives contain only 3 mg of folic acid, making it a great option. However, avoid green olives if you want to lower your folic acid intake, as they contain a higher amount of folic acid than their black counterparts.
5. Ginger
Although there are popular folic acid supplements with ginger, raw ginger contains only 11 mg of folic acid. Yet, ginger is still rich in other vitamins and minerals, such as B vitamins like B1 and B3. It is also versatile and contributes to its value for those on a folate-free diet.
6. Garlic
Those on a low-folic acid diet are in luck with this one, as garlic is one of the staples for many people when it comes to cooking. Since garlic is seen as a nutritional powerhouse, it might surprise you that it contains only 3 mg of folic acid, even lower than ginger. Feel free to add it to your dishes.
7. Margarine and butter
Margarine and butter both contain as little folic acid as 2 mg, earning them a place amongst foods low in folic acid. Yet, remember that they do little good to your health because they contain high amounts of trans fat. Consume in moderation.
Foods to avoid on a low-folic acid diet
1. Leafy vegetables
Leafy vegetables with high amounts of folic acid include spinach, turnip greens, collard greens, romaine lettuce, mustard greens, kale, and arugula. The vegetable that is richest in folic acid is probably spinach, with an amount as high as 194 mg per 100 grams. It might be hard to avoid all these leafy vegetables as they are not only delicious but also very beneficial for your body. However, it would be best if you tried to opt for those which contain low-folic acid levels.
2. Legumes
Legumes like black beans, kidney beans, lentils, and chickpeas include high amounts of folate, with the richest one being beans. Four kinds of beans contain more than 200 mg of folic acid. Pinto beans are the richest kind with 294 mg, while black beans closely follow it with 256 mg. Lentils are another high-folic acid food that you should avoid too, as raw lentils contain a folate amount of 479 mg. This amount decreases to 180 mg when cooked. Legumes, like leafy vegetables, should be on your list of foods to avoid if you want to decrease your folic acid intake.
Conclusion
Folic acid is a mineral chemically synthesized from the natural vitamin B9 folate, most commonly used to fortify foods. It is no wonder it's been added to many everyday food items since it is a must-have mineral for our bodies. However, exceeding the recommended daily amount might result in serious medical conditions like seizures, diarrhea, and nausea. For those with high folic acid levels who want to change to a folate-free diet, the best options include pork chops, ham, olives, garlic, and raw ginger.