Following a raw vegan diet, regardless of your motives, might be a hard task. You might experience making sure to get all the necessary nutrients, carbs, and fats, but it may also lead to weight loss. That's why we have gathered some of the best foods that you can include in the raw vegan diet for weight gain. Let's take a look.
Jump to:
What is the raw vegan diet?
A raw vegan diet is an eating plan that consists of unprocessed, plant-based foods. Raw foodists usually follow a vegan diet, which consists primarily of fruits, vegetables, sprouts, nuts, and seeds. They generally believe that cooking food destroys healthy enzymes, depriving them of their nutritional value. Some even advocate that cooked food is toxic and inedible. A raw vegan diet for weight gain can be useful as it promotes a healthy and clean eating plan.
Are there any benefits of raw foodism?
It is a known fact that eating cooked food will prevent diseases and illnesses that are related to eating raw foods, such as food poisoning. However, the raw vegan diet already excludes most of the foods that are dangerous when eaten in a raw state, like red meat, poultry, chicken, and seafood. The benefits of raw foodism include:
It helps boost metabolism — When we cook our foods, we destroy enzymes, nutrients, and water-soluble vitamins. These are all important components needed by the human body. Opting for a raw food diet is thought to be a good way to make sure that the necessary ingredients are still alive, which can lead to better metabolism.
A healthier diet — If you want to stay healthy, preparing most of your dishes out of fresh fruits and vegetables is a good way. Eating lots of raw veggies daily keeps your immune system strong while keeping other parts of your body functioning properly.
Lower cholesterol levels — Unlike animal products, raw vegan foods absorb through the stomach wall rather than through the intestine. They dissolve completely into the bloodstream before reaching the small bowel. Once absorbed, they find their way through the lymphatic vessels to the liver, to be converted into lipids (fats), glycerol, fatty acids, sugars, and ketones. This process prevents cholesterol buildup.
How to gain weight on a raw vegan diet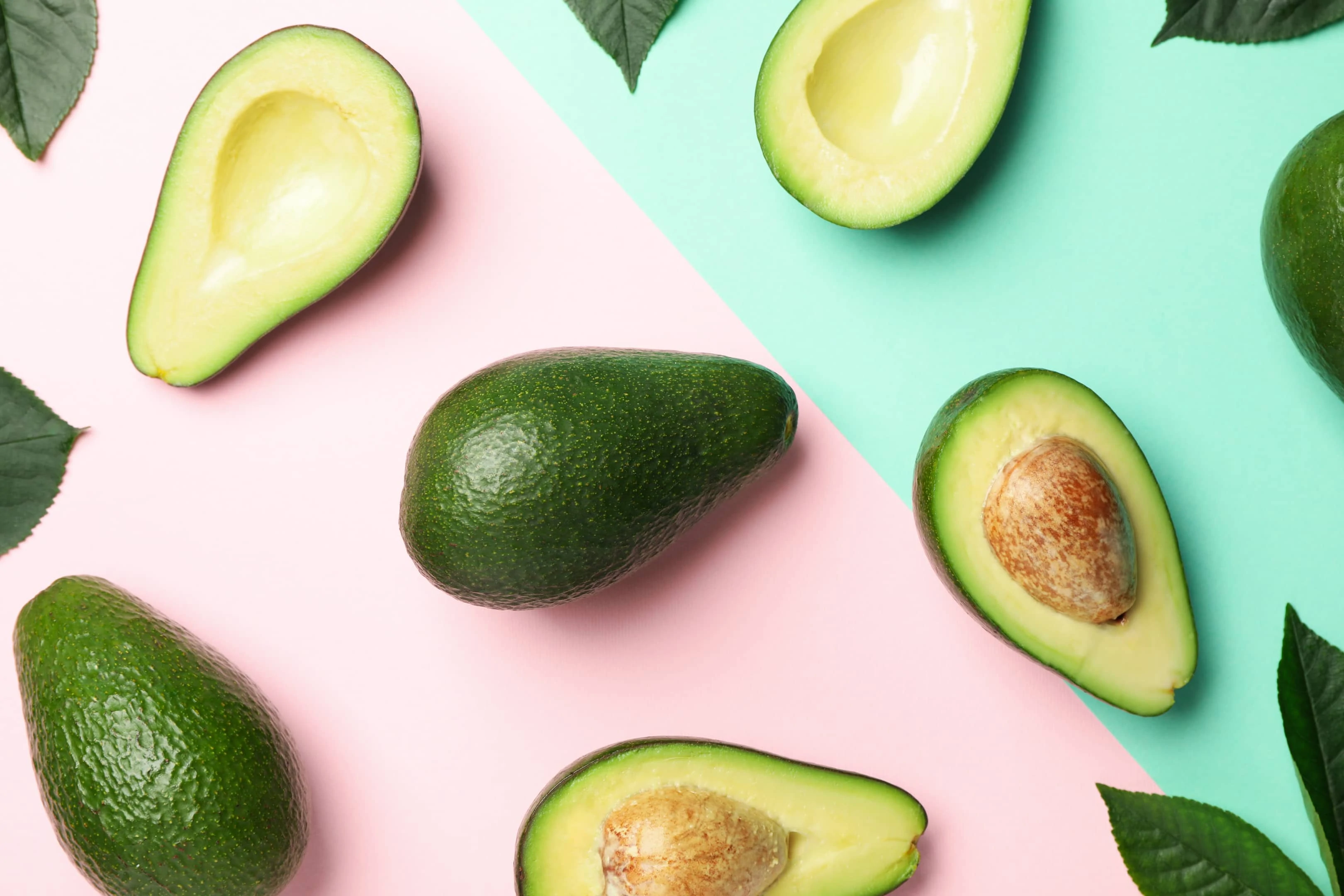 Since your options are pretty limited, you will likely lose an unwanted amount of weight on the raw vegan diet. Most of the foods you are allowed to eat are low on calories and fat, and also are stacked with fiber and different types of minerals. We have gathered some of the most nutritious, healthy, and high-fat foods that will help you gain weight.
1. Avocados
Avocados are nutrient-dense fruits that provide a range of health benefits. They are the ideal food to include in a raw vegan diet for weight gain, as they are vegan, can be eaten raw, and are a calorie-dense food.
Avocados are high in monounsaturated fats. This type of fat promotes a healthy weight gain with decreased risk of diseases. Avocados also contain more potassium than bananas, have more fiber than most other fruits, and have high levels of calcium and folate.
The versatile avocados can be eaten as the main dish, or as toppings on your salad or on toast.
2. Chia seeds
Chia seeds are small, black, and oval-shaped seeds that come from the chia plant. They are nutritious, vegan food that can be eaten raw. Chia seeds are rich in healthy fats that will prompt weight gain, thanks to the omega-3 fatty acids. They provide you with the necessary protection against diseases like high blood pressure. Chia seeds are also rich in fiber, helping to improve your digestive health.
3. Nuts
Nuts are an important part of any healthy diet. They are a great source of healthy fats that will help you gain weight while reducing inflammation in your body and keeping your cells functioning properly.
Nuts are an excellent source of protein and healthy fats, with the latter including both monounsaturated fats and polyunsaturated fats that help against bad cholesterol levels. These healthy fats make up almost 70 to 80 percent of nuts, making them a high-calorie food that will help you gain a healthy weight.
Different types of nuts contain different amounts of fat, and try to add variety to your diet by including almonds, Brazil nuts, chestnuts, hazelnuts, peanuts, and walnuts.
You can include nuts in your diet by adding them to salads as a topping or garnish, eating them as snacks in between meals, or added to smoothies or shakes.
4. Olive oil
Oils are crucial for weight gain, but ideally, you should opt for healthier and vegan ones. Olive oil, for these reasons, is a great option to have on the raw vegan diet. It is a plant-based, vegan oil that comes from cold-pressing the olives, so it's not heated or processed in any way. Olive oil owes its popularity to its healthy nature and can be used in cooking and as a condiment on salads and vegetables. It contains oleic acid which is known for lowering blood cholesterol and reducing the risk of coronary heart disease.
5. Whole grains
Carbs are important for weight gain, and unrefined carbs will prompt a healthier weight-gaining process. Whole grains are the natural, unrefined form of grain. Whole grains are rich in fiber, which helps with digestive health, and contain many minerals and vitamins such as magnesium and iron.
Whole grains can be found in many foods such as bread, pasta, cereal, and oatmeal. The benefits of eating whole grains include better digestion, lower cholesterol levels, reduced risk of diabetes and heart disease, and increased energy levels. Although white grains will prove useful for weight gain, whole grains are the overall better alternative for you, as they provide a clean and healthy weight gain.
6. Juices
On a raw vegan diet, one of your limited options for weight gain is fruits, thanks to their high sugar and carb levels. Since on a raw vegan diet most of your alternatives are either fruits or vegetables, juices are a creative way to add some more versatility to your diet. Juices are healthy because they contain all the vitamins, minerals, and other nutrients that raw fruits or vegetables have.
In addition to being healthy, juices are also very versatile. They can be made from any type of fruit or vegetable, not just oranges and apples.
7. Legumes
Legumes are a group of plants that have edible seeds, which is a good alternative to the raw vegan diet. These plants are also called pulses because many of them have seeds that can be dried and stored for a long period.
Since you won't have access to the most common protein sources, like seafood, red meat, or chicken, legumes will be your main protein source in the raw vegan diet. Legumes like chickpeas and lentils provide enough protein to help cope with the lack of meat in your diet.
They are also a good source of fiber, iron, and other essential nutrients that your body needs to grow and stay healthy. Legumes are high in soluble fiber that can help lower cholesterol levels.
8. Dried fruits
Dried fruits are often eaten as snacks or used in cooking to add sweetness and flavor. Dried fruits are usually made by drying the fresh fruit in the sun, or by artificial heat. As dried fruits contain high amounts of sugar and carbs, which makes them an ideal option for you. They contain more calories than fresh fruits as they've been dehydrated and packed with natural preservatives.
9. Quinoa
Although different sources have different understandings when it comes to classifying quinoa, regardless of whether it is a grain or a legume, it is still a healthy, gluten-free, and vegan food that will help your weight gain journey. Quinoa is rich in protein and iron. The Incas called it "the mother of all grains" because it can grow in a variety of climates, even at high altitudes.
Although there are many types of quinoa, the ones that you are likely to encounter at the supermarket will probably be red, white, or black quinoa. For weight gain, it is recommended to opt for red and white types, as black quinoa has the lowest fat content of the three.
10. Dark chocolate
Dark chocolate is sweet, cocoa-based food. It is made from cocoa beans and contains less sugar than milk chocolate. Dark chocolate can also be vegan and gluten-free. Dark chocolate contains antioxidants and flavonols, which help improve brain function and lower the risk of heart disease. With its high-calorie content and vegan nature, dark chocolate is a great snack and dessert option for the raw vegan diet.
Final thoughts
The raw vegan diet might be considered an extreme one, with limited eating options that exclude some of the most common foods. Unwanted weight loss can result. To prevent this, you need to add certain foods that are in line with the philosophies of the raw vegan diet. Avocados are ideal, as, unlike any other fruit, they have a very high-fat content, and they are filled with healthy nutrients. Quinoa and chia seeds are examples of high-fat and healthy foods too. When it comes to oils, opt for coconut and olive oils as they are the most beneficial. Dried fruits and fruit juices will add diversity to your diet, while legumes are all-around great regardless of your diet.