Green chickpeas, also called green garbanzo beans, are a popular part of the family of legumes. They are quite different from the processed type of chickpeas that you might have consumed before as they are more nutrient-packed and delicious. Green chickpeas nutrition and health benefits are part of what makes this legume unique. They are the younger versions of matured chickpeas which are one of the most consumed legumes all around the world. Green chickpeas are most common during the winter and are mostly referred to as a winter vegetable with the likes of spinach, mustard greens, and fenugreek greens.
The origins of chickpeas can be generally traced to countries that are situated in the Middle East; chickpeas have been cultivated in these places for over a thousand years before they became popular across the United States. Unlike other peas, chickpeas grow in pods that are on vines. However, to get green chickpeas, the pods are harvested when they are very fresh, fuzzy, and green not, when fully ripe. When these pods are fully ripened, they become yellow and are mostly put in cans to preserve them. Green chickpeas look pretty, have a nutty taste, and a texture that can be described as buttery in nature.
Green garbanzo beans can add taste and texture to any dish; you can utilize them as a side dish, include them in a salad, or added to rice. When it comes to nutrition and health benefits that a portion of food can offer the human body, green garbanzos beans benefits are powerful and plentiful. This vegetable contains vitamins, antioxidants, and minerals that include protein, folate, and fiber. These minerals and antioxidants can provide support in enhancing the healthy function of the body.
Jump to:
8 green chickpeas nutrition and health benefits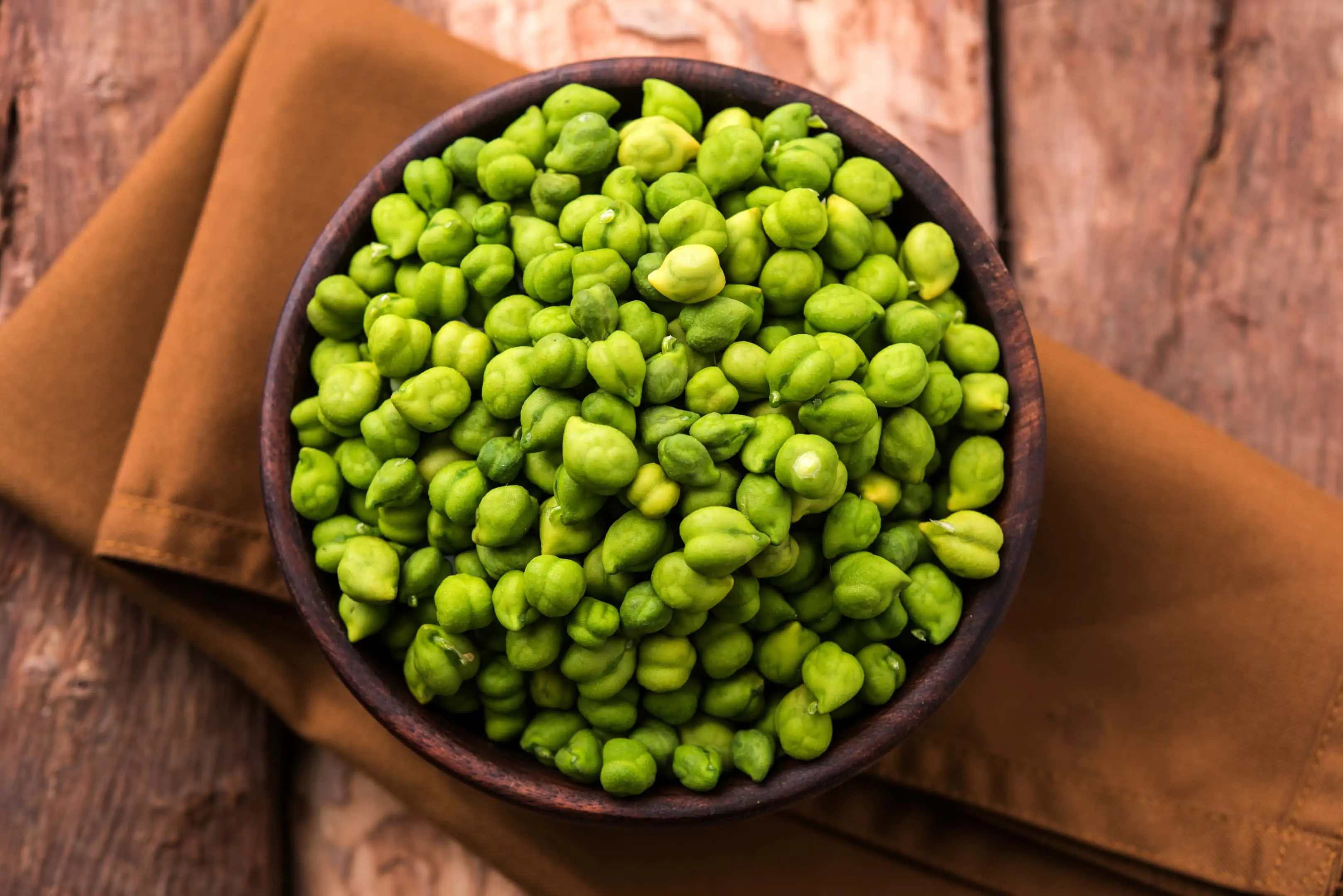 1. Protein to strengthen muscles
Green chickpeas contain quality amounts of plant-based protein just like matured chickpeas. This macronutrient can boost muscle strength and ensure healthy bone health. If your diet restricts you from consuming products from animals, then green chickpeas are a great food to add to your meals. A serving of green chickpeas contains more than 10 grams of protein which is about the same quantity that one can get from lentils and black beans. The protein in green garbanzo beans can also aid weight loss because it can help you reduce your calorie intake, while still ensuring that your body does not lack the nutrients it needs. However, it is not recommended that you make green chickpeas the sole source of the protein that your body requires, instead consume them with other foods that are also rich in protein.
2. Folate for combatting depression and preventing birth complications
Green garbanzo beans are also high in folate which is also referred to as vitamin B9. Although folate is mostly received from supplements, you can naturally get it from consuming foods like green chickpeas. Folate can be very helpful when dealing with depression, this is because it can assist in eliminating the symptoms associated with depression. A study has shown that people suffering from depression mostly have folate deficiency. Vitamin B9 can help with pregnancy complications like miscarriages and birth defects, and can also aid the proper growth of the fetus during pregnancy.
3. Fiber for management of weight and enhanced digestive health
Another great characteristic of green garbanzo beans benefits is that they contain fiber. Fiber can help to improve the development of healthy bacteria in our gut, thereby aiding to restrict the excess growth of unhealthy bacteria in the gut. This can in turn help the body alleviate the symptoms of colon cancer and irritable bowel syndrome. Fiber which can be found in green chickpeas is perfect for people who want to improve their weight. Foods that contain fiber can also keep you feeling satisfied for a long time, thereby reducing your calorie intake. Research has also proven that moderate consumption of foods high in fiber like green chickpeas can reduce the risk of developing heart disease. Also, fiber can lower the symptoms of constipation by making bowels softer and speeding up their passage out of the body.
4. Iron for healthy energy levels and immune system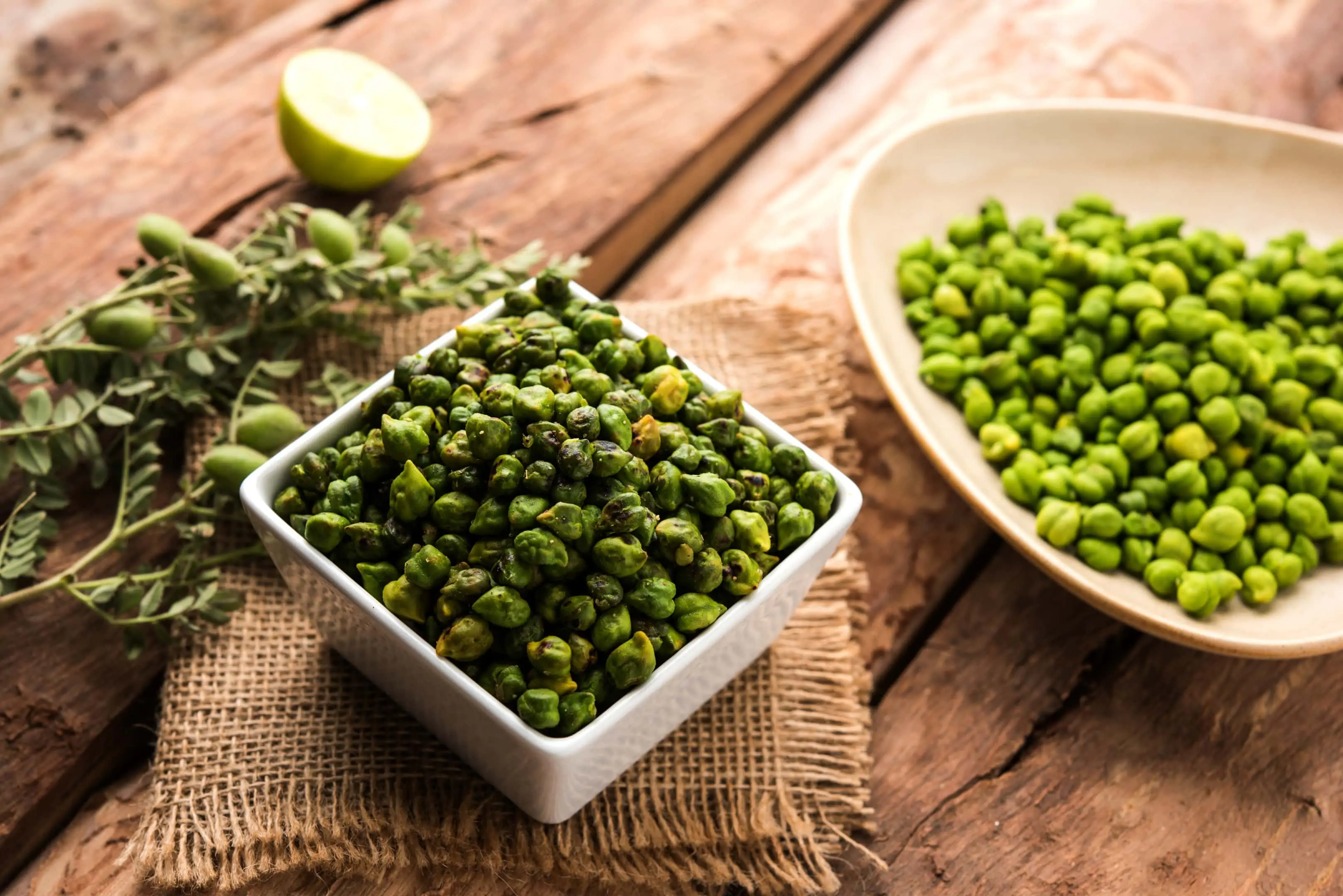 Iron helps the human body system convey oxygen from the lungs to the necessary parts of the body. Iron is a non-negotiable mineral that the body needs to function well. The iron in green garbanzo beans can improve energy levels, support the immune system by strengthening its defense against diseases and improve pregnancy health. Also, iron can boost athletic performance by improving energy levels. Iron can also aid restorative night sleep and ensure a healthy pregnancy period. However, it is important not to consume foods packed with a lot of iron because an excess intake can increase one's risk of developing diabetes and liver cancer.
5. Phosphorus for healthy bones, muscle recovery, and waste removal
Green chickpeas contain another important mineral which is called phosphorus. When the human body lacks phosphorus, some of the symptoms that might manifest include pain and fragility in the bones, stiff joints, loss of appetite, irregular breathing, recurring fatigue, weight change, and irritability; it can even lead to poor tooth and bone development in children. Phosphorus is found in dietary sources that include legumes like green garbanzo beans, lentils, green peas, and black-eyed peas. The health benefits of phosphorus include the removal of waste from the kidneys, muscle contraction and recovery after exercise, the support of strong teeth and bones, management of how the body utilizes energy, and healthy promotion of nerve conduction in the body.
6. Vitamin C for managing blood pressure and preventing gout attacks
Vitamin C is widely appreciated for its impressive antioxidant properties. This antioxidant can enhance the immune system by giving protection to cells, thereby protecting the body from oxidative damage that can cause diseases like diabetics, cardiovascular diseases, chronic inflammation, and cancer. A study has shown that a healthy consumption of chickpeas can generally reduce blood sugar levels, and help to prevent the development of diabetes. Vitamin C can also reduce the risk of developing heart disease by reducing the risk factors associated with this medical condition. Since green chickpeas are an excellent part of a plant-based diet and they are low in purines, they are considered safe for people that have high levels of uric acid in their body system. Therefore, aiding the prevention of gout attacks. People suffering from gout often experience unexpected grueling pain attacks and swelling. Over the years, many studies have said that consuming foods that contain vitamin C can lower the uric acid level and in the long run protect the body from experiencing gout attacks. Vitamin C can also prevent the deficiency of iron and enhance the body's immune system.
7. Selenium for protection against heart disease and some cancers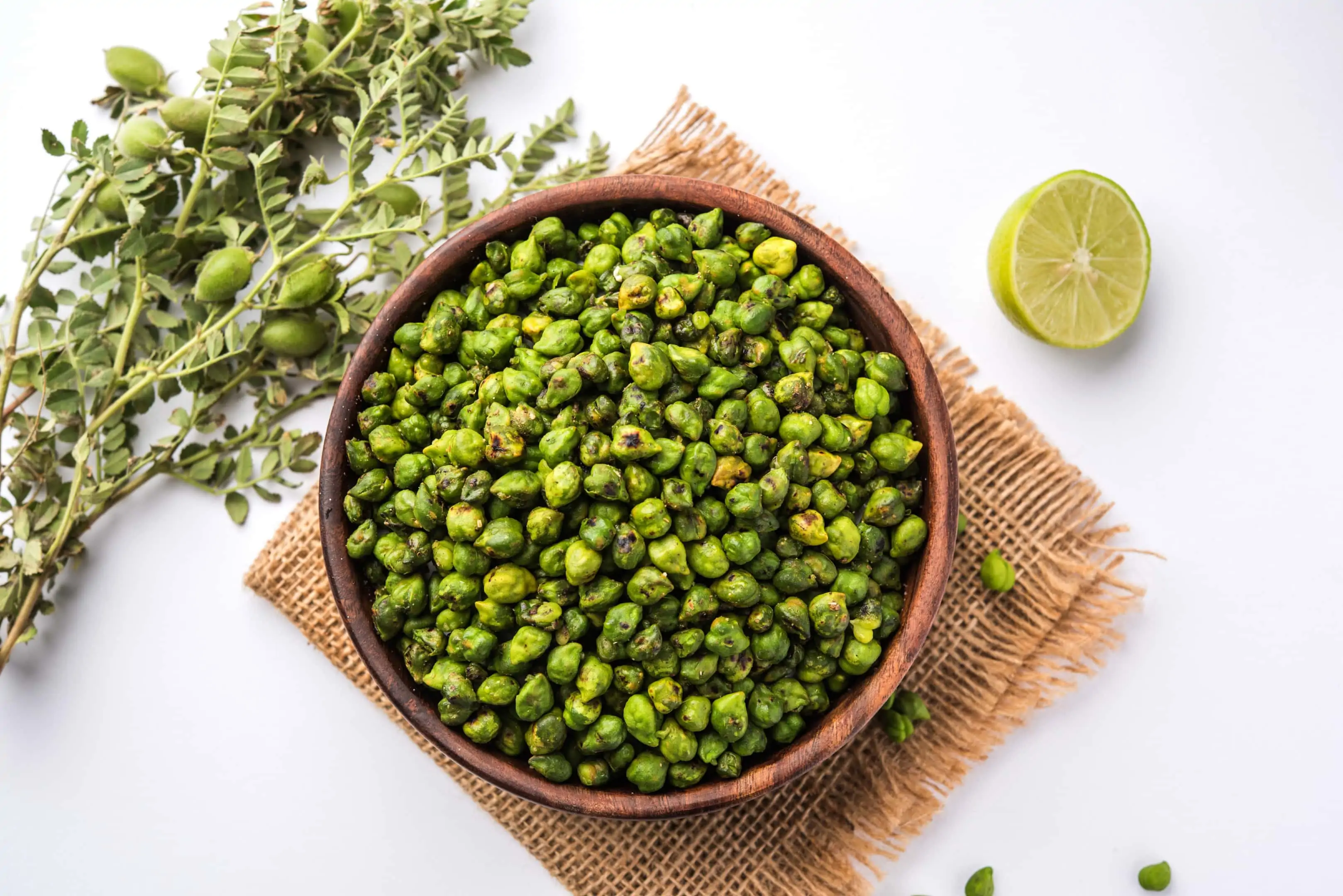 An added green chickpeas benefit is that it contains selenium, a powerful antioxidant. Not only can this antioxidant prevent damage to cells, but it can also protect the body from different diseases. This antioxidant can reduce the chances of developing certain types of cancers like prostate, lung, and breast cancer by aiding the destruction of cancerous cells in the body and enhancing the immune system. Selenium can also help the heart stay healthy by reducing inflammation. It also helps increase the levels of glutathione peroxidase, which is also a strong antioxidant. Selenium can also aid the improvement of thyroid health and the prevention of mental decline as in those living with Alzheimer's disease. In general, selenium is a great antioxidant that the body needs as it can greatly boost the immune system.
8. Vitamins E and K for protection against bacteria and viruses
Green garbanzo beans also contain vitamins E and K. Vitamin E, like selenium, is an important antioxidant that the body requires to intensify the functions of the immune system. Vitamin E can give the body protection from free radicals that can harm the cells and tissues. Vitamin E can also support eye health and improve cognitive health. This vitamin can help the body to properly utilize vitamin K, which helps the body to make different proteins that it needs for blood clotting and the development of bones. Vitamin E can also help the cells in the body to properly interact and perform their functions.
Conclusion
Although not widely available because they are mostly harvested during the winter, green garbanzo beans have many nutritional benefits that you should not ignore. Other nutrients that green chickpeas contain include calcium, magnesium, and zinc. To get the best out of green chickpeas nutrition and health benefits, snack on them raw, add them to pasta or any recipe of your choice. Also, it is recommended that you indulge in a balanced diet, as focusing on one food cannot give you all the nutrition that your body needs.