You've probably heard the saying, "just because it's vegan, doesn't mean it's healthy." There is a common misconception that vegan foods are automatically healthier than non-vegan alternatives. There is some truth to this, because the vegan diet does indeed improve nutritional status, promote gut health, reduce inflammation and improve overall wellness.
Of course, spinach, kale, and cucumbers are all great – they are very nutrient-dense and naturally low in calories and these are the foods people think of when considering vegan foods. However, high-calorie vegan foods do exist, and they go beyond sugar and oil. It's important to make yourself aware of these foods, especially if you are on a weight loss diet or trying to bulk up/build muscle.
Even if you don't fall into either of these categories, knowing what vegan foods are high in calories will help you plan your diet and choose your meals wisely, and will also increase your nutritional knowledge.
Jump to:
Are you trying to gain weight while following a vegan diet?
From the onset, it can seem impossible to gain weight while on a vegan diet. If you're underweight or looking to bulk up on a vegan diet, it is important to emphasize certain foods. To gain weight, you need to eat more calories than you expend. A 500-calorie surplus per day is usually recommended to gain one pound per week. Along with increasing your calorie intake, you may also need to eat more frequently (5-6 times per day), and increase your fat and protein intake.
As with non-vegan foods, vegans looking to gain weight healthily should avoid eating highly processed and refined foods such as potato fries, fizzy drinks, sugar-sweetened juices and beverages, and baked goods, e.g., donuts and cookies. Eating junk foods to gain weight will result in excess belly fat and increase your risk of obesity along with its associated risk factors (diabetes, high blood pressure, heart disease, and many others).
General weight gaining tips
Track your calorie intake to ensure you are meeting your daily calorie goal.
Don't neglect to track your macros – yes, a calorie is a calorie, but the spread of calories will dictate how efficiently your body builds muscle.
Be creative and consistent with your food options – choose foods that you enjoy and won't bore you.
Be mindful of portion size, serving size, include high protein foods and healthy fats.
Be consistent with your training regimen and get good quality sleep every night.
Avoid excessive cardio training to speed up your gains.
High calorie, nutrient-dense foods to add to your diet
1. Nuts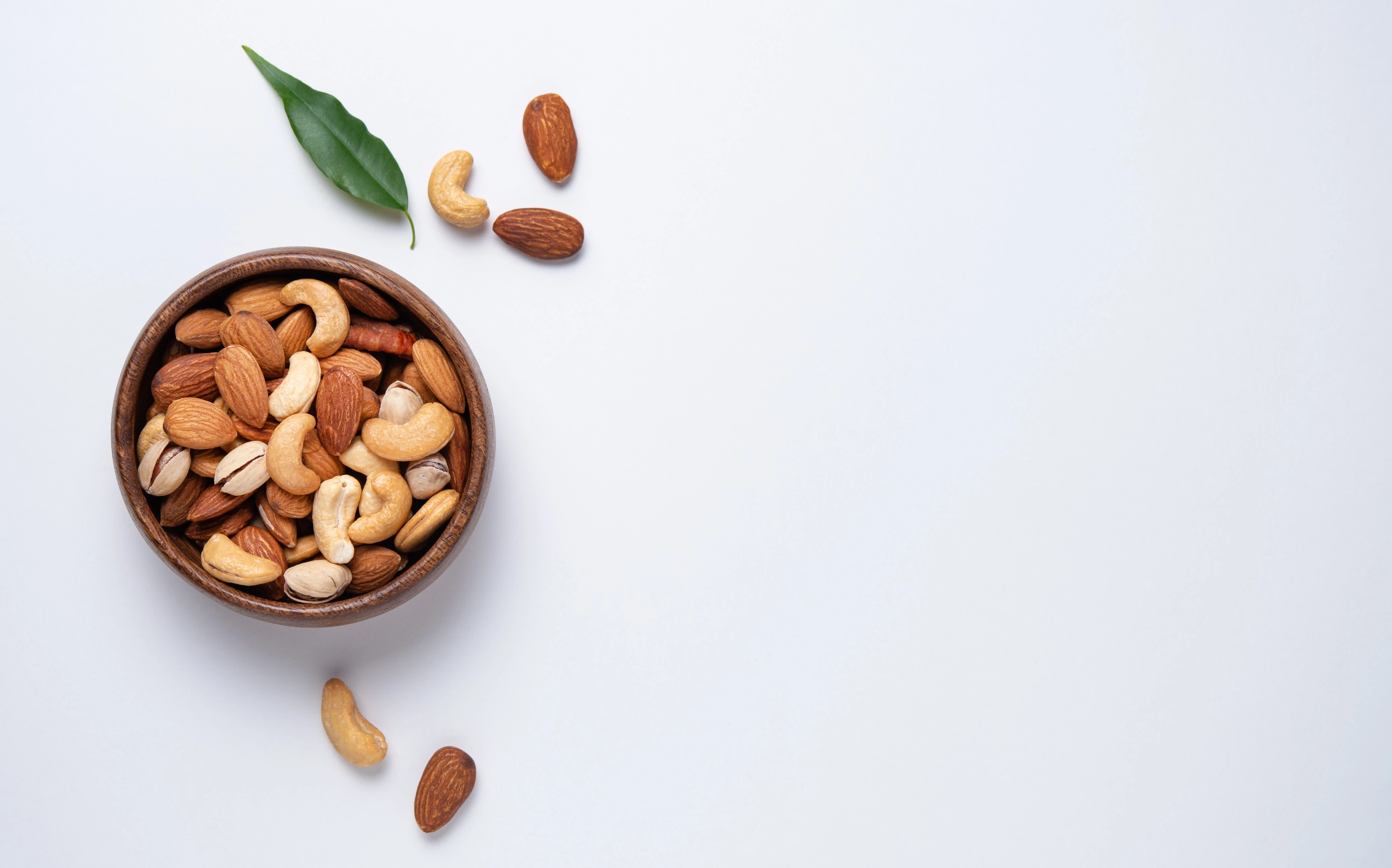 Nuts are an excellent source of protein and contain healthy fats and calories. Nuts are also rich in antioxidants which help to prevent oxidative damage by neutralizing free radicals. They are very useful to support healthy weight gain when consumed in moderation.
Popular nuts that are rich in calories are almonds, cashews, walnuts, and pecans. For example, almonds contain roughly 884 calories per 100g, with one serving (24 almonds) containing 162 calories, 6g protein, and 14.2g fat. 35 pieces of cashews contain 245 calories. A 28g serving of walnuts contains 185 calories and over 4g of protein.
Nut butter, e.g., almond butter and peanut butter, are also very high in calories and are very versatile. You need to be mindful of the ingredients in the nut butter and choose a natural variety, where possible.
2. Avocado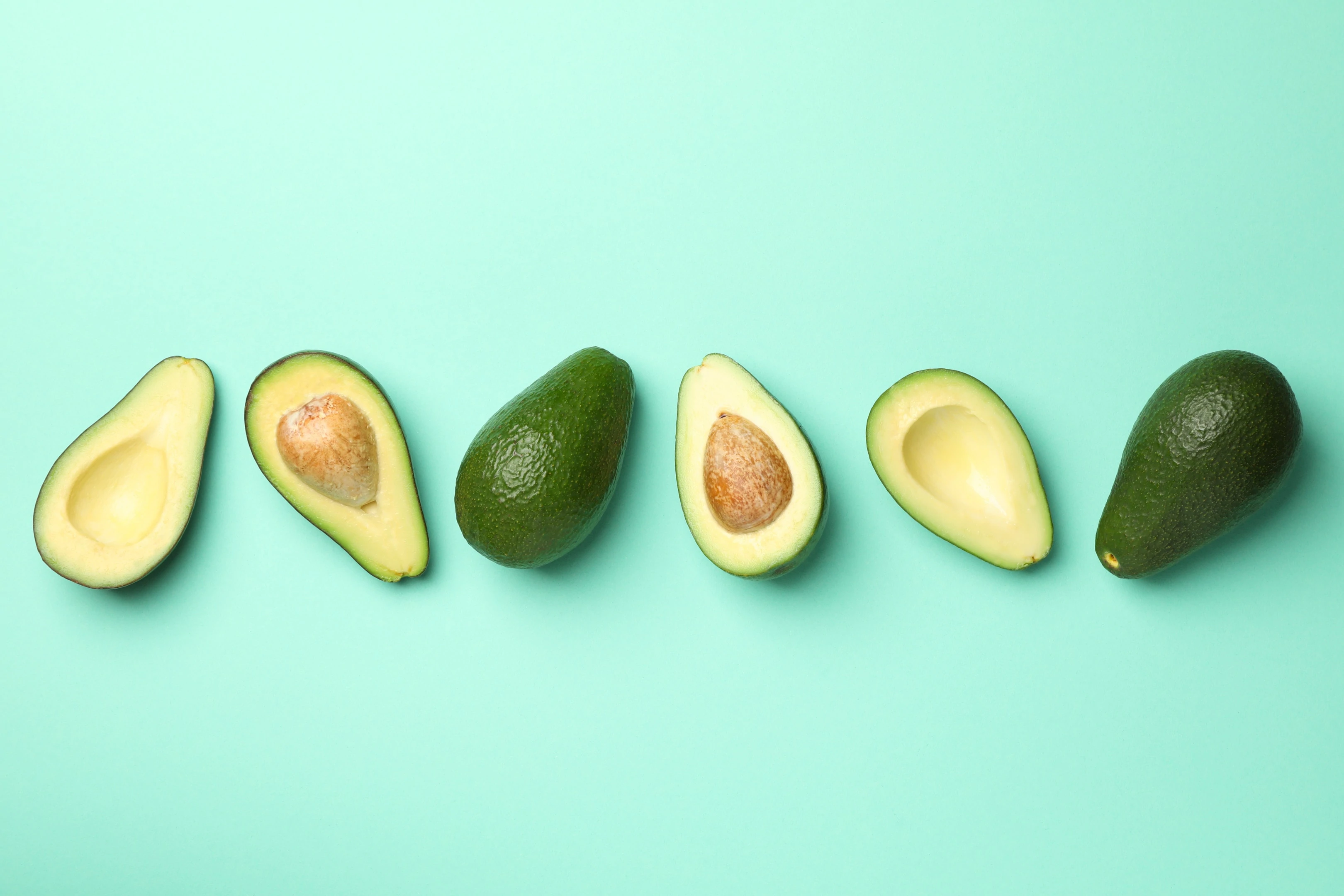 Avocados contain healthy fats and are high in calories. The most abundant healthy fat in an avocado is oleic acid, a monounsaturated fatty acid that helps to lower inflammation in the cardiovascular system. A type of cholesterol, called beta-sitosterol, is also present in avocados and helps to lower cholesterol levels. Vitamin C, B9, B5, and potassium are also abundant in avocados.
Known for its creamy texture and delicious flavor, one average avocado contains 322 calories, 13.5g fiber, 30g fat, and 4g protein.
3. Legumes
Legumes such as black beans and chickpeas are an excellent source of protein, fiber, and calories. One cup of cooked black beans contains 227 calories, 15g fiber, and 15g protein. One cup of chickpeas beans contains 12.5g fiber, 4.2g fat, and 14.4g protein. Chickpeas are especially rich in choline, a nutrient that improves sleep, the contraction and relaxation of muscles, and cognition.
Lentils are another calorie-rich legume, containing 180 calories per ¼ cup uncooked. They are full of fiber and protein and are abundant in folate, iron, phosphorus, potassium.
4. Sweet potatoes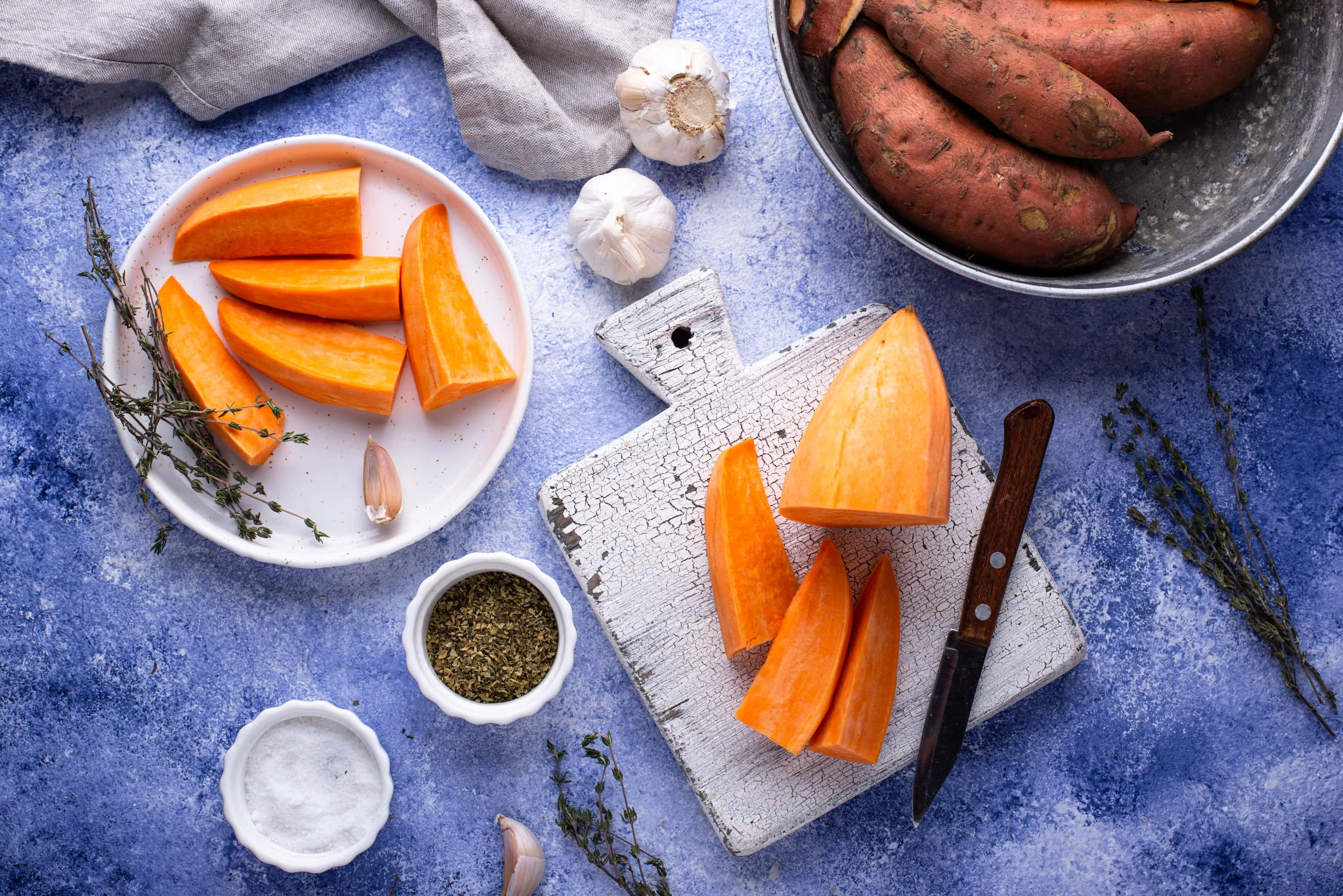 This carb-loaded vegetable is high in calories and rich in fiber, vitamins A, B, and C, minerals (potassium and manganese), and antioxidants. Sweet potatoes contain 180 calories and 6.5g of fiber per cup. One serving of sweet potato is enough to fulfill the daily requirements of vitamin A.
5. Brown rice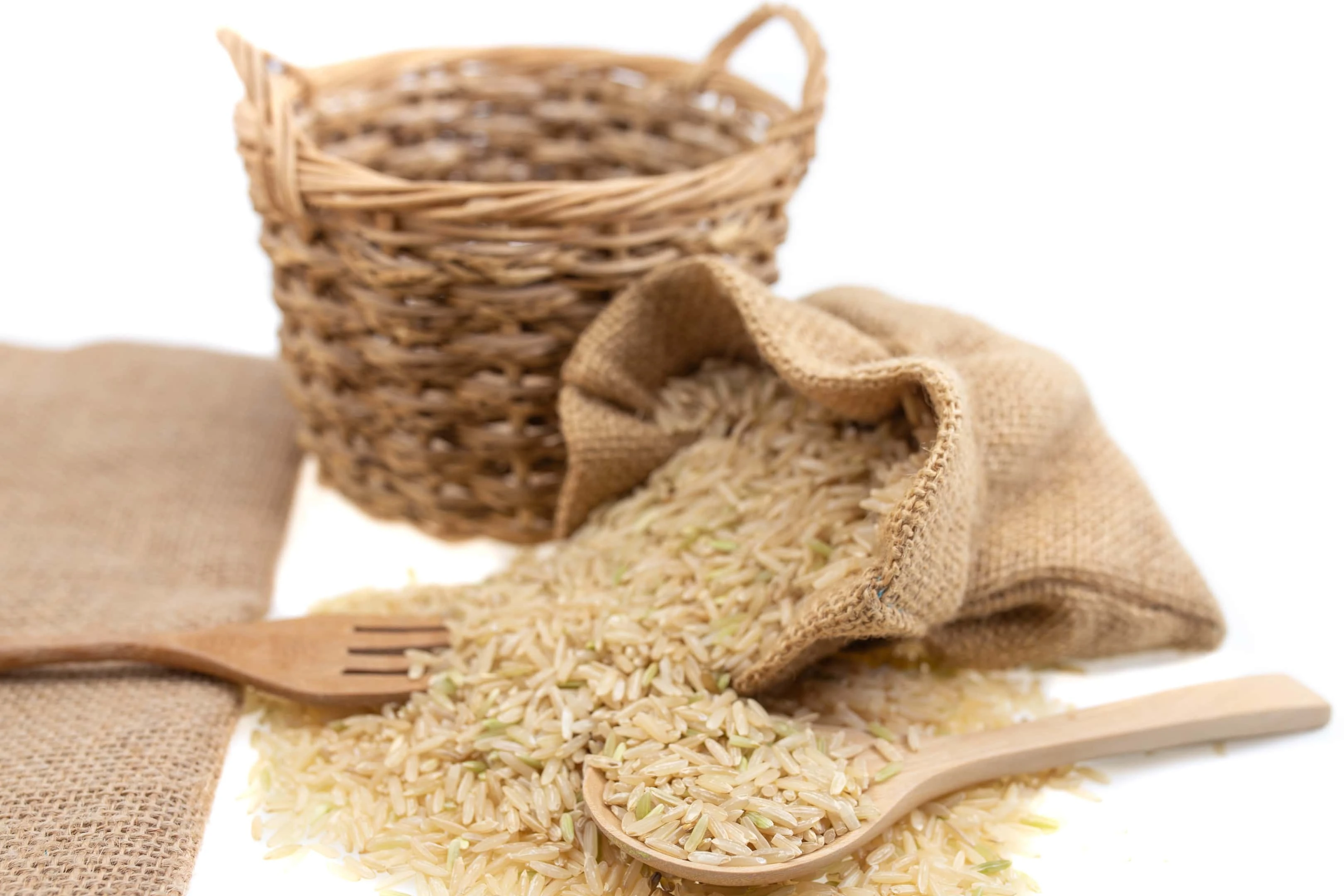 Brown rice is a high-calorie and carbohydrate-dense grain that can be eaten in many forms. It is popularly consumed by bodybuilders and gym-goers as it can help contribute to gradual weight gain.
One cooked cup of brown rice contains 216 calories, 5g protein, and 3.5g fiber. It is also rich in manganese, selenium, phosphorus, and niacin.
6. Quinoa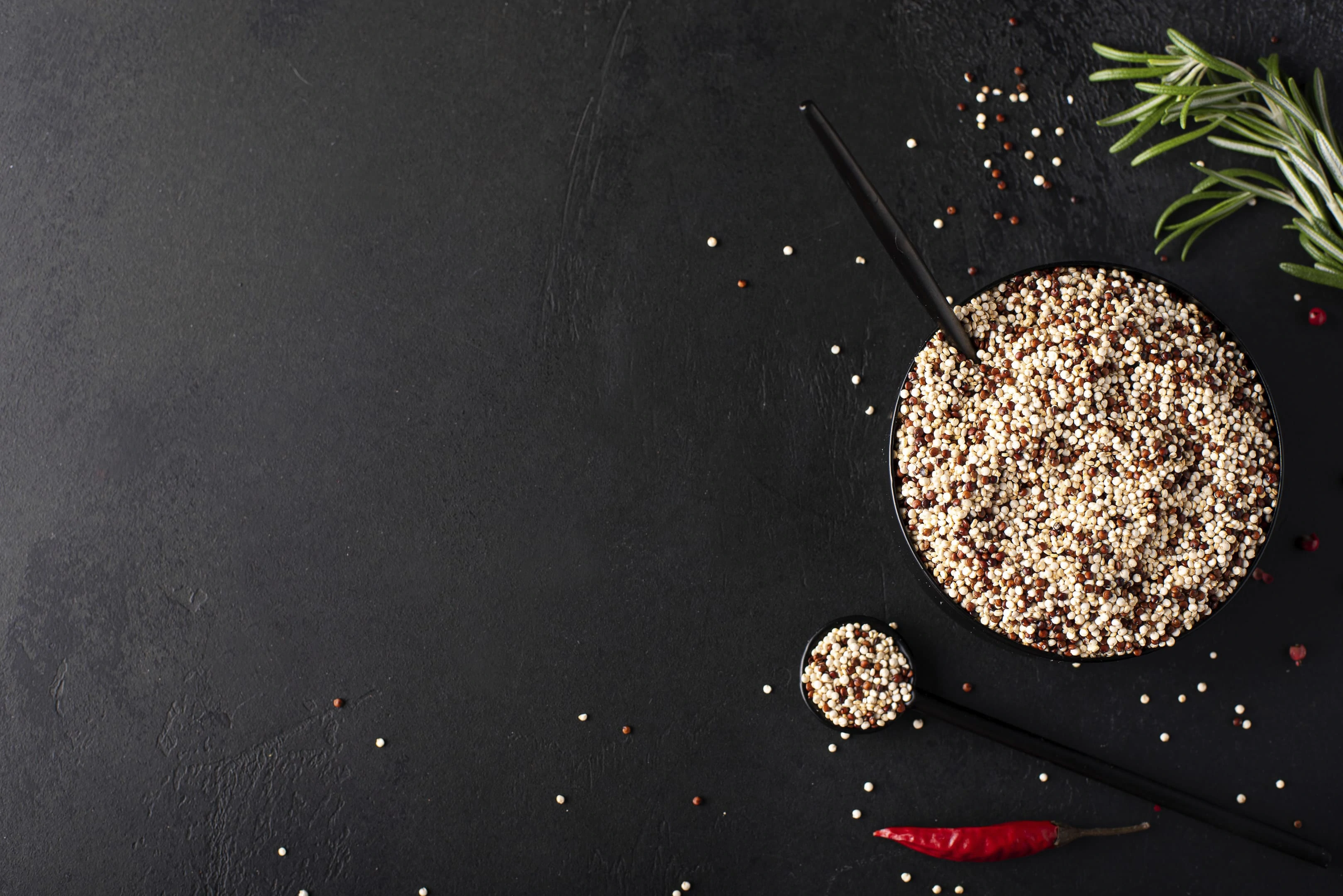 Quinoa is a pseudo-cereal with a delicious nutty flavor of which there are over 120 different types. The most commonly eaten types are red, white, and black quinoa. Quinoa is an excellent protein source, containing all nine essential amino acids. It is also abundant in fiber, B vitamins (except vitamin B12), magnesium, phosphorus, manganese, folate, and iron.
One cup of cooked quinoa contains 222 calories, 8g protein, and 5g fiber.
7. Olive oil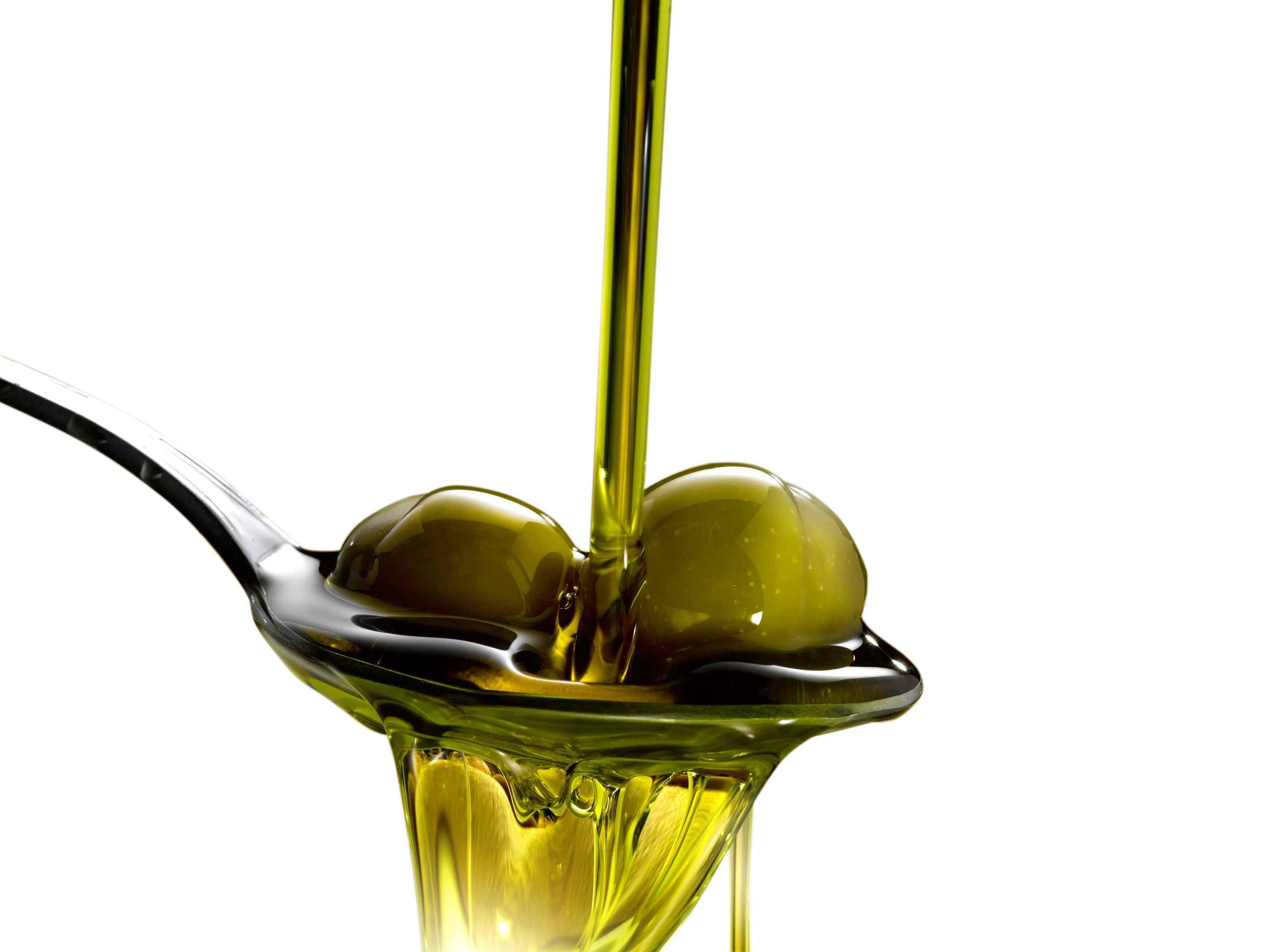 Often regarded as the healthiest oil, olive oil is high in monounsaturated fatty acids (oleic acid), which are healthy dietary fat. Per tablespoon (14g), olive oil contains 120 calories and 14g fat.
Olive oil is great for relieving exercise-induced inflammation, promoting good heart health, and improving the gut microbiota. It is also rich in antioxidants which help to fight oxidative stress. Be sure to choose extra virgin olive oil as opposed to the highly refined options.
8. Coconut oil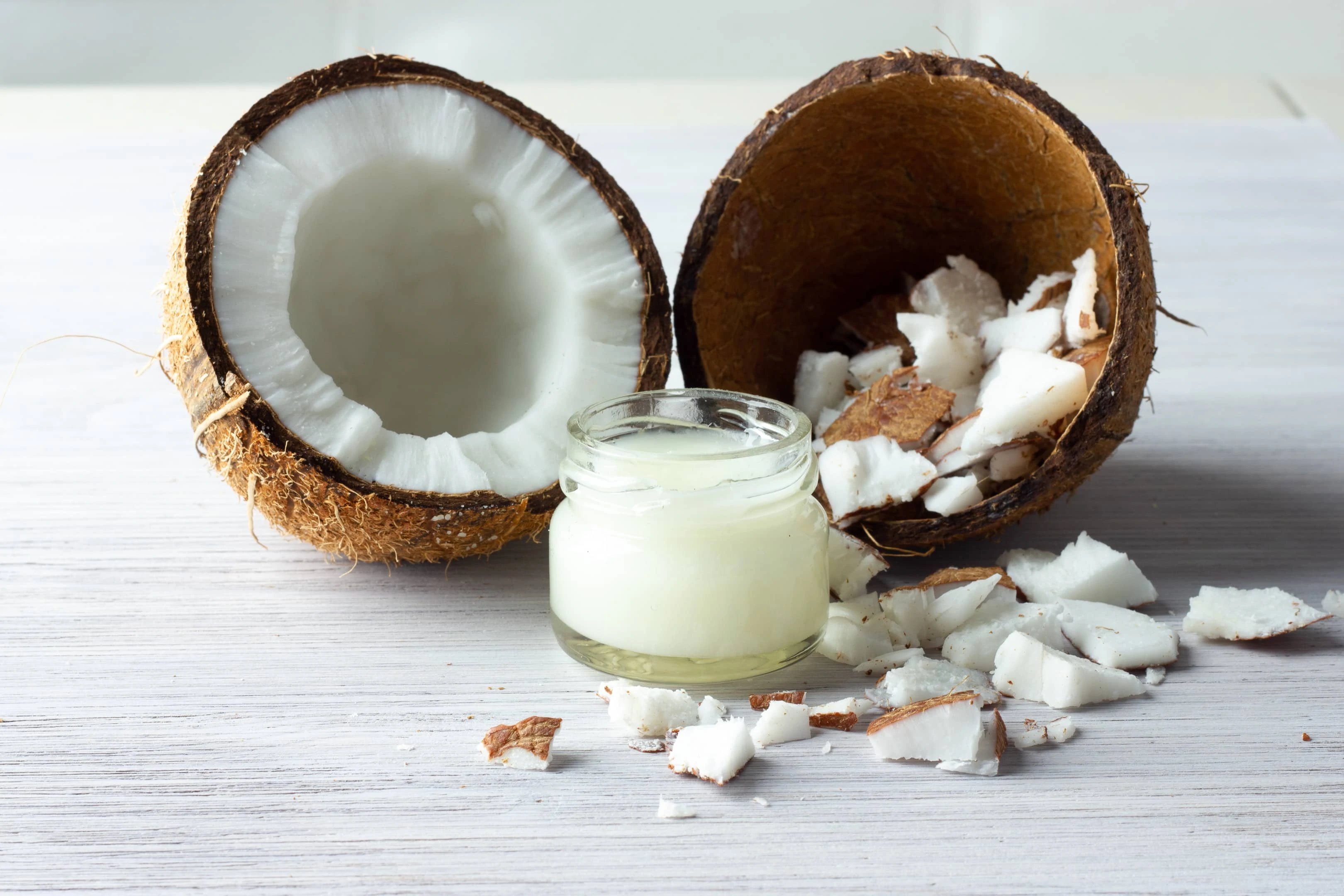 Coconut oil has gained popularity in recent years, due to its high component of medium-chain triglycerides (MCTs) that can help to improve brain function. It is a solid fat and has no cholesterol or fiber, and some traces of vitamins and minerals.
One tablespoon contains 116 calories and 13.5g of fat.
9. Smoothies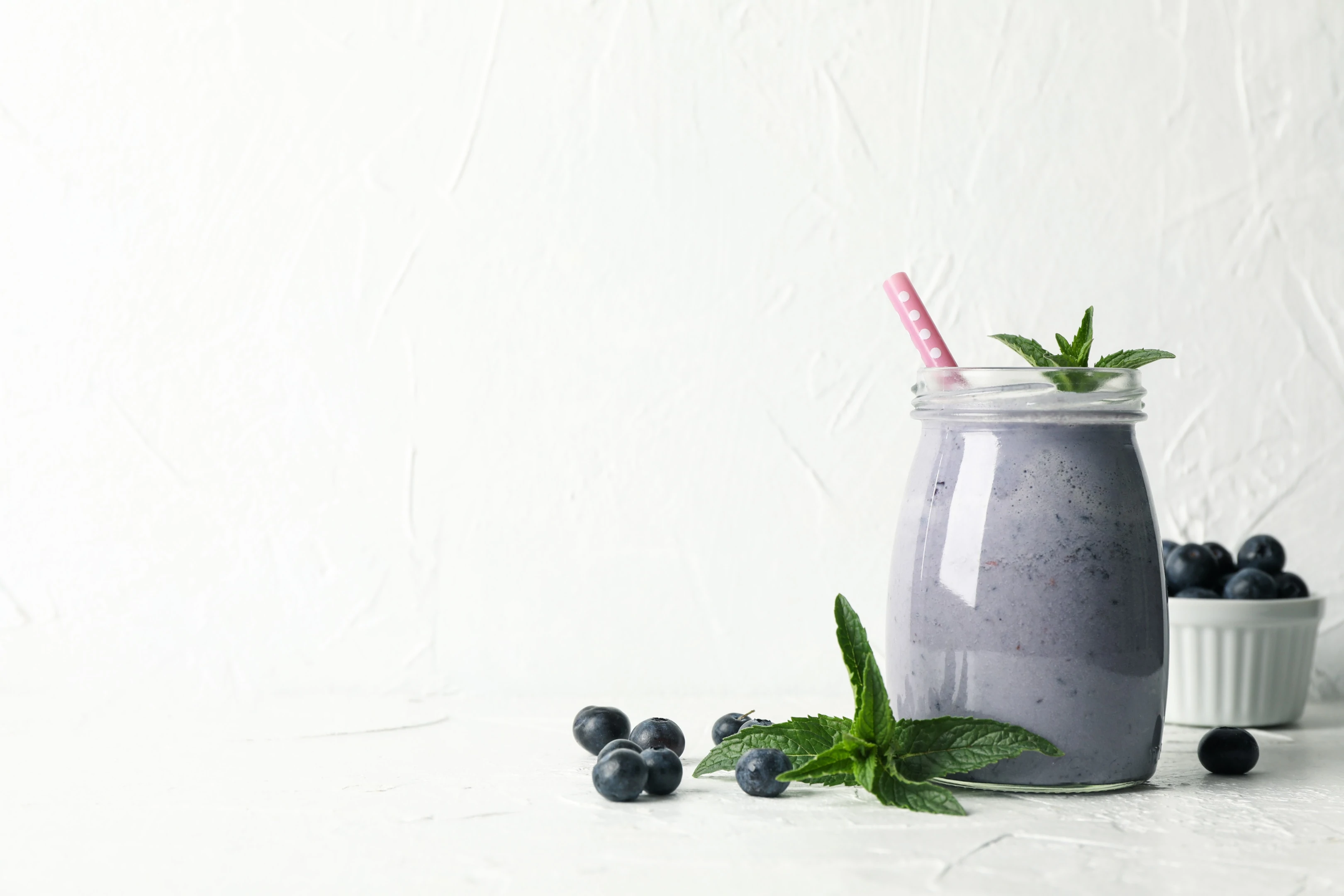 Smoothies are a healthy way to increase calorie and nutrient intake while on a vegan diet. They can be used as a post-workout snack, or as a meal replacement while on the go.
Consider using ingredients such as vegan yogurt, fruit, greens & vegetables, nut milk, seeds, nut butter, avocados, coconut oil, vegan protein powder to increase the calorie content of smoothies.
10. Rolled oats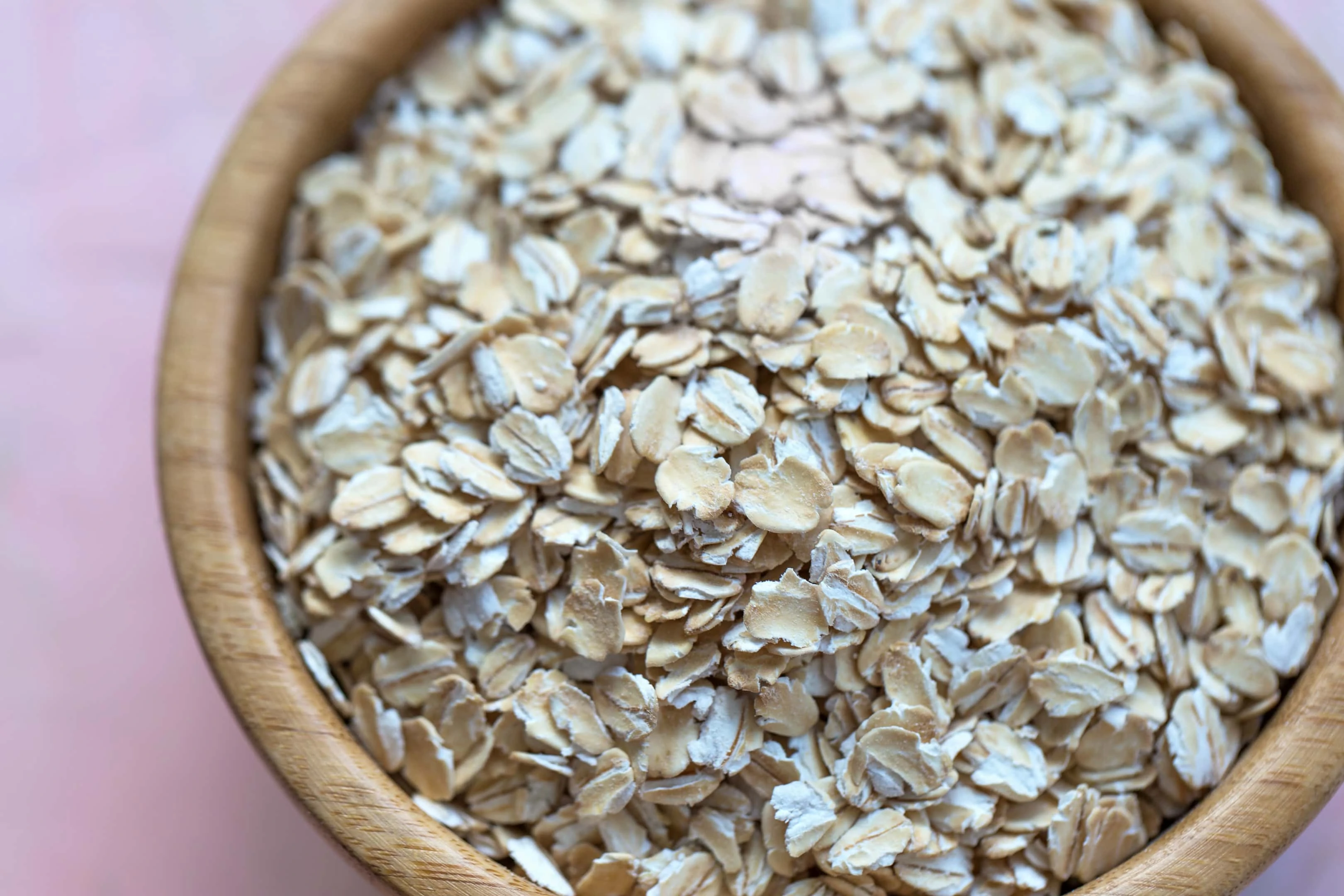 Another versatile food that is calorie-dense, 100g of oats contains 380 calories, 13.1g protein, and 6.5g fat.
Rolled oats are high in fiber, iron, vitamins, and other minerals. They contain avenanthramides, a type of polyphenol which helps to reduce inflammation and maintain blood pressure.
11. Dried fruit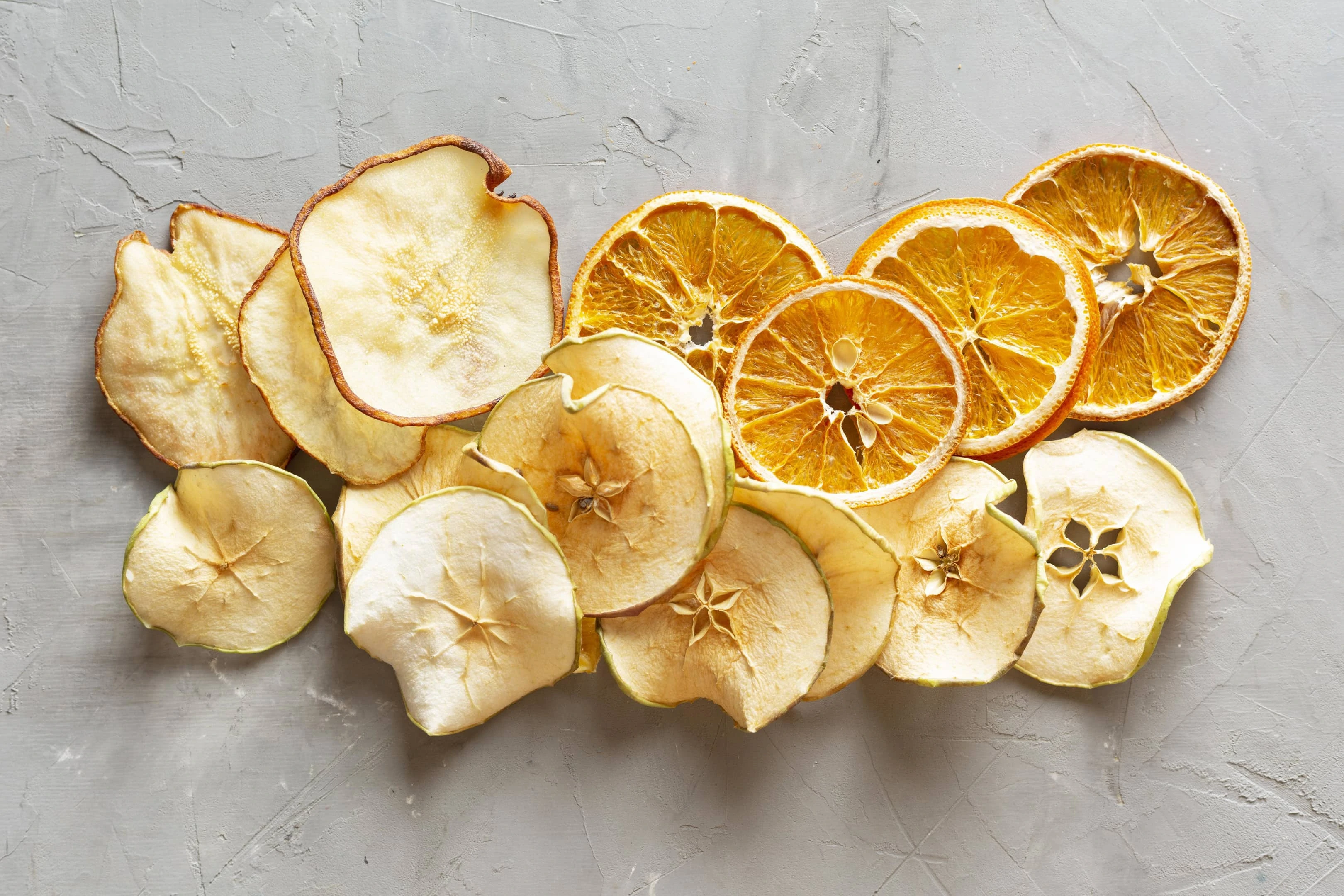 Dried fruits such as raisins, dates, and prunes are high in sugar and calories. They are an excellent source of fiber, antioxidants, vitamins, and minerals. Raisins are tart, sweet, dried grapes that contain 120 calories per ¼ cup. Dates, a common sugar alternative, have about 100 calories per 5 dates. Prunes have 209 calories per half-cup (87g).
Dried fruits are said to contain 3-5 times more micronutrients than fresh fruit.
12. Tahini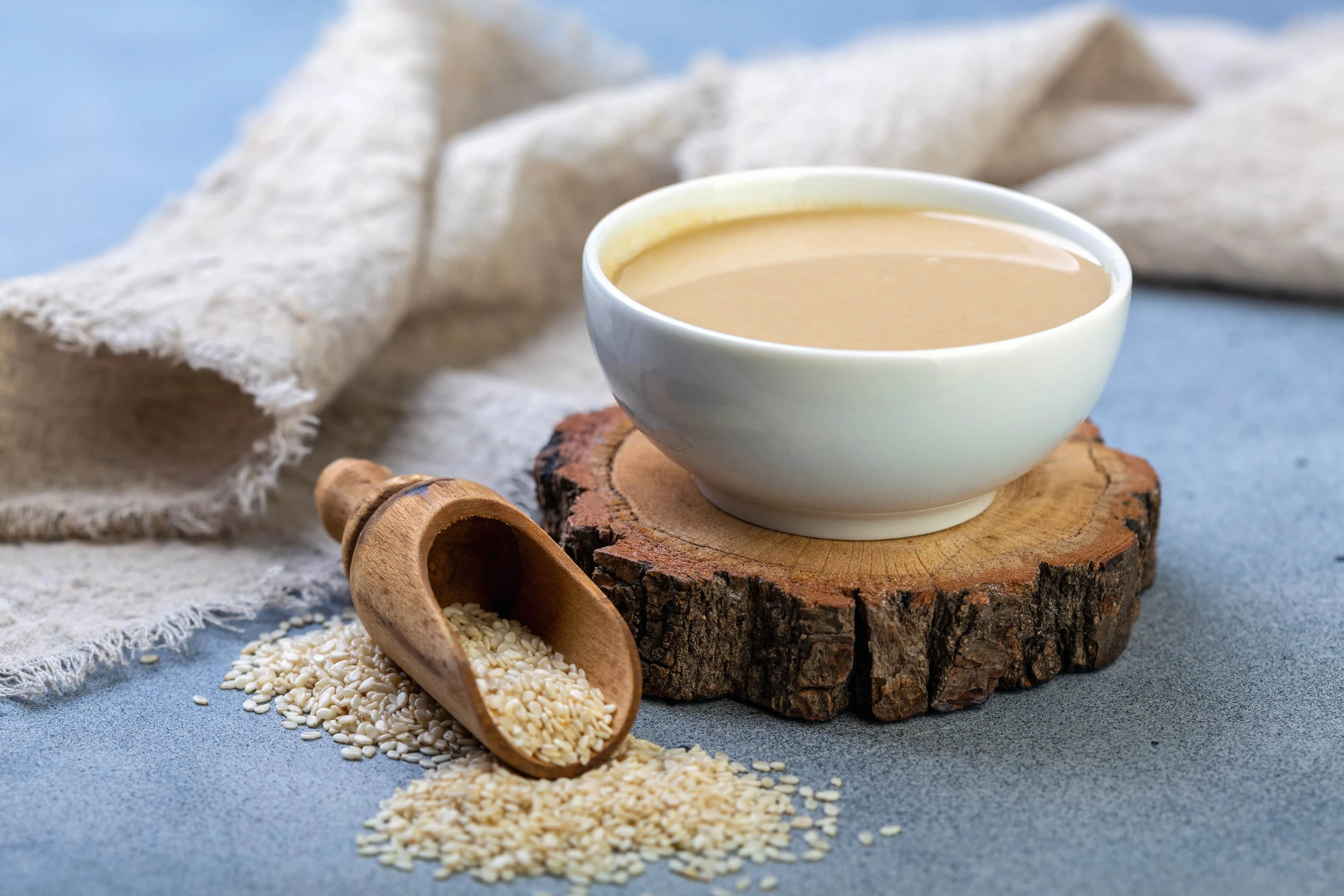 Tahini is a creamy paste made by toasting sesame seeds and blending with olive oil to make a smooth paste. It has a similar consistency to peanut butter. It is popularly consumed in Mediterranean and Middle Eastern diets. Tahini is rich in protein, fiber, healthy fats, and calories. One tablespoon (15g) contains around 89 calories, 2.5g of protein, 1.5g of fiber, and 8g of fat.
13. Chia seeds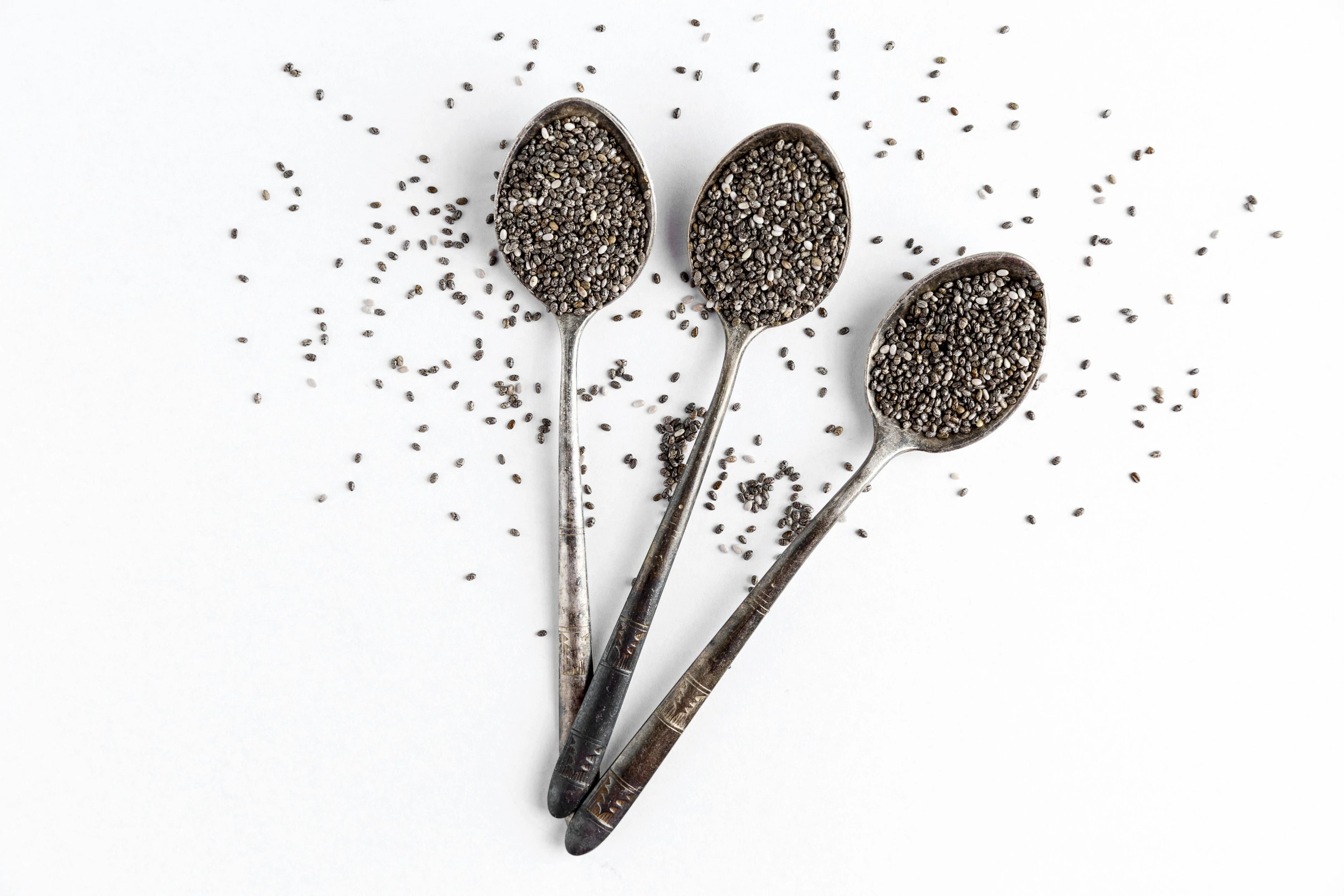 There are 120 calories per 2 tablespoons of chia seeds. Aside from the calorie content, chia seeds are loaded with fiber, providing 9g fiber per 25g portion of seeds. This makes it highly beneficial for the digestive system, and also helps to increase satiety. They also contain the omega-3 fatty acid known as alpha-linolenic acid (ALA), which are known to offer anti-inflammatory effects. Chia seeds are also an excellent source of protein.
14. Sunflower seeds (without shells)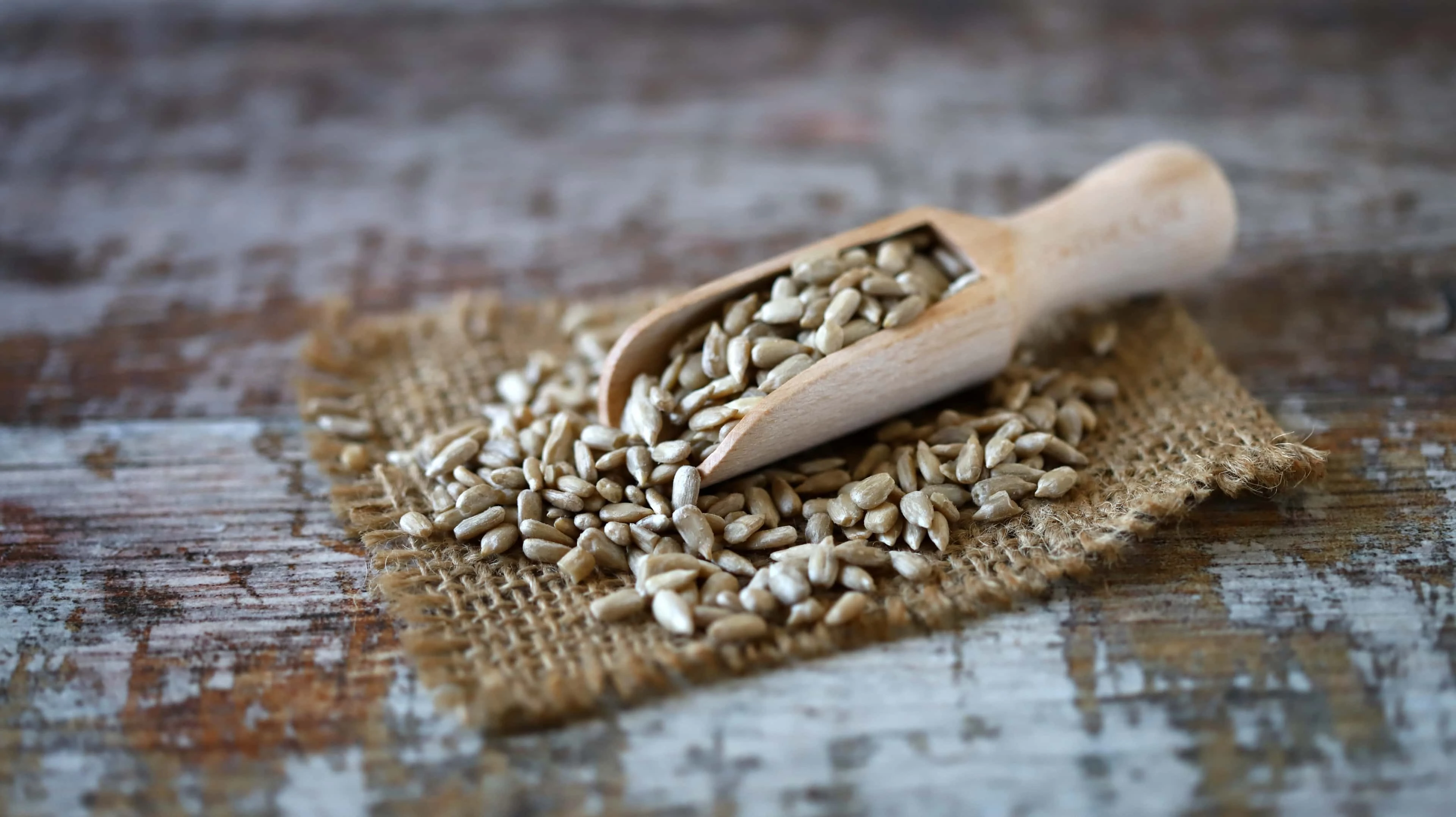 Sunflower seeds are high in calories, containing around 372 calories per half-cup. Sunflower seeds are particularly high in vitamin E and selenium, both of which are antioxidants that help to protect against oxidative damage and chronic diseases.
How to include high-calorie vegan foods in your diet
Eat generous servings of brown rice, quinoa, wholewheat pasta at main meals.
Snack frequently on nuts, smoothies, dried fruits, nut butter, and fresh fruit. For example, hummus on oatcakes; plant-based yogurt with fresh berries, seeds, and nuts.
Cook your protein using healthy fats like extra virgin olive oil.
Drizzle extra virgin olive oil on pasta and hummus.
Add dried fruits and nuts to your breakfast porridge and smoothies.
Eat pasta and rice dishes with vegetables sauteed in extra virgin olive oil.