Onions are easily accessible, tasty, and healthy, as well as having anti-inflammatory properties and various health benefits. Regardless of the ethnic cuisine, onions are among the most widely consumed foods in the world. They mix well with many foods and they make everything taste better. However, it is not hard to go overboard with them and mess up your food, as they have a robust flavor. So, how can you get rid of the onion taste in food? In this article, we will answer this question by offering you some solutions.
Jump to:
Why are onions so robust?
Even those who eat onions regularly wonder how to make onions less sharp. Onions are uncommonly potent and robust; they can quickly overpower any other ingredient in your food. That is especially true for their raw state. The reason behind this is simple. When you cut, slice, or dice the onions, their cell compounds release what is known as sulfur, a chemical that gives onion its strong taste, distinct smell, and many health benefits. They usually include two types of sulfur: thiosulfinates and thiosulfonates. Although the strength of onion depends on its type, the most commonly used ones are generally bitter ones.
How to make onions less sharp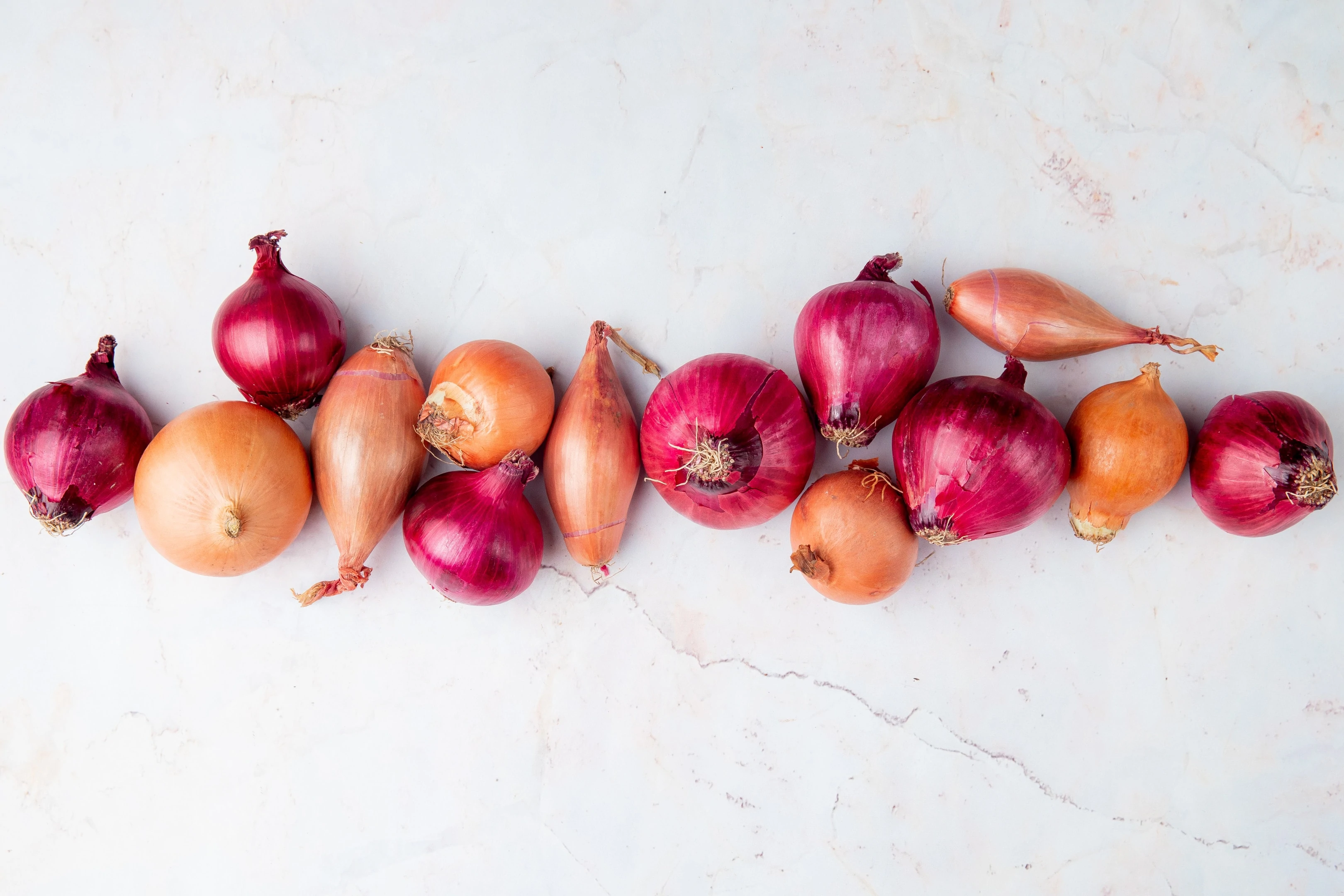 Since there is no chance of changing the chemical structure of onions, the best way to avoid food being overwhelmed by the taste of onions is to use them in moderation. So, check out our best tips for getting rid of the onion taste in food.
1. Soak it in water
The first thing to remember is to soak your onions after dicing them. This helps soften the cell walls, allowing more nutrients into the flesh during digestion, resulting in a sweeter and softer texture. The general practice is to soak the onions in cold water for fifteen to thirty minutes. This is enough time for the water to tame the harsh-tasting enzymes in the onion, more specifically sulfur.
2. Try aromatic herbs
Adding different spices to your onions brings out new sides of flavors, with the most popular choices being thyme, sage, and rosemary. Many herbs, especially these three, have a unique and dominant taste that will mask the potent nature of onions. These herbs have the potential to make your food bitter, so 'less is more' is the ideal approach when it comes to herbs.
3. Use an acidic ingredient
Also known as 'pickling', soaking your onions in vinegar is one of the best ways to make onions less sharp. Although it is generally recommended to use apple cider vinegar, you can experiment with any type. Vinegar will not only soften the taste of the onions, but it will also make them soft and crispy. In addition, feel free to try lime, lemon juice, or even orange juice. Keep in mind that, especially with vinegar, you might have a sour taste in your mouth. Still, it is generally preferred to the strong flavor of onions.
4. Dilute it
Diluting your dish will help overcome the harsh and bitter taste of onions. Whatever food you are making, make another batch and then mix the two. The rest of the ingredients will balance the overpowering taste of onions. If you are making a watery soup, add more water. If you are making a stew, make another batch. You can also add different liquids depending on your dish. Try wine if it's suitable.
5. Use your spoon
If you didn't opt for onion powder or onion salt, and the onion is pieced into large enough pieces, get a spoon and physically remove the pieces from your dish. However, it is likely that the onion taste has already been mixed with the foods, so there is a big chance that this method alone may not work.
6. Slow cook your onions
Although you can enjoy your onions, either way, raw onions are still more potent, sharper, and with added health benefits compared to cooked ones. However, this comes at a price, as raw onions might be too strong to stomach. Therefore, another recommended technique is to cook onions on low heat until their color changes to translucent, which will be tastier. This is because as the onions are cooked, they become caramelized. Try not to burn them by overcooking, though; otherwise, you'll end up with dark and bitter onions that are far from enjoyable.
7. Mix it with garlic
It is no secret that garlic and onion are an incredible pair. They are the go-to duo as the two balance when mixed together. As with garlic, adding one to the other to counter the dominant taste is a practical and commonly used solution. If you suspect you used too much onion in your food, add some garlic to get rid of the onion taste. However, just like aromatic herbs, there is a chance that your food might become even more bitter, so use garlic in moderation.
8. Add potatoes
Potatoes are a great way to make your onion-heavy dishes more palatable. Adding potatoes to your food can help to make onions less sharp. Potatoes contain alliinase, a chemical that breaks down the sulfur compounds in onions, taming them and making your food more enjoyable. Just as adding any other ingredient, boil or cook the potatoes and include them in your dish.
9. Bonus — Try sweet onions
Sweet onions have a higher sugar content and less sulfur than regular onions. Sweet onions are often used in salads and as an ingredient in dips or sauces. However, you can still opt for them instead of regular onions if you want to avoid the sharp taste issue altogether. They also make better-caramelized onions compared to regular ones.
Conclusion
Although onions are great, sometimes they can be too much if you don't keep the amount just right. For times like this, to prevent your food from going to waste, there are several solutions, and we've gathered several for you. You can always soak the onions in cold water, vinegar, or other acidic ingredients. Adding potatoes is a great option too, just like adding herbs. But the latter has the potential to mess up your food further, so try mixing the onions up with some garlic. You can always opt for sweet onions to prevent this problem from happening.