Imagining a movie without popcorn is pretty unpleasant. You can say popcorn and movies are correlated. But, have you ever thought, how is popcorn made? What are its contents? Is it healthy? Or, does it have any side-effects on health? If it contains any beneficial nutrients, then what are they? If no, please have a look at these points. We have covered some important points, which will help you to find the answers to these questions.
To make stunning popcorn, you will need just four ingredients: corn oil, corn, salt, and sugar. You only have to mix the corn and corn oil in a container and heat the mixture. As soon as the corn is heated, you can see them pop up. You can add a healthy sugar dose to the mix. This will allow the sugar to caramelize the sugar and stick to the corn itself. Finally, you can pour the corn into the shifter and sprinkle a bit of salt thoroughly. The process is as simple as that.
Popcorn is one of the typical and most consumed snacks. It is very famous in the United States. The Popcorn Board says every American consumes up to 52 quarts of popcorn every year. It is an unbelievable fact that 70 percent of the popcorn is being eaten at home, and the rest is consumed in other sites such as sporting events, movie theaters, and so on.
The next question is: Does popcorn have gluten? Is this your concern?
Jump to:
What is gluten?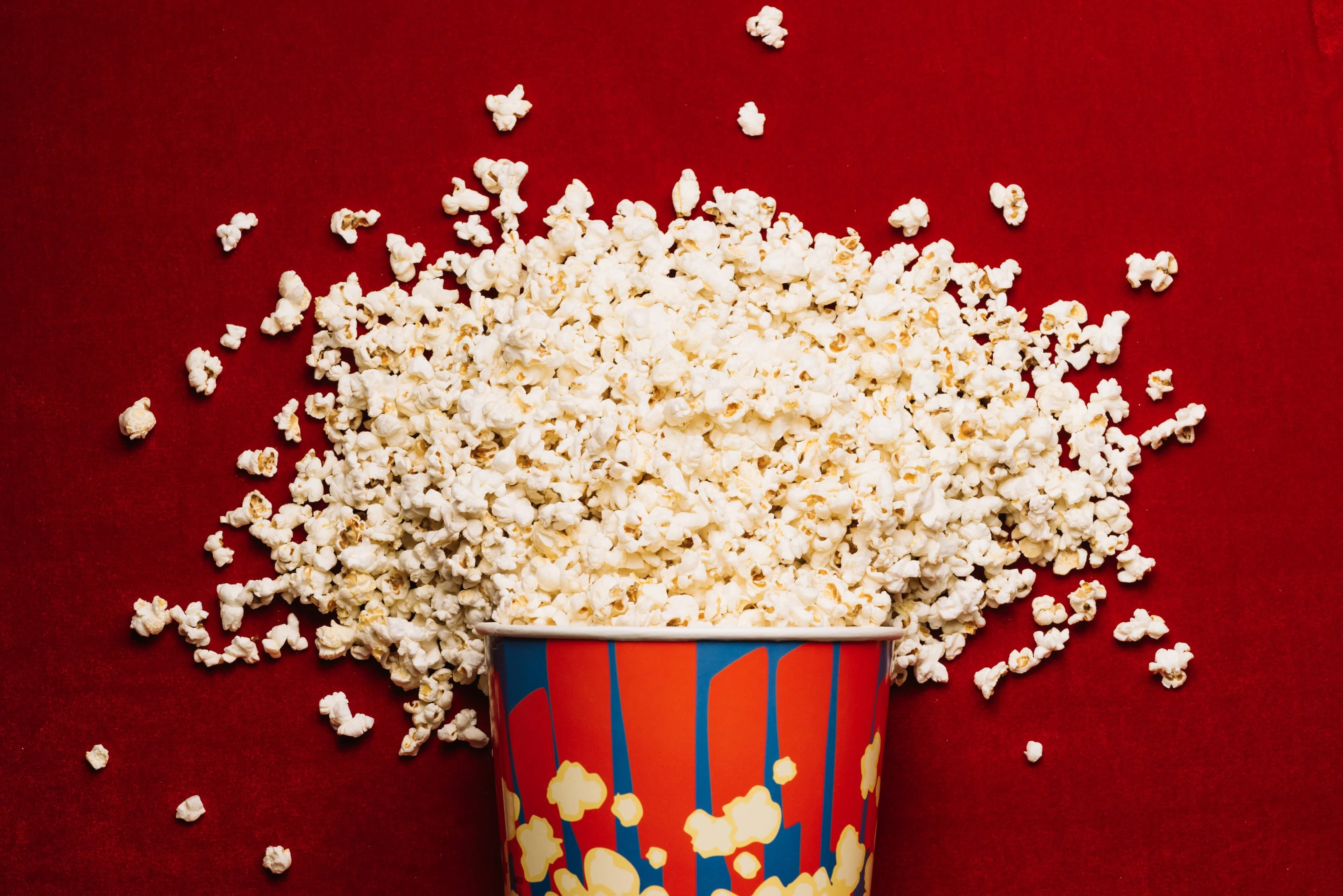 Gluten has been controversial for some time. Many experts say it is harmful to some people, especially to those people who have celiac disease. A survey from 2013 reveals that almost 30% of Americans have tried to avoid gluten.
Gluten belongs to the protein family, mostly found in grains such as rye, spelt, wheat, and barley. Wheat is most common among them. Gluten and gliadin are the two main proteins found in gluten. Gliadin is the one that causes harm to the body, responsible for adverse effects on health.
Problems with gluten
For many people, gluten-containing food causes no adverse effects. But for people with conditions such as celiac disease, wheat allergy, and gluten sensitivity, it can be harmful to them.
Gluten mainly affects people with celiac disease. The gluten can trigger the immune response that hurts the lining of the small intestine. Thus, this interferes with the absorption capacity of nutrients from the food. Moreover, it can cause a host of symptoms and lead to other issues such as osteoporosis, nerve damage, infertility, and seizures.
In addition, many other issues can occur from gluten, such as bloating, diarrhea, abdominal pain, headaches, tiredness, skin problems, depression, unexplained weight gain, to name a few.
Did you ever think that if gluten is considered a protein, why can this be harmful to the body? Let's have a look.
Some scientists and doctors believe that there is a rising gluten sensitivity graph because of environmental and food changes. Theories prove that the produced wheat of today has a higher gluten content than before. Nowadays, the farmers use various varieties of the grain that have higher gluten content because they have naturally built-in insecticide quantities.
Wheat, spelt, rye, barley, bread, pasta, cereals, and beer are primary gluten sources.
Does popcorn have gluten?
So, if you cannot handle gluten and wish to have popcorn, is it right for you? Do you want to know if popcorn is gluten-free? Here is the good news. Yes, it is. You can safely have it but only if not mixed with any seasoning substance.
The corn kernel makes popcorn, and the corn does not have gluten in it. So, ultimately, popcorn is also a gluten-free snack. It's a fact that corn can be an alternative for flour for wheat allergy or celiac disease. The proteins inside the gluten may not always work in favor of some people. Thus, it is better to avoid having it.
Some popcorn may contain gluten
Mostly, natural popcorn is gluten-free. But, if the popcorn is seasoned with anything that includes gluten, then the popcorn it is not gluten-free. Some toppings or spice blends can contain gluten, especially if the product isn't labeled as gluten-free.
Some gluten-containing additives are wheat starch, soy sauce, malt flavoring, and brewer's yeast.
How to choose gluten-free popcorn?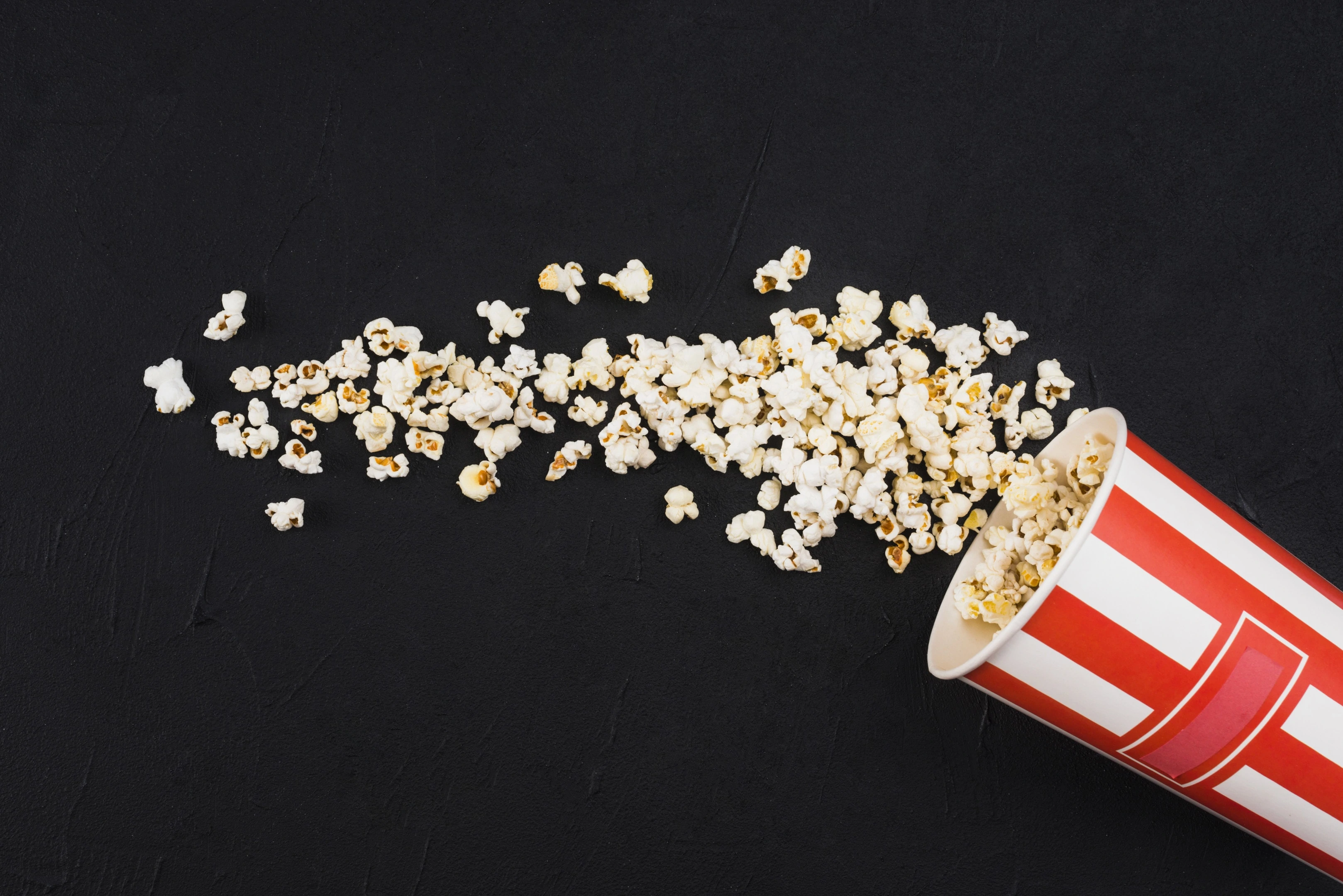 Now, you know that the popcorn can contain gluten if the additives are mixed in. Then, how can you know 'if the popcorn is gluten-free or not?' You should check the label. If you see only the word' popcorn' or it 'contains only corn kernel and salt' written on it, then you can assume that it is gluten-free.
Or else, you can buy the products if it has written on it that it is gluten-free. As per the Food and Drug Administration, a product that claims to be gluten-free should contain fewer than 20 parts per million of gluten.
You can also try to directly reach out to manufacturers to ask them about their processing methods, specific product elements, and cross-contamination control.
How to make your gluten-free popcorn?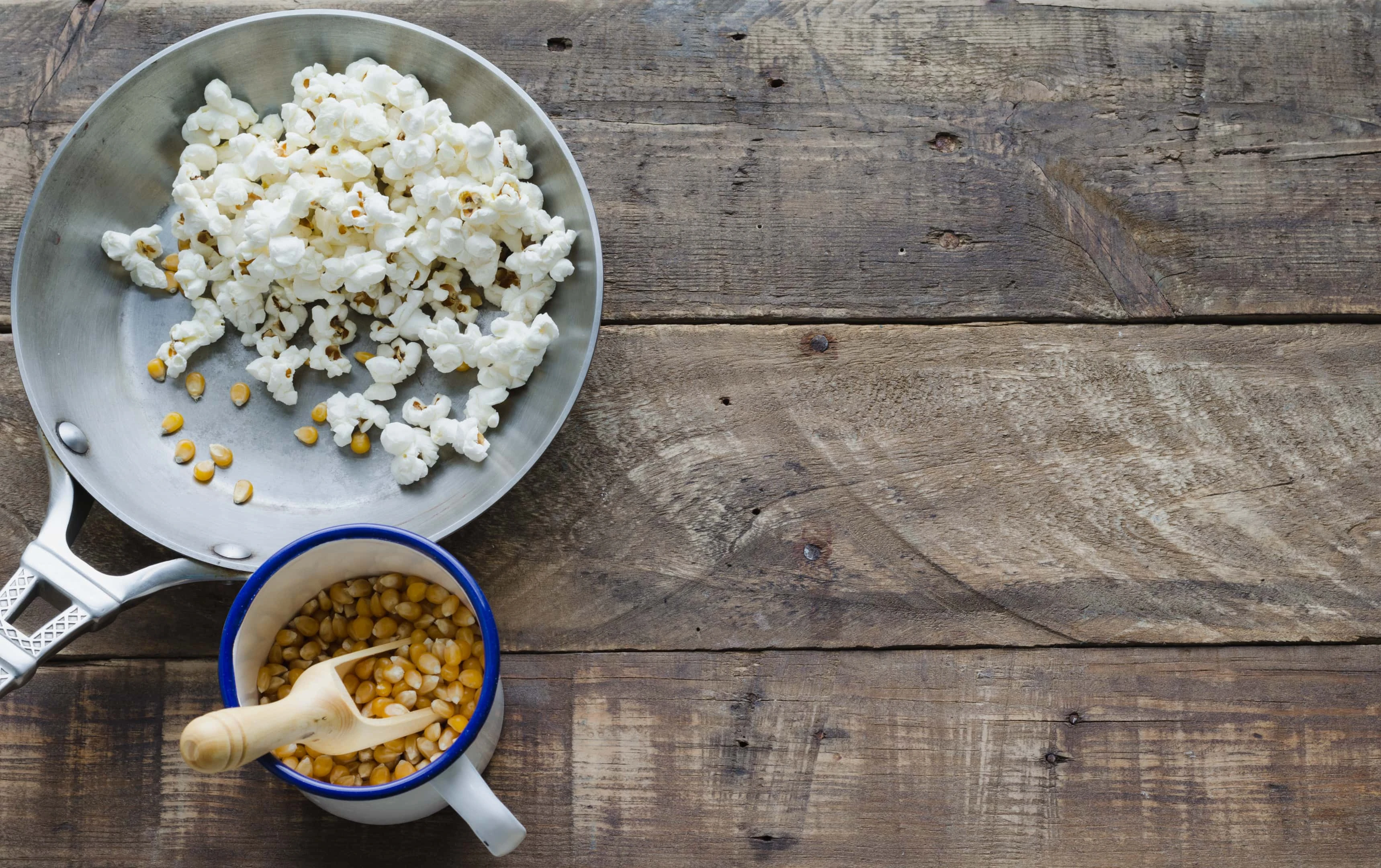 You can easily make your gluten-free popcorn. You only need popcorn kernels and a source of heat. In case you don't have a popcorn maker, you can use a pan in the microwave or stovetop.
To make gluten-free popcorn in the microwave:
Take a paper lunch bag, add up to ⅓ cup, i.e., 75 grams of popcorn kernels
You must remember to tuck in the pouch if you do not want your seeds popping out of the bag.
All you have to do is to place it in the microwave and set it on high power and relax for the next 2.5–3 minutes. You will surely enjoy listening to the popping sound. You can continue cooking it until you hear 2–3 seconds between pops.
Do not rush to bring out the bag; let it sit inside the microwave for the next 1 to 2 minutes so that it can cool. Then carefully take it out from the microwave.
Now enjoy the popcorn straight out of the bag. Else, you can pour it into a bowl. If you have nothing in hand as a gluten-free seasoning, just go ahead and sprinkle some salt. You may even add some butter.
To make popcorn on your stovetop:
In order to prepare your popcorn on a stovetop, all you need to do is to pour two tablespoons of high-heat oil (avocado oil works well), in a large pan with a tight lid.
Just pour in 2 to 3 popcorn kernels into the pan at a high flame.
When you hear the kernels pop, remove your pan from the heat. Add the remaining amount of unpopped kernels. Coat the pan and allow it to sit for 1 to 2 minutes.
Put the pan back on the stove, keep it on high heat, and the remaining kernels will pop. Turn the pan periodically to enable even heating.
You can season the popcorn with butter, salt, or any other gluten-free flavor. Now, pour the popcorn into a bowl and enjoy your snack.
Easy to make and easy to go!
Is popcorn keto?
Is popcorn allowed on a keto diet? If you are on a keto diet, then can you eat popcorn? Yes! Popcorn can be a part of an essential diet, allowing a daily limit of 50 grams of net carbs. You can include it in a rigorous keto diet too. Popcorn only contains 90 calories in each serving. So, you can consume it even if you are on a diet to lose weight.
Is cinema popcorn gluten-free?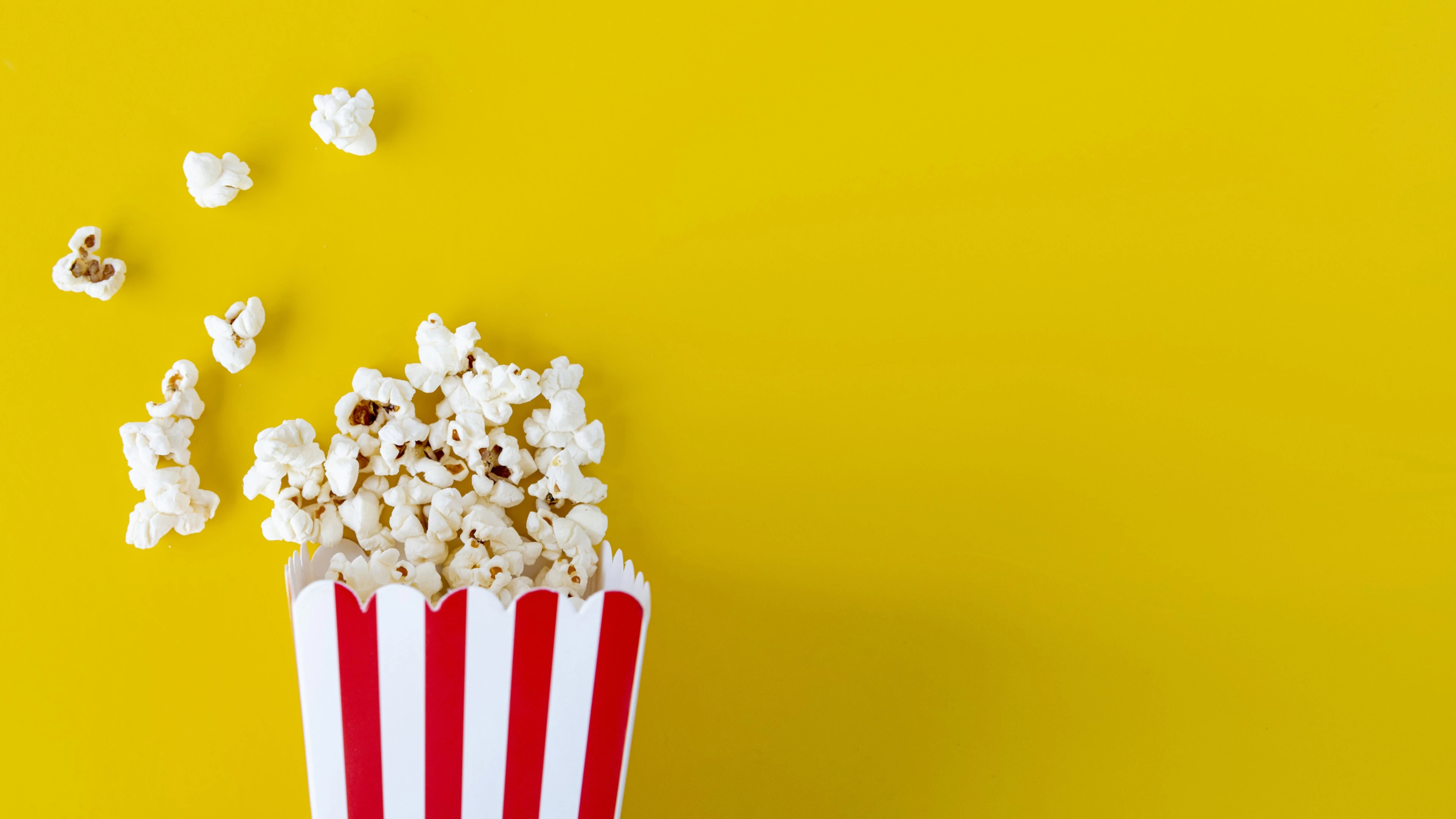 When you are buying popcorn individually, you will check its ingredients. But, what if, when you have popcorn at cinema theaters, have gluten in it. You would be unable to prevent it. Though, you don't need to worry. You are safe from consuming popcorn with gluten content. Gold Medal Products is a significant popcorn supplier for movie theaters. They produce popcorn using oil and butter flavors, which is gluten-free. Marketing Manager Richard Grover says the Regal Cinema, the largest movie theater chain in the US, sells popcorn and uses butter topping on it gluten-free.
Movie theater popcorn nutrition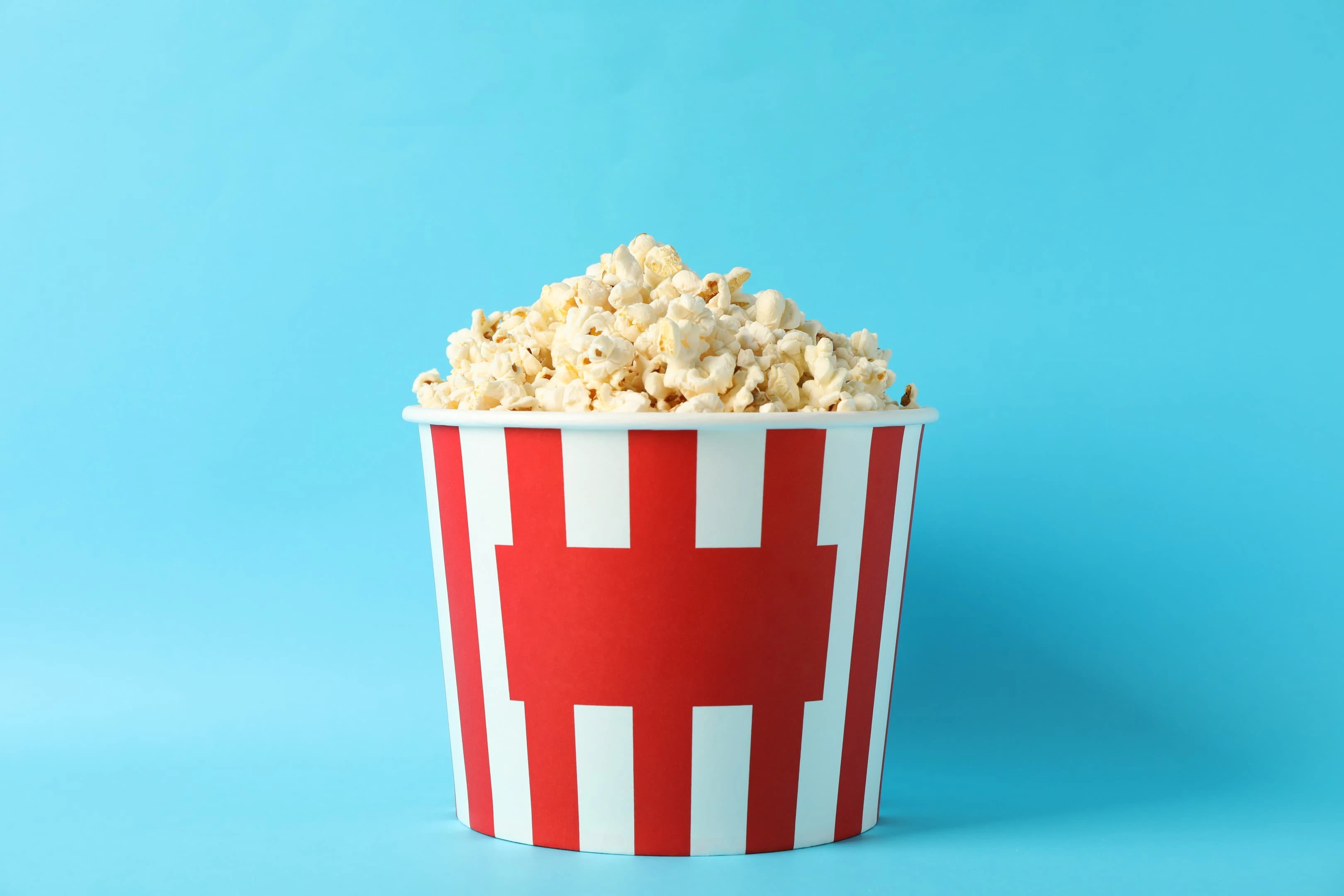 What about the contents of popcorn served in movie theaters? In such popcorn, you will find fat and calories in a considerable amount. A small amount of popcorn, without butter, contains 11 grams of fat and 225 calories, from the AMC. If you move it up to a medium, you will have 20 grams of fat and 430 calories. An enormous AMC popcorn, even without any topping or butter, contains 41 grams of fat and 1,030 calories. If you want to compare to the Regal Cinemas, things are even worse!
Does popcorn have carbs?
Yes! Popcorn does have carbohydrates in it. Popcorn is supposed to be a whole-grain food. The amount of carbs in popcorn is 30 grams in each serving of popcorn. A serving of 2 tablespoons of unpopped kernels produces approximately 4 to 5 cups popped. There are about 120 to 150 calories from a serving of air-popped popcorn. But, the carbs in popcorn are not necessarily bad. One-fifth of the carbohydrates of popcorn are in dietary fiber, which is good for your all-around health. Popcorn is an excellent example of a high-volume, low-calorie whole grain. If you can cook it properly, it can make a healthy snack.
Can you eat popcorn on a low carb diet?
Somewhat low-carb diets usually allow 100 to 150 grams of carbs per day. Still, you can enjoy a plate of popcorn while you are on a low-carb diet. The fiber quantity will enable you to feel full, and the amount might stave off you from eating cake and cookies.
Popcorn fits into any food plan
The nutritional measurement of popcorn relies on how it is formulated. One cup of air-popped popcorn retains only 31 calories; whereas 1 cup of oil-popped corn contains only 55 calories. As per ChooseMyPlate.gov, 3 cups of popcorn is supposed to be a 1-ounce grain, equal to the whole grain. This is useful information if you are striving to control your craving with a filling snack. Rather than one slice of bread or 1 cup of ready-to-eat cereal, you can consume 3 cups of air-popped popcorn.
It's all in the hull
Researchers state that the crunchy hull or middle of the popcorn is filled with ferulic acid, a type of antioxidant. You can find ferulic acid in various foods such as corn, rice, beans, barley, and other whole grains. But it is richer in popcorn due to its low water quantity. Antioxidants such as ferulic acid safeguard your cells from free harmful, radical substances generated by some digested foods and exposure to tobacco smoke, pollution, and other toxic substances. Moreover, being a healthy diet-antioxidant, popcorn can help prevent heart disease, diabetes, and different cancers.
Ingredients matter
Popcorn is an ordinary, healthy snack. But it can become unhealthy when prepared using large amounts of salt, oil, or sugar. This is particularly true of movie popcorn. A standard bag of movie popcorn has nearly 720 calories, 1,860 mg of sodium, and 48 grams of fat. Grown-ups on a 2,000-calorie diet should not eat more than 67 grams of fat per day. The proposed intake of sodium for adults is 2,300 mg or less per day.
Benefits of popcorn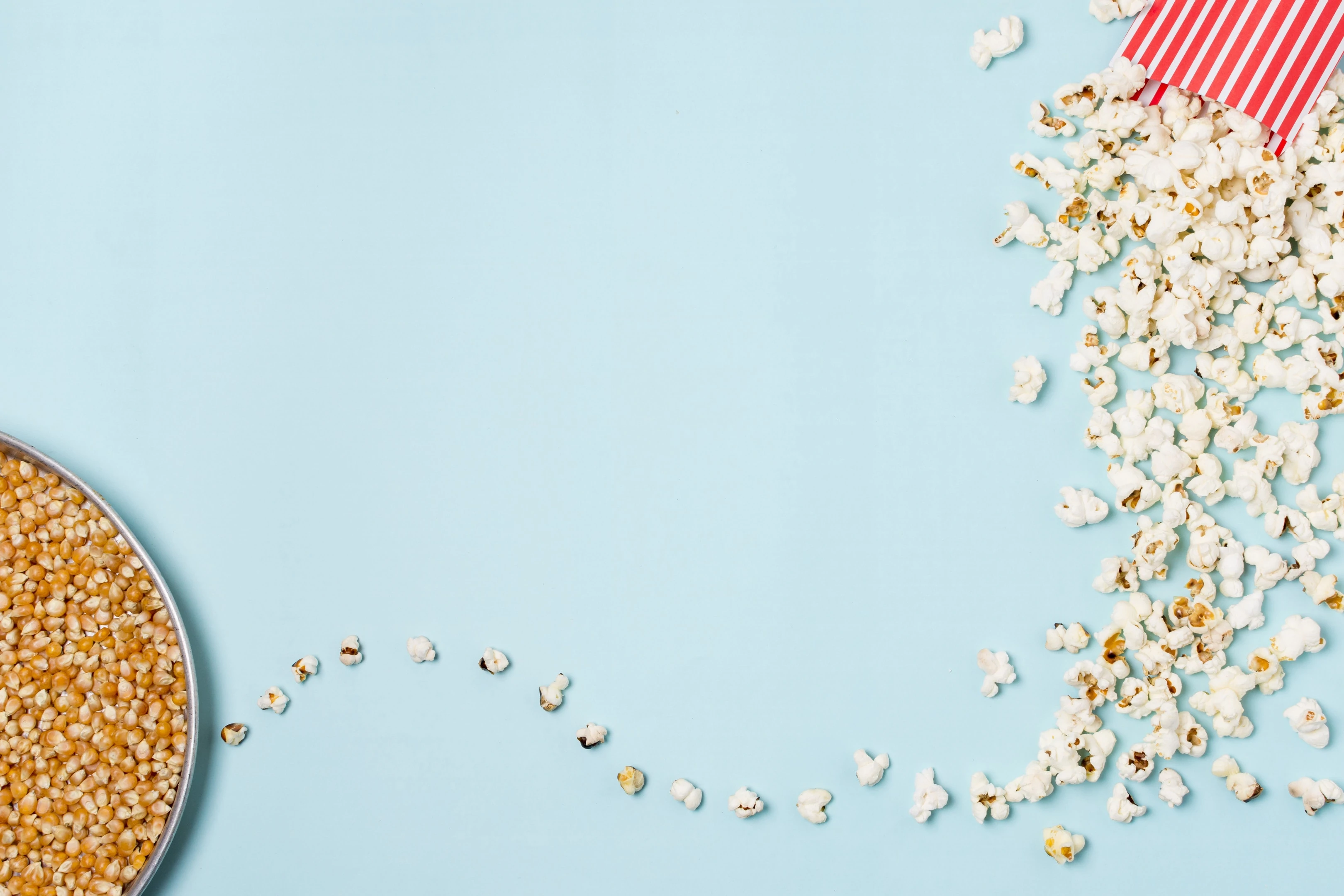 Forget those chips and cookies, and get on with the popcorn! As per the professionals, there are many health benefits of this tasty snack. You can enjoy the benefits of fibers, whole grains, and antioxidants through this easy snack. However, be careful. By adding extra fat, salt, sugar, and flavorings to this natural snack, the raw goodness will turn into junk food.
1. A whole grain
Whole grains contain three parts: the germ, the bran, and the endosperm. The bran contains the most fiber-based of whole grains, B vitamins, proteins, minerals, and antioxidants. Secondly, the germ has healthy oils, protein, vitamin E, many B vitamins, and minerals. Thirdly, the endosperm is mostly composed of starch along with some protein and some fats.
Popcorn is typically a whole grain. Therefore it delivers the healthy functions originated from the nutrients in every element of the entire grain.
2. Fiber
Dietary fiber is a considerable benefit of whole grains. Popcorn gives about 4 grams of dietary fiber with every 4 cups of popped corn. Most Americans barely eat up half of their proposed daily intake of fiber, 25 grams for women and 38 grams for men. A sufficient fiber-included diet can reduce cardiovascular risks, decrease blood cholesterol, and reduce your risk of type 2 diabetes by governing blood sugar.
3. Polyphenols
A study notes that antioxidant's involvement in popcorn seemed to be much higher than anticipated. The study says the concentration of polyphenols in popcorn exceeded that of maximum fruit. Popcorn is only 4 percent of water, correlated to the 90 percent water quantity of many fruits and vegetables, so the polyphenols are not magnified at all. All these nutrients are included inside the hull, so popcorn without the hull may not possess healthy-antioxidants.
According to Nutrients' research, polyphenols hold numerous health benefits, including preventing degenerative diseases such as osteoporosis, cancer, cardiovascular disease, diabetes, and neurodegenerative disorders. Don't leave your fruits yet because popcorn does not retain all the vitamins and minerals offered in many fruits.
Are all popcorns created equally?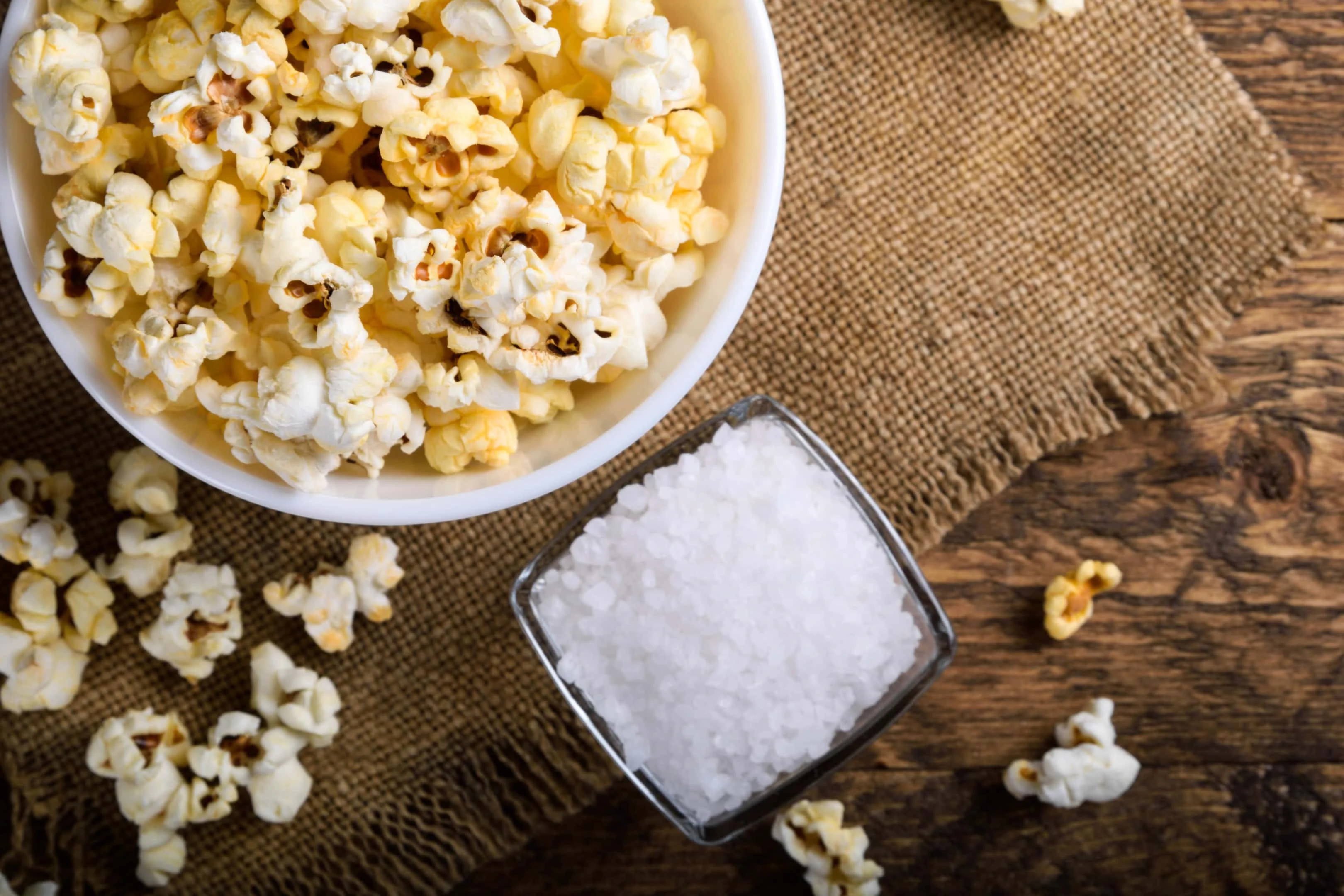 While natural or homemade popcorns offer a great number of health advantages, you cannot trust microwave popcorns. They are usually made tastier with the addition of unhealthy oils or other additives, and you may end up gaining more calories. If you look at the compositions on the packages of Caramel corn and Kettle corn, you will note that they are packed with sugar content. Moreover, you can find cheddar and different flavored popcorns in the market that have tons of artificial flavorings, unhealthy fats, and other additives.
Slightly season it with sea salt or a tiny bit of butter, if you can't eat it any other way.
Other snacks vs popcorn
To put popcorn's 30-calories-per-cup guarantee into perspective with regard to other snacks. Potato chips have an average of 150 calories for every cup, regular Chex Mix has 240 calories for each cup, and dry-cooked peanuts have an astounding 850 calories. Popcorn is a better decision in case you are checking calories.
Popcorn additionally scores regarding volume. Let's just compare by visualizing five full cups of air-popped popcorn, 10-12 saltine wafers, or 12 peanut butter pretzels. All have 150 calories, yet the popcorn would take significantly longer to eat and leave you with a feeling of having eaten a lot.
The fiber in popcorn also helps you feel full and satisfied, translating to devouring less. A recent report published in Nutrition Journal contrasting popcorn and potato chips as tidbits announced that members felt full and satisfied after snacking on a 100-calorie serving of fat-free popcorn in comparison to what they felt after having a 150-calorie serving of chips.
Answers to your most popular questions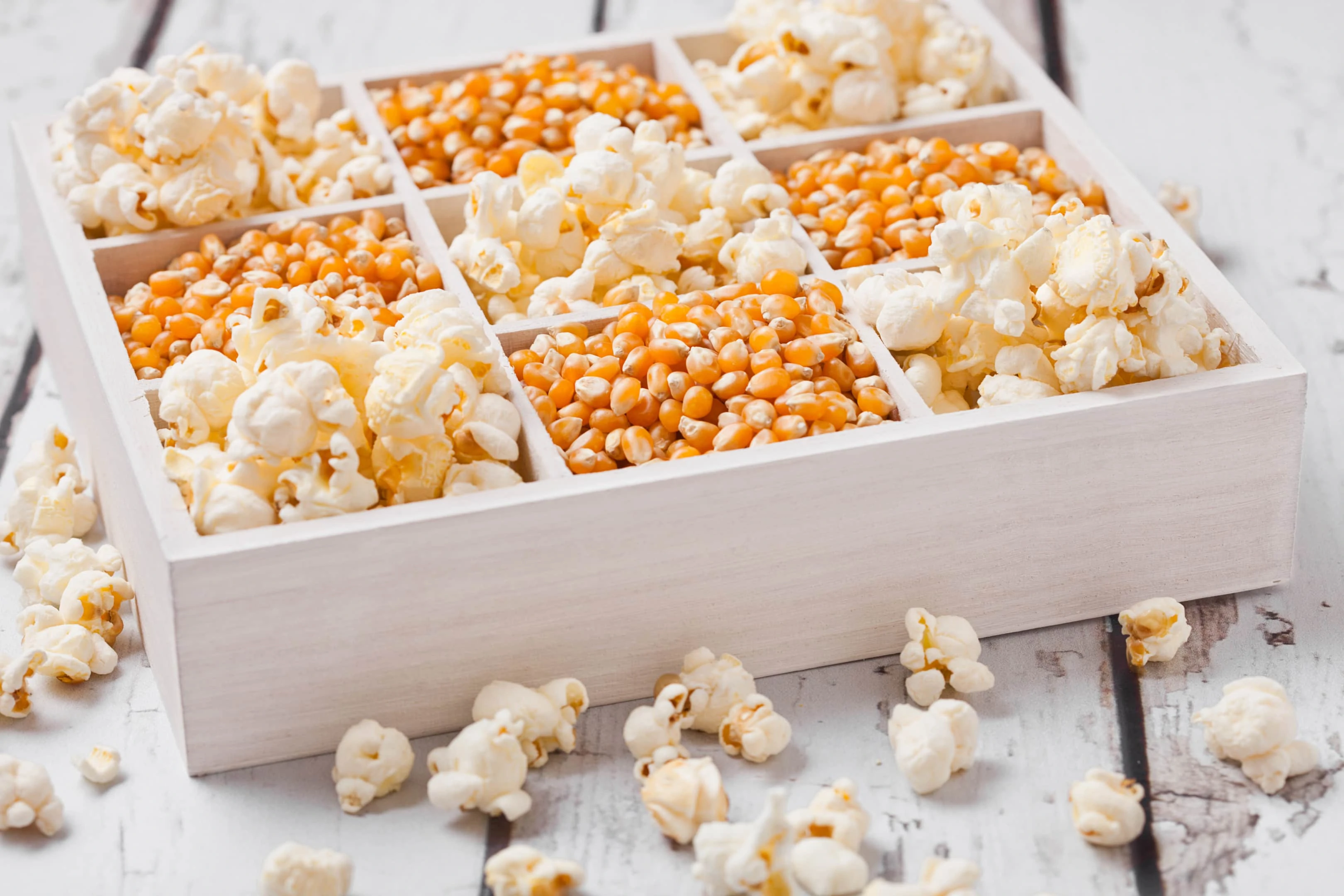 1. Is popcorn gluten-free and dairy-free?
Popcorn kernels are gluten-free naturally. However, some people with celiac disease may also have intolerances to specific proteins in corn.
2. Does Pop Secret popcorn have gluten?
With regard to gluten or soy, all popcorn is free from wheat, oats, barley, and rye. However, all Pop Secret popcorns have some corn gluten or gluten in the form of modified corn starch.
3. Does popcorn salt have gluten?
Popcorn is made from corn, which doesn't contain gluten. Corn is often suggested to the people affected with celiac disease as a safe alternative to wheat, and most people who are gluten intolerant do not need to worry about enjoying a bowl of popcorn.
4. What popcorn product is gluten-free?
You can surely count on corn when it comes to gluten-free grains. Therefore, you can infer that plain popcorn is also gluten-free. This makes it a safe snack for celiac sufferers.
Gluten-containing proteins are found in individual grains, including wheat, barley, and rye. As corn is a gluten-free grain, so plain popcorn is also gluten-free.
5. Is caramel popcorn gluten-free?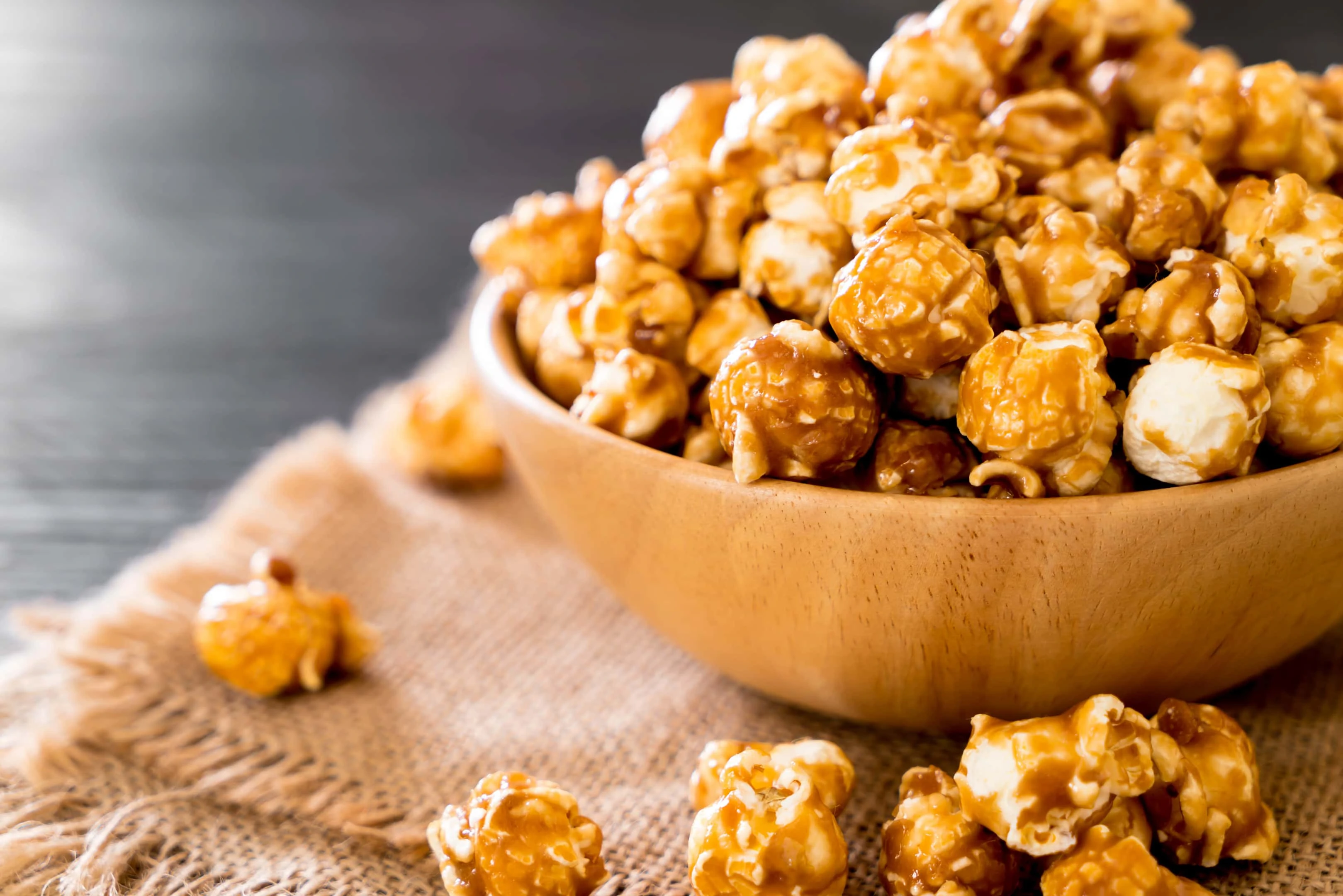 Homemade caramel popcorn is usually crunchy and contains butter, will satisfy your sweet tooth, and, best of all, it's naturally gluten-free! Moreover, you can enjoy it warm and fresh if you make it yourself one. You can treat yourself further by adding butter, agave syrup, or sugar as toppings to your organic popcorn.
Final thoughts
I hope your doubts about gluten in popcorn are resolved now. Popcorn is notable for being a very common, famous, and easily-accessible snack food. It doesn't have specific health effects. You can compare popcorn and other snack foods, and see the result. You can enjoy plain popcorn anytime. It can only harm you if it is seasoned with any gluten-containing element if you need to avoid gluten. So, just check the gluten facts on the package and hand yourself the popcorn during your next binge-watch at home.