Dietary fiber is one of the most beneficial nutrients for our body and with good reason. Fiber comes with many health benefits that will be explored below. But for some people who are suffering from certain medical conditions, fiber may be restricted, as their treatment often includes stabilizing bowel movements and slowing down the digestive system. While the exclusion of fiber will limit your dietary options, being a vegan doesn't help either. That's why we've covered the best low-fiber vegan foods in this article.
Jump to: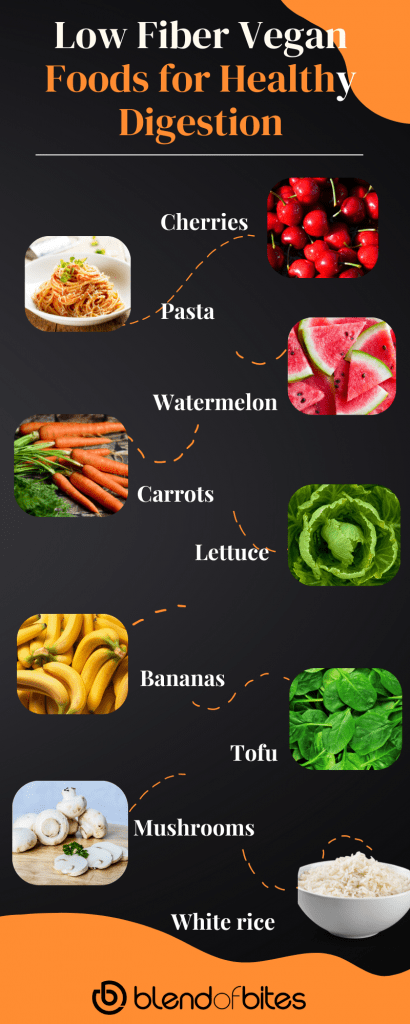 What is fiber?
Dietary fiber is found naturally in many plants. It cannot be digested by humans because our digestive system lacks the necessary enzymes to break these long chains down into smaller pieces. Instead, they pass through undigested and reach the large intestines where bacteria take up residence. The process releases water from the insoluble fiber molecules making them easier to excrete via the stool. This results in softer stools that help ease constipation symptoms. The advised amount of fiber is 30-40 gr per day for men and 20-25 gr for women.
There are two different kinds of fibers:
Soluble fiber — It dissolves in water and reaches the small intestine faster. Its main function is to lower blood sugar levels after eating carbohydrates.
Insoluble fiber — It does not dissolve completely despite being able to absorb amounts of fluid for longer.
Side effects of fiber
As is the case with many healthy and necessary nutrients, a high amount of fiber intake might lead to an uncomfortable situation. Since fiber is a carbohydrate that resists digestion, too much of it will have unwanted effects on your digestive system. Some side effects include:
Bloating
Gas
Abdominal cramping
Constipation
Diarrhea
The low-fiber diet explained
1. What is a low-fiber diet?
A low-fiber diet refers to any type of meal plan that excludes high quantities of fiber-containing foods such as fruits, vegetables, legumes, whole grains, nuts, and seeds.
2. Who should follow a low-fiber diet?
A low-fiber diet might be advised by your doctor if you are receiving ongoing treatment for certain medical conditions. Here are some of them:
Crohn's disease
Irritable bowel syndrome
Colorectal cancer
Diverticulitis
All of these medical conditions have their treatment that requires stabilizing bowel movements and slowing down the digestive system. Fiber, on the other hand, will only increase your bowel movements. When consumed just enough, this effect of fiber is usually a beneficial thing for you, with these conditions being an exemption.
Best low-fiber vegan foods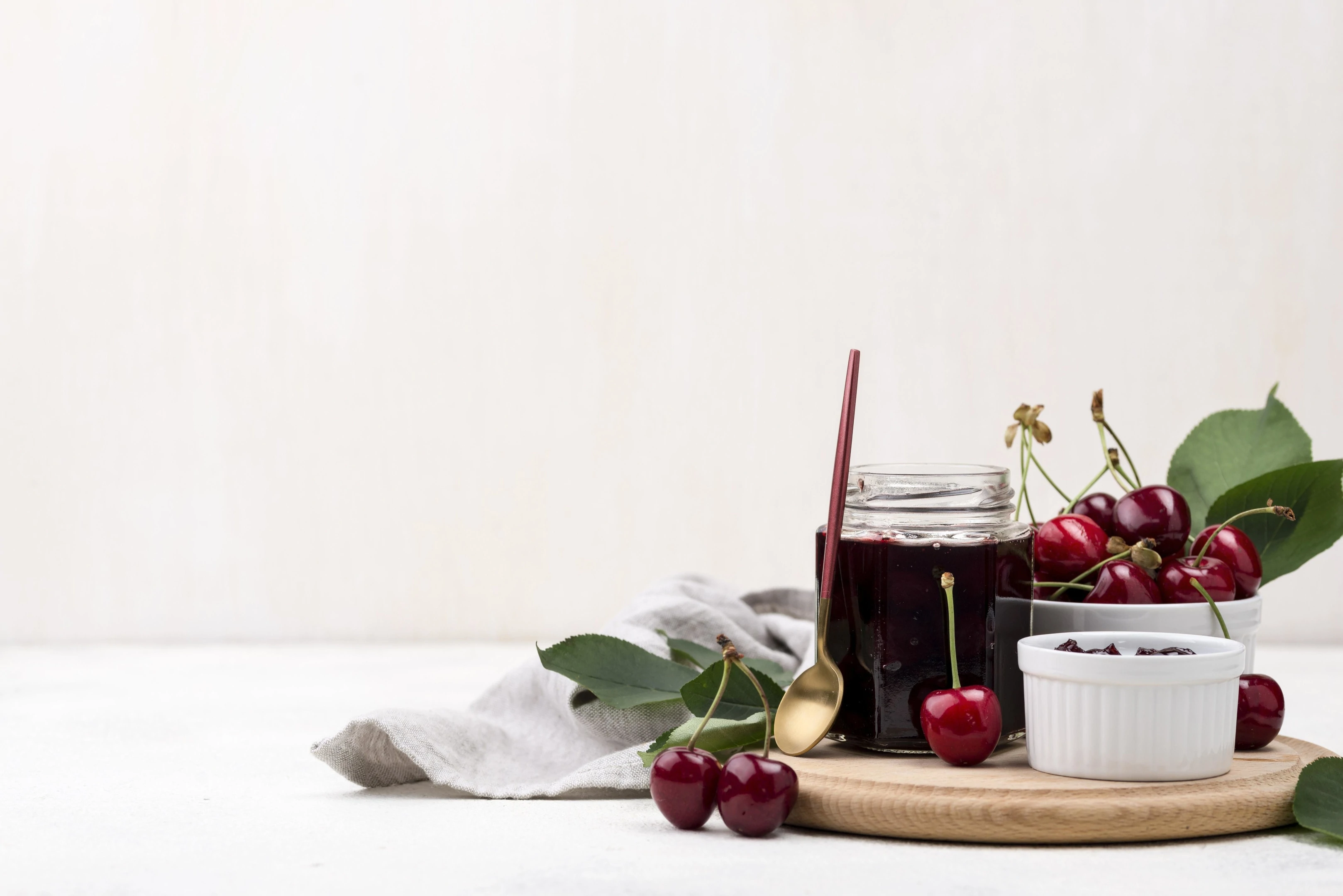 Whatever your reasons are, if you are following a low-fiber vegan diet, it is clear that your dietary options are limited. Considering the foods to avoid listed above, you might be desperate to find any tasty dishes to incorporate into your diet. However, there are many alternatives that could be considered. Here are the best low-fiber vegan foods:
1. Cherries
Cherries will be a great addition to your diet during summer, as 1 cup of cherries contains only 3 grams of fiber. That is a pretty low amount compared to the average fruit, especially when considering the US FDA recommends 28 grams of fiber per day. They contain a high amount of sugar, so don't go overboard with them.
2. Bananas
One average-sized banana has only three grams of dietary fiber, the same amount as cherries. While your main priority is to focus on low-fiber foods, you still need other healthy nutrition too. Considering that they are a nutritional powerhouse, bananas are an ideal low-fiber vegan food. Don't forget that bananas contain a high amount of carbs, and they should be consumed in moderation.
3. Watermelon
Watermelon is one of the lowest-fiber fruits that you can eat, with only 0.4 grams of fiber in a 100 gr portion. Yet there are two facts that make watermelon a questionable choice. For one, they are made up of 92% water, and this can trigger bowel movements, which is the complete opposite of your goal. Second, watermelon contains a high amount of fructose, which could very well lead to obesity and type-2 diabetes.
4. White rice
A staple food in most parts of the world, white rice contains 0.4 grams of fiber in a 100 gr portion. It can be said that the only time white rice is preferable to brown rice is if you are looking to decrease your fiber intake, as white grain contains an almost irrelevant amount of fiber, unlike whole grains. Although white rice is a great simple carb, it is also high in calories. Consume in moderation.
5. Pasta
1 serving of pasta contains 1.2 grams of fiber, which is higher than rice, but still lower than average and could be a good option for you. Stay away from whole grain pasta and stick to white grain for a low-fiber dish.
6. Carrots
Since most fruits are usually high in fiber, carrots will be your savior when it comes to making a salad. Containing 2.8 grams of fiber in a 100 gr serving, carrots still contain a moderate amount of fiber and should be consumed in moderation. Still, it is lower than an average vegetable. Opt for raw carrots, as boiled carrots contain a higher amount of fiber compared to the raw ones.
7. Lettuce
Lettuce contains 1.3 grams of fiber, which is low for a vegetable. It is the ideal vegetable to incorporate into your low-fiber diet and salad. Romaine lettuce contains a higher amount of fiber compared to iceberg, so opt for the latter for a low-fiber intake.
8. Tofu
Tofu is a high-protein low-fiber food, and this fact should be enough to give it a place on our list, with only 0.3 grams of fiber in a 100 gr serving. Tofu is also a great option when it comes to a vegan diet, therefore it can be considered a match made in heaven.
9. Mushrooms
Both cooked and raw mushrooms contain a low amount of fiber, although the cooked version contains a higher amount. Mushrooms contain as little as 1 gram of fiber in a 100 gr serving. The fiber beta-glucan is likely to be contained in mushrooms, which is a fiber similar to the one in oats and whole-grain products. Approximately one-eighth of the fiber in mushrooms is soluble fiber.
List of high-fiber foods to avoid
1. Whole-grain foods
Whole-grain foods like brown pasta, cereals, oatmeal, and brown rice contain a high amount of fiber due to their whole wheat nature. Whole wheat contains both soluble and insoluble fiber, which makes them the type of food that you should avoid. If you are looking for low-fiber food that will make life easier for your stomach and digestive system, opt for white grains. This is because whole-grain, as the name suggests, contains every ingredient of grain, and that includes the endosperm and the germ, while white grain is processed and lacks these.
2. Common fruits
Fiber is most common in fruits like apples, citrus fruits, berries, avocados, and pears. Avocado has the most fiber amongst these fruits, with more than 7 grams of fiber. Similar to whole-grains, fruits also contain both insoluble and soluble fiber. Fruits are especially high in insoluble fibers like cellulose and lignin, which promotes an increase in the stool.
3. Legumes
All legumes contain some fiber, but some are higher than others depending on their type of fiber. Beans (such as kidney beans) contain both insoluble and soluble fibers, which means they're both easily digestible and water-soluble. Peas have only soluble fibers, which means they dissolve when you drink water or other liquids. Lentils have only insoluble fibers because they're not as easy to digest as the other types of legume fibers mentioned above. However, their insoluble fibers still make them an excellent source of dietary fiber for people who need more fiber than other foods offer.
Conclusion
Although fiber is essential for your health, consuming too much of it has negative side effects. If you are suffering from bowel syndromes or colorectal cancer, your treatment will require a low-fiber diet to slow down your digestive system and decrease stool. Therefore, some people are advised to avoid fiber. If you are a vegetarian, your dietary options are even more restricted. However, there are still some low-fiber vegan foods that you can incorporate into your diet. Bananas and cherries are great fruit options, while any food made from white grain is an ideal carb option.