Have you ever planned to make pancakes for breakfast, started preparing, and later realized that you were short of maple syrup? This happens with most of us, but don't worry; every food ingredient has its substitutes. Why not try some maple syrup substitutes? These substitutes for maple syrup are readily available in your kitchen. But, before heading to a study about maple syrup substitutes, let's take a look at some fundamental and interesting facts about maple syrup.
Jump to:
What is maple syrup?
Maple syrup is derived from the sap of the maple tree and is used as a natural sweetener in various dishes. In the early spring season, the sap is collected from the maple trees and then cooked to make a rich flavorful syrup. Maple syrup is mostly enjoyed in Northern America, as well as the eastern region of Canada.
Maple syrup goes well with breakfast food items like pancakes or waffles. It is a core ingredient in sweet dishes and is also added while making sauces.
Varieties of maple syrup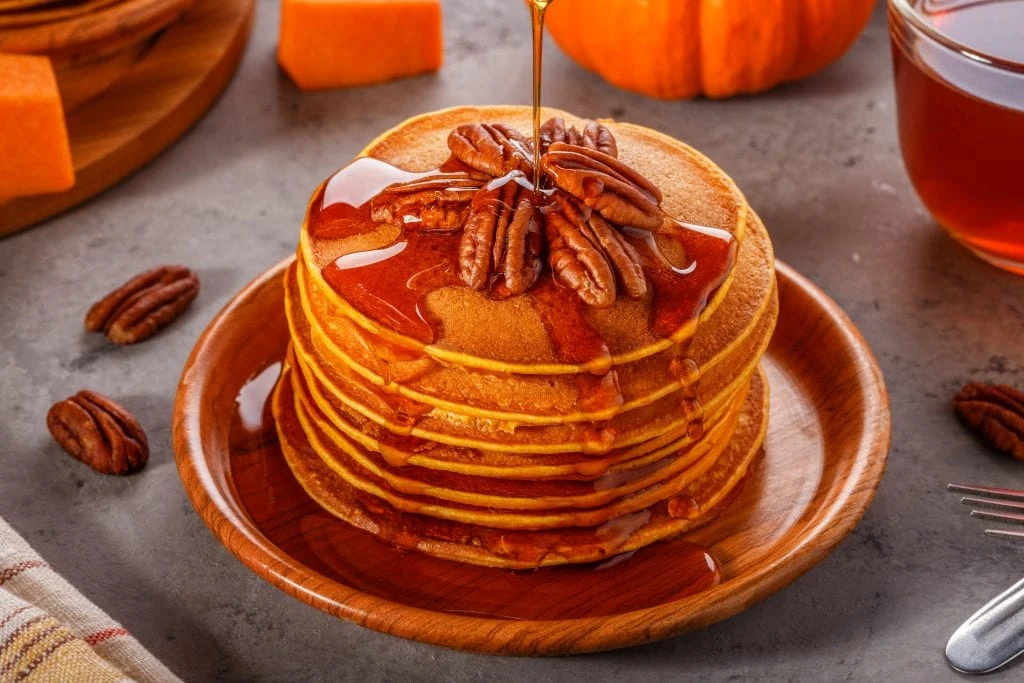 Maple syrup is classified as variants due to its color and the age of collected sap. It is then graded accordingly. If the sap is collected later in the season, the color is darker. In 2015, the U.S. revised the maple syrup's grading system to fit the Vermont state and international standards. The new gradings are as follows.
Grade A golden syrup — Has the lightest color and has a mild flavor that is good for desserts and breakfast food items.
Grade A amber syrup — Offers a classic maple syrup owing to its rich flavor. Therefore, it is an ideal choice for table syrup.
Grade A maple syrup — Is a dark-colored syrup that offers the most distinctive flavor and is often preferred over other variants for cooking.
Processing Grade syrup — Is very dark and is collected at the end of the spring season and is used for commercial products.
Health benefits of maple syrup
Even though maple syrup is made of sugar, it is one of the healthiest sweeteners you can find in the market. It is natural and more nutritious and tasteful than refined sugar. Maple syrup contains almost the same calories as that of white sugar and has almost the same in terms of carbs. However, due to its sweet flavor, you don't have to add much maple syrup to dishes. As compared to sugar, maple syrup contains more nutrients like manganese, calcium, potassium, and magnesium. So, let's have a quick look at its benefits and nutrition in detail.
Here are some of the health benefits of maple syrup that you might not know.
1. Maple syrup is good for men's health
Maple syrup has lots of zinc in it as per the book 'Healing Foods.' Zinc has a lot of health benefits, such as it supports men's reproductive health and also protects against prostate enlargement. Also, its high level of manganese helps in the production of the sex hormones in both men and women.
2. Helps boost energy
Manganese is a micronutrient present in maple that aids in boosting energy production in the body from the process of synthesis of fatty acids and cholesterol. Having ¼th cup or 50ml of maple syrup daily is enough to fulfill 90-100% of the daily manganese requirements of your body.
3. Protects the heart's health
Maple syrup has a decent quantity of zinc, and also the minerals in it helps protect the artery walls from radical damage and prevents the arteries from damaging. Also, the manganese in the maple syrup helps to boost good cholesterol levels in the blood.
4. Helps regulate the blood sugar levels
Maple syrup helps keep the blood sugar in control. The antioxidant polyphenol, combined with the other plant hormones or abscisic acid, improves your body's sensitivity to blood sugar by regulating the hormone insulin.
5. Contains lots of antioxidants
Maple syrup has some 56 vital antioxidants. Several studies have also claimed that there are various health benefits of maple syrup and a good amount of the antioxidant polyphenols, which have strong anti-cancer properties.
Maple syrup nutrition facts
Maple syrup is the perfect toppings on pancakes, waffles, ice cream, and many other desserts. Let us explore the nutrients that you get while enjoying real maple syrup.
One tablespoon (20 g) of maple syrup contains the following nutrients:
Calories — 52
Calories from fat — 0.1 (0.2%)
Saturated fat — 0g
Sodium — 2.4mg
Potassium — 42.4mg
Carbohydrates — 13.4g
Net carbs — 13.4g
Sugar — 12.1g
Glucose — 0.3g
Fructose — 0.1g
Sucrose — 11.7g
Calcium — 20.4mg
Caffeine — 0mg
Magnesium — 4.2mg
Phosphorus — 0.4mg
Zinc — 0.3mg
Manganese — 0.6mg
Selenium — 0.1μg
Riboflavin — 0.3mg
Choline — 0.3mg
Water — 6.5g
Fatty acids
Amino acids
Uses of maple syrup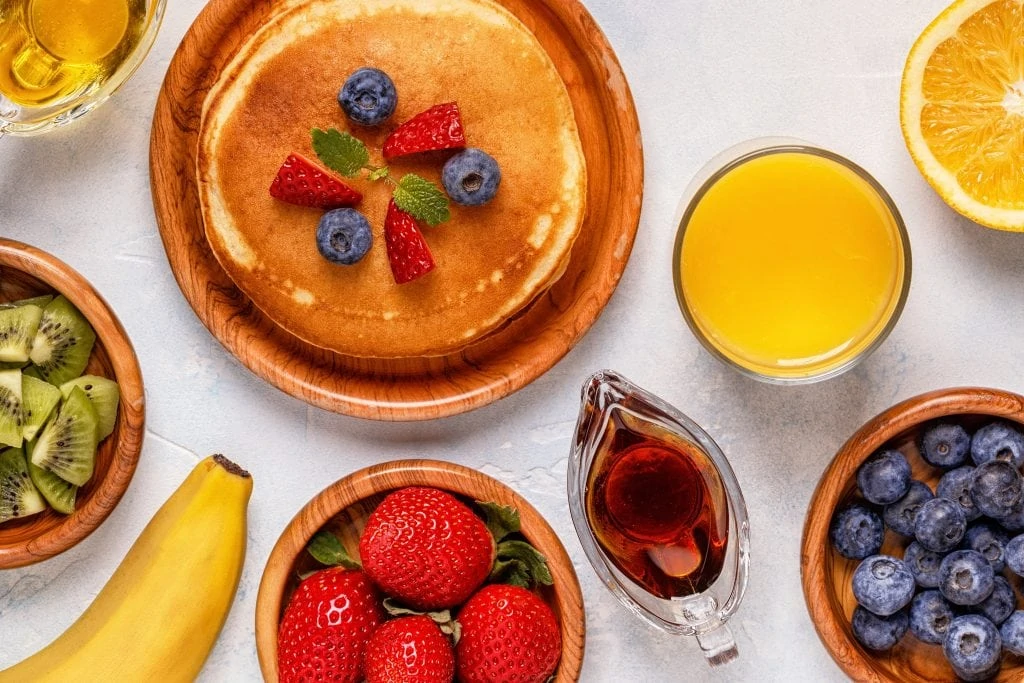 Most people use maple syrup as a topping for pancakes, waffles, and also in sweets. Apart from this, you may also use it in making the following dishes.
Barbecue sauce
Roasted vegetables
Pumpkin soups
Snacks mix
Bread pudding
Olive oil and maple granola
Mousse
Maple syrup-soaked doughnut holes
Fennel and maple breakfast sausage
Maple cinnamon applesauce
Blueberry maple breakfast bake
Mini chocolate chip maple pancake cupcakes
Maple and mustard glazed salmon recipe
Chipotle maple barbecue brisket tacos
Glazed sweet potatoes with maple gastrique
Cooking with maple syrup
For making most of the dishes, maple doesn't need much preparation. You may use it as a topping to your dessert, pancake, ice cream, beverage, yogurt, and even as dressing to your favorite salad. You can also add it to frosting, and whipped or sour cream.
Maple syrup can be boiled or cooked for a short amount of time along with the other ingredients. If it is added to butter, then it becomes the maple cream, and it can add sweetness to simmered barbecue sauce. It can also be added into a glaze for meats and vegetables. If you want to use maple syrup in baking food items, then you can add it directly to the batter or dough. Many recipes will indicate which grade of maple syrup can be used in the recipe, so you can use it according to it to bring that level of sweetness to the recipe.
Is maple syrup vegan?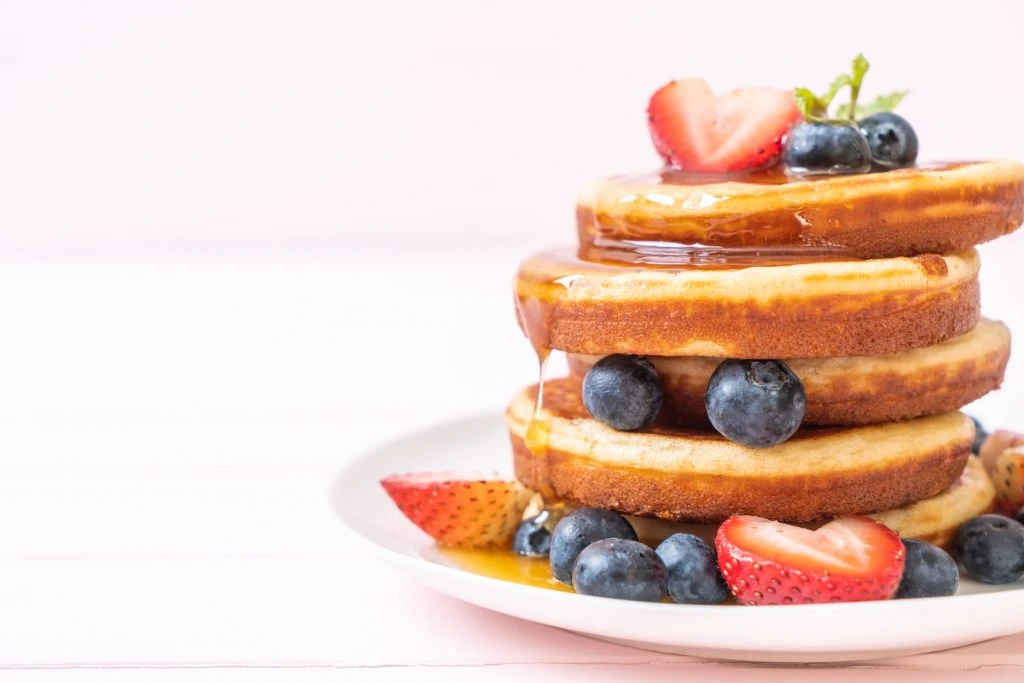 This question must have popped and maybe you are curious to know its answer. You will be glad to know that the maple syrup is completely vegan. However, commercially advertised maple syrup may contain added artificial flavors that you cannot consider to be vegan.
The sap is derived from the maple trees, which is completely vegan, but it depends on how the final maple syrup is made. After collecting the maple sap, it is taken to the sugar house for the boiling process, which evaporates the water and caramelizes the sugar, which leaves the mixture thick. Later, to reduce the foam that is built on the syrup, the conventional producers might use an ingredient that is not vegan-friendly.
Sometimes, the producers use animal fats while producing maple syrup to defoam the syrup after boiling them. However, most companies do not mention these nonvegan ingredients on their product labels.
Where can you buy maple syrup?
You can find maple syrup in any grocery store, but if you look closer, then you can also find some bottles of real maple syrup. You can purchase it online as well. Maple syrup is available in glass bottles or plastic jugs. If you are interested in pure maple syrup, then it will be more expensive as it is made up of high-quality syrup without additional non-vegan products. If you are living in a region where there are plenty of maple trees, then you can collect some of the sap from trees and make it on your own. Maple syrup is available in any quantity, so you can buy it in ounces, pints, quarts, and gallons.
How is maple syrup stored?
You may store pure maple syrup in a cool and dark place for up to two years in a sealed container. Once you have opened it, you can refrigerate it for up to one year. Pure maple syrup can be kept in the freezer indefinitely, but it does not freeze as a solid. If not stored properly or for too long, harmful toxins start infesting on it, and ultimately you will have to throw that whole syrup.
Before serving maple syrup, it's important to bring it to room temperature. You can also warm maple syrup in the microwave. You can heat half a cup of maple syrup for 30 to 60 seconds in the microwave; you may need more time if the maple syrup is colder.
Maple syrup substitutes
Many of you might prefer maple syrup due to its taste and color. But, if you don't have it in your kitchen, then you can use other ingredients that are similar in taste and color. Let us have a look at substitutes for maple syrup.
1. Honey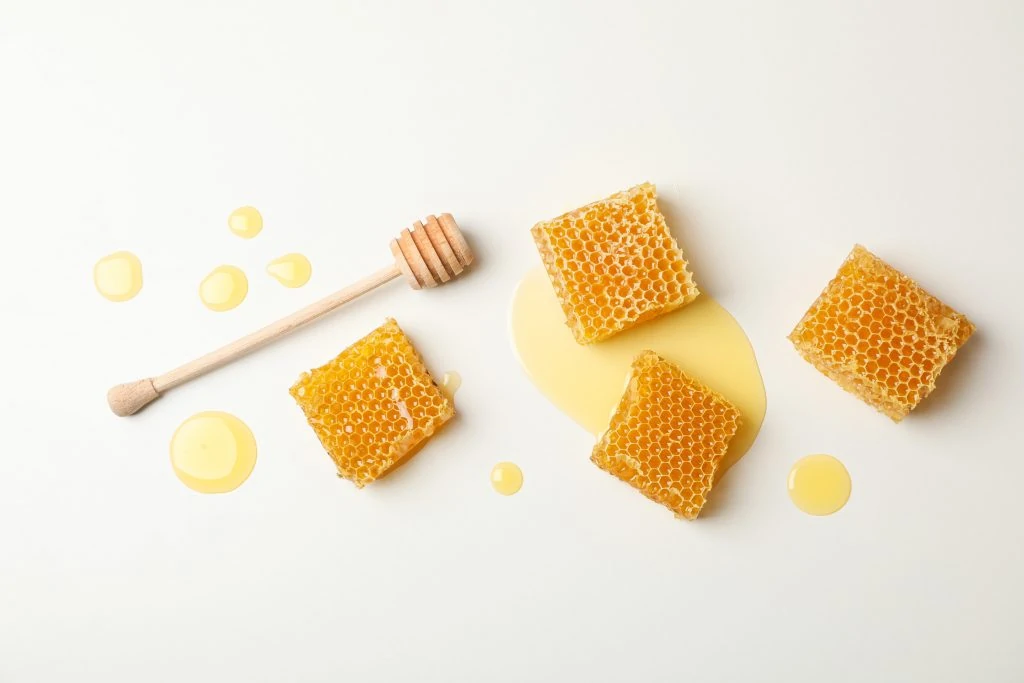 Honey is the best substitute for maple syrup if you want to use syrup on your pancakes. It has a similar consistency as maple syrup, and also it has a familiar sweet flavor as well as a brown color. You won't be disappointed if using it as a replacement ingredient while baking, as it has the same texture. You may use honey in the same amount as the maple syrup in your recipes.
2. Brown sugar syrup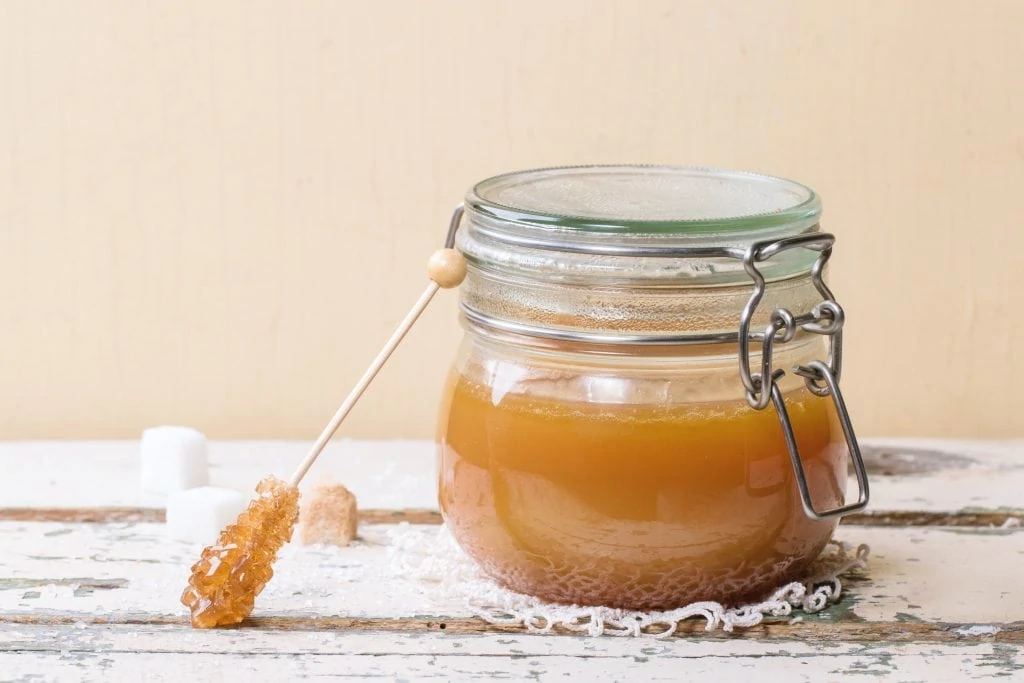 Another great substitute for maple syrup is brown sugar syrup, which is very easy and quick to make. All you have to do is add brown sugar in a quarter cup of water and add a half teaspoon of vanilla extract. Adding it will give your golden maple syrup its signature mild vanilla taste.
Now, heat the mixture on medium flame and stir it until the brown sugar dissolves completely. Make sure that it doesn't simmer as it can give a different texture and taste.
3. Molasses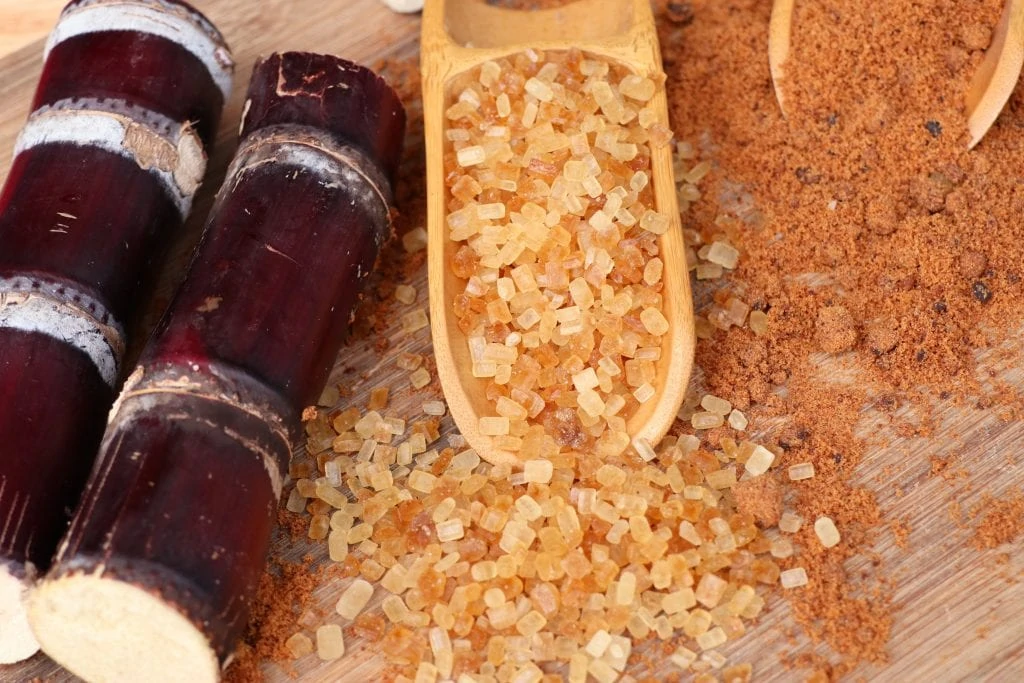 Molasses is also another replacement for maple syrup. Similar to brown sugar syrup, it has a brown color and a sweet flavor. Molasses is a byproduct that is produced during the refining step of the sugar manufacturing process. During this process, the sugar cane juice is extracted and then sugar is extracted through crystallization. The thick dark liquid left after the extraction of the juice is called molasses. You may use it as a flavoring agent, as it has a sweet and caramel flavor similar to maple syrup.
If you prefer maple syrup for its color, keep in mind that molasses have an extremely dark brown color. But, if you prefer using maple syrup for its taste, then molasses is the perfect choice for your recipe
4. Corn syrup
Even though corn syrup lacks sweetness, it is an inexpensive alternative for maple syrup that is easily available in the supermarket. Although it is completely colorless, it has a similar texture as maple syrup, which makes it a perfect maple syrup substitute.
Making a maple syrup substitute at home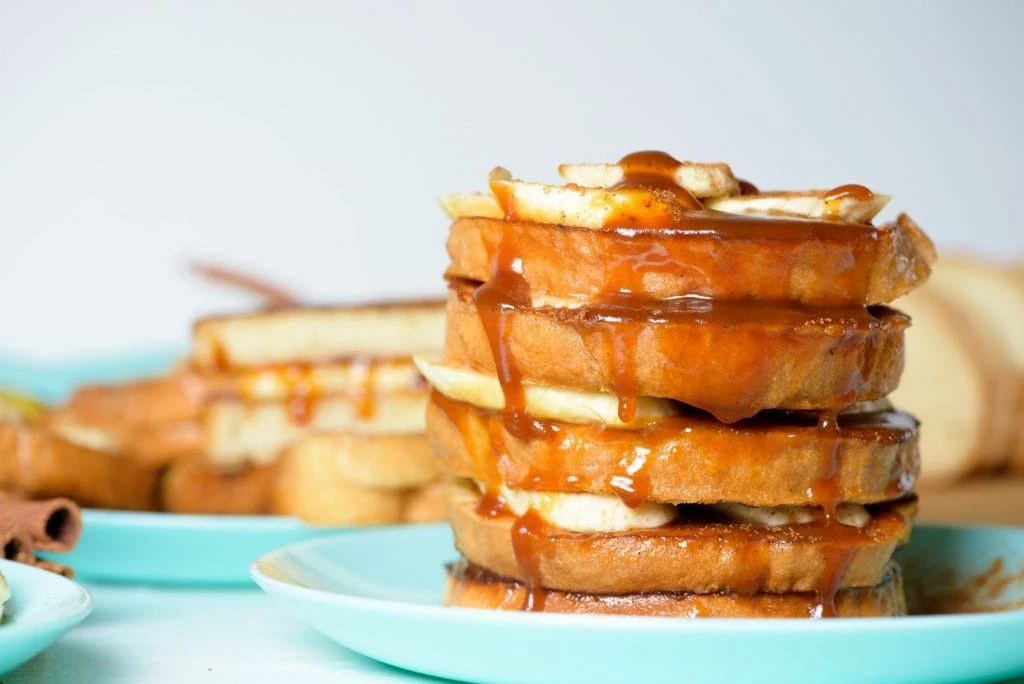 Even if the substitutes for maple syrup sweeten your meal, it might still lack some of the intense flavors. Here is the simple recipe for a maple syrup substitute that you may make at home easily.
Ingredients
½ cup of white sugar
1 cup of brown sugar
1 teaspoon butter
1 cup of water
½ teaspoon of vanilla extract
Steps for making maple syrup substitute:
1. The first step is caramelizing the white sugar.
2. Keep water for boiling in a separate saucepan.
3. After boiling the water, add brown sugar to it and stir it till the sugar completely dissolves in it.
4. Mix the melted brown sugar and the caramelized white sugar and stir it thoroughly.
5. Now, to bring the sweetness in the mixture, add the vanilla extract and butter to that mixture and stir it well until you get the thick texture and the desired consistency of the mixture.
6. Cool the mixture until it reaches room temperature.
Give this recipe a try and you will be surprised!
What amounts of other sweeteners can be substituted for maple syrup?
In case your recipe requires maple syrup, but you don't like the flavor of maple, some affordable replacements can serve the purpose. You can replace maple syrup with other liquid sweeteners like honey, corn syrup, agave, and molasses.
In the case of replacing maple syrup with granulated white or brown sugar, the ratio of the proportion of sugar to maple syrup would be 3:2. After adding the sugar, remember to pour ¼ cup of liquid into the recipe and increase the temperature by 25 degrees Fahrenheit, so that the granules will dissolve well into the liquid. Don't forget that when you replace maple syrup with other liquid sweeteners, the replacement may lead to a change in the flavor and texture of the recipe. You can tweak some spices and add to it or even add a flavoring extract to make up for any loss of flavor.
Conclusion
These maple syrup substitutes go well with waffles and pancakes, along with the other recipes. You must have maple syrup at home if you have a sweet tooth. But if you run out of it, do not forget to try these maple syrup substitutes. You may also want to try the recommended homemade solutions.
If you have tried any delicious recipes with these products, then do share your experience in the comments section below.