For years, people have overlooked the incredible benefits of Mongongo nuts. With a deep history enveloped in tradition and culture, Mongongo nuts offer many medical advantages due to their numerous nutrients, such as healthy fats, zinc, calcium, vitamin E, and protein. Also known as Manketti nuts, Mongongo nuts have emerged over the decades as a remarkable and versatile food. Dive deep into the diverse Mongongo health benefits with this article.
Jump to: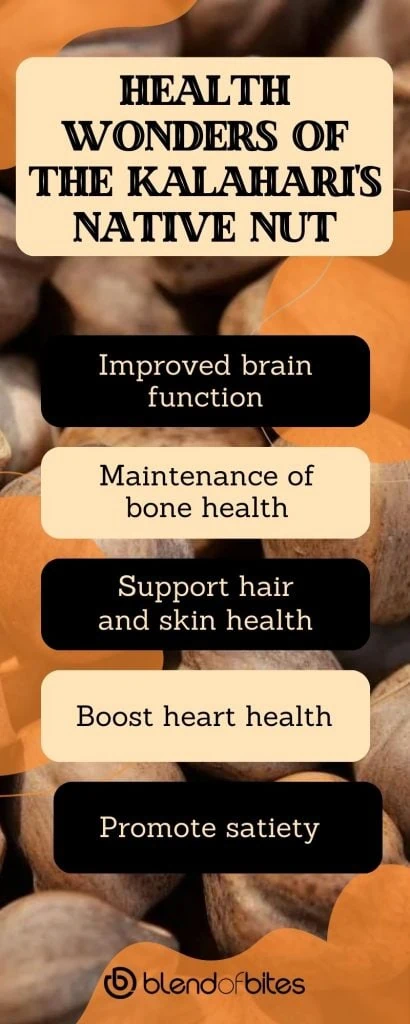 What are Mongongo nuts?
Mongongo nuts are native to the Kalahari Desert in Southern Africa. They can also be found in Angola, Tanzania, northern Botswana, and northern Namibia. The Mongongo or Manketti tree is a large, wide tree with a height of up to 20 meters. The tree is mostly found among dunes or wooded hills. Its leaves possess a hand-like shape, and the flowers are mostly yellowish.
Mongongo nuts are the nuts obtained from the fruits of the Mongongo tree. When the egg-shaped fruits of the Mongongo tree ripen and fall, they have a thin outer layer and a hard inner shell that holds the edible nut inside. In ancient South Africa, Mongongo nuts were used as a form of exchange and trade for improving relationships between communities and groups. They created a kind of shared identity among the indigenes. Some indigenous communities refer to it as 'food for the gods,' given how it has sustained its people through many generations.
Besides its cultural history and significance, people also consumed it roasted or raw. Mongongo nuts offer a slightly nutty flavor with a crunchy texture. You can also grind the nuts into a paste and mix them with water to create a nutritious beverage. In addition, the nuts can be used as an extra ingredient in skin care products and to make cooking oil.
However, in recent years, Mongongo nuts have gained more prominence beyond their traditional uses. This is due to their incredible nutrient richness, which has resulted in them being incorporated into modern diets and enjoyed for their health benefits.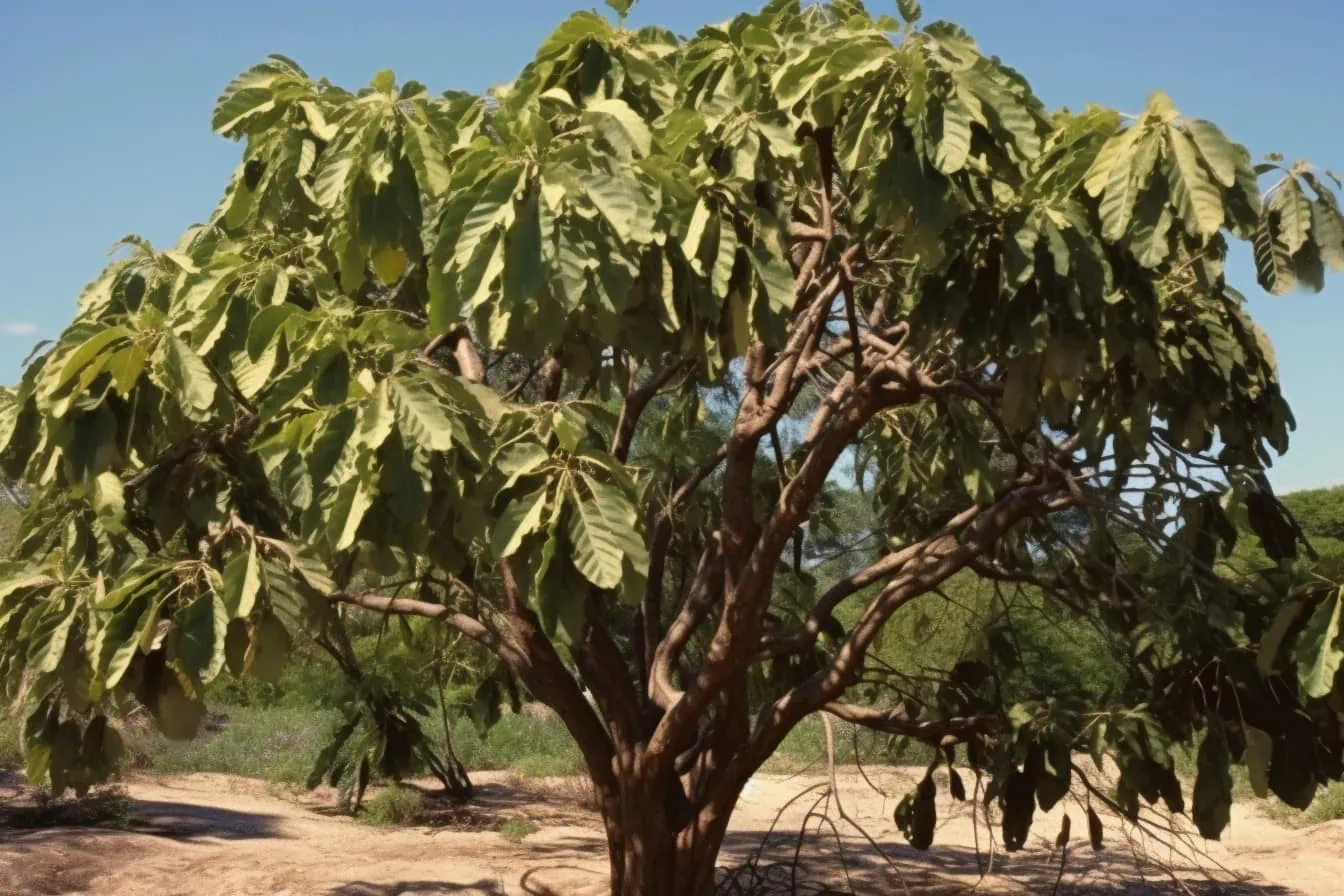 Mongongo nuts and nutrition
Mongongo nuts are incredibly nutritious and versatile and also possess a low glycemic index. They contain diverse nutrients that include zinc, vitamin E, protein, calcium, dietary fiber, and healthy fats such as polyunsaturated and monounsaturated fats. All these nutrients support the many health benefits of Mongongo nuts. Let's take a look at the many Mongongo health benefits:
1. Improved brain function
Mongongo nuts contain important nutrients such as vitamin E, omega-3 fatty acids, and omega-6 fatty acids that are beneficial for brain functions. Vitamin E helps protect the brain cells from oxidative damage.
In addition, omega-6 fatty acids and omega-3 fatty acids can aid in improving brain health by supporting the structure of the brain cells and maintaining the communication of nerve cells. Omega-3 fatty acids are especially important for binding cell membranes to increase fluidity, which is very crucial for proper brain functioning. Both fatty acids work hand in hand to render support to the brain and help maintain optimal function. Omega-3 fatty acids can also help improve cognition and protect against neurodegeneration.
2. Maintenance of bone health
Another one of Mongongo's health benefits is the support of bone health. Mongongo nuts contain magnesium, phosphorus, and calcium, which can help improve the density and health of the bones. Calcium is well recognized for its importance in supporting the maintenance and formation of bones. A deficiency of this nutrient can even result in fragile bones and reduced bone strength.
Magnesium in Mongongo nuts can work together with calcium to maintain the strength of bones by supporting the metabolism and absorption of calcium. Phosphorus, which is another amazing nutrient found in Mongongo nuts, can support bone mineralization. The mineralization of bone contributes to the stiffness and strength of bones, thereby supporting the quality of bones. The mineralization of bones can help reduce the risk of diverse medical conditions like osteoporosis.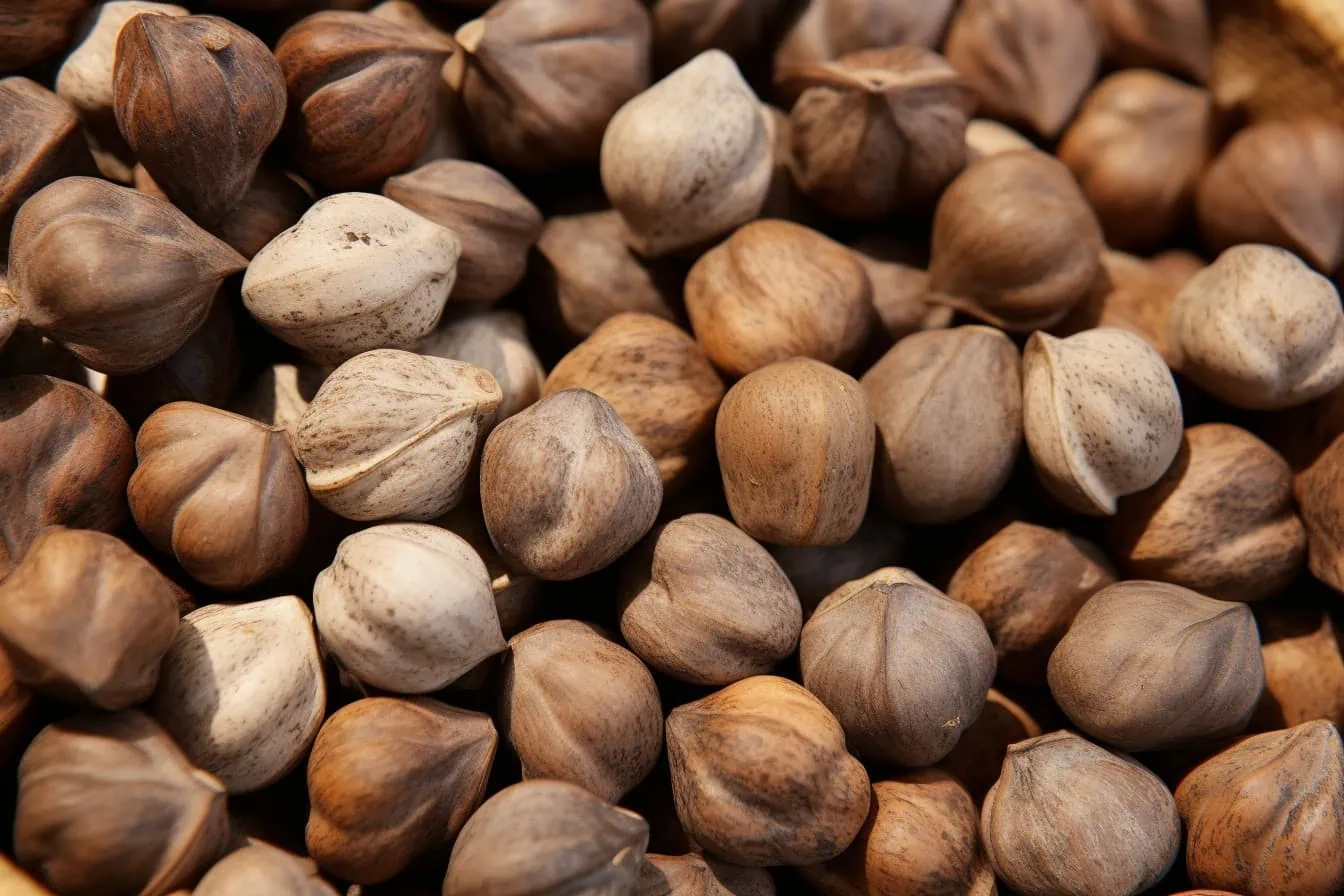 3. Support hair and skin health
Due to the generous amounts of vitamin E in Mongongo nuts, they are great for maintaining hair and skin health. Vitamin E is known as a powerful antioxidant. It can help protect the skin cells from harmful compounds like free radicals that can harm the skin and cause premature aging. The protection that vitamin E provides can also help decrease the appearance of wrinkles, thereby promoting a clearer and more youthful look.
As earlier stated, Mongongo nuts were used in ancient times in skin products and are used today. Oil must be extracted from the Mongongo nuts to use these products. This oil can be used topically and is very appreciated for the moisturizing and nourishing qualities that it provides. In addition, Mongongo oil can be used to improve hair growth, prevent hair breakage, add shine, and support the overall health of the scalp.
4. Boost heart health
One health benefit of Mongongo that is very important is the support that it provides to heart health. Its heart-supporting fats are considered healthy and include polyunsaturated and monounsaturated fats. These fats have been proven to have positive effects on the cardiovascular system. Monounsaturated fats such as oleic acid can help reduce bad cholesterol levels while helping to elevate healthy cholesterol levels. This helps to create a balance that can help reduce the risk of diverse health diseases.
Polyunsaturated fats, which include omega-3 and omega-6 fatty acids, also help strengthen the heart's functions. Omega-3 fatty acids possess anti-inflammatory qualities that offer protection to the heart. All these important healthy fats make Mongongo nuts a great addition to any diet.
5. Promote satiety
With the combination of fiber, protein, and healthy fats that are present in Mongongo nuts, these nuts are a valuable addition to diets targeted at weight loss. They help create the feeling of fullness, thereby supporting weight management goals. This advantage can also help decrease the likelihood of unnecessary snacking.
Moreover, due to its dietary fiber composition, Mongongo nuts can help stabilize blood sugar levels and slow down digestion. These two functions can help reduce the risk of experiencing sudden spikes and crashes in energy levels. By doing this, you are less likely to experience cravings for high-calorie foods or sugar-laden foods.
Conclusion
Mongongo nuts offer a wide range of health advantages and are not fully appreciated for their many nutrients. From the maintenance of bone health to containing healthy fats that can support heart health and the support of youthful appearance of the skin, these unique nuts offer a lot of advantages. What more reason do you need to add them to your diet? Incorporate them into your nutrition plan today to reap the many Mongongo health benefits!