Hair loss is one of the most dreaded signs of aging among women and men alike. Some people are more susceptible to it due to other underlying health conditions. In contrast, some have predisposing factors such as race or ethnicity. Have you noticed that men in Western countries tend to go bald more often and earlier than their counterparts from the Eastern side of the world?
Thankfully, there are several advances in the medical field to treat this condition. There are hairsprays and similar hair products that make the hair look thicker and longer. Also, surgical interventions are already available to replace the scalp with one that has healthy hair follicles, allowing for hair growth.
Nature also offers an array of solutions, such as moringa, a plant that is so easy to grow that it can proliferate just about anywhere. It does not address hair loss alone, but addresses other hair health concerns too. So, read on and learn how the different moringa hair benefits affect your overall hair health!
Jump to:
The moringa plant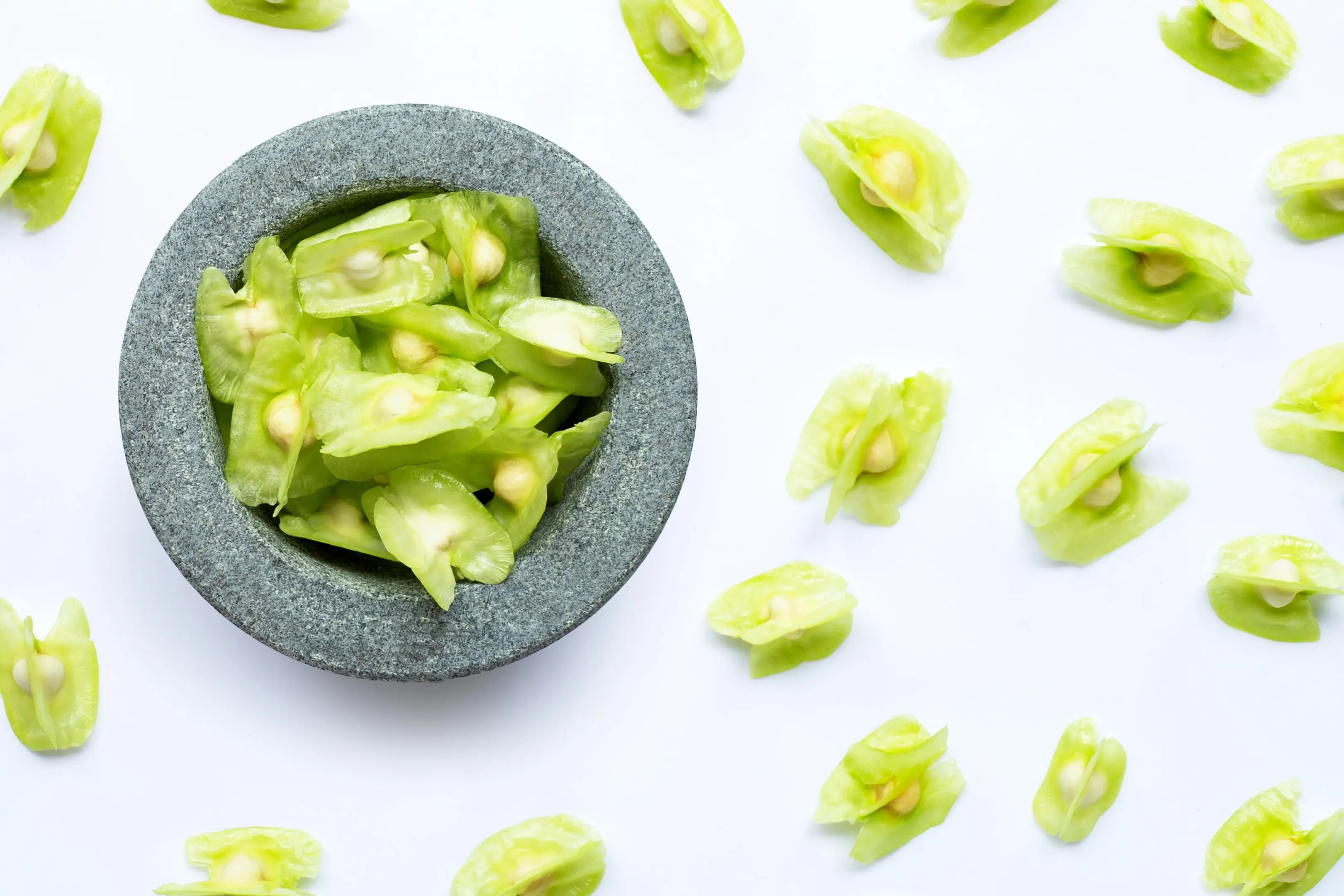 The moringa plant can survive in certain environmental conditions that would be too harsh for other plants. Also known as horseradish, the moringa plant can grow from eight to eighteen meters. The leaflets measure between one to two centimeters.
There is still no consensus on the origin of the plant, but all data on its distribution always includes India. Aside from the other parts of Asia, the plant is also present in North America, Central America, South America, the Caribbean, and Oceania.
While it can be used for human medicinal and nutritional purposes, it also has several other uses. It can be used as feed, for erosion control or windbreak, fuel, fertilizer, wood, resins, and dyestuff.
Hair benefits of moringa
What are the components in moringa that are responsible for these health effects? We will discuss the different nutritional contents of the plant and the mechanisms by which they improve hair health. As a bonus, some tips on how to prepare the moringa plant before using it in your hair will also be tackled.
1. Amino acids
In brief, here are some things you need to know about amino acids.
Amino acids are the building block of proteins, an essential macronutrient for normal body functions and growth. Not all amino acids are created equal, though. Some are non-essential — meaning they can be synthesized by the human body, while some are essential — those obtained only from diet.
Moringa contains a substantial amount of amino acids needed for hair growth. In the plant itself, the amount of amino acid present varies between the different parts.
The pods have 30 percent amino acid, the leaves contain 44 percent, and the flowers have 31 percent. Of the twenty amino acids vital to the human body, moringa has eighteen, and that includes all the nine amino acids, namely:
Isoleucine
Leucine
Valine
Lysine
Methionine
Tryptophan
Phenylalanine
Threonine
Histidine
Of these nine essential amino acids, two have been identified as crucial to hair health. Both lysine and methionine are involved and support collagen production, an integral component of the hair.
There are two other amino acids necessary for good hair health. One is cysteine, which contains sulfur, an essential element for hair cells, improving hair texture, elasticity, and strength. The other is arginine, which plays a vital role in the blood circulation around the hair follicles. It probably rings a bell because some shampoos include arginine in their formulations and even mention it in their advertisements.
Like cysteine, methionine is also a sulfated amino acid, which means they have sulfur in their molecular structure. Sulfur is also present in a high amount in keratin, the protein in hair. It was confirmed that sulfur prolongs the growing stage in the hair's life cycle, leading to longer hair. This illustrates that the several moringa benefits for hair can occur through different pathways.
2. Vitamins
Except for Vitamin D, which is synthesized by the body with exposure to sunlight, moringa contains all vitamins named after the first five letters of the alphabet. The nutritional composition of moringa leaf meal was analyzed, and it was found out that per 100 grams of the moringa leaf meal, there is:
2.64 milligram Vitamin B1
20.50 milligram Vitamin B2
8.20 milligram Vitamin B3
17.31 milligram Vitamin C
113.70 milligram Vitamin E
16.32 milligram Beta-carotene (a precursor of Vitamin A)
What good do all these nutrients do? Vitamin A plays a critical role in cell and tissue development and hair loss reduction. A deficiency of vitamin A may cause thickening of the scalp, dandruff, and dry hair. It also promotes sebum production from the sebaceous glands, and this keeps the scalp moisturized and the hair healthy.
Vitamin B also plays an indirect role in hair health. It is involved in red blood cell production, and RBCs carry oxygen and nutrients to the hair follicles and scalp. This ensures that the hair follicles grow healthy.
As antioxidants, vitamin C and vitamin E help fight off the effect of free radicals. Free radicals are highly unstable substances that cause oxidative damage to body tissues, causing various medical conditions ranging from brittle hair to cancer.
Vitamin C fights these damages, whereas vitamin E helps repair the tissues that were already compromised. Both vitamins are also essential in maintaining proper blood flow to the scalp, and the importance of blood circulation for hair health was already explained in the previous paragraph.
There are also other antioxidants present in moringa. These are quercetin, which can lower blood pressure, and chlorogenic acid, which helps in blood sugar regulation. Through indirect mechanisms, these antioxidants help maintain not only hair health but also overall well-being.
3. Minerals
Aside from vitamins, moringa is also a significant source of minerals essential to hair growth and hair loss prevention. Per 100 grams of moringa leaf meal, 285 parts per million of iron and 38.02 parts per million of zinc are present.
Iron deficiency has been connected to hair loss in anemic people. The iron content of moringa helps in proper blood circulation. Zinc promotes hair growth by preventing hair drying and clogging of the sebaceous glands in the scalp. The mechanism of hair loss due to zinc deficiency was studied in this experiment.
Zinc and iron are just two of the several minerals found in moringa. It also contains the following per 100 grams of moringa leaf meal: 1.60% Calcium, 0.28% Phosphorus, 0.43% Magnesium, 0.12% Sodium, 1.38% Potassium, 5.90 parts per million Copper.
4. Omega-3
Omega-3 fatty acids are typically associated with seafood such as salmon and tuna. Still, moringa is also a reliable source of this nutrient.
This fatty acid moisturizes the scalp, thereby preventing dandruff and promoting sebum production. Scalp inflammation is also reduced when treated with Omega-3 — nourishing hair follicles and stimulating hair growth and health.
This essential fatty acid is also present naturally in the cell membranes in the scalp and the sebum the sebaceous glands produce. To supplement this, food sources such as moringa, walnuts, canola oil, flaxseeds, and fatty fish should be consumed.
How to use moringa for hair health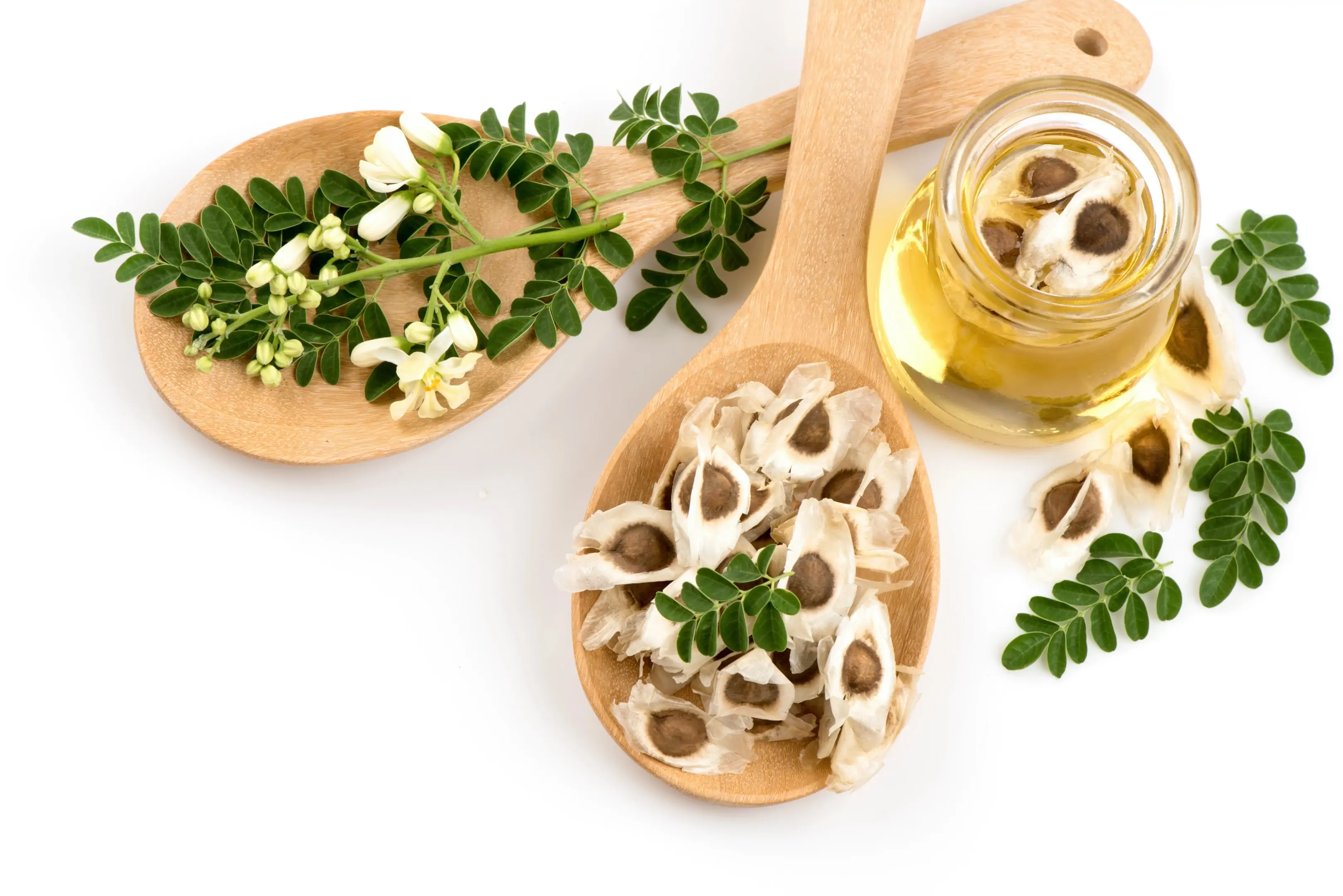 There are various ways to benefit from the nutrients of moringa. One of those is by using moringa oil. Moringa oil hair benefits include hydration, moisturization, and treatment of the hair follicles, conditioning and moisturizing the scalp and hair to prevent dandruff. There are various parts of the plant from which the oil can be extracted, but the best source is the seeds.
The oil must be applied on damp hair and used once or twice a week for best results. Massage the oil into the scalp and glide from the root to the tips. It is so effective Mil is incorporated in some cosmetic hair products.
You can also try a moringa hair mask. In powder form, it can give a soft and shiny appearance when used in a hair mask. Just combine moringa powder with coconut oil and honey and apply it like an ordinary hair mask. Do this once every week, and you will be guaranteed a transformation from brittle and weak hair to strong and smooth strands.
If you are one of those that does not like the feeling of having oil in your hair, you can still use moringa powder for hair growth and overall hair health. By adding the powdered moringa into your tea, juices, and smoothies, you get the benefits of the plant straight into your bloodstream. You can also incorporate the leaves and pods in certain dishes or use them directly for your drinks.
Lastly, there are moringa shampoos already available in the market. These products promote hair health in two ways. First, they contain the nutrients of moringa discussed above, which nourishes, treats, and enriches the hair, scalp, and follicles. Second, you eliminate the chemical-based hair products when you use these natural shampoos, which means that your hair will experience less chemical damage like brittleness and hair loss.
Other health benefits of moringa
Moringa has been found to contain anti-diabetic, anti-cancer, and neuroprotectant properties. In this study, it was also observed to prevent renal dysfunction, ulcer, and arthritis. It was also found to be effective against microbial pathogens such as Vibrio cholerae (the causative agent of cholera), Bacillus subtilis, and, Staphylococcus aureus.
Since it also contains calcium, some use it as an alternative source of this mineral, especially for those with lactose intolerance. The amino acid profile of moringa is also excellent to the point that it's one of the few non-meat sources that contains all the essential amino acids.
Conclusion
Having healthy hair promotes confidence and builds self-esteem. Our current lifestyle involves a lot of stress, which is also found to induce hair loss. Therefore, any source of pro-hair substances such as moringa is very much welcome in protecting our crowning glory.