Contrary to common belief, most bitter foods are good for you. While chemical compounds like fructose and glucose give foods a sweet taste, alkaloids naturally leave a bitter taste in our mouths. As a child, it is no surprise that we've been told to eat our greens instead of tasty desserts, as the former usually includes alkaloids that make their taste bitter. Bitter foods have many health benefits and can help with weight loss, digestion, and cancer prevention. In this article, we have listed the most bitter foods. Let's take a look.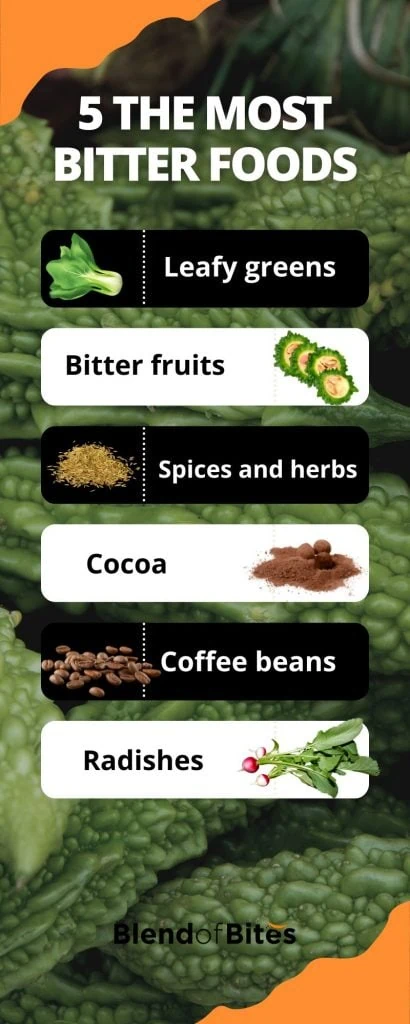 Jump to:
The most bitter foods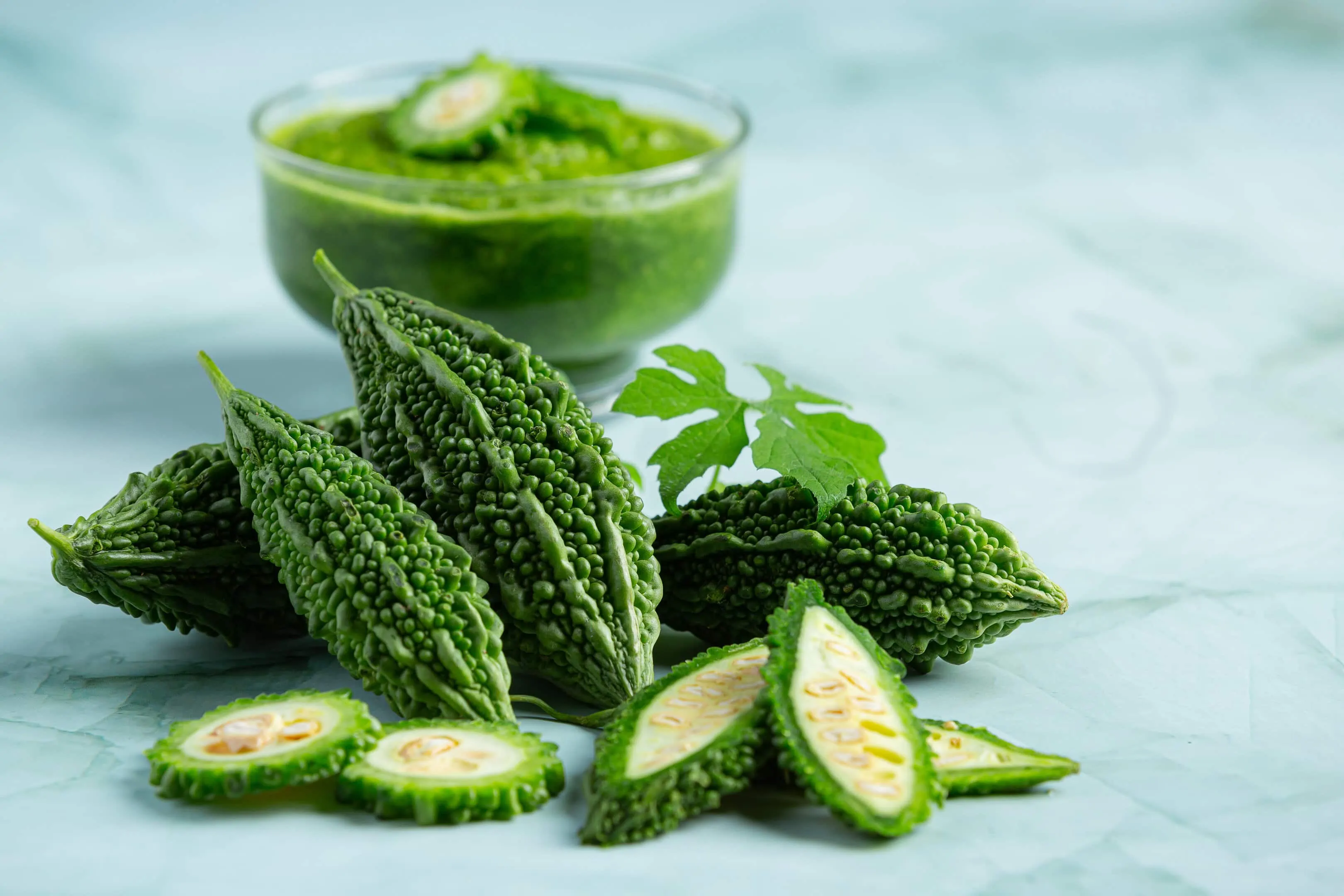 The list of most bitter foods includes many leafy greens, some bitter fruits that are generally less popular than others, and cocoa and coffee.
1. Leafy greens
Some of the most bitter foods are leafy greens. Most leafy greens are pretty bitter and owe their bitterness to glucosinolates, a group of molecules. While some leafy greens have the same kind of glucosinolates, some have unique ones that give them a different but still bitter taste. Those who don't like the bitterness of these greens can always opt for cooking them to get the bitterness out. However, it is not recommended as this would most likely destroy the beneficial nutrients and enzymes.
Arugula — Arugula is often used in salads and it has a peppery flavor. The high levels of vitamin K in arugula help to maintain healthy bones and teeth; while its vitamin C helps to boost the immune system and protect against colds and flu. As with the rest of the leafy greens, arugula boasts a high amount of dietary folate. Arugula owes its bitter taste to isothiocyanates, which have been shown to have anti-cancer properties. Studies have shown that these small molecules might help against cancer.
Kale — Perhaps the most popular leafy green, kale can be used as a salad ingredient or as a side dish. It is the perfect diet food due to its high-fiber nature. Kale boasts several health benefits such as a decreased risk of cancer, heart disease, lower blood sugar levels, and reduced inflammation. When it comes to its bitterness, it deserves a place on this list. The isothiocyanate in its leaves makes kale one of the most bitter foods in the world.
Artichokes — Originating from the Mediterranean region, artichokes are a great source of fiber and folate. Usually boiled or steamed, they are usually eaten as part of an appetizer or side dish. The artichoke plant is also used to make herbal remedies and wine. Artichokes have a bitter taste because they contain cynarin, a natural chemical that has been shown to have anti-inflammatory properties.
Brussels sprouts — Brussel sprouts are a vegetable that is often served as a side dish. They are usually boiled or steamed and mixed with butter, salt, and pepper. Glucosinolates cause bitterness in Brussel sprouts. Our digestive system breaks them down into various substances, including indoles and thiocyanates. However, remember they can cause an unpleasant taste in the mouth and stomach cramps when consumed in large quantities.
Broccoli rabe — Broccoli rabe is the most bitter type of broccoli, and it is often used in Italian cooking. The glucosinolates, which give them their bitter taste, are usually found in the plant's leaves, stems, and flowers. When these parts are eaten raw, they release an enzyme called myrosinase which breaks down these compounds into other chemicals, resulting in a bitter taste on your tongue. When broccoli rabe is cooked, this enzyme is deactivated, and the bitter taste ceases.
2. Bitter fruits
Although some of our favorite fruits are sweet and tasty, there are some bitter ones, which doesn't make them less nutritious. These bitter fruits have many properties that make them as beneficial as their sweet counterparts, if not more.
Citrus peel — Citrus fruits are a group of fruits that are typically juicy and have a sour taste. Some citrus fruits include oranges, lemons, limes, grapefruits, tangerines, and clementines. The bitterness of the citrus peel is due to the presence of limonin, a compound that is found in the rinds of citrus fruits. Limonin is a type of flavonoid that has been proven to have anti-inflammatory and antioxidant properties. Limonin can be extracted from the peel by boiling it in water or alcohol.
Cranberries — Cranberries are a type of fruit that is native to North America. They contain a good amount of vitamin C, an antioxidant that helps protect cells from damage. Cranberries also contain proanthocyanidin, which may help prevent urinary tract infections and other types of infections.
Bitter melon — Bitter melon is a fruit that is especially popular in Eastern cuisine. The fruit is also used to make medicine and has been used for centuries in Eastern medicine to treat many medical conditions. Bitter melon contains cucurbitacins, a compound that has anti-inflammatory properties. These compounds may help reduce swelling and pain.
Crabapples — Crabapples, also called wild apples, are a bitter fruit indeed. Crabapples have many health benefits. They are rich in antioxidants, which help fight free radicals in the body. They also contain vitamin C, which helps to boost the immune system and reduce inflammation. Crabapples are not as sweet as other apples because they have a higher tannin content. Tannins are found in the skin of the apple and can be extracted by boiling them in water.
3. Spices and herbs
Although the following spices and herbs have a strong and bitter taste, the bitterness disappears when used in cooking. They are nutritional powerhouses, too.
Turmeric — Turmeric has been highly valued in Eastern culture for a long time. It is a staple in Indian cooking and has been used as an herb too, as it contains anti-inflammatory properties. It helps to lower cholesterol levels, which can help prevent heart disease. Turmeric also contains antioxidants that are effective against a variety of diseases. The bitterness of turmeric is from curcumin, which is what gives turmeric its yellow color and it also has its beneficial properties.
Dandelion greens — Dandelion greens are a type of edible weed often found in green areas. Contrary to the belief, they are more than eye candy and are rich in vitamins, minerals, and antioxidants. Dandelion greens can be eaten raw or cooked. Raw dandelion greens can be added to salads or sandwiches while cooked dandelion greens can be used as a side dish or an ingredient for other dishes like soups or stews.
Peppermints — Peppermints are most commonly used to make desserts, such as peppermint ice cream and peppermint bark. However, they are also used as breath fresheners. Peppermints are among the most bitter foods because they contain menthol. Menthol is a natural compound that has a cooling effect on the mouth and throat, which is why it's often used in cough drops and other medicines.
Yarrow — Yarrow is a flowering plant that is native to Europe and Asia. Yarrow plants are edible and can be eaten raw or cooked in salads or soups. It also has been used for medicinal purposes for centuries, as a herbal remedy for colds and fevers. The bitterness of yarrow is due to a chemical called sesquiterpene lactones, which is found in the plant's leaves, flowers, and stems.
4. Cocoa
Cocoa is a plant native to the Americas and contains cocoa beans. The beans are roasted and ground to make other products. Cocoa has many health benefits that include lowering blood pressure and cholesterol levels. Cocoa also contains antioxidants that can help prevent cancer and heart disease. Cocoa owes its bitter taste to theobromine, a chemical that is found within.
5. Coffee beans
Coffee beans are the seeds of the coffee plant. They are roasted to produce the coffee we drink. They contain caffeine, which makes them taste so bitter. Despite its bitter taste, caffeine is also a proven stimulant that helps against fatigue and increases your energy levels. A decreased risk of Parkinson's disease and an improved cognitive system are also among its benefits.
6. Radishes
Radishes are a great source of vitamin C, potassium, fiber, and antioxidants. They are low in calories and fat but high in dietary fiber. Radishes have been shown to effectively lower blood pressure and cholesterol levels, and reduce the risk of heart disease. Although technically they are root vegetables, radishes owe their bitter taste to glucosinolate, like most leafy greens.
Summary
When consumed in moderation, most bitter foods benefit our body, especially our digestive system. They also have anti-inflammatory properties, and some can reduce the risk of heart disease and cancer. Some of the most bitter foods include leafy greens like kale, arugula, types of broccoli, and Brussels sprouts. Not all fruits are sweet, as bitter melon and citrus peel deserve mention. When it comes to spices and herbs, there are different ones like turmeric and yarrow that you can add to your foods for more variety. We haven't forgotten cocoa and coffee, too, our favorite pair.