Calcium is essential for our body, as its deficiency could lead to numerous medical conditions that will put your health at risk. We are constantly advised to adjust our diet accordingly to keep our calcium levels in a safe zone. However, a high calcium level can harm just as much as calcium deficiency. In addition, some people might have problems with absorbing calcium due to medical conditions. Naturally, to avoid unhealthy calcium intake, no calcium foods should be added to your diet to balance your calcium levels. To find out what foods have no calcium, read on.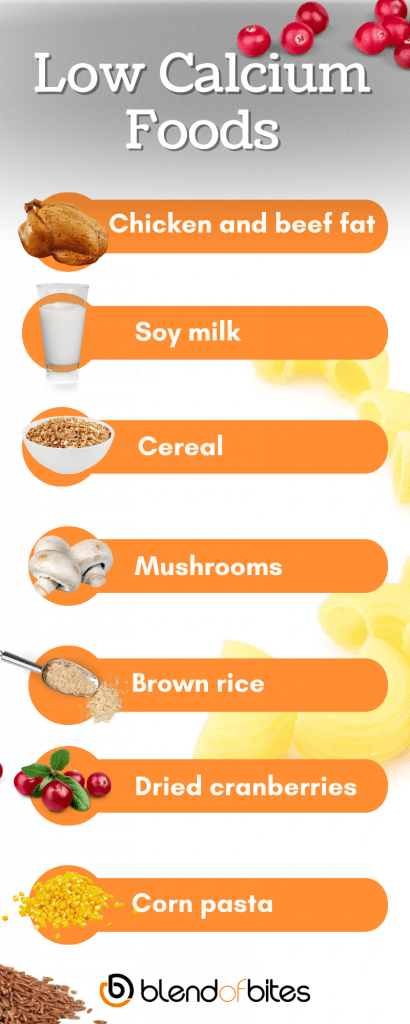 Jump to:
What is calcium?
Calcium is a mineral necessary for building and maintaining bones and teeth and also helps to control muscle contraction. Our bodies use calcium to perform other essential functions as well. Your body also needs a good amount of vitamin D intake to absorb calcium functionally.
Calcium is essential for infants and children, as they are developing their skeleton and bones. Another age group that calcium is crucial for is between the ages of 60-80, as they need more calcium to help strengthen their bones, with an increased risk of osteoporosis.
Side effects of calcium
A calcium intake of 700 to 1200 mg is normal for the average adult. However, once your calcium intake exceeds 1500 mg, there will be some side effects, as it is a dangerous threshold for your body.
Here are some of the effects of high calcium intake:
Heart attacks — In a study, randomly chosen women were asked to use calcium supplements to limit their calcium intake to 1000 mg per day, while another group was given placebo pills. This resulted in increased heart attacks in the former group of women.
Kidney stones — Most kidney stones occur as a result of having too much calcium in the urine, whether it's absorbed from the intestines or bones.
Hypercalcemia — Hypercalcemia is usually the result of very high levels of calcium in your body. Some serious side effects of hypercalcemia include weakness, fatigue, nausea and vomiting, abdominal pain, and bone pain.
No-calcium foods
Although calcium-free foods might be hard to come by, you can still find many foods with an irrelevant amount of calcium. Considering that your daily calcium intake should be around 1000 mg, these foods are good options with a calcium amount of up to 100 milligrams at most.
Here are some no-calcium foods:
1. Chicken and beef fat
Both chicken fat and beef fat contain no calcium at all. Chicken fat contains an acceptable amount of fatty acids and no sugar, making it a healthy option for those looking to reduce their calcium intake. In contrast, beef fat is lower in calories and is usually considered a more beneficial fat.
2. Soy milk
Soy milk found in regular stores and supermarkets is usually 'fortified' with nutrients, including calcium. However, you can make soy milk at home without any added nutrients, including calcium. Soy milk contains just 10 milligrams of calcium. That is a relatively low amount, especially compared to 290-300 milligrams of calcium found in dairy milk. Therefore, soy milk is an ideal substitute for milk in your diet.
3. Cereal
With only 52 milligrams in one serving, cereals provide nowhere near the 1000 milligrams of recommended daily calcium. Most cereal products you can find in supermarkets contain 10 percent of the daily recommended amount of calcium. You should try to avoid consuming cereal with milk; so try it with soy milk instead.
4. Mushrooms
In a serving size of 100 gr, mushrooms only contain 3 milligrams of calcium, which is one of the lowest figures in foods. Mushrooms should be an essential part of your diet because their nutritional value is high, and you can compensate for what you'll be lacking with no-calcium foods by adding mushrooms into your diet.
5. Brown rice
Brown rice contains as little as 10 milligrams of calcium per 100 g serving. It is one of the optimal foods for those on a low-calcium diet, as its nutritional value is high. Also, it is healthier than its white-grain counterpart because it is a whole grain.
6. Dried cranberries
Dried cranberries are a type of fruit that has been dried and then sweetened. One of the very few fruits that don't include a high amount of calcium with 7 mg, dried cranberries are a good addition to your diet as it is high in nutritional value.
7. Corn pasta
Corn pasta, the starchy and gluten-free alternative to wheat pasta, is made from ground corn flour and water. Unlike regular pasta made from wheat which contains approximately 50 milligrams of calcium, corn pasta contains a very modest amount of 4 milligrams of calcium per 100 gr, thanks to the low-calcium nature of corn.
Foods to avoid on a low-calcium diet
For those on a special diet to adjust or lower their calcium levels, there are foods to avoid as they contain lots of calcium.
1. Dairy products: milk, cheese, yogurt
Dairy products are high in calcium. Dairy products rich in calcium include milk, yogurt, and cheese. Parmesan cheese is the richest in calcium at 242 milligrams. Make sure you keep parmesan cheese out of your diet. Yogurt is another calcium-rich dairy product. While low-fat yogurt is higher in calcium compared to regular yogurt, Greek yogurt seems to be even lower. Opt for the latter if you want to add some yogurt to your diet.
2. Seafood: salmon, sardines
When it comes to seafood, salmon, especially canned salmon, contains a surprisingly high amount of calcium at 232 milligrams. That is higher than some dairy products. This amount is mostly due to the fish bones. Sardines contain even more calcium than canned salmon, with a figure of 321 milligrams. Make sure you avoid these two if you are on a non-calcium diet.
3. Leafy vegetables
Leafy vegetables such as spinach, broccoli, kale, and collard greens contain high amounts of calcium. One hundred grams of cooked collard greens contains 242 milligrams of calcium, while 100 grams of cooked mustard greens have 123 milligrams of calcium. Consume these in moderation, or find a substitute for them.
Conclusion
Calcium is a necessary mineral for our body with many health benefits. High amounts of calcium intake are just as dangerous as calcium deficiency. In addition, some people may have trouble with calcium absorption due to a medical condition, and thus may need to adjust their diet accordingly. The best way to do this is to add foods with no calcium to your diet to balance your calcium intake. This is a hard task as calcium is abundant in foods, but there are still some non-calcium foods. Opt for chicken and beef fat, soy milk, corn pasta, and brown rice.