It is likely that you might have heard that some foods contain certain chemicals that modify their genetics. Genetically-modifying foods may be justifiable on the grounds of increased nutritional value and better production output, but there is a reason that humanity survived on organic, non-hybrid foods for centuries. Although they might have their advantages, it seems highly unlikely that they are completely safe. In this article, we explored the hybrid foods to avoid, along with a list of non-hybrid foods.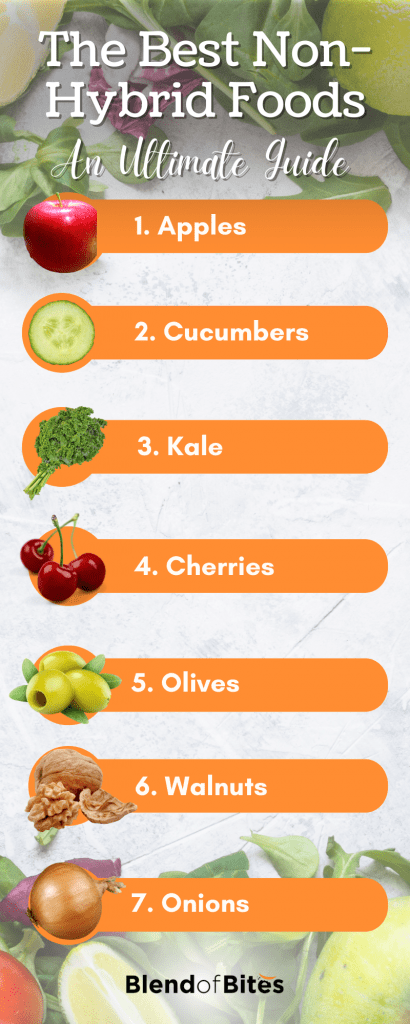 Jump to:
What are non-hybrid foods?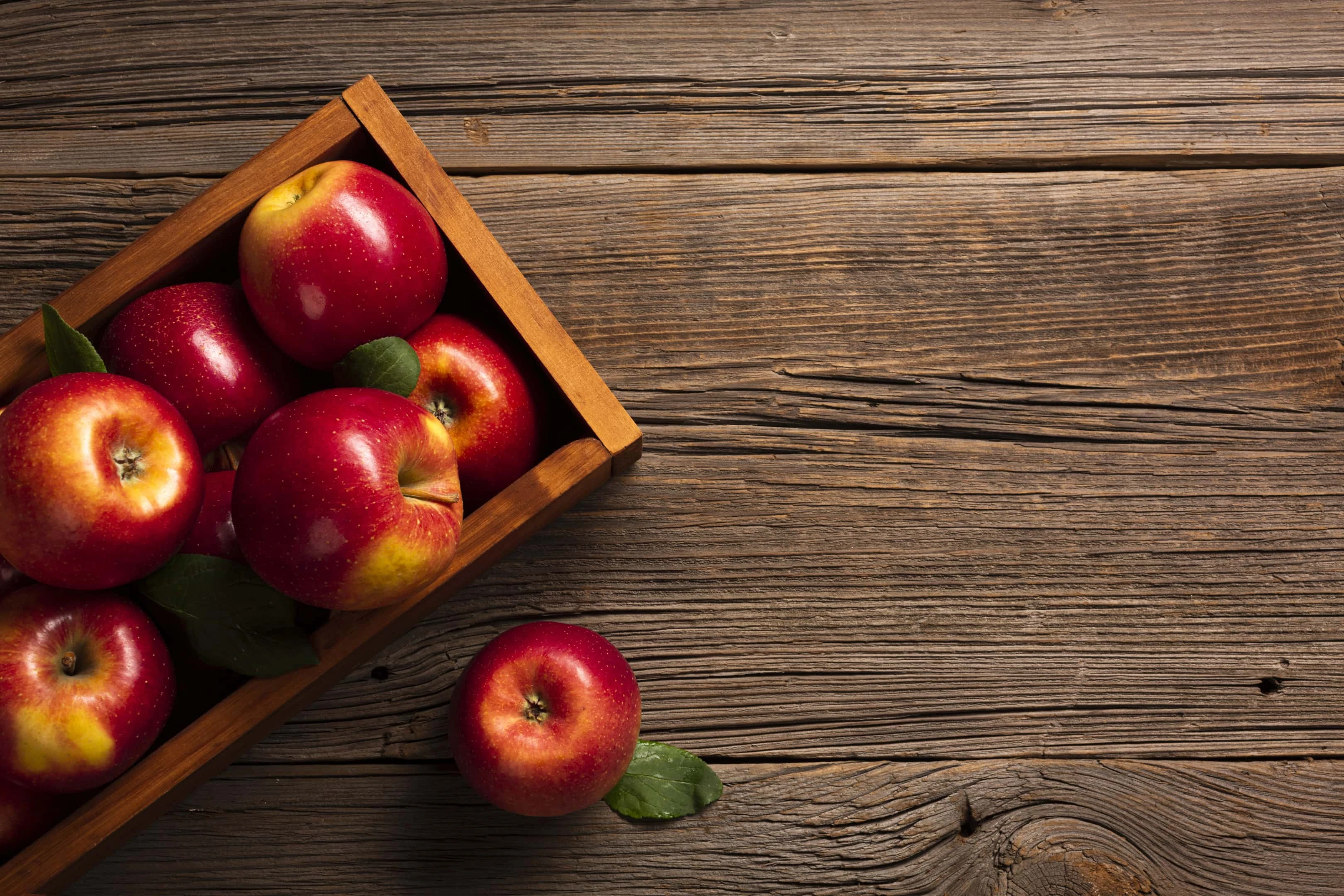 Non-hybrid foods are foods that have not been genetically modified. Non-hybrid foods may be created using traditional plant breeding or genetic engineering. Non-hybrid foods are also called organic foods because they're grown without pesticides or chemical fertilizers and they're free from genetically modified organisms (GMOs). However, some organic foods may still contain harmful pesticides or synthetic chemicals that can be harmful to your health.
List of non-hybrid foods
We have gathered the most accessible and the most healthy non-hybrid foods for you. Some of these staple foods are commonly consumed by most people, while others are underrated food items that you should not be overlooking. The common thing is they do not require a genetic modification in order to exist. Here are the best non-hybrid foods:
1. Apples
There are two main types of apple trees: hybrid and non-hybrid. Hybrid apple trees are created when two different types of apple trees are crossed. This creates a new variety of apple trees that can reproduce and create more apple trees. Non-hybrid apple trees, on the other hand, cannot reproduce. They must be propagated by rooting cuttings taken from another non-hybrid apple tree.
However, GMO apples only hit US stores in 2017, and they are sold in slices rather than a whole. So, it is most likely that the whole apples you buy are going to be non-hybrid.
2. Cucumbers
Cucumbers are a non-hybrid food. They can be either heirloom or organic, and they are an excellent source of vitamins and minerals. Heirloom foods are those that have been passed down from generation to generation; while organic foods are grown without the use of pesticides, herbicides, or other chemicals.
3. Kale
Kale is a non-hybrid vegetable, as it is not an offspring of a cross between two different species. Rather, kale was developed from the original wild cabbage plant, Brassica oleracea.
It is in the cabbage family and is related to broccoli, cauliflower, and Brussels sprouts.
4. Cherries
Cherries belong to the Prunus tree family, as do apricots and walnuts. Cherry trees blossom during the early stages of spring. There are three types of cherries: sweet, sour, and duke. Except for the duke, which is a hybrid between the first two, cherries are non-hybrid foods, so they can be grown organically. Cherries have been cultivated for more than 5,000 years and were one of the first fruits to be domesticated by humans.
5. Olives
Olives are also non-hybrid fruits. Olives grow in the Mediterranean region and subtropical regions of the world. They are picked when they have reached their full size and ripe color. Olives do not require much water to grow properly; however, they need to be shaded from direct sunlight because sunlight can cause the fruit to ripen prematurely and turn brown.
6. Walnuts
Walnuts are not hybrids; they are simply members of the Juglandaceae family, which contains many different types of fruit trees that grow on woody shrubs. The walnut tree is an evergreen tree that grows best in regions with cold winters. It is a deciduous tree, meaning it loses its leaves during the winter months and then regrows new leaves in springtime.
7. Onions
Onions are not genetically engineered, at least most types of them, since the first hybrid onions were created in the first half of the 20th century. For non-hybrid onions, opt for red and purple onions. Those are non-hybrid foods because they are part of the onion family and their seeds contain a genetic makeup that is the same as the plant.
What are some hybrid foods to avoid?
Hybrid food is a food that is genetically modified to be more nutritious but can also cause problems, due to its unpredictable nature that is prone to mutations as mentioned below. Here are some of the most common hybrid foods that you should avoid:
1. Corn and soybeans
The most common form of genetically modified food is corn and soybeans. Corn and soybeans have been genetically modified to be more nutritious. Soybeans are used for many types of food, including tofu, soy milk, soy meal, and soy flour. Corn is used for corn oil and corn syrup.
2. Sugar beets
Sugar beets are another hybrid food that has been genetically modified to increase the amount of sugar in the plant. Sugar beet farmers use a process called "crystallization" in which they add sucrose (sugar) to the sugar beet plant roots. The sugar beet plants then produce a sweet liquid called "beet juice."
3. Canola
Canola is a hybrid food that has been genetically modified to be more nutritious and produce less oil. Canola oil is used for cooking, salad dressings, and margarine. Canola oil is also used for making salad dressings, mayonnaise, and some types of cooking oils.
The disadvantages of hybrid foods
Although some still claim that hybrid foods have their own advantages compared to their organic counterparts, the debates are ongoing and no consensus has been reached yet. While hybrid foods might have some pros, they certainly do not lack cons. Here are some of them:
Hybrid foods are more prone to mutations — A study showed that hybrid foods have a much higher chance of developing mutations, thus they contain an increased health risk for you.
Hybrid foods are more unpredictable than you think — According to another study that focused on genetically modified soybeans and corn, the size and amount of mutations exceed the expectations and could lead to unknown medical conditions.
Conclusion
Genetically modifying crops, seeds, and plants may seem like a good idea. After all, the main goal is to create flawless, more diverse, and efficient products. However, remember that these 'hybrid foods' come with their own disadvantages, like unexpected mutations. Therefore, you are better off avoiding hybrid foods like corn, canola, and sugar beets. Instead, you should opt for non-hybrid, organic foods like apples, cucumbers, walnuts, and onions. Non-hybrid foods do not require genetic modification and they are the organic products of nature. After all, there is a reason humans have been consuming them for centuries.