Perhaps the most popular characters in the video game Plants vs. Zombies are the pea shooters. With their cute eyes and cheap price, they are our go-to guys to defeat our brain-eating friends. In case you are wondering, 'What could I possibly get from real peas? Are they as reliable in real life as they are in that game?'
The quick answer is yes. Whereas there is not much research available on their 'brain protective' properties, the other health benefits of pea shoots and peas are well-known in the medical community. This article will explore the pea plant, pea sprouts nutrition, and pea sprouts health benefits.
Jump to:
The pea plant
The pea plant is a vine and can grow up to two meters, using its coiled tendrils to climb. These tendrils are an excellent backdrop when plating dishes. Aside from this, the fresh and refreshing flavor it adds to a meal makes it a favorite among cooks and chefs.
Health benefits of pea shoots
Perhaps the most popular pea shoots health benefits are its anti-cancer and anti-inflammatory properties, weight loss and heart health promotion, and finally, maintaining low blood sugar levels. You may ask, 'How is a premature plant part able to do all of those?'. Let us look at the pea microgreens nutrition facts to know more.
1. Pea shoots — shooting down the Big C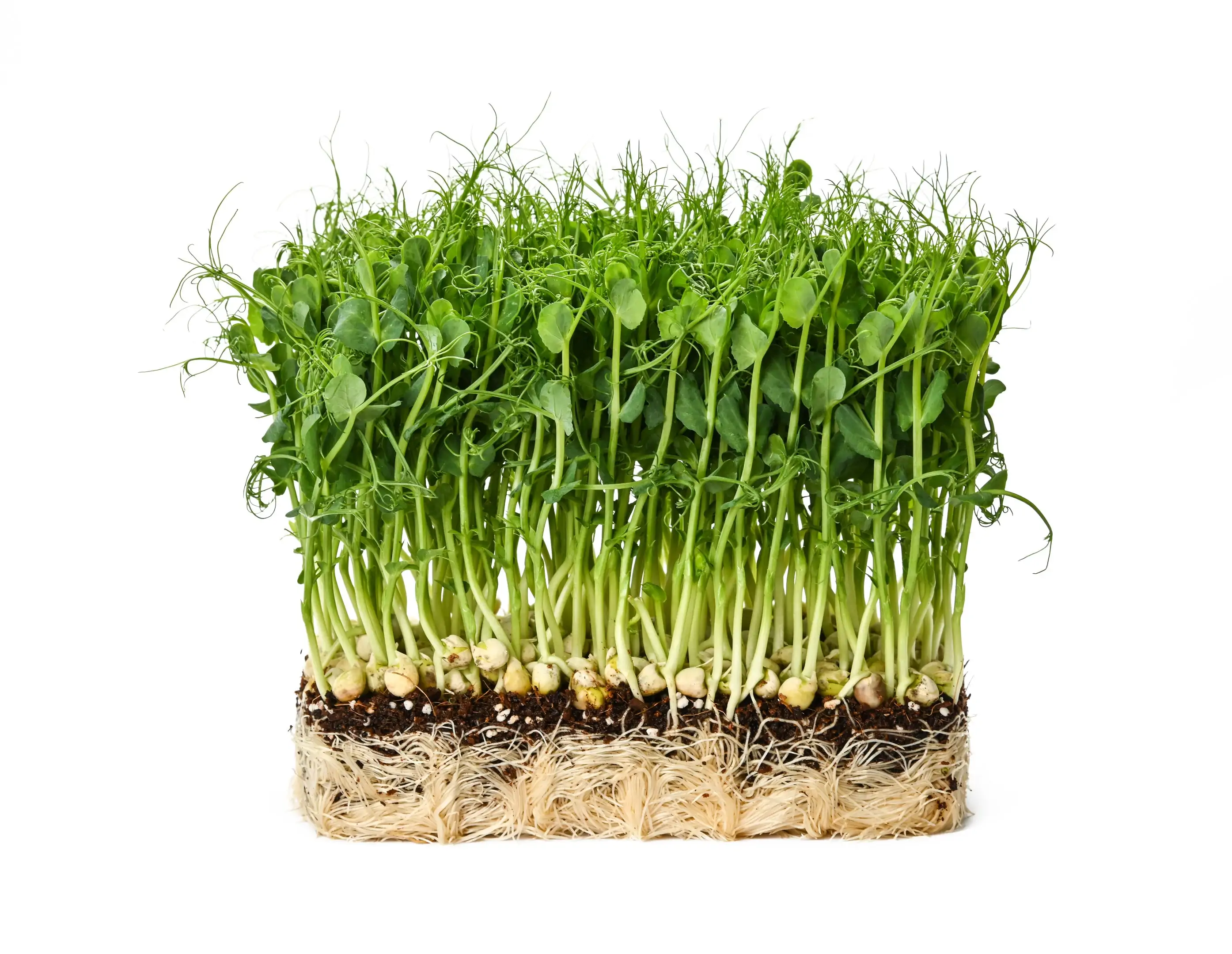 Cancer is caused by excessive oxidative stress in normal cells, causing them to mutate. Substances called antioxidants can help prevent this from happening, and many natural sources are available, including pea microgreens. Some examples of antioxidants are Vitamin A, Vitamin C, and Vitamin K, all of which are abundant in pea shoots.
One of the benefits of pea shoots microgreens are their anti-cancer properties. Research shows that elevated consumption of several polyphenols, including coumestrol, can help reduce the risk of gastric cancer. On the other hand, iso-flavonoids and lignans were put in the same class as the popular curcuminoids in this study, collectively calling them 'emerging anti-inflammatory agents'.
2. How pea sprouts help with weight loss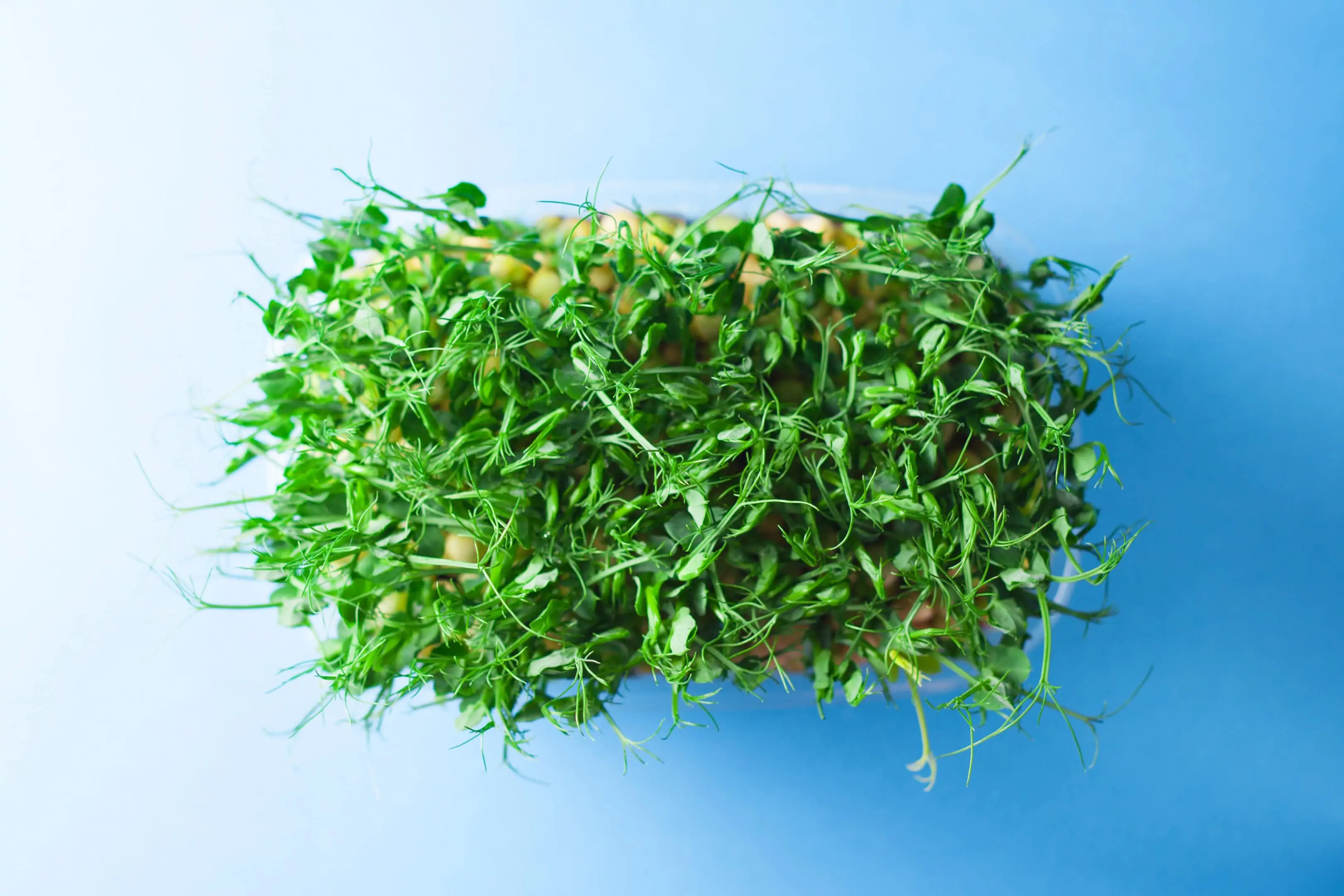 As pea sprouts are nutrient-dense, it should not be surprising that it also affects weight control. Not that it directly causes weight loss, but one of the pea shoots health benefits is its high content of dietary fiber.
It is also worth noting that the pea tendrils nutrition offers a unique advantage compared with other foods rich in particular nutrients. With pea sprouts, you get more of the vitamins per serving without worrying about your sugar level.
3. Pea shoots as blood sugar regulator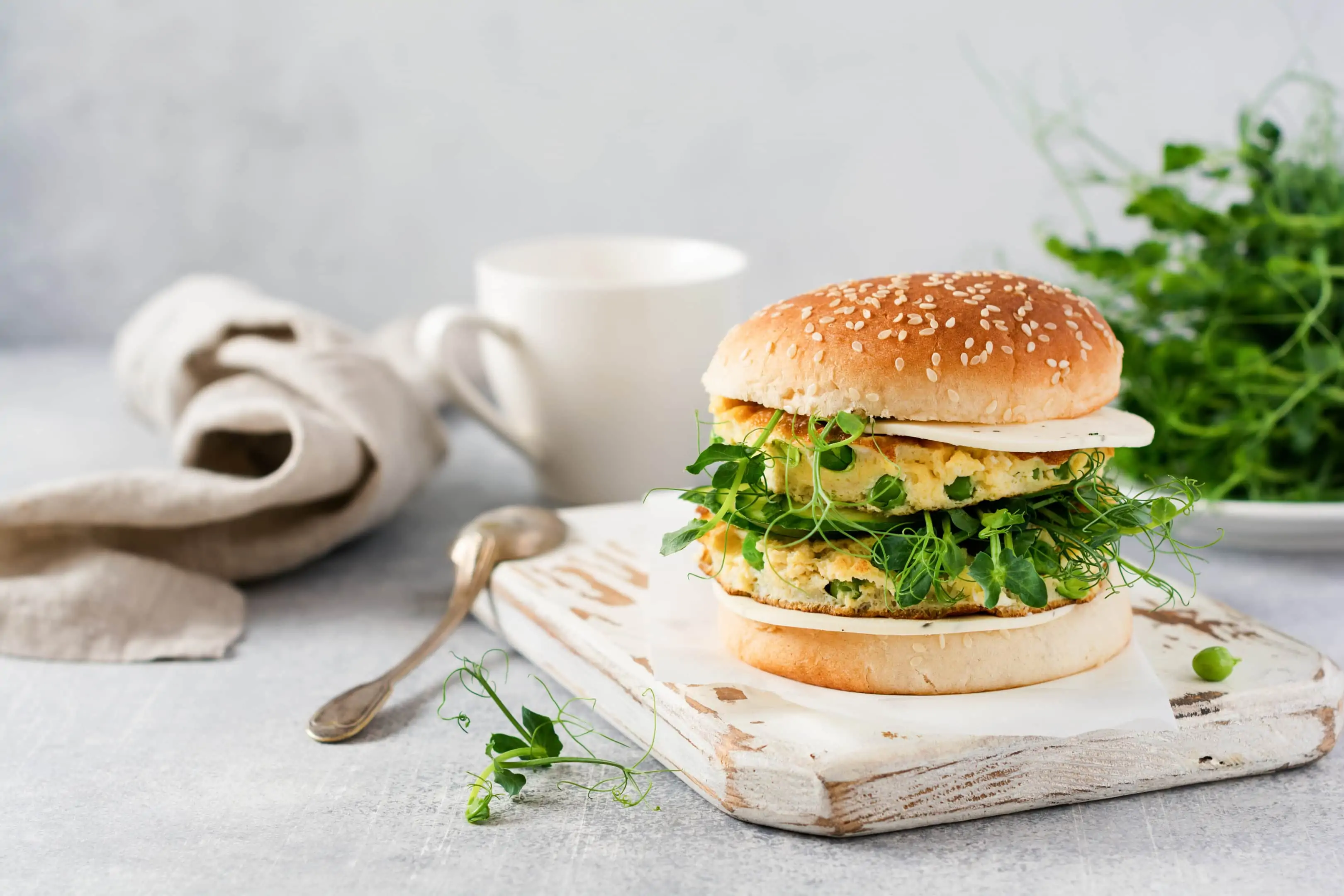 Although it is still not established, some promising evaluations on pea shoot microgreens health benefits in diabetic people are already available. For instance, in this study, the researchers found out that obese and overweight subjects with type 2 diabetes fed with lentil sprouts have reduced levels of blood sugar markers. In contrast, those that were not given the same food items have elevated levels.
Other bodies of theory suspect that the sprouts have the ability for amylase regulation, possibly delaying the release of sugars in the blood and reducing blood sugar level.
Another possible mechanism by which pea shoots help regulate blood sugar level is the fact that it has high fiber content, and can induce the feeling of fullness, thereby preventing us from consuming more food, especially sugars.
4. Different ways pea shoots promote heart health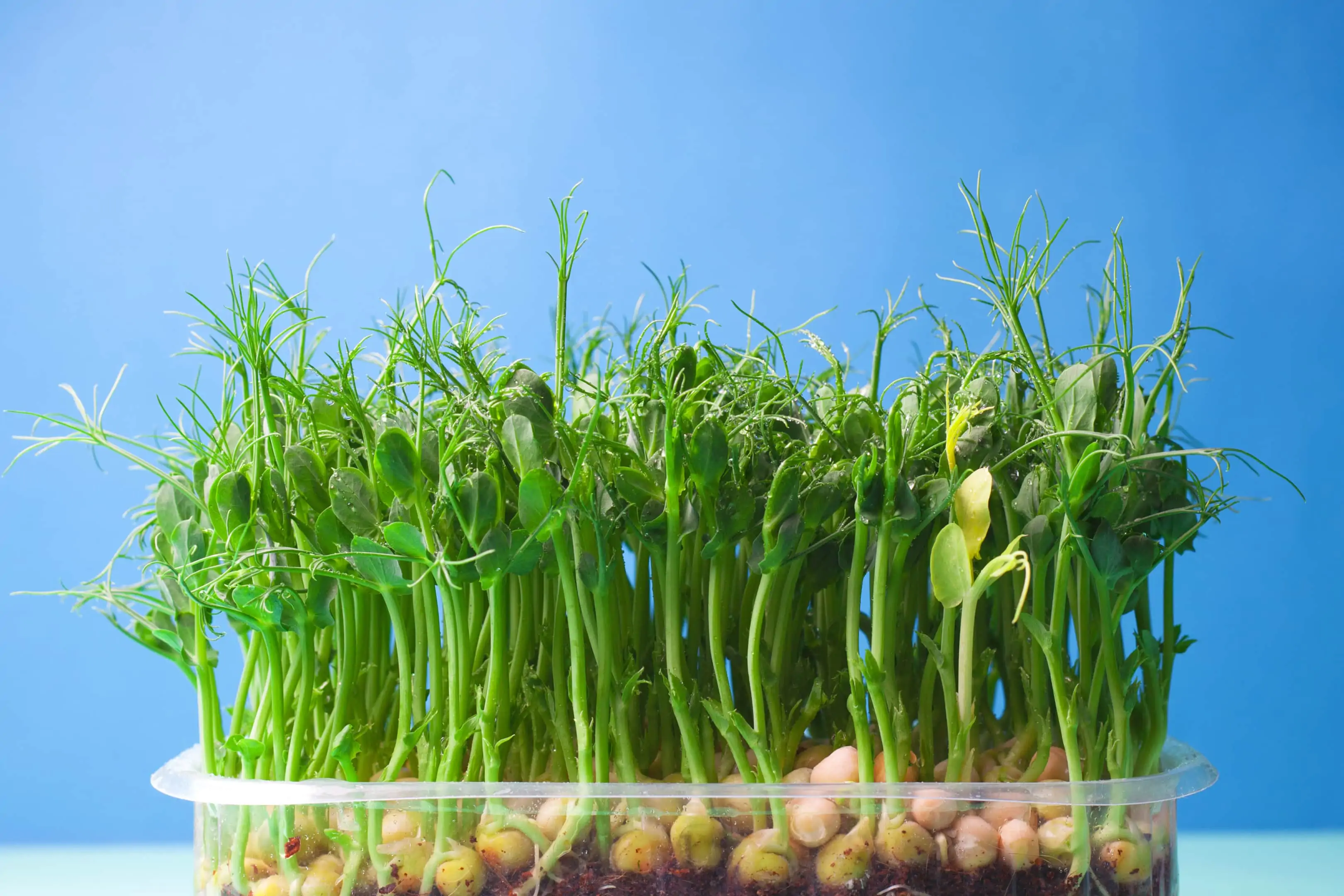 Usually, heart complications include inflammation of its various parts. Pea sprouts, being anti-inflammatory, may help with this. The high amount of phytonutrients and antioxidants that pea shoots contain also contribute to better cardiovascular health.
5. Anemia and pea microgreens
We have mentioned previously that one of the dou miao health benefits (dou miao is the other name for pea sprouts) is the high iron content. How vital is iron? Iron is used to carry oxygen around and acts as an important cofactor in many of the body's metabolic pathways. The most prevalent disorder caused by iron deficiency is anemia. The high iron content of pea shoots helps to address this and provides a better alternative than meat.
6. Other benefits of pea shoots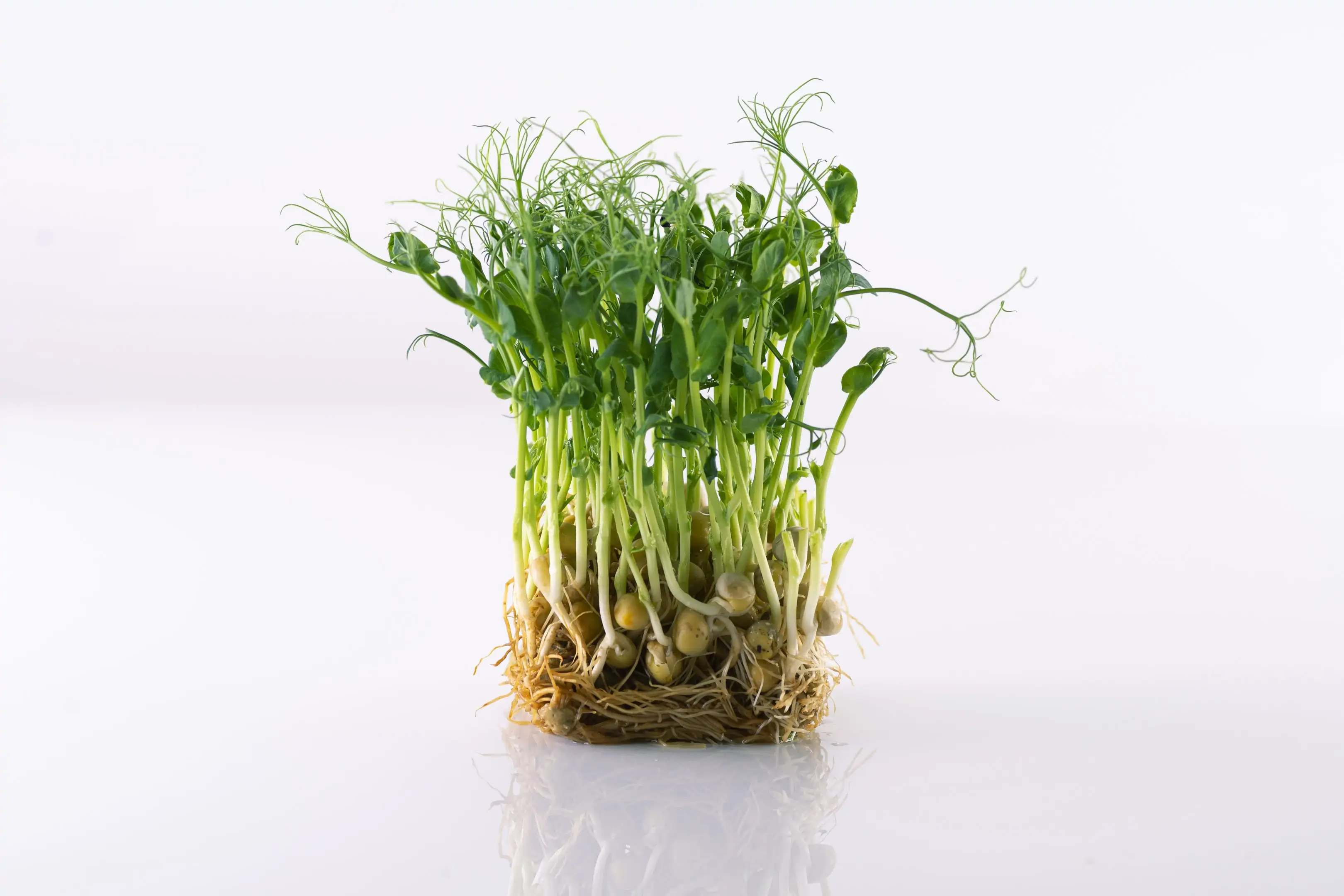 The other benefits of pea shoots can be seen from the other nutrients it contains. It was mentioned that per 100 grams of pea microgreens, around 2 grams is protein. That is equivalent to a third of an egg.
Indeed, pea sprouts are an excellent vegetable source of protein. If you are a vegan or vegetarian, this is good news, as you do not have to rely heavily on protein shakes anymore.
Remember folates, niacin, pantothenic acid, pyridoxine, riboflavin, and thiamin? These nutrients were mentioned above, but do they ring a bell? Perhaps, you are more familiar with their other names. They are also known as Vitamin B9, Vitamin B3, Vitamin B5, Vitamin B6, Vitamin B2, and Vitamin B1.
It is a common misconception that the Vitamin B complex provides the energy our body needs. Remember that the unit of energy in the biological world is ATP (adenosine triphosphate), and only carbohydrates, fats, and proteins are convertible to ATP. The Vitamin B complex facilitates this energy conversion process, ensuring that we have enough of it to power us through the day.
What's about sodium, potassium, copper, magnesium, manganese, selenium, and zinc? Sodium and potassium might already be familiar to you. You see these two as electrolytes in energy drinks, and their primary function is maintaining ionic balance in cells, ensuring their proper functioning.
On the other hand, copper, magnesium, manganese, and zinc are essential cofactors in several biochemical pathways in the body. They ensure, among others, that the immune system is functioning correctly, blood pressure is regulated, and bone density is maintained. Lastly, selenium is a known antioxidant, thereby preventing damage to cells caused by free radicals.
Nutritional information of peas
Per one cup (around one hundred grams) of pea microgreens, there are about eight grams of carbohydrates, three grams of dietary fiber, and two grams of protein. If you are still not familiar with macronutrients, those values are eye-popping. Not only that, you get all those benefits while consuming food that is free from sugars, sodium, and cholesterol. To top it all off, each serving also contains the following micronutrients, listed as a percentage of the recommended daily allowance:
Vitamin A — 2%
Vitamin C — 50%
Calcium — 4%
Iron — 10%
That seems like a lot, right? Wait, because there's more. The following are the other equally important nutrients found in snow peas, from which snow pea shoots are obtained:
Folates — 10.5%
Niacin — 4%
Pantothenic acid — 15%
Pyridoxine — 12%
Riboflavin — 6%
Thiamin — 12.5%
Vitamin E — 2.5%
Vitamin K — 21%
Sodium — <1%
Potassium — 4%
Copper — 9%
Magnesium — 6%
Manganese — 10.5%
Selenium — 1%
Zinc — 2%
Substantial amounts of phytonutrients such as carotenes, lutein, and cryptoxanthin can also be found in this vegetable.
The nutritional value of pea shoots has been highlighted in the previous paragraphs. How does this pea microgreen nutrition prevent or control some of the most dreaded non-communicable diseases? Are there any other nutrients not mentioned above that contribute to pea sprouts' health benefits?
Conclusion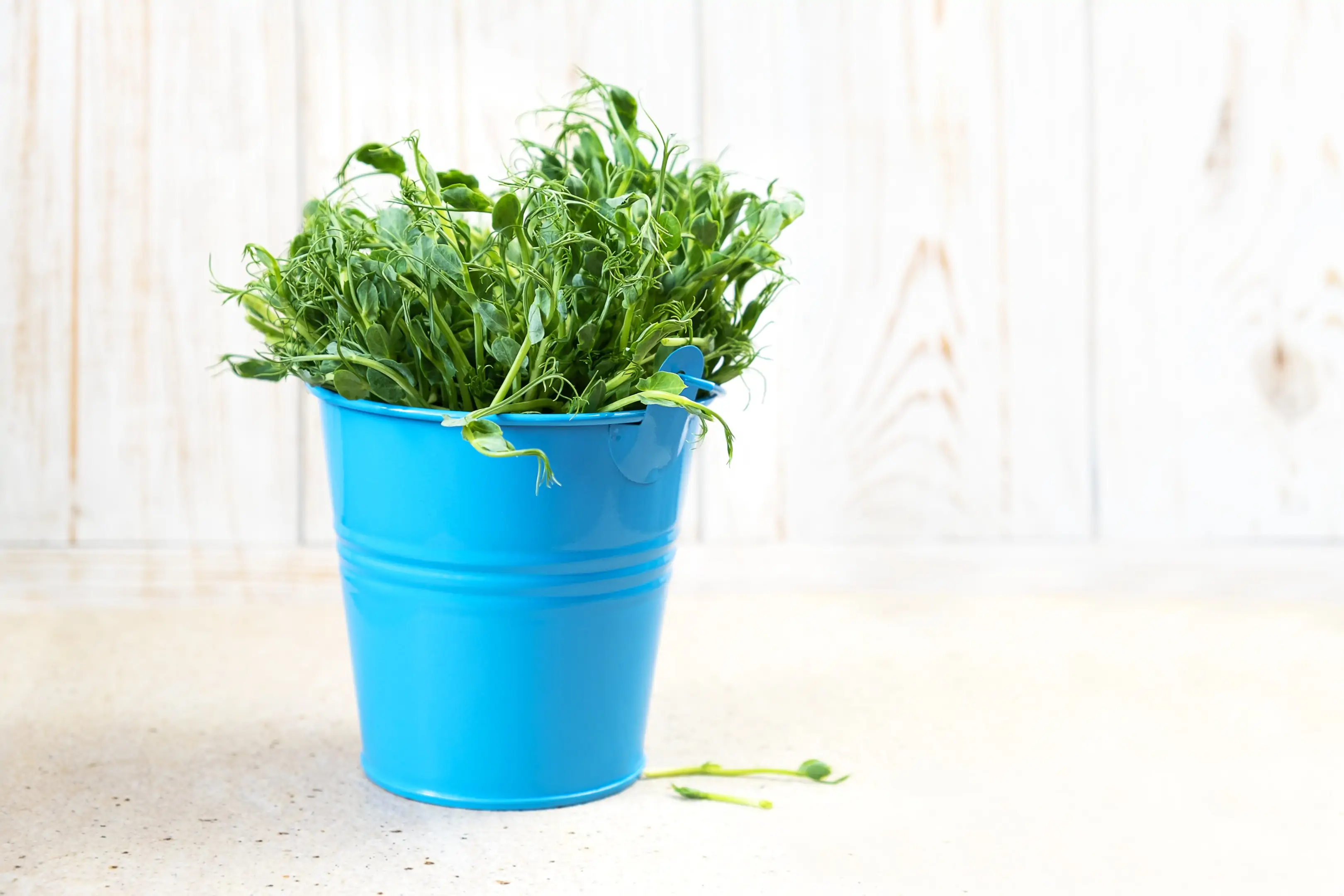 Plant-based foods are growing in popularity nowadays. Numerous companies have come up with innovative ways to provide the world population with various options for food. Some utilize wheat, while some prefer soy instead. Some have even developed food items such as burger patties and nuggets from fungi.
There is nothing wrong with all these efforts. It is good not only for human health but for the wellness of Earth itself. However, why is it that we are still trying to imitate meat-based products? We label them meat-free sausages or meat-free patties, but the idea is to replace these items with vegetable sources altogether, right?
Superfoods such as pea sprouts offer great alternative nutrition to human beings. Pea shoots and tendrils have an adequate amount of nutrients found in meats, and they contain the necessary vitamins and minerals found in other fruits and vegetables. This food item's versatility is limitless, which is why it has gained traction in recent years as an essential component of culinary developments. So yes, shoot those diseases away with pea shoots.