Potassium carbonate is popular in the food industry as it is one of the most versatile carbonates and enhances the flavor of food. Typically seen as a wet solid, potassium carbonate is a white powder that is water-soluble but insoluble in ethanol. Potassium carbonate reacts well with water to ultimately form an alkaline solution. Its other names include tartar salt, pearl ash, potash, potash carbonate, and wormwood salt.
Potassium carbonate comes in various physical forms including solution, powder, micronized powder, and granules. This chemical component can safeguard the body by counteracting the detrimental effects of an excessively acidic diet. Many foods contain potassium carbonate, including bread, canned vegetables, milk, jellies, desserts, juices, and sweets.
Jump to: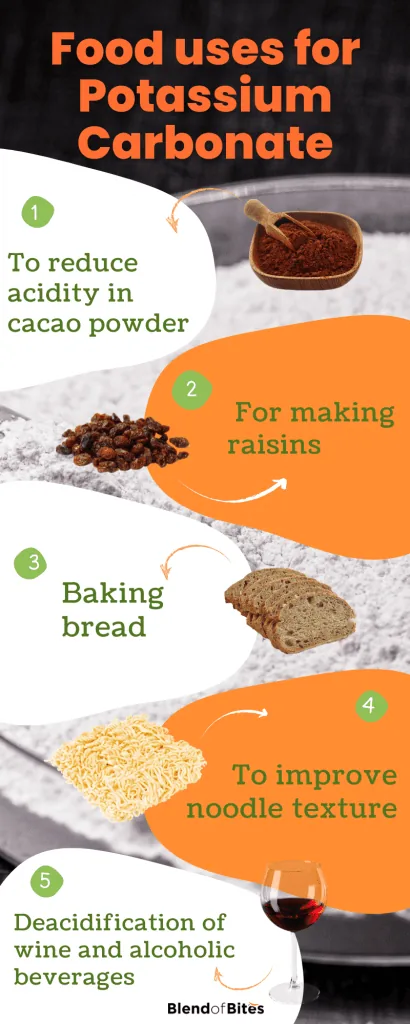 What is potassium carbonate used for?
For years, potassium carbonate was employed as a leavening agent before the invention of baking powder. It was used for many years to soften hard water. However, today, it is used to lower acidity in wines and fluff up fish filets to avoid discoloration. It is a vital processing aid in producing alkalized or Dutch chocolate, enhancing the flavor and color, diminishing the bitter taste, decreasing the fat level, and improving its ability to mix in fluids.
In addition, potassium carbonate is used as an ingredient in the manufacture of some foods. These additives keep the items created unchanged in terms of their qualities and appearance and extend the shelf life of food.
Is potassium carbonate safe in food?
When used correctly, potassium carbonate is recognized by the Food and Drug Administration (FDA) as a safe substance. Potassium carbonate is a substance of category C. It is not recommended for expectant or intending to become pregnant women. It is still unknown whether potassium carbonate may transfer into breast milk or affect a breastfeeding infant. Potassium can be added to meals such as no-salt or low-salt alternatives. Make careful to review all labels to avoid getting hyperkalemia. If you are taking potassium carbonate supplements, stay away from potassium-rich foods.
Food uses for potassium carbonate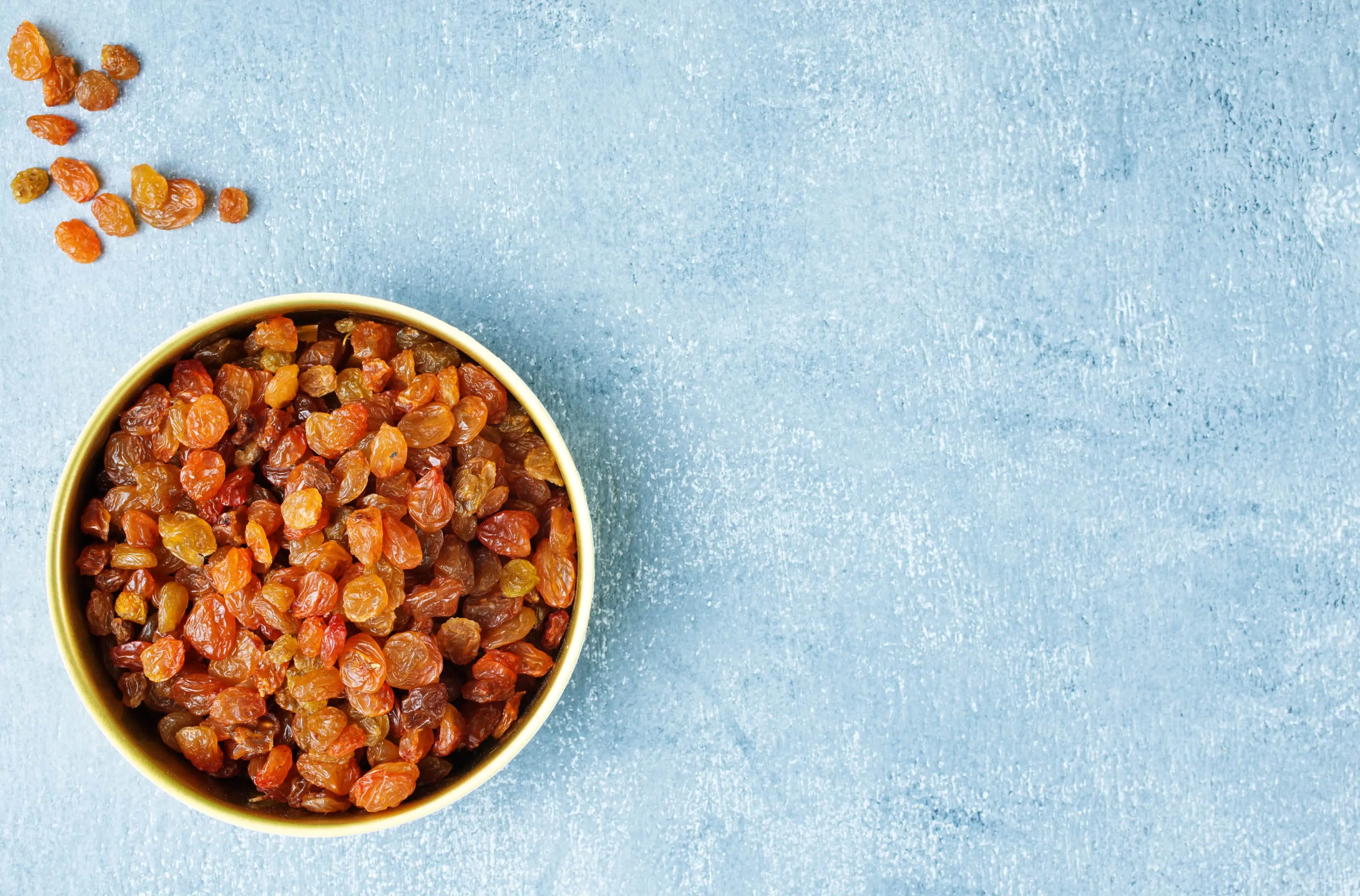 1. To reduce acidity in cacao powder
A Dutch scientist called Van Houten is one of the most significant advancements in the food sector. According to his findings, adding a certain quantity of alkaline salts to cocoa powder can decrease its acidity while imparting a bitter and sour flavor. Potassium carbonate is the most extensively utilized alkaline salt to give alkaline characteristics.
2. For making raisins
Potassium carbonate is used in the drying of grapes to make raisins. Grapes have a small film of wax covering them naturally. Their waxy coating can be eliminated by purifying the grapes with a potassium carbonate solution, which speeds up the drying process. It is used to detach the skin of grapes and to boost the evaporation of water, thereby speeding up the process of developing the raisins. Moreover, potash can be used to dry other fruits as well.
3. Baking bread
Carbonates have always been an important ingredient in the baking industry. Although bakers initially utilized sodium carbonate, it was slowly replaced by potassium carbonate, which had the advantage of a 'better flavor.' As a partial alternative for sodium carbonate, potassium carbonate can be utilized as a kneading agent in baking. Potassium carbonate is a common baking ingredient in preparing gingerbread, for example. Potassium carbonate can be used as an alkali and dough softener, as well as to suppress the acidity of filaments.
4. To improve noodle texture
Potassium carbonate is used with sodium carbonate to enhance the color and texture of noodles, primarily in Japan. This alkaline mixture is referred to as 'Kansui.' The mixture is added to ramen noodles by chefs to give the dish its unique flavor and chewy texture. It is a magic ingredient that makes noodles stretch and maintains their structure. The potassium carbonate, the major component of the liquid, synthesizes with the enzymes present in the noodles to harden them.
5. Deacidification of wine and alcoholic beverages
One of the uses of potassium bicarbonate in food is to decrease the acidity in wine. Potassium carbonate can be introduced at any step of the winemaking production; however, it is most typically used before fermentation to raise the pH and reduce the TA of the wine. As a result, fermentation may be more rapid, improving the acidity balance in the finished wine. In addition, potassium carbonate is used as a neutralizer to lower the acid content in alcoholic beverages. Potassium carbonate is also utilized in drinks as a flavor or electrolyte.
Health benefits of potassium carbonate
Apart from being used in processing and preserving foods, potassium carbonate has advantages for the body. Here are some of the health advantages of using potassium carbonate in food:
1. Cardiovascular health and strong bones
Potassium carbonate is necessary for cardiovascular health, bone strength, and muscle activity. Although it does not cure heart disease, it can help prevent it by aiding in good blood pressure. Losing bone and muscle mass can be accelerated in adults over 50 by eating a diet heavy in protein and low in fruits and vegetables. According to one study, using potassium carbonate supplements may help slow down the pace at which calcium and other minerals lessen bone health.
2. Hypokalemia
Low potassium levels in the blood can cause health concerns, and your doctor may prescribe potassium carbonate supplements. This supplement raises blood potassium levels while decreasing hypokalemia. Potassium deficiency levels can cause various health issues, including muscular weakness, weariness, diarrhea or gastrointestinal problems, and erratic heartbeat. Low potassium levels may need to be examined frequently with blood work to check if the levels are returning to normal.
3. Insulin sensitivity
Potassium carbonate is required for insulin production from pancreatic cells. Low potassium levels in the blood have been linked to elevated chances of developing resistance to insulin. Low blood potassium affects glucose tolerance by lowering insulin production, resulting in significant alterations in glucose metabolism. By increasing glucose metabolism, potassium supplementation slows the course of diabetes.
4. Kidney stones
Some early research suggests that potassium carbonate and potassium citrate supplements may aid in the resolution of certain forms of kidney stones. However, there is presently little research on the influence of this phenomenon.
5. Stroke
According to several studies, eating a potassium-rich diet may help lower the likelihood of stroke. In research on women above 50, those who consumed the most potassium in their meals had a lower chance of ischemic stroke. Research on men above 40 had comparable findings. Men who ate a diet heavy in magnesium, potassium, and calcium had a lower stroke risk. Consuming potassium supplements may provide the same results. However, there is presently little proof to back up this assertion.
Negative effects of potassium carbonate
As with everything that humans consume, moderation is vital. Excess potassium in the body can result in many unwanted issues particularly in the legs, as it can induce weakness. High potassium carbonate intake can cause severe stomach discomfort, disorientation, exhaustion, irregular pulse, and bowel movements that seem black or include blood. Because excessive potassium consumption can lead to serious cardiac issues, it is essential that you cautiously take supplements under strict guidance from a health expert. Here are a few effects that consuming potassium carbonate in excess can cause:
1. Digestive issues
If ingested, potassium carbonate affects the gastrointestinal tract and causes blisters to the lips, tongue, mouth, esophagus, and stomach. This results in nausea and vomiting, intense stomach pain, and, in extreme instances, difficulties breathing owing to a sudden decrease in blood pressure. Milk or water may be administered to patients if it is ingested, except if the patient is vomiting, having convulsions, or is unconscious. In this scenario, quick medical assistance is required to do an endoscopy and offer proper medical care to establish the degree of injuries in the stomach and esophagus.
2. Heartbeat irregularities (arrhythmias)
Potassium carbonate aids in the regularity of your heartbeat. It assists in the regulation of the electrical impulses of the myocardium, which is an integral part of the heart muscle. However, irregular heartbeats might occur if your potassium carbonate level is too high from excess consumption. You may notice symptoms like anxiety, the feeling of fluttering in your chest, or chest ache.
3. Muscle paralysis or weakness
While potassium assists the nerves and muscles to communicate, having too much or too little might impair muscular performance. High potassium can cause muscular weakness or paralysis in your respiratory muscles, feet, and legs. A variety of other disorders can potentially contribute to these issues. If you have any of these indications, get immediate medical attention.
Conclusion
Potassium-containing compounds like potassium carbonate are healthy for the body and can provide advantages that include better bone density and cardiovascular health. This substance is also used to control pH and acidity while making various foods, including chocolate, soft drinks, confectioneries, and sports supplements.