For most individuals, six-pack abs are the holy grail of fitness, but many people find them quite difficult to get. Many people constantly engage in intense workouts but still cannot get a six-pack. Six-pack abs are not achievable with only regular exercise. For well-defined abs, you need to combine both diet and exercise. No wonder experts say that 'the kitchen is where abs are made.' The key is to go step-by-step. In this article, we will focus on the eating part and how you can create a six-pack abs diet meal plan.
To get chiseled abs, you need to reduce calorie intake and start tracking what you eat. This is to make sure you are not eating an excessive amount of calories or bad foods that can hinder a flatter midsection, yet are still consuming enough protein to support workout recovery. The major key to getting six-pack abs is a clean diet and a good workout regimen. Come with us as we discuss more on how to adopt a six-pack abs diet meal plan.
Jump to: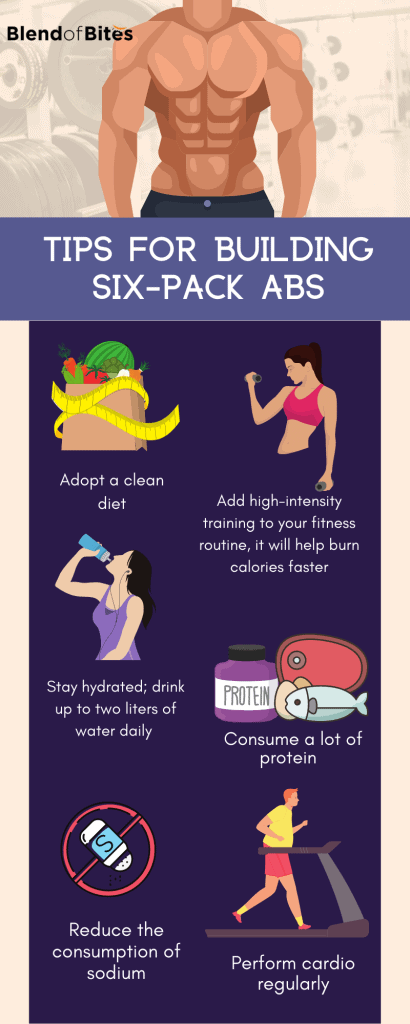 Tips for building six-pack abs
We have already established that your journey to gain six-pack abs starts from your kitchen. What are then the best tips that can help you get started? Here are some of them:
Adopt a clean diet
Add high-intensity training to your fitness routine, it will help burn calories faster
Stay hydrated; drink up to two liters of water daily
Consume a lot of protein
Reduce the consumption of sodium
Perform cardio regularly
How to eat right for six-pack abs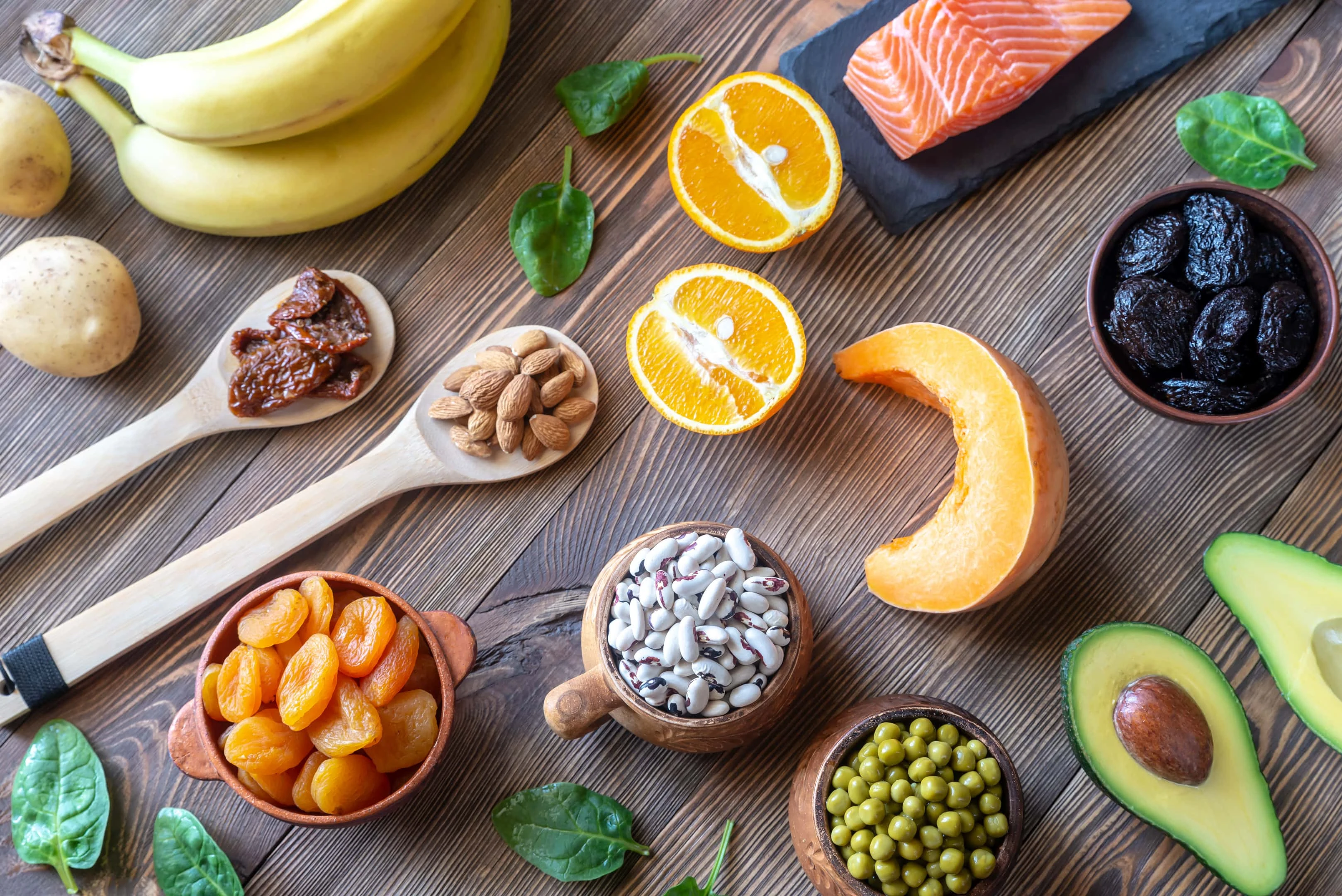 If you desire a six-pack, there are certain foods that you should consume and others that you should avoid. Some kinds of foods will promote speed-up metabolism, boost the elimination of fat, and help you stay full between meals. Whereas other types of foods can increase body fat and support weight gain, thanks to their extra sugars and calories.
To adopt an ideal six-pack abs diet meal plan, it is important to fill it with lots of nutritious foods, such as high-protein, vegetables, fruits, and healthy fats. These foods are great for six-pack abs because they are not only loaded with antioxidants and macronutrients, but they contain low calories. In addition, they contain several beneficial nutrients like protein and fiber, which, according to studies, are important for enhancing body composition.
While planning your diet, it is important to not only focus on fat reduction but the overall elimination of unwanted fat. Overall fitness should be the primary aim for weight management, not spot management. However, it is crucial to understand that diet is not the only prerequisite for chiseled abs; it needs to be supported with a regular fitness routine that can aid the toning of muscles and calorie burning. Now, let us talk about which foods to eat for six-pack abs:
Foods for six-packs abs diet meal plan
1. Nuts and seeds
One important food family that should be in your six-pack abs diet meal plan is nuts and seeds. They are an incredible balance of healthy fats, proteins, and fiber, all of which help build defined abs. Nuts and seeds can help regulate the metabolism of carbohydrates and fats. In addition, they contain phytochemicals and vitamins that have diverse health advantages. These advantages include the reduction of triglycerides and cholesterol, decreased inflammation, with limited risk of stroke and heart diseases. Pecans, chia, hemp, pumpkin, flax, Brazil nuts, almonds, and walnuts are all great nuts and seeds to consume for six-pack abs.
2. Broccoli
Broccoli contains generous amounts of fiber, plus it is a low-calorie vegetable. Broccoli will help you stay full for a long period and aid your weight goals. This cruciferous vegetable is a powerhouse of several nutrients such as vitamins A, K, B9, and C, potassium, selenium, protein, and phosphorus. However, to preserve the nutritional content of this vegetable, it is better to consume it raw or via the steaming method. The diverse benefits that your body can get from broccoli include protection of eyes, lowered inflammation, active control of blood sugar, improved digestion, enhanced brain function, and protection of cells from cancer.
3. Mushrooms
Mushrooms are an example of a food that is great for burning belly fat. They are perfect for the six-packs abs diet meal plan because they can promote fat burn by balancing glucose levels in the blood. A bonus of mushrooms is that they are also low in calories. Besides being great for weight loss, mushrooms contain potent antioxidants that can help the body combat harmful radicals that cause cancer and heart diseases. These antioxidants can also protect your body from premature aging and enhance the immune system. Along with these, mushrooms also have other benefits that include blood sugar regulation, decreased risk of type 2 diabetes, improved skin appearance, maintenance of bones, and improved muscle function.
4. Fatty fish
Fatty fish such as tuna, mackerel, salmon, and sardines are loaded with omega-3 fatty acids, which are excellent for improved brain function, better heart health, reduced inflammation, and weight management. Research conducted on over two thousand adults discovered that those who regularly consumed fatty fish had reduced belly fat and triglycerides levels. Likewise, consuming lean fish was linked to lower waist circumference. Another reason to consume fatty fish is that they are loaded with protein and studies suggest that a good protein intake can decrease appetite and ultimately help in the reduction of weight.
5. Tea
Certain teas are quite beneficial for abdominal toning and weight loss. A study found that tea drinkers have a higher chance of getting lower waist circumference than people who do not drink tea at all. Green tea especially has been proven to have the potential advantage of contributing to fat burning, as it contains certain types of catechins such as epigallocatechin gallate (ECCG) which can elevate the number of calories burned. Black tea is highly filled with flavonoid compounds that can trigger weight loss. In addition, black tea can offer other advantages, such as better heart health, decreased levels of bad cholesterol, lower risk of stroke, and improved gut health. Other types of tea that you can add to your abs diet include white tea, oolong tea, and other herbal varieties.
6. Legumes
Legumes include peanuts, chickpeas, black beans, lima beans, navy beans, black-eyed beans, and kidney beans. They are perfect for weight loss and toning the stomach. Consuming legumes is a major way to improve your protein intake and high protein intake has been linked to better body composition and reduced belly fat. Legumes are also packed with diverse minerals such as magnesium, fiber, zinc, copper, iron, and B vitamins. In addition, they contain active antioxidants that can help prevent aging and wade off diseases. The fiber composition in legumes can also help boost the digestive system and might prevent the occurrence of digestive issues. Other benefits of adding legumes to your diet include reduced cholesterol levels and improved lipid and glycemic control for people with diabetes.
7. Chili pepper
Chili peppers are noble for their distinct spicy flavor. They are from the nightshade family and have different varieties, such as jalapeno and cayenne pepper. Chili peppers are commonly used as a spice but can also be powdered, cooked, or dried. When powdered, they are referred to as paprika. They contain diverse minerals like potassium, copper, vitamin K1, C, A, and B6. What makes chili pepper unique is the different bioactive plant compounds that it contains such as capsanthin, which has antioxidant qualities that help combat cancer, lutein that can boost eye health, sinapic acid, ferulic acid, violaxanthin, and capsaicin which handles the pepper's hot flavor. Chili pepper can aid six-pack abs by reducing appetite and enhancing fat burning. Capsaicin, a compound in chili pepper, can help decrease calorie intake.
8. Fruits
Fruits are nutrient-dense. This means that they are high in diverse antioxidants, minerals, fiber, and vitamins, and are mostly low in calories. They can boost weight management and are non-negotiable for an ab-building meal plan. Consuming fruits is connected to lower body fat and a reduced risk of high blood pressure, cancer, heart disease, and diabetes. Some of the best fruits for weight loss and suitable for a six-pack abs diet meal plan include grapefruit, apples, stone fruits, kiwifruit, melons, berries, passion fruit, oranges, rhubarb, bananas, and avocados.
Foods to avoid in the six-pack abs diet meal plan
Other foods to eat for abs are low-fat dairy products, lean meats, sweet potatoes, poultry, vegetarian proteins, sprouted bread, and Greek yogurt. Certain types of food that should be eliminated from your diet include sugar-sweetened drinks, fried foods, alcohol, sugary snacks, and refined grains. Most of these foods will do more harm than good; they can reduce the effectiveness of your workouts, limiting results. In addition, they contain little or no beneficial nutrients and can elevate the risk of many health problems such as unwanted weight gain, increase in blood sugar level, diabetes and hypertension.
Conclusion
Diet unarguably plays an important role in our health. If you want to build well-defined six-pack abs, changing your diet is important. Instead of consuming sugary snacks, alcoholic beverages, fried and processed foods, and refined grains, fill your six-pack abs diet meal plan with healthy and clean foods like fruits, vegetables, legumes, seeds, nuts, fatty fish, and whole grains. Combine clean eating with a healthy lifestyle and a good fitness regimen.