Imagine you found this amazing recipe online and are all set to try it out. But wait, it requires turmeric? When was the last time you used turmeric? You ransack your pantry shelves to double-check. But, nope. No sign of the spice. Don't worry. You can still get the flavor in your recipe using one of these substitutes for turmeric without any hiccups.
Turmeric is a powdered spice derived from the root of the Curcuma longa plant. Its blindingly bright yellow color will leave you with a stain from as little as a touch. For the record, it is related to the well-known ginger family. Despite being completely overshadowed by its cousin, turmeric can still hold its own ground.
Although it rarely makes an appearance in American kitchens, turmeric is heavily used in Indian, Thai, and other Asian cuisines. It's a great way to bring color and richness to your food with just the right hint of a distinct aroma. Certain dishes call for slices of the raw vegetables, but we mostly use turmeric powder as a kitchen spice.
Jump to:
Uses and health benefits of turmeric
Vedic Era India records the earliest usage of turmeric. It served as herbal medicine, a spice, and as an important element of religious ceremonies. Today, India produces (and consumes) most of the world's turmeric, followed by China, Myanmar, Pakistan, and other Asian countries. It also functions as a coloring agent in food-processing, cosmetic, textile and pharmaceutical industries.
Indian Ayurvedic and traditional Chinese medical practices used turmeric as early as 4000 years ago. Recent research shows that certain chemicals in turmeric have anti-inflammatory, antibacterial, and even anti-cancer properties. Among its health benefits, turmeric helps address stomach-related issues like indigestion, bloating, and cramps. Many Asians use turmeric-based mixtures to treat skin conditions like acne, pimples, pigmentation, and tanning. There is little doubt as to the wonders hidden inside this root. Yet, due to its limited use in this part of the world, turmeric is one of the last things you will find in your kitchen.
Before you hit a panic button for not having turmeric, ask yourself if you really need it. Does the recipe require a coloring agent or a turmeric-like flavor?
Color substitutes for turmeric
1. Saffron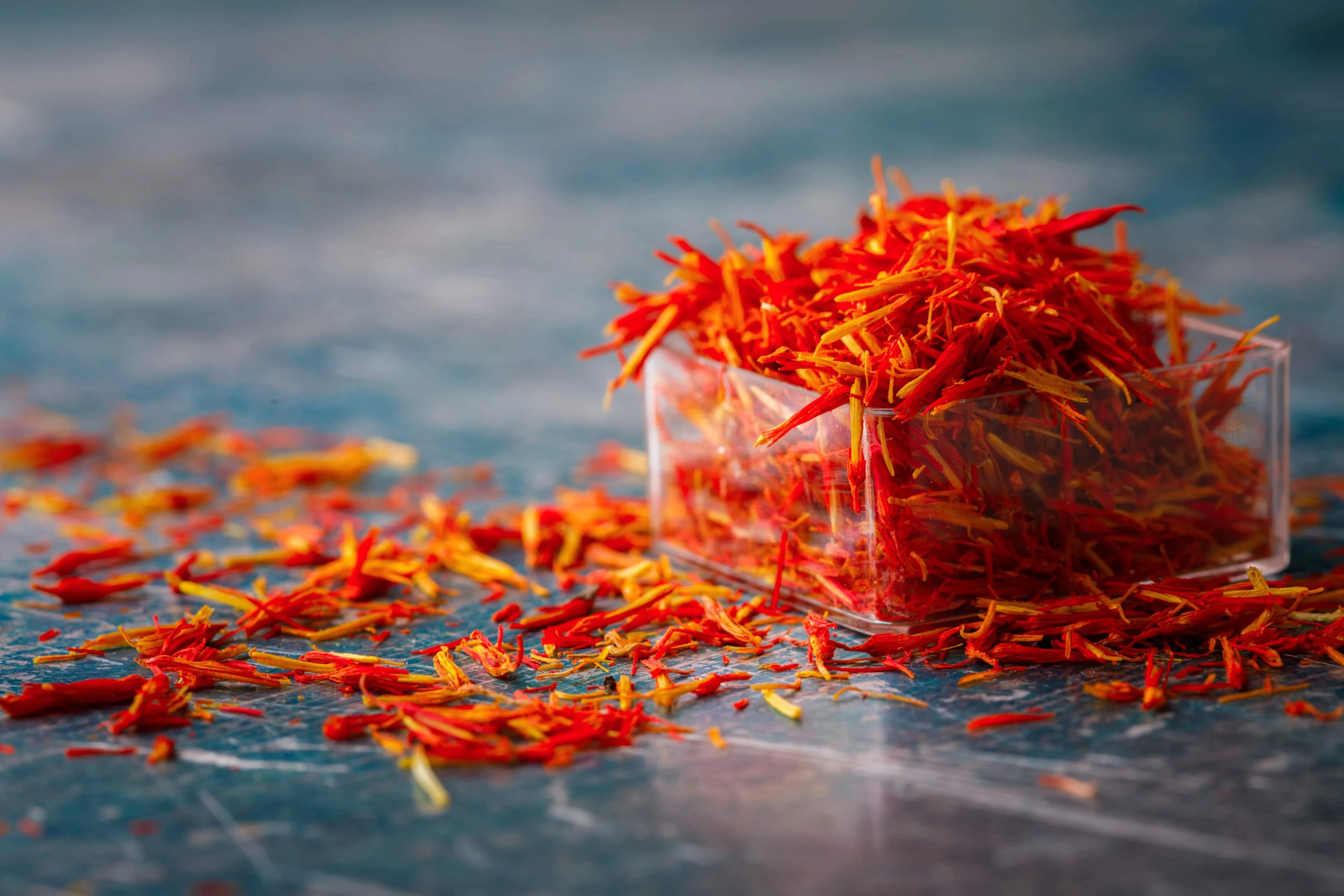 There's something about this enigmatic spice that makes using it feel like a royal experience! At $3000 per pound, it is the most expensive food on the planet, and here is why. Saffron comes from the Crocus sativus flowering plant, which blooms only ONCE a year for just a week. Each flower produces only three stigmas, and it needs to be hand-plucked early in the morning, while the flower is still closed. Phew! Is that rare, or what?
You can find the mention of the earliest use of saffron in Greece during the Bronze age. Cleopatra apparently took her bath in saffron-infused mare's milk, while Minoan women used it to dye their fur coats. Medieval monks created a gold paste to decorate their scriptures. No other spice can compete with this sort of legacy. Do you still want to ask why an ounce of saffron costs $16?
Today, Iran produces most of the world's saffron, followed by Spain, India, and Greece. It is an essential ingredient in exquisite dishes like the Persian Pilau, Spanish Paella, and Kashmiri Kahwa. Lucky for us, only a few strands of saffron is enough to add both color and aroma to a dish. Due to its rich, golden hue, saffron is an excellent substitute for turmeric, if color is what you're looking for.
Take around 10 strands of saffron and ground them with a tablespoon of sugar. Soak the powder in 2-3 tablespoons of lukewarm water and allow it to sit for 15 minutes. Pour this concoction right at the end of your cooking and cover the container. You should never 'cook' Saffron as it loses most of its flavor. You can use it to prepare poached fish, roast chicken, vegetable stews, and a wide range of oriental desserts.
2. Safflower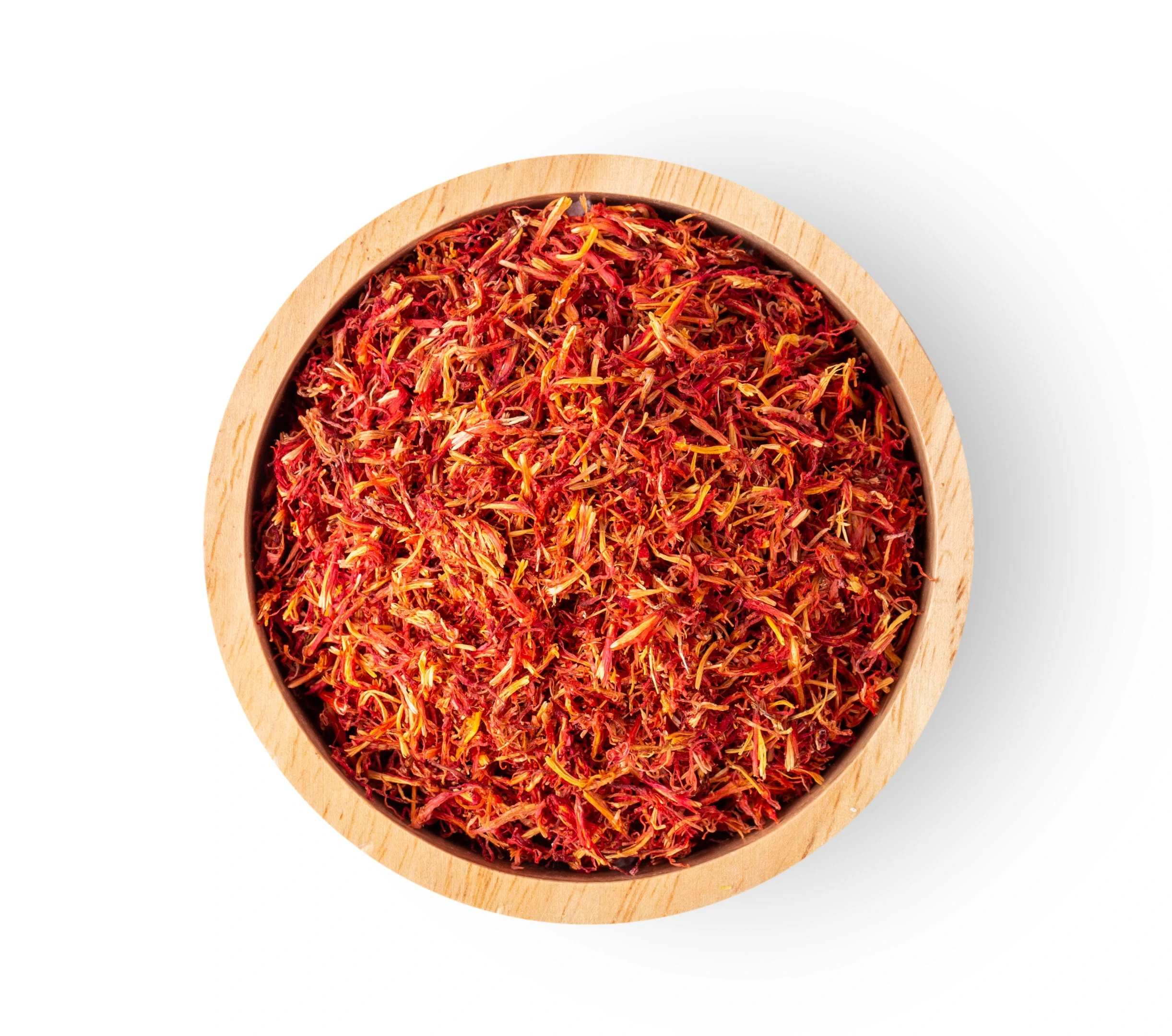 You can describe this spice as an "imposter" of saffron. They look uncannily alike, and people often tend to mistake one for the other. Safflower comes from the thistles of the Carthamus tinctorius flower, native to Egypt and its surrounding lands. Ancient Mesopotamians used it as a dyeing agent. In the absence of saffron, the early Europeans who landed in Latin America started using safflower to color their food.
The primary difference between safflower and saffron is the intensity of color. Of course, also the price! The flavor of safflower, too, is milder than that of saffron. You may be conned into buying safflower in the name of saffron. Follow the same technique of grinding and seeping the tendrils in lukewarm water and then add it to your dish. It is definitely an effective and cheap way to brighten up your meals.
3. Annatto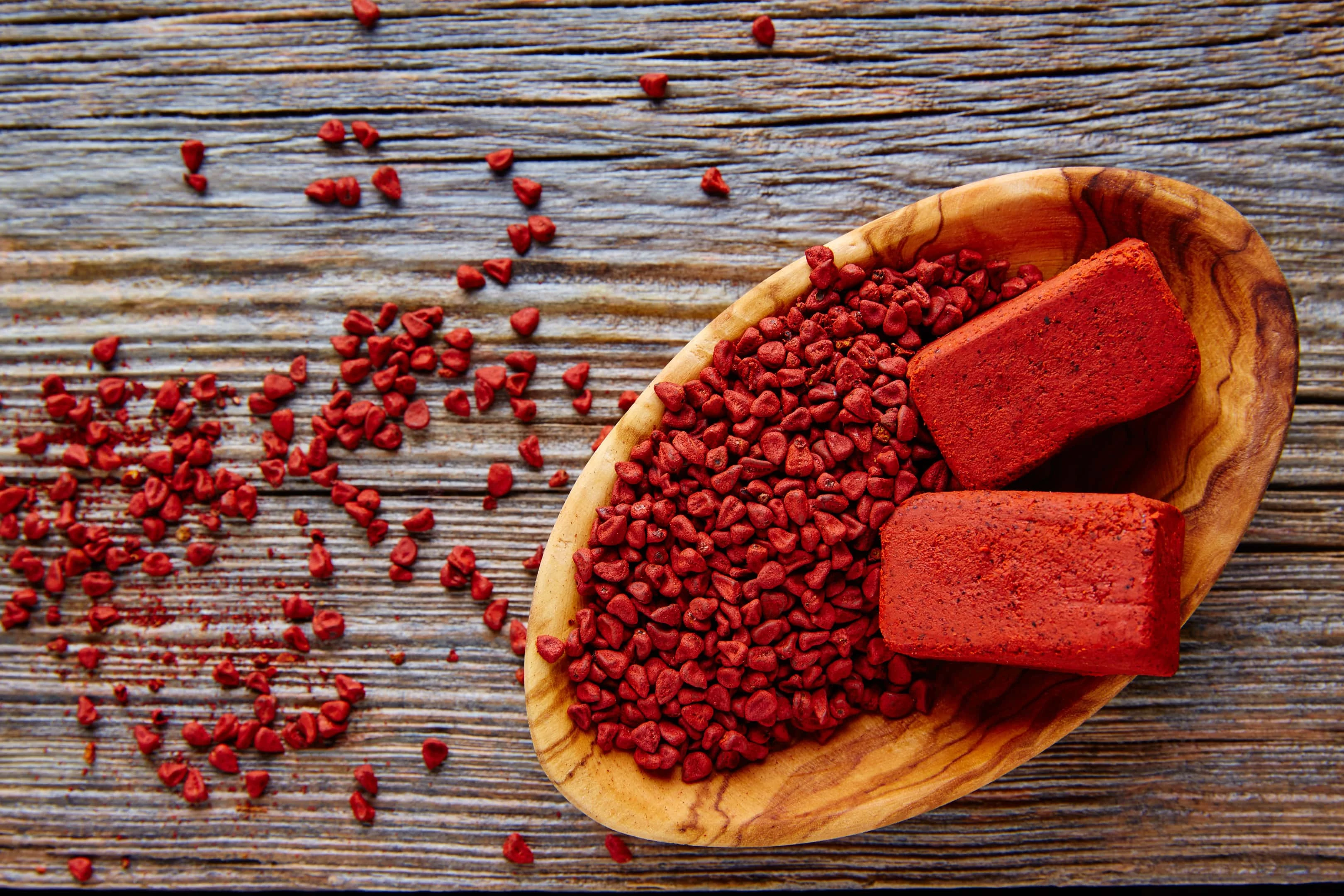 If you're looking for color, Annatto is a great turmeric substitute. It is extracted from the seeds of the Achiote tree, native to Latin American countries. The seeds are an intense orange-yellow color. It is used not only as a food colorant, but also as a dye in the textile and cosmetic industries. The Spaniards settled in this part of the world and used this along with safflower to give their food color. In the culinary world, chefs often refer to annatto as the "poor man's saffron."
Many traditional Mexican and Caribbean dishes use annatto as an important ingredient. Usually, people add it towards the beginning of the cooking process. You can either add it directly into the oil, as a rub or as a marinade. Although predominantly used for its color, annatto has a faint earthy, peppery aroma. It is rich in antioxidants and helps relieve diarrhea, constipation, heartburn, and high blood pressure.
4. Mustard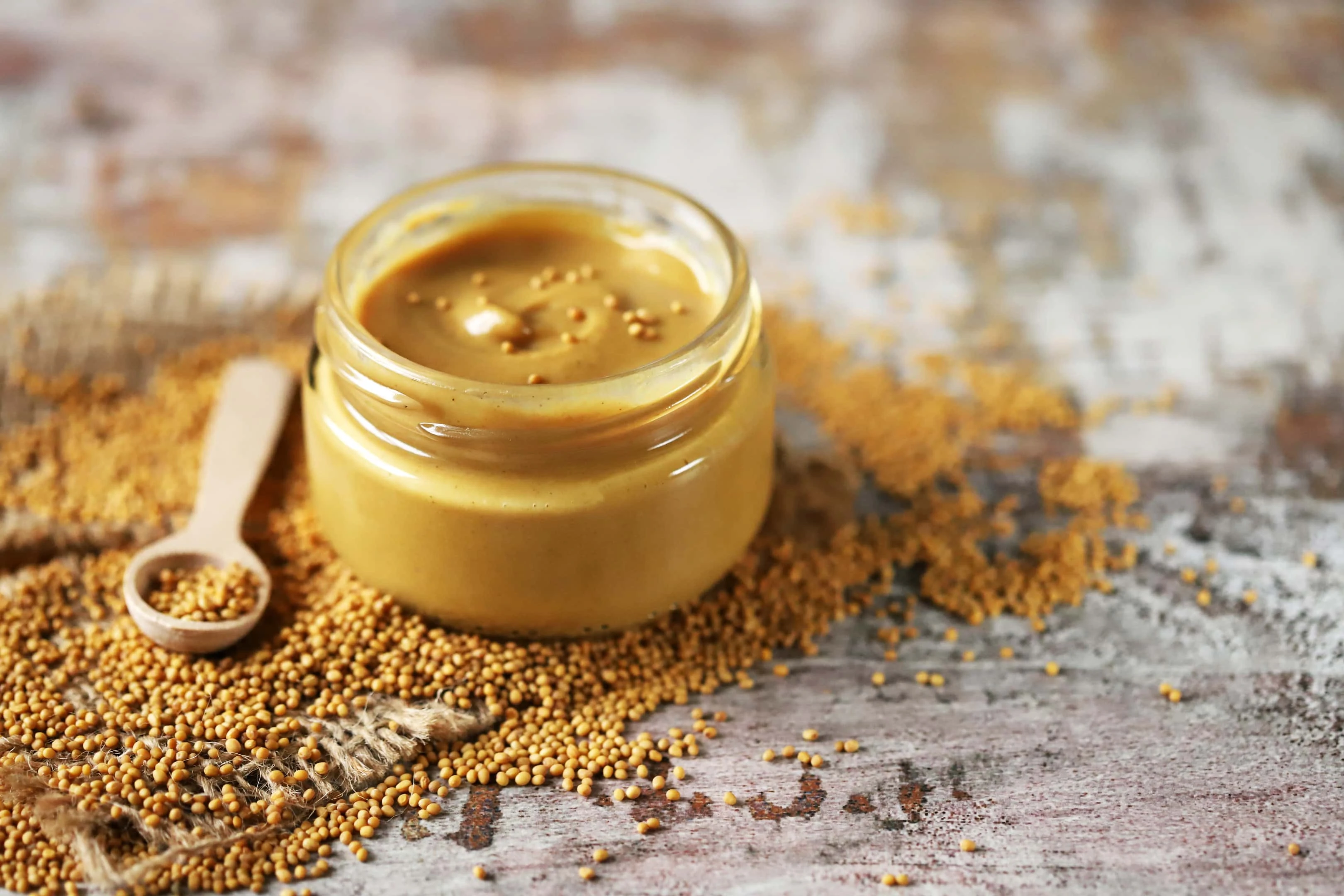 We all recognize this one from our night outs with hotdogs! What we see as a yellow paste comes from tiny seeds of the Brassicaceae family of herbal plants. Its earliest usage goes back to 3000 BC, to the ancient civilizations of Egypt, China and India. The Romans were the first to ground mustard seeds and combine them with wine. Food-processing industries follow this antique recipe to make Dijon mustard even today.
Certain minerals in mustard contain anti-inflammatory properties, which can help relieve symptoms of arthritis, asthma, and migraine. Mustard seeds are of three types, yellow, black, and brown, with black being the most pungent. The combination in which they are used gives rise to the various flavors of mustard. Its taste varies from sweet, spicy to mildly aromatic. Dijon, English, and Chinese mustards are generally hot, while German and American mustards lean towards the sweeter end.
You can either buy the seeds and make your own paste at home, or get the readymade powder or paste instead. When using the seeds, follow the Mediterranean and Asian style of tempering them in oil for a burst of aroma. Powdered mustard can be dry-rubbed onto meats, fish, or even vegetables prior to cooking. You may also prepare a paste by adding a little water and use it for preparing gravies. We generally use pre-made mustard as a sauce, topping or dip, but you can efficiently work it into a gravy-based meal as well. Whichever way you go about it, mustard will give your food a beautiful color along with a distinct aroma. Make sure you adjust the amount of mustard as per your tolerance for its flavor.
5. Paprika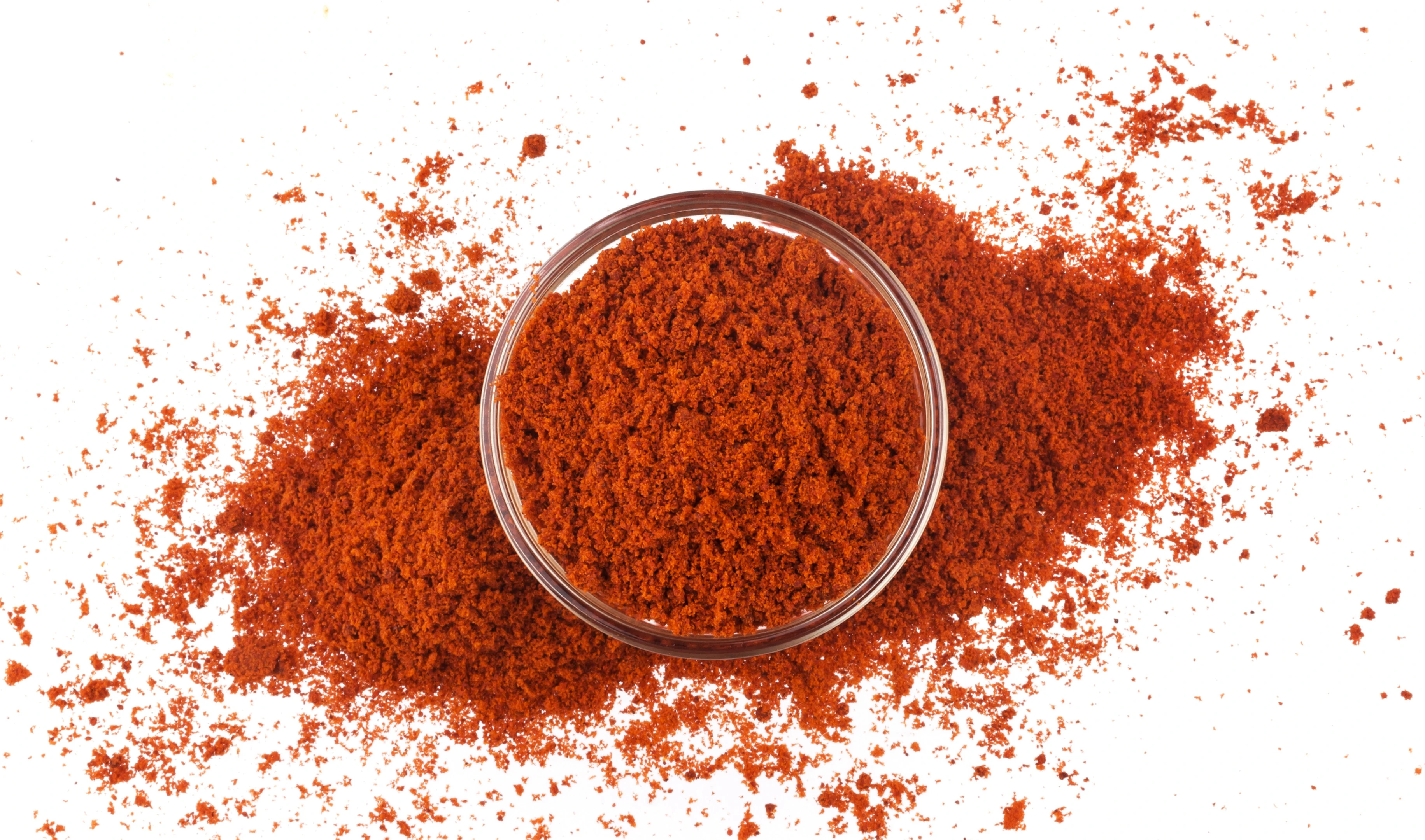 Paprika is one of the most popular of all spices, and you're sure to have some variety tucked away in your kitchen cabinet. In the earlier days, people powdered the red fruits of the Capsicum annuum variety of plants to make the spice. Its origins can be traced to 11th century Mexico. The spice trades of the 1600's brought this herb to Spain, Portugal, Turkey, and eventually to Hungary. Initially, people used paprika for its medicinal value and as a dye before it made its debut in the kitchen. Today, it's a prominent ingredient in Spanish, Hungarian, Latin American, and several other cuisines of the world.
Paprika comes in three predominant flavors: sweet, hot, and smoked. These lend an exquisite color to food while adding a hint of earthy aroma as well. If you're not one for high heat, go for the mild, sweet variety of paprika. Use it as a dry-rub for your vegetables and meat, or blend it into your sauces. The hot and spicy variant is not everyone's cup of tea. It packs in quite the punch and is a predominant ingredient for making goulash. Smoked paprika gets its distinct flavor from being dry-roasted on charcoal. Depending on your preference, use this spice as an alternative for turmeric whenever you find yourself in a pinch.
Flavor substitutes for turmeric
1. Ginger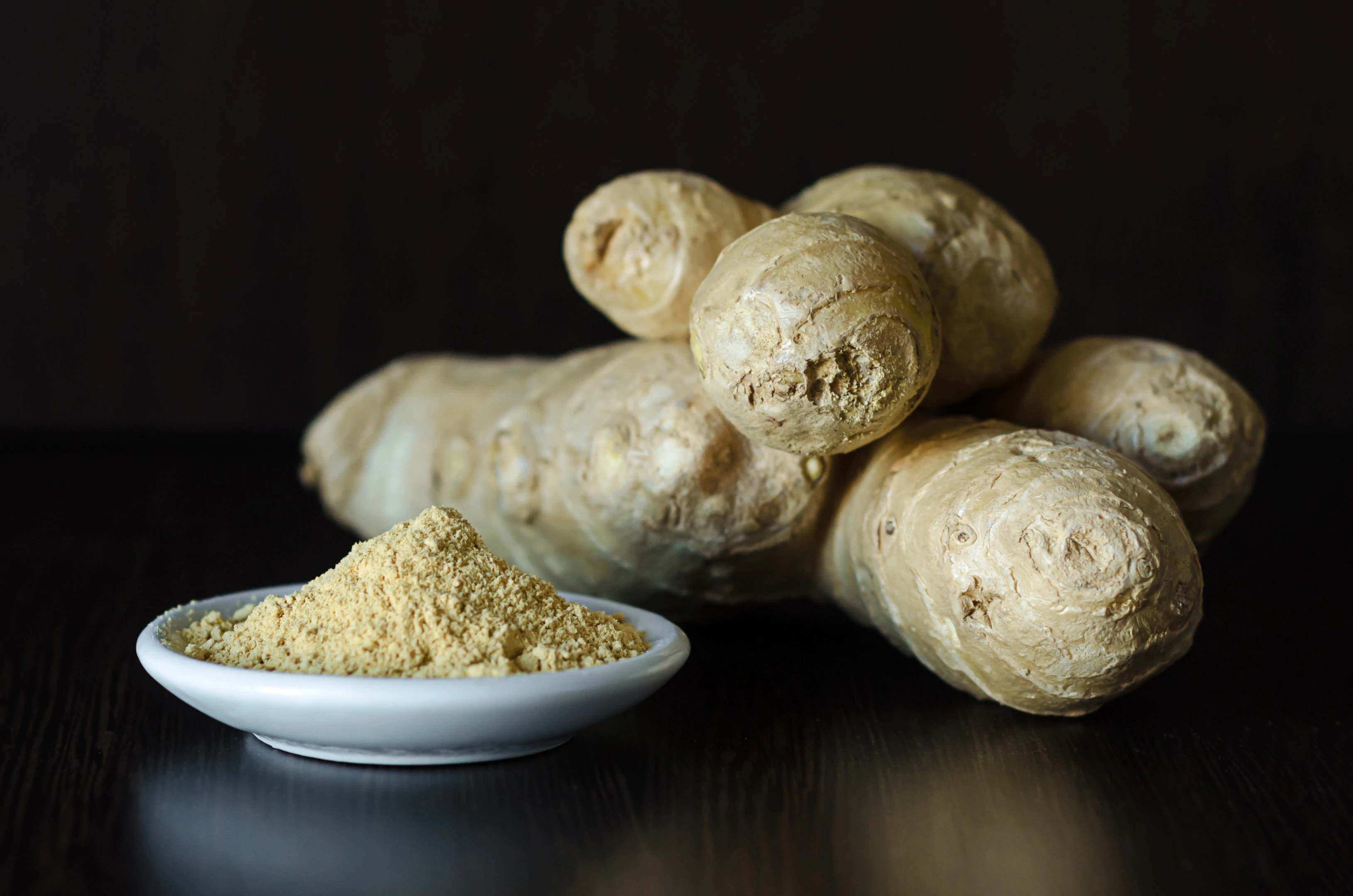 How can we talk about turmeric without mentioning its famous cousin, ginger? A popular, aromatic herb from Asian cuisines, ginger can easily make up for the absence of turmeric in your food. What we consume is actually the root of the Zingiber officiale plant. You can find Ginger in the market both as a fresh vegetable as well as in powdered, dried, crystallized, and pickled forms.
Ancient Indians and Chinese used ginger as a medicinal herb as early as 475 BC. Like turmeric, it packs in tons of healthy nutrients, which help in fighting indigestion, nausea, muscle cramps, and much more. You may consider including this herb in your daily diet for a natural boost to your immunity.
As a turmeric substitute, you can use ginger powder to marinate vegetables, meats, and prepare sauces as well. If you're using fresh ginger, make sure you chop the pieces as thin as possible. Biting into a chunk while having a meal can be a bad experience!
2. Cumin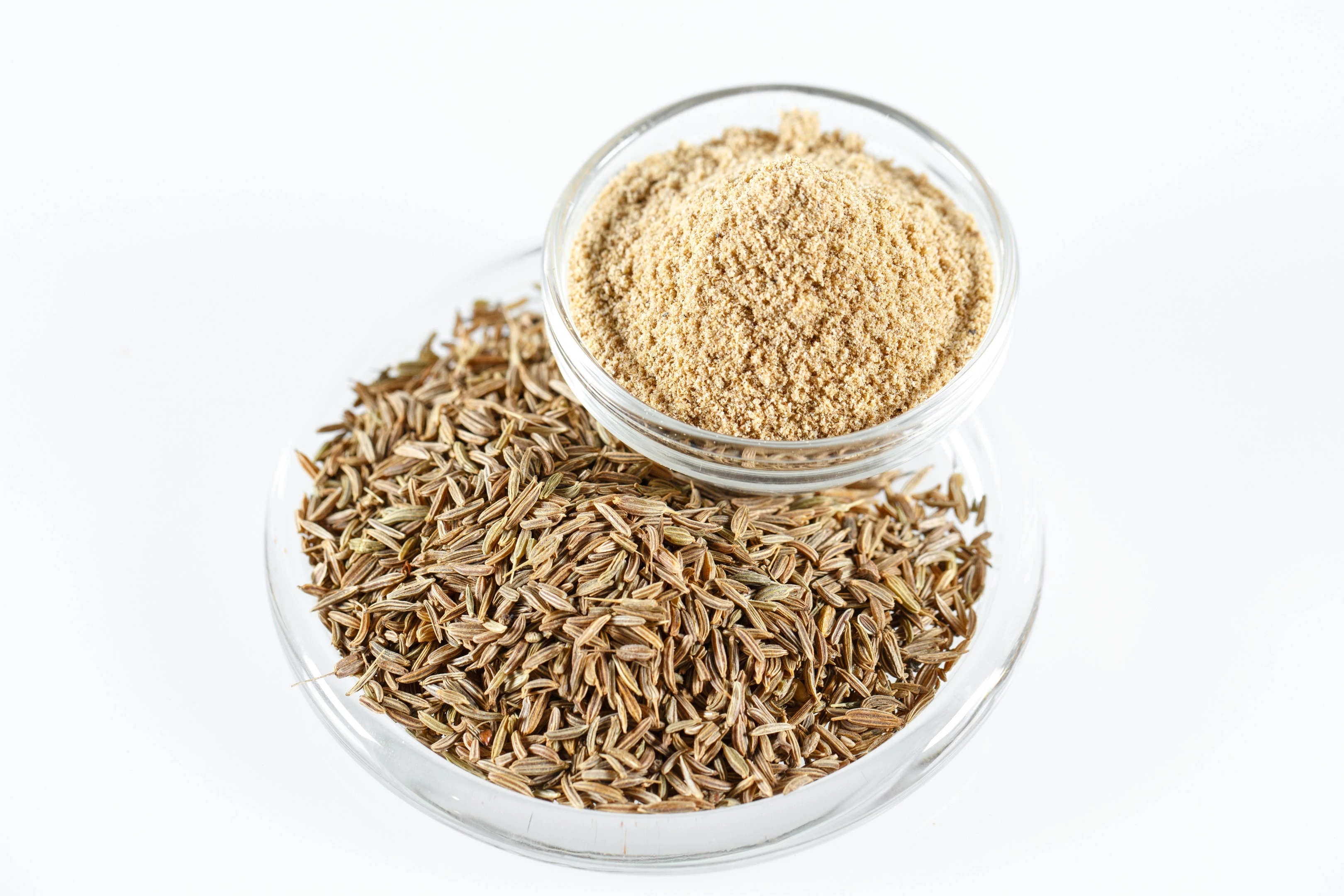 Cumin is basically the seeds of the Cuminum cyminum plant, which belongs to the parsley family. It is a popular condiment in Asian, Indian and Mediterranean cuisines. You can trace its origins to ancient Syria and Egypt. They used cumin both as a spice and as a preservative for embalming mummies. There is a reference to this herb in the Old Testament, as well. The European colonization brought cumin to the Americas.
Cumin is available as whole seeds and in ground form. People usually fry the seeds in hot oil for a couple of minutes before adding vegetables or broth. This method is religiously followed in Indian cooking, particularly in the preparation of dal (lentil soup). It works well with cauliflower, potatoes, and different curry recipes. You can also use cumin tempered oil as a dressing to garnish boiled vegetables and salads. It serves as an easy way to transform a bland dish into something surprisingly flavorful.
If you're using ground cumin, dry rub the spice prior to cooking or blend it while making sauces and gravies. There is another exciting way to make the most of this spice. Roast a handful of whole seeds for a couple of minutes and then ground them into a powder. Roasting activates the oils and releases a beautiful aroma. You can use cumin powder as a seasoning by sprinkling it on deviled eggs, salads, soups, or just about anything!
3. Curry powder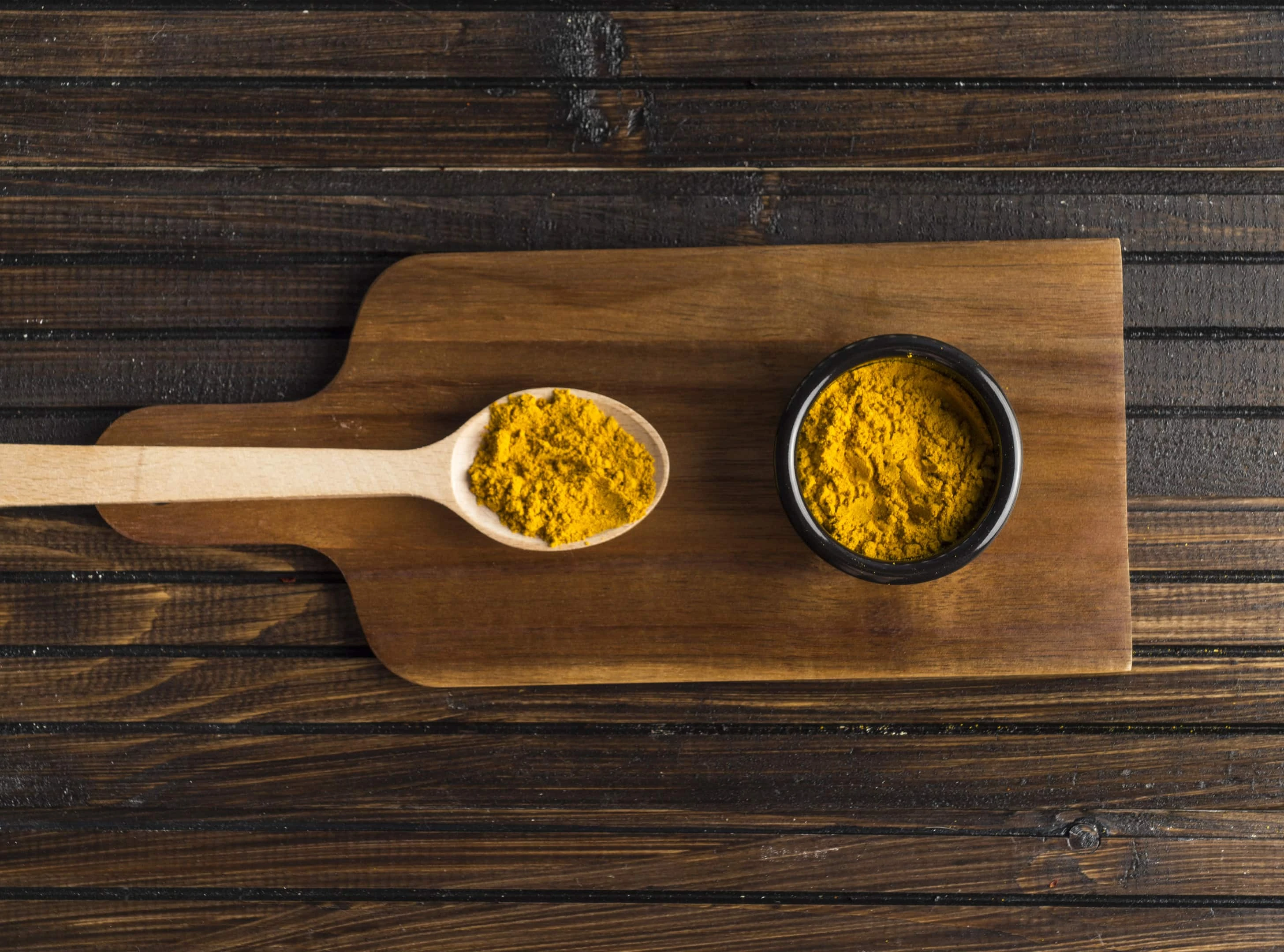 When you hear the name 'curry'', the first thing that pops into your head is 'India.' Well, here's breaking news! What many consider as the 'quintessential spice of India' is actually not used in authentic Indian cuisine at all! This powder was literally invented by the British to replicate the flavors of Indian food. Another reason for this misconception is that people tend to confuse the curry powder with the Indian curry recipe. The Indian curry is a gravy-based dish with vegetables or meat, making no use whatsoever of this spice.
Now coming back to the powder, it is a blend of different spices like fennel, mustard, cumin, cardamom, and… turmeric! The exact flavor of curry powder varies depending on the spice combination followed by different brands. However, one constant ingredient is it is a bright yellow spice. This makes curry powder a great substitute for turmeric, both in terms of color and flavor.
Mix a teaspoon of curry powder into a tablespoon of broth, coconut milk, or plain water to make a slurry. Add this to the recipe towards the beginning of the cooking process. This allows the flavors to blend in properly with the other ingredients, giving your meal that Indian curry-like taste.
4. Garam Masala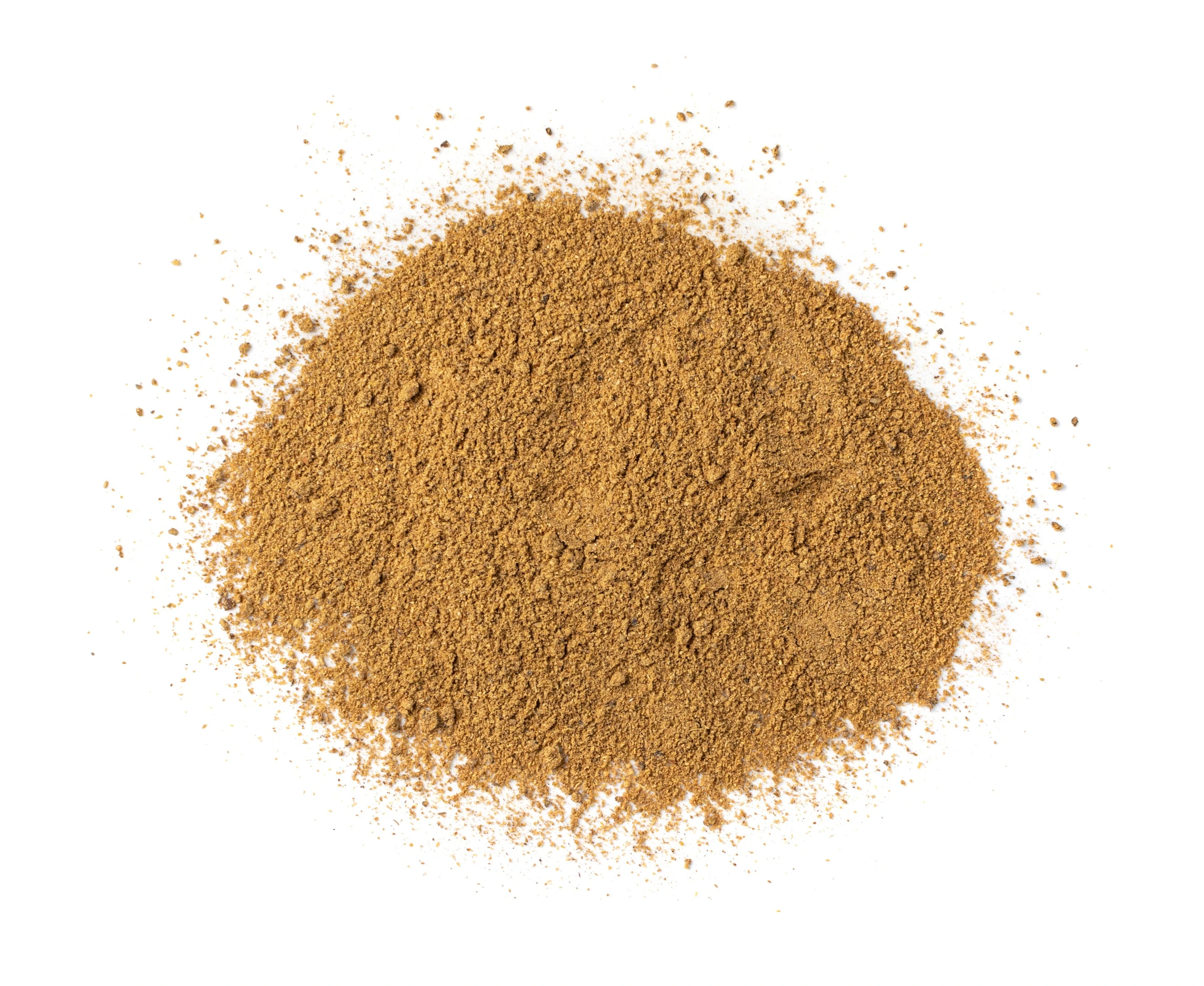 Now, this is what authentic Indian recipes actually use. The name translates as "hot spices" and is a combination of cumin, clove, cardamom, cinnamon, and black pepper. Some variations may include nutmeg and mace as well, but that is not the general case. Compared to curry powder, garam masala has a more robust and spicier flavor and should be used in lesser quantities. Follow the same procedure of diluting the spice in a tablespoon of liquid and then adding it to your dish.
If you can't find garam masala in your local stores, you can buy the constituent spices and then ground them at home. Like cumin, roasting the whole spices and then grinding them will give you a better flavor. The DIY version is way better than the store-bought spice any day.
Final words
You do not need to follow any hard rules when cooking. The absence of a single spice does not mean you have to give up on the recipe. You can always improvise. Since the most defining feature of turmeric is its color, you can actually use a number of spices as substitutes. Check to see the closest alternatives that you have in your pantry and experiment with them.