For many people, eating that leftover from the night or two before might seem more attractive than spending hours in the kitchen. This is probably a familiar situation for those who are on a tight schedule or a budget. However, when it comes to healthy nutrition, what many people miss is that what you eat is as important as how much you eat.
Unlike their non-perishable counterparts, perishable foods usually take a short time before expiration. You might not care about the odd look of the chips you opened a week before, as long as it doesn't taste bad. Yet, they might lead to medical conditions that make you uncomfortable for hours or days. This article will explain why stale foods are bad for you.
Jump to:
What are stale foods?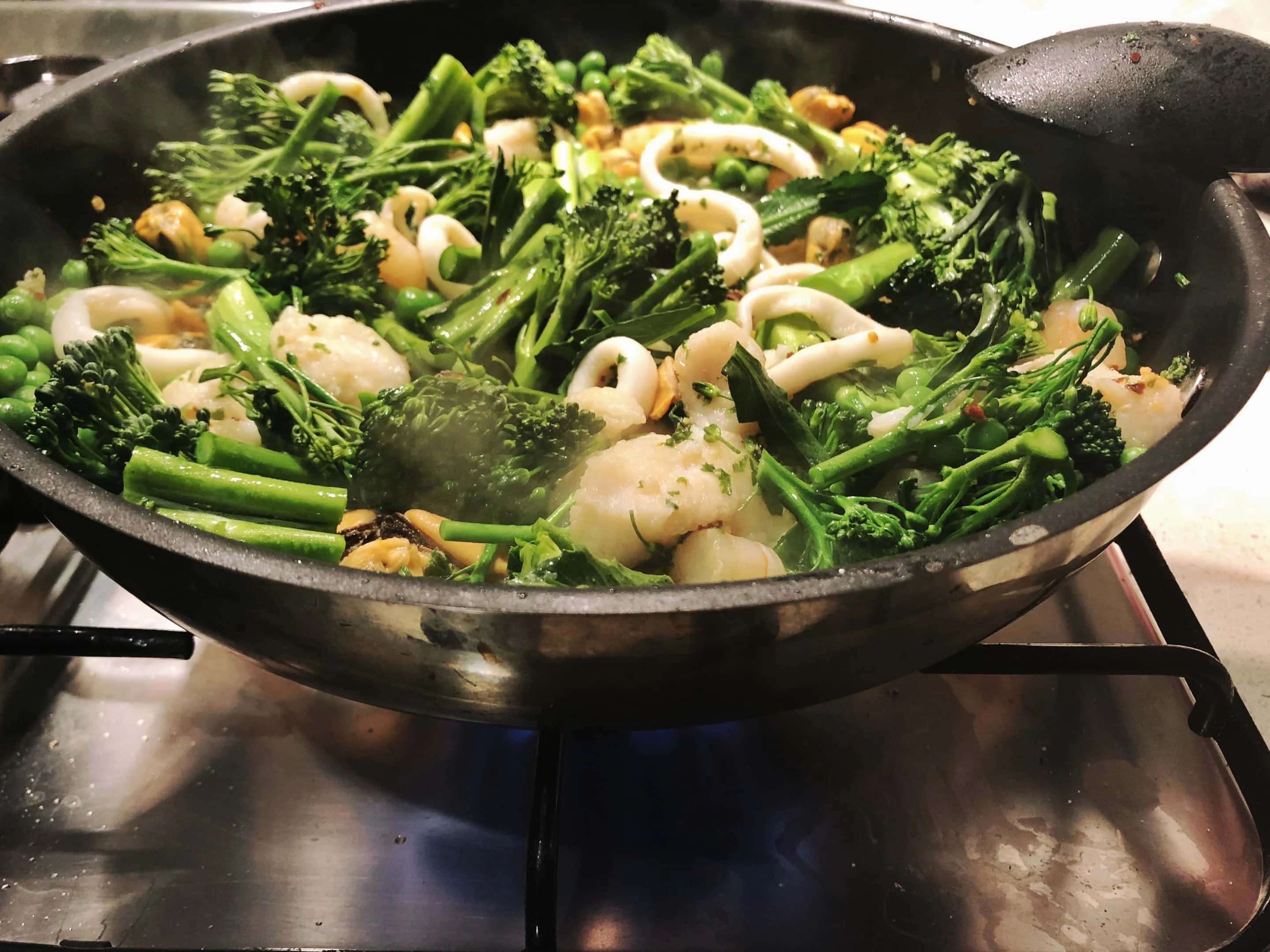 Stale food has been stored too long or has been exposed to the air, bacteria, or pests. Stale foods may have an off-taste, smell, or appearance. They may also have a lower nutritional value than fresh foods.
Before discussing potential risks associated with eating stale foods, it helps to understand precisely what makes them "stale." In most cases, the term refers to products that don't contain as much moisture due to spoilage by drying out. When water evaporates through air, heat, or light exposure, proteins coagulate and eventually turn hard and dry.
How to tell if your food is stale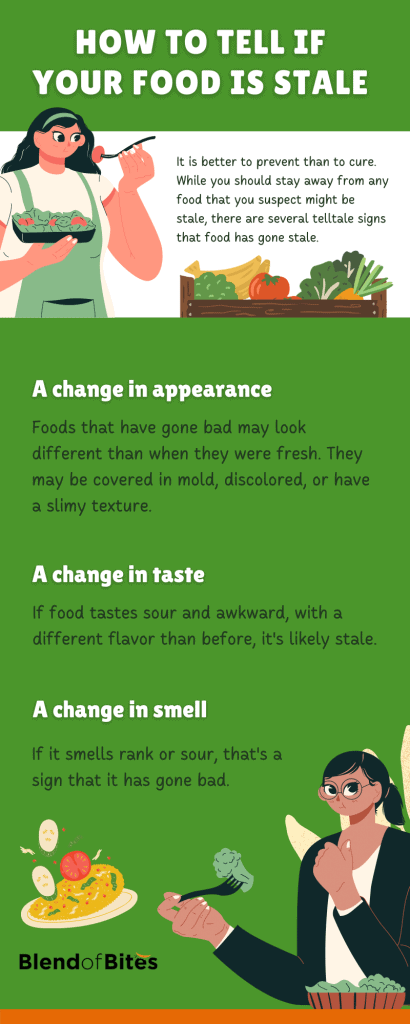 It is better to prevent than to cure. While you should stay away from any food that you suspect might be stale, there are several telltale signs that food has gone stale.
A change in appearance — Foods that have gone bad may look different than when they were fresh. They may be covered in mold, discolored, or have a slimy texture.
A change in taste — If food tastes sour and awkward, with a different flavor than before, it's likely stale.
A change in smell — If it smells rank or sour, that's a sign that it has gone bad.
The risks of eating stale food
Although it may seem more attractive than cooking something new, in no condition should you eat stale food. Stale foods contain harmful bacteria and free radicals and can lead to serious medical conditions. Here are some of them:
1. Stale foods can cause serious digestive issues
One major reason why stale foods are unsafe to consume is that doing so can trigger gastrointestinal distress. Stale foods lead to heartburn, bloating, gas, constipation, diarrhea, and acid reflux.
These symptoms are caused by the presence of mold spores and yeasts that naturally grow inside canned goods, dairy products, bread, baked potatoes, cereal boxes, and other perishable foods. When these foods are unrefrigerated, bacteria multiply rapidly, leading to severe digestive problems.
The longer these foods remain unrefrigerated, the higher the risk of contamination. Eating these foods will increase the likelihood of developing intestinal infections.
2. Stale food will lead to bacterial contamination
Bacterial spores are microscopic organisms that may live dormant, but still threaten human health. Any surface (or container) that another living organism has touched will become colonized within hours with these tiny gems. Once inside, bacteria can multiply quickly under warm, moist conditions.
Leftover foods contain many different microorganisms capable of multiplying quickly under warm conditions. According to some research, if left unchecked, bacterial contamination can cause illnesses like botulism, dysentery, hepatitis, meningitis, salmonella, tetanus, typhoid fever, and many more.
3. Stale food contains free radicals
When food is stale, it can release harmful compounds called free radicals. Free radicals are unstable molecules that can damage cells in the body.
Free radicals occur when the food is stale and on its way to being spoiled. This causes chemical reactions within cells that produce free radicals, which damage the DNA and even lead to cancer in extreme cases, according to a study.
4. Leftover meats are often full of antibiotics and hormones
For hormone growth, many antibiotics and hormones are pumped into livestock. Also, farmers often feed cattle drugs and antibiotics to help control infectious outbreaks among crowded herds. Other times, antibiotics are fed to prevent disease and improve overall performance.
Since 2015, it is mandatory for farmers to conduct the drugging process of any poultry or livestock under the supervision of a professional veterinarian to prevent and overcome any wrongdoing. Still, that doesn't change the fact that antibiotic-resistant bacteria will be produced in animals due to drug use. There is no guarantee that it won't spread to you, especially considering that leftover meat contains extra bacteria.
How to prevent your food from getting stale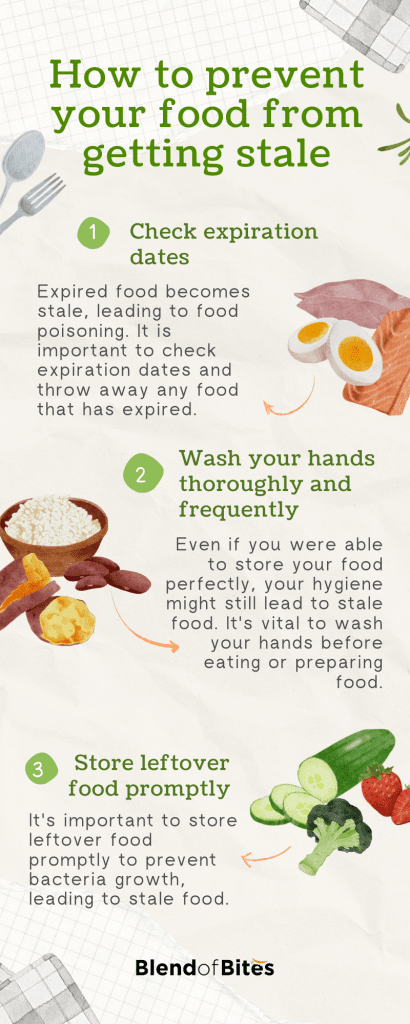 Now that we have explained what stale foods are and how to tell them apart from healthy everyday foods, you might be wondering whether there is a way to prevent your foods from being stale. There are certain steps that you should take to keep your food clean and healthy. Here are some of them:
1. Check expiration dates
Expired food becomes stale, leading to food poisoning. It is important to check expiration dates and throw away any food that has expired.
2. Wash your hands thoroughly and frequently
Washing your hands is one of the simplest and most effective ways to protect yourself from germs. Even if you were able to store your food perfectly, your hygiene might still lead to stale food. It's vital to wash your hands before eating or preparing food.
3. Store leftover food promptly
It's important to store leftover food promptly to prevent bacteria growth, leading to stale food. When food is left out for more than two hours, bacteria can form and cause food poisoning. The best way to avoid this is to store food in the fridge within two hours of being cooked.
Conclusion
Foods that have been stored for too long or exposed to different temperatures are likely to be stale. It is probably stale if your food smells, tastes, and seems different and awkward. The effects on your body can be dangerous. Stale foods host various bacteria, free radicals, and cancerogenesis eventually leading to serious medical conditions. In the short term, you might experience food poisoning; vomiting, nausea, and diarrhea are to be expected. To avoid consuming stale foods, wash your hands regularly, check the expiration dates before buying anything, and store your leftover food promptly.