Amaranth is a plant that is slowly gaining fame over these past few years. However, most people don't know that this grain has been around for millennia in some cultures. This plant has been a staple ingredient for many Incan, Aztec, and Mayan dishes.
What makes amaranth a superfood is its versatility. Even though you can eat the seeds, you can also turn them into oil by different extraction processes. Some may claim that using cold-pressing methods draws out the oil in a more natural way.
If you want to know more benefits of amaranth oil, you came to the right place. Keep reading as we present you everything you need to know about this plant and how it can contribute to your overall well-being.
Jump to:
What is amaranth oil?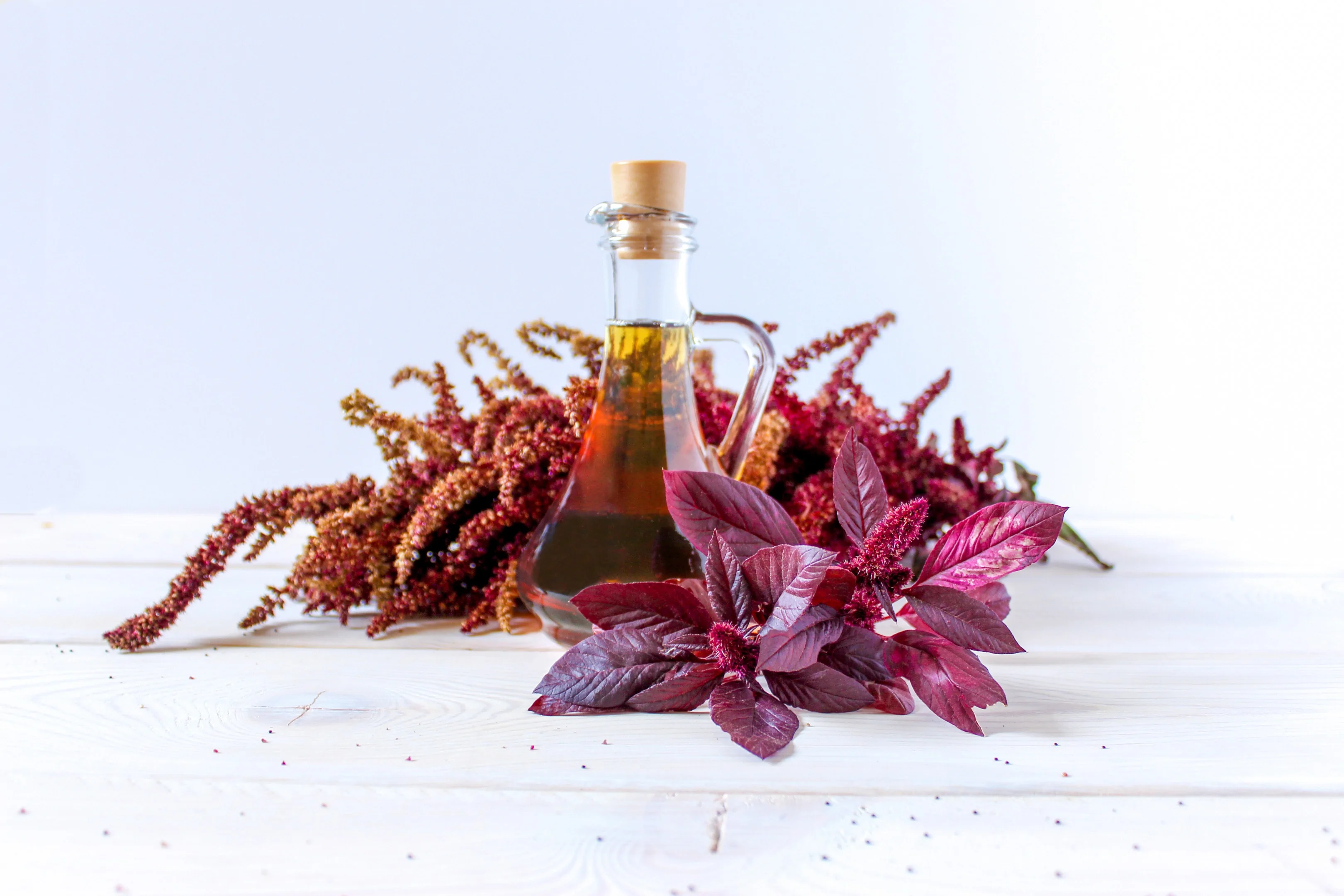 Amaranth is a perennial crop that is considered to be a "pseudocereal," which is a plant used like a grain but not a cereal grain or similar species. The seeds, leaves, and oil extracted from amaranth are safe for human consumption when taken moderately.
The first way to extract is the cold-pressing method which grinds the seeds with a hydraulic press at room temperature to get the oil. Another way to refine oil from the plant is by solvent extraction. This process uses chemicals to draw out as much oil from the crop as possible.
History and origin of amaranth
Amaranth is a plant with a fascinating history. For something people have used since ancient times, have you wondered why you only heard of this plant until recently? On the Spanish quest to conquer nations, they prohibited the consumption of amaranth as the Aztecs used it for questionable rituals.
Aztecs considered amaranth to be a sacred plant — so much so that they used it for their human sacrificial rites. The Aztecs mixed amaranth with actual human blood to form baked little figurines of their sun god, Huitzilopochtli, and ate them. What's disturbing about this is that the blood they used was from the bodies of their captives.
Reasons why amaranth oil is good for you
1. Full of antioxidants
One reason why you should consider taking amaranth oil is that it is enriched with antioxidants, which help your body fight off the free radicals that roam around your body. Even though these free radicals bring good to your health, too much of them can cause health conditions such as heart failure, brain inflammation and affect cell growth.
The phytochemicals in the amaranth oil can help prevent this from happening, especially cell damages. It decreases your chances of developing cancer and can also regulate your hormones.
2. Helps with cholesterol levels
One of the benefits of amaranth oil is helping to improve cardiovascular health. It contains omega-3, a type of fatty acid that helps in the healthy distribution of brain cells and can prevent your chances of dying from a heart attack. Omega-3 does this by decreasing the number of triglycerides in our bodies.
Since amaranth oil is good for the heart, it can also help maintain normal cholesterol levels, through the fiber in this plant.
3. Aids in weight management
If you're watching your weight, consuming amaranth oil can help you! The anti-inflammatory agents present in this plant will help you enhance your metabolism, and as a result, your body will burn calories more efficiently. These agents can also aid you in getting rid of harmful toxins in your body.
However, it would be best to help the amaranth oil do its job to ensure optimum results. You can do this by being careful with your calorie intake, effective exercise routines, and staying hydrated.
4. Is gluten-free
Gluten is a protein that does not provide any valuable nutrients for your body. Many people believe that going gluten-free will lead to health benefits, and for good reasons! This protein may cause an allergic reaction for individuals with gluten sensitivity. It can lead to inflammation and damage to the intestines.
However, don't worry about it because amaranth oil is gluten-free. It promotes excellent gut health, reduces your risk for inflammation, and helps you manage your weight.
5. Good for digestive health
The fiber content in amaranth will help you with easing your bowel movements. Amaranth oil is great for gut health because it helps your intestinal tracts push your waste out of your body. It buffs up your stool, making it easier to pass.
This decreases your chances of having constipation and other gut problems. Do you know that your intestines naturally have bacteria? Amaranth oil keeps your good bacteria healthy, which are essential parts of your digestive health.
6. Eases varicose veins
Varicose veins occur when there's too much blood pressure inside the veins. It causes the affected vein to get swollen and feel lumpy. It doesn't have many side effects, but some people feel pain in the lower extremities and dry skin over the affected area.
Fortunately, amaranth oil can help prevent this from happening! Slowly add one teaspoon of this product to your every meal. However, if you have varicose veins already, you can mix sweet almond oil and amaranth oil. Then, apply it to the vein at least two times a day.
7. Enhances the immune system
When you combine all the nutrients of amaranth oil, you will be left with many health benefits essential for keeping your immune system strong. The squalene in amaranth oil holds properties that stimulate the body's immunity against viral infections.
There are also phytonutrients that combat independent atoms in the body that target and damage your cells. The immunostimulatory content found in amaranth oil will help your body increase resistance against diseases.
The nutritional content of amaranth oil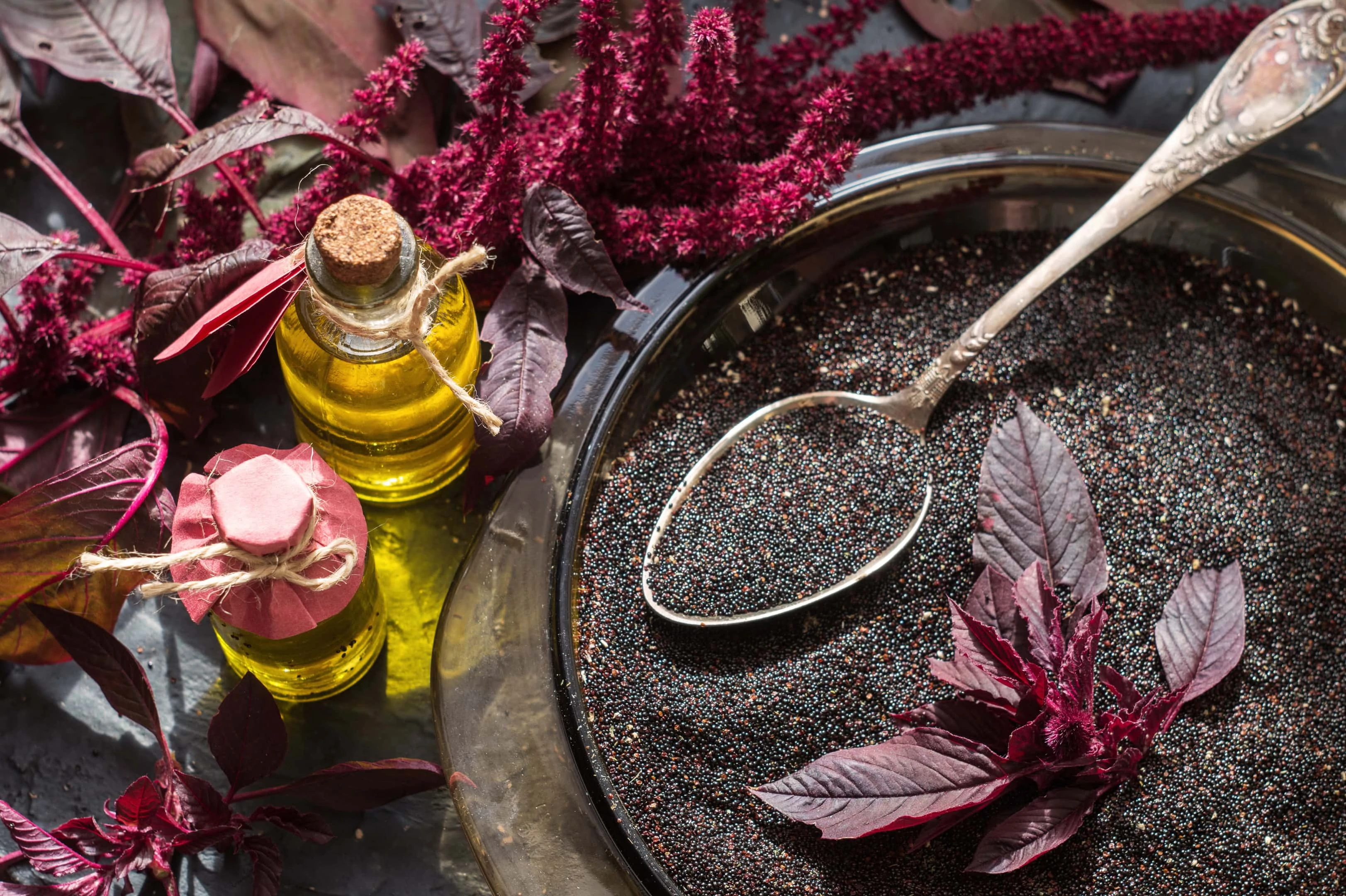 According to a study, amaranth oil is rich in unsaturated fatty acids, which compose the 76% content of the oil. This type of fat plays an essential part in improving our cardiovascular health and balancing our cholesterol levels.
The amaranth microgreens nutrition also includes 34% oleic acid and 33% linoleic acid that reduce inflammation and are also good for the heart. The rest incorporates 19% palmitic acid, which has moisturizing properties.
This oil also contains an 8% squalene substance which contributes to amaranth benefits for hair. It nourishes and moisturizes your scalp to produce strong follicles in the future. It also works great in brightening your complexion for soft and youthful-looking skin.
Aside from that, this oil is rich in other nutrients such as vitamin E, potassium, copper, and phosphorus, which all strengthen the immune system.
Skin and beauty benefits of amaranth oil
1. Stimulates healthy hair growth
If you have damaged hair because of chemicals or other factors, you can use amaranth oil for hair growth. Apply a generous amount of amaranth oil directly to your scalp. It will give a shine to your hair and prevent further breakage. It can also protect your scalp from fungal and bacterial infections.
2. Contains moisturizing agents
Step up your skincare regimen by adding amaranth oil to your daily routine. This product contains squalene which penetrates the cells to retain moisture from your usual creams and other body products. Amaranth oil benefits for skin work as the perfect moisturizing agent to make your skin look healthier.
3. Prevents signs of aging
Many factors influence our skin to age. However, you can do something about it so you can age beautifully.
Another of the amaranth benefits for skin is its ability to block signs of aging such as wrinkles and rough skin. Remember to always put on sunscreen to help yourself and the amaranth oil itself fight signs of aging.
The recommended dosage of amaranth oil
As of this writing, there's inadequate research to officially say the appropriate dosage when taking amaranth oil. However, just like with other foods, it would be wise to take it into moderation.
Even though this product is natural, there are risks when you consume it in excessive amounts. Make sure to eat as much as your body or diet requires.
Most brands that offer amaranth oil also include instruction labels in their products. It would be best to follow what was written there. You can also contact your primary health care provider to know more about amaranth oil and determine the best dosage for your health.
Possible side effects of amaranth oil
If you're an expecting mother or currently breastfeeding, it would be best if you avoid taking amaranth oil, as there is no scientific information that would prove the product is safe for pregnancy.
On the other hand, allergic reactions with amaranth are rare. There has been only one systemic reaction reported a few years back.
Since amaranth contains lysine, you should be careful when giving it to children. Some kids may be sensitive to the lysinuric protein which makes it hard for them to digest amino acids. It can cause stomach aches and diarrhea.
You should also avoid taking calcium supplements while using amaranth oil. Lysine can increase calcium absorption and produce kidney stones.
Conclusion
No doubt, there are lots of benefits of amaranth oil. It keeps your immune system strong and also plays a role in the beauty and cosmetics care.
It will work the best if you combine it by practicing a healthy lifestyle. It includes being physically active, having a regular sleeping routine, and maintaining a balanced diet.
However, it is important to still consult with your doctor about this product. Even though it poses many benefits, some people with certain health conditions should be careful about what they eat or use. If you suffer from pancreatic illness, gallstones, or gastrointestinal issues, you should think twice before using amaranth oil.