Green gram, also known as mung beans, is a staple ingredient of many Asian dishes, especially in Indian cuisine. Historians believe this crop originated somewhere in the Indian subcontinent, where people cultivated it for years.
Do you know that every pod of a green gram plant contains ten to fifteen seeds? These beans range in color from yellowish to brown.
Aside from its sweet and nutty flavor, green grams are also packed with balanced nutrients which can boost your immune system. These legumes are rich in vitamins and minerals to give you the energy you need for day-to-day activities. Green grams also contain antioxidants that are agents which can help prevent cellular damage.
Sit back and keep reading if you want to know the benefits of green gram and discover why many nutritionists greatly recommend it!
Jump to:
What are green grams?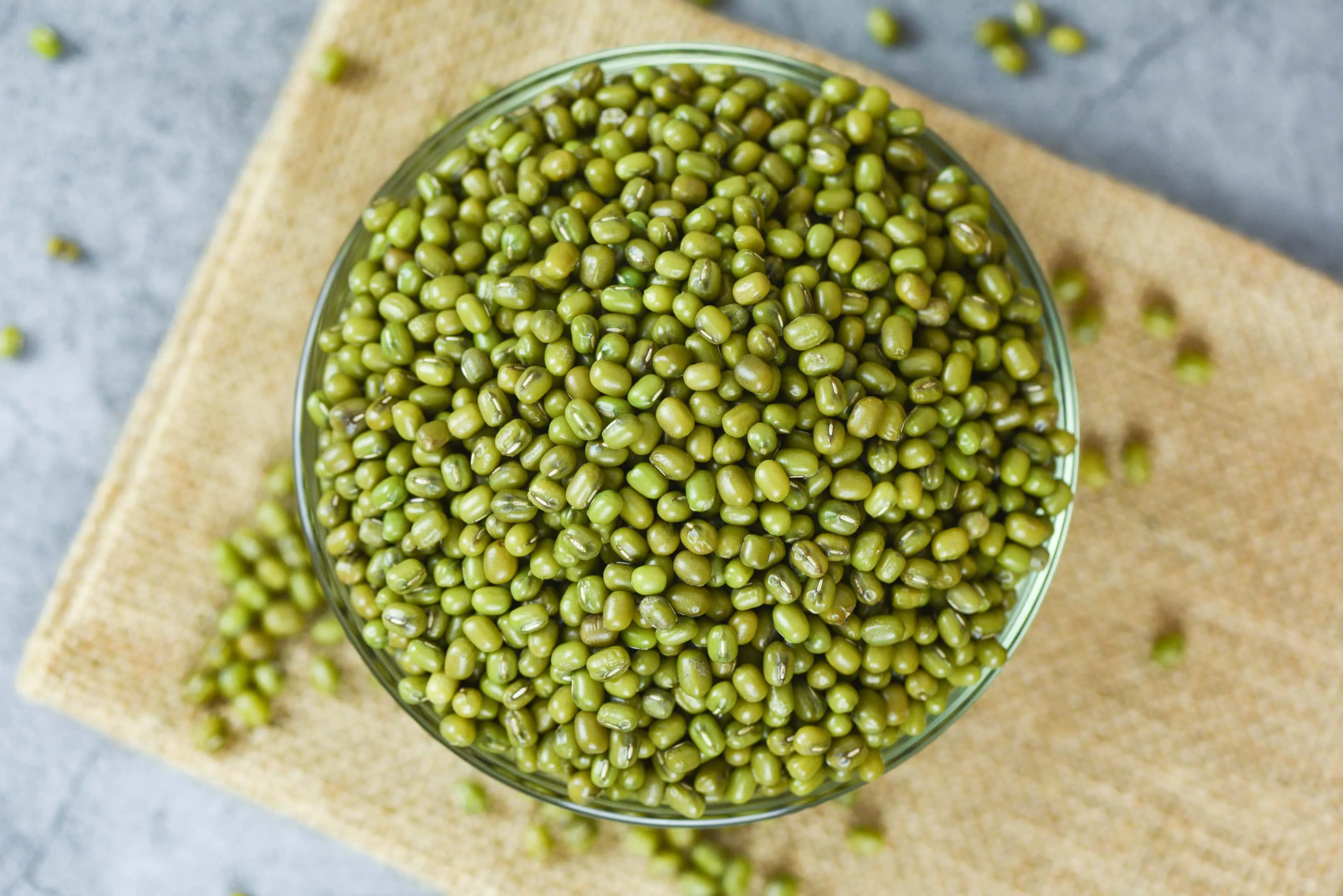 Green grams are a species of legumes, which is a part of the Fabaceae family. Unlike other legumes that flower, green grams keep flowering as long as the soil has enough water. There are at least 30 pods for each green gram plant, and that means it could contain over 400 seeds just for a single mung bean crop.
What makes green grams a favorite ingredient for many cultural dishes all over Asia is that it's very versatile. You can eat it raw by infusing it with your salad. If you're not a fan of raw foods, you can try boiling them. In more or less than 30 minutes, you'll have a nice and hearty stew.
6 reasons why you need to eat green grams
1. Boosts heart health
Eating mung beans can be a great way to optimize heart health. Many studies confirm the benefits of green grams when it comes to reducing the risk for cardiovascular illnesses. Research discovered that eating fermented green grams is effective when lowering triglyceride and cholesterol levels.
Triglyceride is a type of lipid that gives the body energy, but when combined with high cholesterol levels, it can increase your risk for heart attacks and stroke.
2. Can help with weight management
If you're looking for vegetables that will help you manage your weight, green grams is the one for you. This vegetable boasts 15 grams of fiber per serving. Foods rich in fiber like green grams will make you feel full for a longer period; they prevent unnecessary eating habits and will help you reach your ideal weight.
3. Is high in anti-inflammatory properties
Another benefit of mung beans is that they are rich in antioxidants such as phenolic acids that prevent damage to cells, and flavonoids to detoxify your body. These compounds contain anti-inflammatory properties that fend off damage from scavengers in the body. Free radicals cause inflammation and cell tissue damage, leading to heart problems, cancer, and macular degeneration.
4. Supports gut health
What's good about green grams is that it's ideal for individuals with sensitive stomachs. Since this food contains insoluble fiber, it promotes the healthy formation of body wastes.
It also provides an easy passage of byproducts through the gut. Mung beans also carry pectin, a kind of soluble fiber that may help with the speed of your bowel movement and overall metabolic health.
Another nutrient present in mung beans that supports gut health is resistant starch. It feeds the healthy bacteria in your guts which are beneficial for the cells in your colon.
5. Improves cognitive function
When the brain is not getting adequate oxygen and blood supply, it could result in health concerns such as shortness of breath, coughing, and brain injury. It could also cause mental disturbances such as depression.
Eating mung beans can help you avoid inflammation and prevent this from happening by improving primary cognitive functions such as thinking, concentration, and memory retention.
6. Recommended for pregnant women
If you're expecting a bun in the oven, you might want to stuff yourself with mung beans. This vegetable is abundant in nutrients that support female health.
It includes folate, a type of Vitamin B9 that promotes healthy development for the tiny human in your womb. It will also protect your unborn from developing congenital disabilities in the brain and spinal cord.
Green grams also consist of thiamine, which converts carbs into energy, helps brain growth, and alleviates morning sickness.
Is it safe for infants?
Mung beans are a great way to start introducing veggies to your baby's diet. They are digestive-friendly, easy to chew on, and delicious. When cooked properly, the texture of the beans will not hurt your infant's sensitive gums.
You'll know when your child is ready for green grams when they can take solid foods. You can introduce this vegetable by slowly incorporating it into some rice or cereals.
Benefits of green grams for babies
1. Good for digestion
What makes green grams ideal for baby food is that it's good for their digestive system. This is the reason why mung beans are an extremely popular delicacy in India. They boil yellow mung beans with lentils and rice called khichdi. Many considered this dish to be one of the best ways to start your baby with solid foods.
Conforming to the American Academy of Pediatrics, you can start introducing solids to your child when they reach between 4 to 6 months of age. However, keep an eye on possible allergic reactions such as rashes, vomiting, or breathing difficulties.
2. Promotes liver protection
Among the health benefits of mung bean for babies in this list includes the liver-protective properties that this vegetable possesses. There has been a specific study regarding the potential of green grams for liver protection and healing. It found out that fermented mung beans showed positive effects in alleviating liver damage.
3. Enhances the immune system
Keep your child's immune system in good shape by including mung beans in their diet! Whatever you feed your baby during the first few months of their life is vital in building up their immunity against bacteria and viruses that may affect their development. Lucky for you, green grams contain vitamins and minerals that stimulate an infant's immune system.
Note here that babies still don't have a matured immune system as strong as adults. That's why it's crucial to give your babies a good head start by providing delicious and healthy foods for them to eat.
4. Rich in protein
Protein is a substance that is present in all living organisms. They are made up of amino acids — organic compounds to help our body break down food. Proteins are one of the essential building blocks in life. Some vegetables like mung beans contain protein.
If your child can't digest or eat lean meats or fish yet, moong dal for babies can be an excellent replacement for protein supply.
5. Contains antioxidants
Do you know that newborns have an antioxidant deficiency? They are more vulnerable to oxidative stress brought by free radicals. Even though these compounds bring good to the body, they become harmful when there are too many. It can cause respiratory distress and birth asphyxia, where the body is not getting oxygen and nutrients to function properly.
That's why it's essential to give babies foods rich in phytonutrients like green grams to protect their bodies from free radical damages. Several clinical research has proven that plant-based diets produce excellent results when reducing inflammation.
6. Prevents cancer and illnesses
When you combine all the benefits of green grams above, you'll notice that they all lead to the prevention of illnesses and certain types of cancer. The presence of the phytonutrients in mung beans will fight off any cancer cells that might develop and prevent any tumor growth in your babies' bodies.
If your family is linked with diabetes, it could also be passed to your child as this disease is hereditary. However, don't worry because mung beans can help by providing glucose tolerance and balancing out cholesterol levels.
Nutritional value of mung beans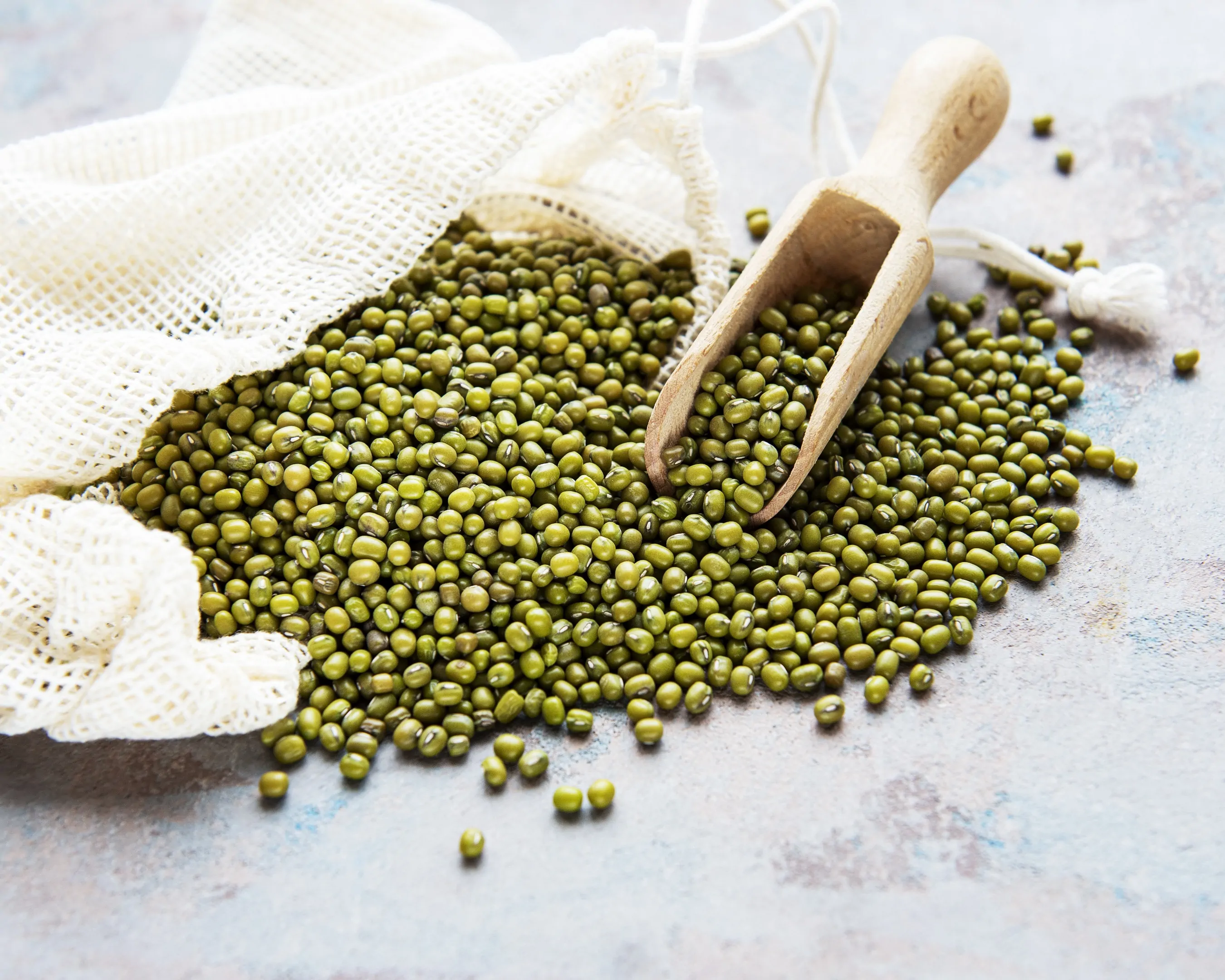 For a generous amount of mung beans at 100 grams of serving, you will get 24 grams of protein that can help build amino acids to regenerate and make new cells for your body. Protein will make sure that your cells are in good shape and can do their tasks properly.
This legume also contains 64 grams of carbs, giving you the energy to get through the day. Carbohydrates are a form of macronutrient for your daily body needs.
A hundred grams of mung beans will give you 16 grams of fiber for enhanced bowel movements. It will also provide 347 calories which may seem a lot, but it's not. This vegetable is also essentially low in sugar, with only 6.6 grams for a single serving. So, if you have diabetes, then this vegetable is safe for you!
Are there any side effects?
Just like with other food, too much consumption is not suitable for one's health. Even though there are several benefits of green gram, eating it in high amounts may result in nausea, upset stomach, and vomiting.
It's vital to eat green grams and other foods in moderation to prevent this from happening. Talk to your primary health care provider about building a healthy dietary pattern where you can effectively include your green grams.
Green grams are also vulnerable to bacterial growth. That's why it's vital to wash your beans thoroughly and cook them properly to kill any harmful pathogens that your legume may carry. A study found that It would be best if pregnant women avoid eating raw green grams as they may have an infection that could endanger the mother and the baby's development.
Conclusion
It is important to know how to pick a good mung bean by looking for brightly colored green grams with no signs of damage on the skin. You could also soak them overnight to make them easier to digest.
Green gram is a powerhouse for vitamins, minerals, and beneficial enzymes that could help you prevent certain diseases. In this article, we cited some benefits of green gram to encourage you to commit to a more healthy lifestyle. With exercises, a regular sleeping schedule, and a balanced diet, you can maximize the healing properties of mung beans!