Not many people are familiar with Waakye leaves. Aside from the fact that it is more popular in African countries, it is often called sorghum or sorghum leaves, the English equivalent of the plant name. It is packed with vitamins and minerals that build up the body's immune system and fight diseases, bacteria, and viruses that enter the cells.
It is dubbed as a superfood due to its positive effects when consumed at a proper amount.
Jump to:
What are Waakye leaves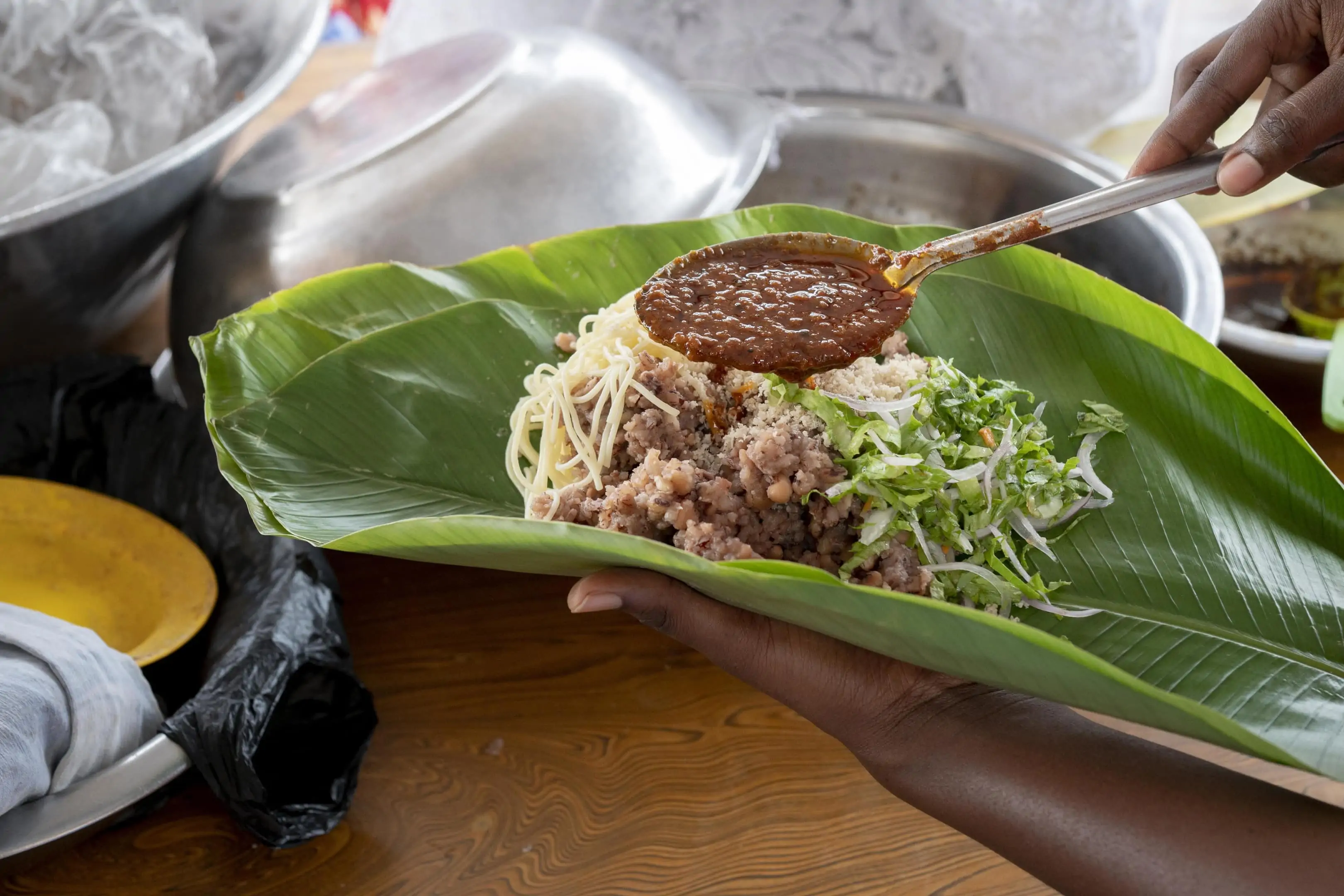 Waakye leaves, mostly known as sorghum, are a type of grass native to Africa. Through the years, this plant has been used in different dishes — mainly in Ghana. The Waakye, a popular breakfast food, is named after this plant, which is a combination of rice and beans cooked alongside dried sorghum leaves or stalks.
Waakye leaves are full of various nutrients, vitamins, and minerals. Its plant extracts are used in many herbal medicines due to the number of Waakye health benefits. Many people refer to Waakye leaves as a superfood from Ghana because it provides the essential antioxidants a body needs to fight and protect it from various diseases.
It is also an excellent option for plant-based diets because it has all of the necessary nutrients to produce energy and build up the immune system at the same time.
How to prepare Waakye
The most popular dish made out of Waakye leaves is the Waakye. In addition to that, it is also a staple in Ghana's everyday meals, and it is impossible not to notice it when wandering around the country.
They mainly eat it as a breakfast food, and its main ingredients are rice and beans. The sorghum leaves are then incorporated into the mixture, giving it its signature red color.
The dish requires simple items that you can easily find at home. Sometimes, it also includes a myriad of toppings. Each seller in Ghana boasts different kinds of recipes incorporated with their secret ingredients. To make one at home, these are the ingredients that you should prepare:
Ingredients
Dried black-eyed beans/organic black-eyed beans/red kidney beans (400g)
Brown rice (400g)
Coconut oil (1 tbs)
Onion finely diced (1 pc)
Dried sorghum leaves (3 to 4 pcs)
Chili, thinly sliced (1 pc)
Salt
Water (1 liter)
For garnish (optional)
Soft-boiled eggs (2 pcs)
Chives, finely sliced
Green chili, finely sliced (1 pc)
Preparation
Rinse the beans thoroughly. Soak it with water in a large saucepan, and then bring it to a boil.
Lower the heat and allow it to simmer for a minimum of one hour or until the beans soften. Ensure that the beans are tender enough to be squeezed easily using the fingers before removing them from the heat. Drain the water and set it aside.
Wash the rice properly, checking to make sure that there are no rocks in the rice before putting it aside.
Using a large saucepan, sauté the onion with oil over medium heat. Wait for at least three minutes or until the onion turns golden brown.
Wash the dried sorghum leaves quickly. Do not soak the leaves for too long because the color will start to run out. Cut them into 3 to 4 inches pieces.
Add all ingredients — the leaves, beans, rice, salt, and chili — into the sautéed onions. Mix all together gently. Add a liter of water or stock into the mixture and cover it for at least 15 minutes.
Remove the pan from the heat. Allow the rice to absorb the water by leaving it covered for 15 minutes.
Place it on a plate or bowl. Garnish the dish with eggs, chives, and chili.
Waakye is best served with hot sauce. You can also pair it with meat or stews. Everyone can enjoy the Waakye leaves health benefits in any way they like and prefer.
Health benefits of Waakye leaves
The health benefits of Waakye leaves include the following.
1. Improves digestive health
Waakye leaves and their grains are rich in fiber content needed for excellent digestive health. According to Everyday Health, fiber decreases the rates of constipation as well as diverticula and hemorrhoids in the colon. It also has a significant role when it comes to regulating bowel movement.
Fiber contributes to the development of firm stool as well. It retains water in the colon, so stool transit will be as smooth as it could get. It is also responsible for keeping the cells in the colon healthy. However, a person shouldn't consume too much fiber than the recommended intake as it can result in bloating and unwanted gas.
2. Fights cancer development
Waakye leaves have high contents of antioxidants which protect cells from damage and development of various diseases. Antioxidants are well-known to defend the body from the damage of free radicals that attack healthy cells by turning them into tumors and changing their DNA structure.
Aside from that, antioxidants are also responsible for fighting a wide range of diseases such as diabetes and heart conditions. The human body produces small amounts of antioxidants to act as natural protection, but this is not enough to cover every cell structure. To avoid cancer risk, it's best to consume foods rich in antioxidants, which Waakye has plenty of.
3. Regulates blood sugar level
There is no existing cure for diabetes, but there are various ways to manage and regulate a person's blood sugar level. Waakye leaves are among these known solutions, and it has been an active ingredient that helps in reducing the symptoms and complications related with diabetes.
4. Gluten allergy solution
Gluten allergy is one of the most challenging allergies to deal with as it is in many foods most people consume daily. It's always best to eliminate gluten from a diet to reduce various allergic reactions, which means food limitations from favorite dishes and desserts. The good news is that Waakye leaves are proven to have a positive effect on overcoming gluten allergies.
5. Promotes bone health
Magnesium is also a component of Waakye leaves. Besides calcium, this mineral plays a significant role in the overall health of our bones. It helps maintain the bone mass and its strength, so bone damage and any diseases that concern the bones will be prevented.
A high magnesium intake has been proven to improve bone density, which reduces the risk of developing osteoporosis and fractures for older people. In addition, magnesium also helps in many human body processes like regulating nerve function and muscles, blood pressure, blood sugar levels, and proteins and DNA.
6. Optimizes blood circulation
One of the main minerals when talking about blood circulation is iron. Waakye leaves are rich in mineral content that helps in optimizing the production of red blood cells.
Iron is the primary ingredient the body uses to produce hemoglobin — the protein responsible for the transit of oxygenated blood to every part of the body. Iron has a direct role in producing hormones too.
Besides iron, there is a significant amount of other minerals found in Waakye leaves like zinc, copper, and magnesium.
7. Energy booster
Among the health benefits of Waakye leaves is their niacin content. Also known as vitamin B3, niacin is an essential nutrient to make the body structures function correctly. It is also a dominant component of the two enzymes (NAD and NADP) which are responsible for cellular metabolism.
In supplements, niacin helps in reducing cholesterol levels. It also boosts brain function and eases arthritis aside from increasing the body's energy.
8. Good for weight loss
Waakye leaves are considered to be heavy foods. The plant's fiber content helps make an individual full right after consumption, thus preventing the person from excessive eating. Waakye is a popular breakfast or lunch meal in Ghana, and it could include this in an everyday diet plan.
9. Excellent detoxification
Detoxification is a significant factor when it comes to self-care. The human body goes through a lot every day, and it's almost impossible not to have at least one type of toxin in the cells. Some of the toxins that can damage enzymes to make each organ function properly are:
Pollutants
Synthetic material
Chemicals
Heavy metals
Processed food
Waakye leaves are a natural solution to release the toxins inside the body since it comes with plenty of nutrients.
10. Promotes healthy skin
Healthy skin is included in the benefits of Waakye leaves. Antioxidants are also responsible for preventing the premature aging of the cells. It slows down the aging process, so the skin will be as young-looking as it could be. It also has natural niacinamide, which builds up the proteins in the skin to support the barrier.
Niacinamide is a popular ingredient in most skincare products nowadays due to its miracle effects on the skin. This nutrient increases the resiliency of the skin cells and improves the texture of the outer layer to reduce the visibility of the pores. It balances the production of oil glands so the skin will be less prone to acne and other skin problems.
Both the antioxidants and vitamins in Waakye can help make the skin look healthier and better.
11. Reduces the risks of hypertension
Hypertension, known as high blood pressure, is a common health problem for adults. Most of the time, the cause of this condition is unknown. Doctors suggest that this is a symptom of other underlying diseases the patient might or might not know of. Failure to manage hypertension can lead to even more severe conditions like heart problems, stroke, aneurysm, and heart attack.
Waakye is rich in several vitamins and minerals that help keep the body, heart, blood pressure, and other organs healthy. This natural superfood is a great option to add to your daily diet, especially with its health benefits.
12. Contains anti-inflammatory properties
Inflammation is the body's response when it experiences an infection or injury. It sends signals and triggers to the immune system to begin the healing process of the affected body part. However, inflammation has its risks, especially if it is chronic because it might have additional problems.
Chronic inflammation can result in the immune system targeting healthy tissues and organs. It also heightens the risks of diabetes, cancer, arthritis, and heart attack. There are scientific studies that show high content of anti-inflammatory properties in sorghum leaves. It reduces the chances of tissue inflammation while maintaining a healthy diet.
13. Natural food color
Local citizens of Ghana use Waakye leaves as a natural food coloring as well. This is why Ghanaian rice and beans have a district red color. You can also use it in other dishes and recipes.
14. Builds up the immune system
Waakye leaves are a perfect ingredient choice to improve the body's immune system. The combination of all of the vitamins and minerals allows the body to function correctly and get the essential nutrients it needs. Eating dishes with Waakye leaves, especially during the recovery stage, can accelerate the healing process.
Conclusion
Ghana's superfood has proven itself worthy of its name. The nutrients packed within this plant are enough to power up a person's daily routine. Waakye leaves are slowly becoming more known outside of their home origin, and many people are learning all of the benefits this fantastic plant can bring.