A good amount of people believe a glass of red wine or beer might help with digestion. While it is true that sometimes the right liquor might take your food to the next level, does alcohol help digestion? In this article, we will explore the various effects of alcohol on your body, specifically on your stomach.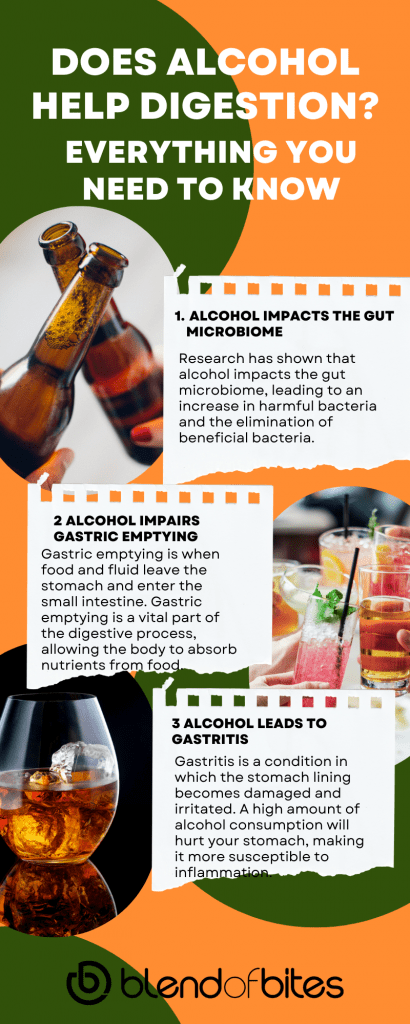 Jump to:
How does the digestive system work?
The digestive system is an organ system that breaks down food and turns it into energy. The digestive system starts with the mouth, and then the esophagus transfers the food to the stomach, where it mixes with acid and enzymes. Once the food has been broken down, it travels through the small intestine, absorbing water and nutrients into the bloodstream. The large intestine then extracts any leftover water from the undigested fiber before finally excreting waste by defecation.
On the other hand, digestive juices are produced by the digestive organs to help break down food. Enzymes are also secreted by the digestive organs to aid in the digestion of food.
Poor digestion, however, can be caused by several factors such as food intolerance, gut bacteria imbalance, lack of hydrochloric acid in the stomach or intestines, or a faulty gallbladder. As we explore below, alcohol might lead to some of these common disorders, with symptoms that include bloating, constipation, diarrhea, and abdominal pain.
Does alcohol help digestion?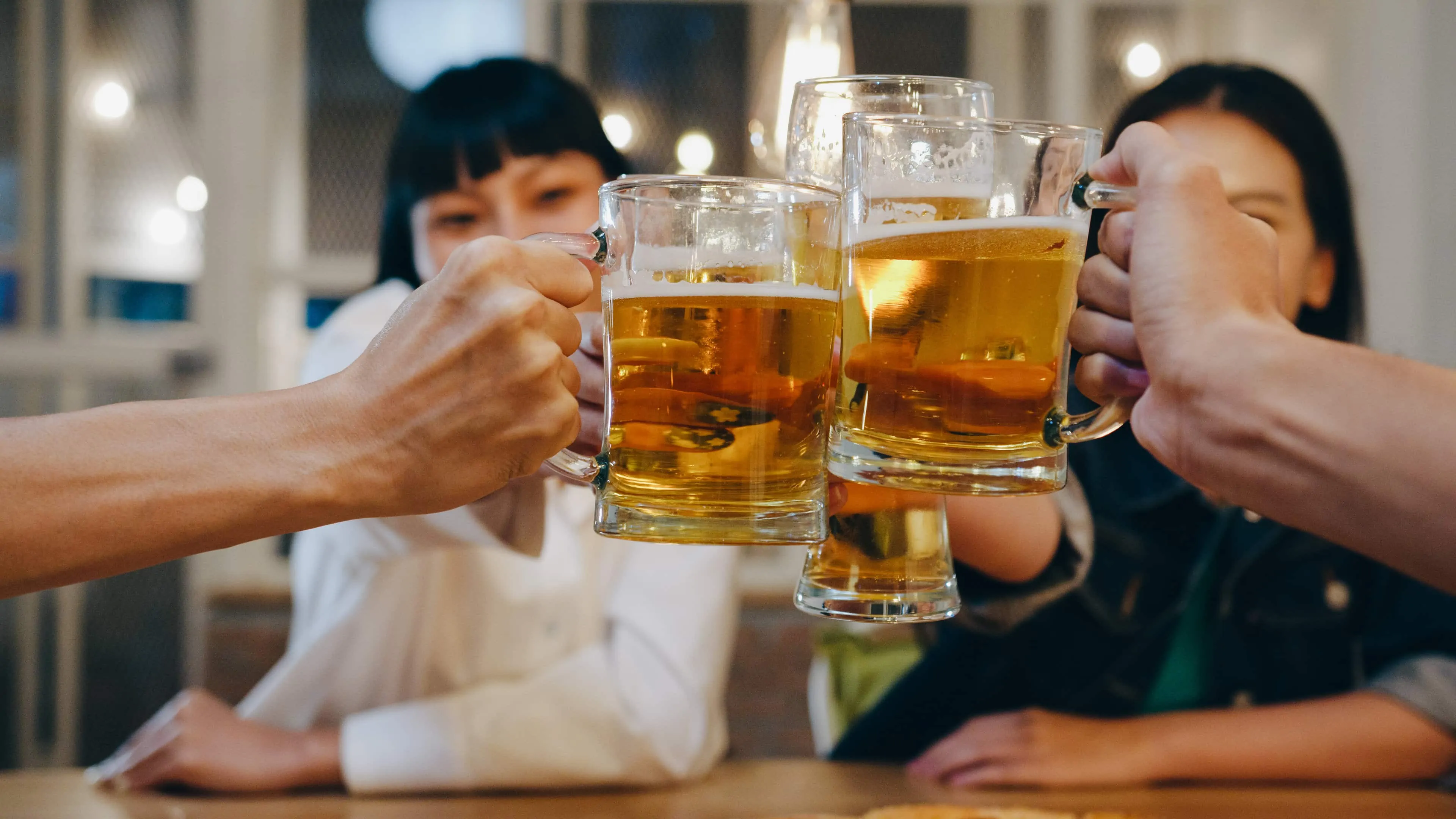 Does alcohol help digest food? Even a very moderate amount of alcohol might inhibit the digestion of food and can even lead to digestive problems. Let's take a look at some of the potential digestive issues that alcohol can cause.
1. Alcohol impacts the gut microbiome
Research has shown that alcohol impacts the gut microbiome, leading to an increase in harmful bacteria and the elimination of beneficial bacteria. This can lead to various problems, including gastrointestinal issues and immune system dysfunction. So if you're concerned about your digestive system, it's important to be aware of the impact that alcohol can have on the gut microbiome. While a glass or two of red wine might seem innocent, limiting your alcohol intake or avoiding alcohol altogether is an excellent way to help keep your gut healthy.
2. Alcohol impairs gastric emptying
Gastric emptying is when food and fluid leave the stomach and enter the small intestine. Gastric emptying is a vital part of the digestive process, allowing the body to absorb nutrients from food. When gastric emptying is impaired, it can lead to several problems, including indigestion, nausea, and vomiting.
Alcohol, however, has the devastating effect of impairing your gastric mobility, depending on the level of ethanol it contains. A study found that while moderate amounts of beer and wine might speed up the process, alcoholic beverages containing more than 15 percent ethanol can impair gastric emptying.
3. Alcohol leads to gastritis
Gastritis is a condition in which the stomach lining becomes damaged and irritated. A high amount of alcohol consumption will hurt your stomach, making it more susceptible to inflammation. Medical conditions may occur, including stomach pain, nausea, vomiting, and bleeding. Without proper treatment, gastritis can develop into more significant issues like ulcers and stomach cancer.
4. Alcohol increases the levels of stomach acid
Stomach acid is a digestive juice produced in the stomach, containing three main ingredients. Hydrochloric acid lowers the stomach's pH, which helps break down food and kill bacteria. Potassium and sodium chloride helps to regulate the amount of acid produced in the stomach.
Stomach acid is essential for digesting food and for preventing potential infection. This acidic environment helps to break down food, kill harmful bacteria, and provide the body with the nutrients it needs.
While stomach acid is essential, too much stomach acid can lead to heartburn, indigestion, and ulcers. The production of this acid is stimulated by alcohol consumption, increasing stomach acid levels.
5. Alcohol reduces bile production
Bile is a yellowish-green fluid that helps digest fats and absorbs vitamins from our food. A reduction in bile production can lead to indigestion, malnutrition, and even liver damage.
Alcohol consumption decreases bile production in the liver. While the exact mechanisms by which alcohol reduces bile production are not fully understood, it is thought to be due to alcohol's interference with the body's metabolism. Alcohol can also increase the risk of gallstones, and hardened deposits of bile that can block the gallbladder and other ducts.
How to have a healthy digestive system
When it comes to improving your digestive system, you have many options. One way is by eating a healthy diet of fiber-rich foods like fruits, vegetables, whole grains, and legumes. Another way to improve your digestion is by reducing stress. You can also improve your digestion by taking probiotics. Probiotics are bacteria that help digest food. They live in the intestines and produce vitamins, antioxidants, and enzymes that help you absorb nutrients from foods.
Conclusion
The short answer is that alcohol does not help digestion. While it may temporarily relieve some symptoms, alcohol actually slows down the digestive process and can lead to more severe problems. If you are experiencing indigestion, it is best to avoid alcohol and other digestive irritants such as caffeine, spicy food, and tobacco.