Our height is a measurable trait influenced by diverse genes and environmental variables. The inheritance of human height has been studied extensively for years. One of the variables that affect height is the food we eat.
The food we consume has a significant influence on several body systems. Nutrition plays a vital role in weight and height development. In addition, it influences both appearance and overall health. Even though genes are vital, food is crucial. You should learn everything you can about the foods you eat. While you might be one of those who is on a mission to get taller, you might just be eating foods that make you shorter.
Jump to: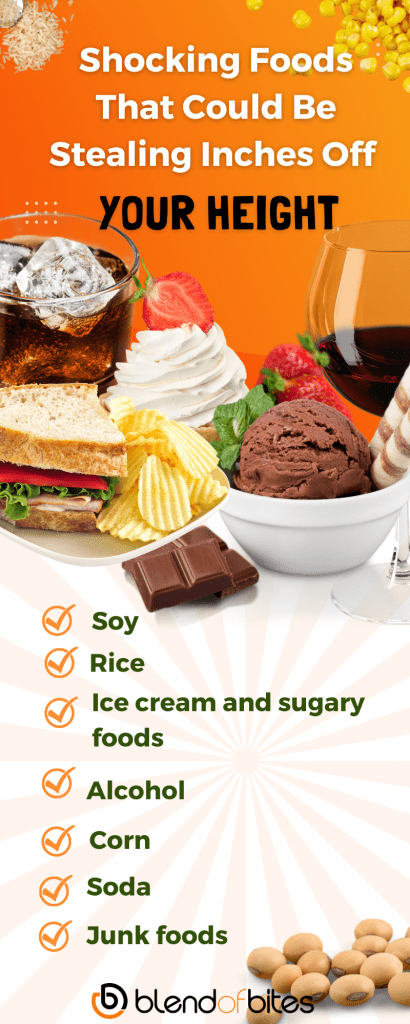 What foods make you shorter?
Ingesting certain foods can stunt a person's growth and shorten them. According to research, heredity, hormones, and sex primarily influence height. However, some foods can slow your growth, as they contain little or no nutrients needed for the body to enhance growth. Including necessary nutrients in one's diet can help the body grow and develop properly. So, what are foods that make you shorter?
1. Soy
It has been discovered in a study that children that drink non-cow milk, such as rice, almond, and soymilk, are somewhat shorter than children who drink cow's milk. This is because soy consumption hinders the body from processing calcium, which negatively impacts growth, particularly in youngsters. Consequently, soy causes stunted growth. This stunted growth effect is caused by phytic acid, which is found in soy products such as tofu, yogurt, and soymilk. It is unfermented soy with phytic acids, such as in soymilk, yogurt, and tofu, inhibiting calcium absorption. Because calcium is required for bone formation, your growth might be hampered if you consume too much unfermented soy.
2. Rice
While it is generally healthy, there is a risk associated with consuming rice in excess. Too much rice can contribute to stunted growth. However, excess consumption without complimenting other nutritional foods can result in ingesting too many carbohydrates, depriving you of other nutritional components like protein and vitamins. This can make a person grow shorter, especially children. On the other hand, people who eat a balanced diet rich in both carbs and protein, are more likely to grow to their full adult height.
3. Junk foods
We all know that a junk-food-heavy diet may cause a slew of issues for people, including diabetes and obesity; however, junk food can also hinder growth. Junk food is deficient in the nutrients that people require to reach their full potential as regards their height. As a result, junk food such as potato chips should only make up a minor percentage of a person's diet. When people consume excessive food such as French fries, their body growth is slowed, resulting in higher body mass but less bone growth. As a result, the individual will grow overweight and short.
4. Soda
Soda is yet another food that makes you shorter in height. Soda has an abundance of phosphorus. Furthermore, according to a study, phosphorus impedes bone formation and density, impacting body growth. People who consume a lot of soda consume an exorbitant amount of calories. As a side effect, their development and growth are hampered. A high intake of phosphorus, which is contained in soda, results in poorer bone density. Furthermore, people who drink empty calories, especially those present in soda, are less likely to ingest the nutrients they require to grow correctly. Therefore, soda intake, like junk foods, should be controlled.
5. Corn
While corn does not explicitly make you shorter all by itself, it can produce aflatoxins, which appear to hinder growth in the very young. Aflatoxins form when corn is inappropriately preserved in warm, humid environments. These molds can also be found on peanuts, wheat, chilies, and tree nuts that have been improperly preserved. Therefore, make sure your food is properly stored to avoid the growth of harmful molds.
6. Ice cream and sugary foods
We are all aware that sugar is harmful to our health. One of the disadvantages of consuming a lot of ice cream, pastries, and sweets is less bone formation, which leads to shorter stature. However, research has shown that children who consume a high-sugar diet tend to be shorter than children who consume a low-sugar diet. Therefore, you should be cautious with your kids. While a random ice cream cone isn't going to make a person shorter, too many sweets can have an adverse effect.
7. Alcohol
Some studies have revealed that alcohol intake might hinder growth; thus it is critical to keep developing children away from alcohol. Furthermore, you should ensure that your children do not come into contact with alcohol since it has the same impact on them and at a higher rate. Intake of alcohol also affects adults who consume alcohol during their growth period as it slows their growth, therefore making them shorter.
Other factors that can influence a person's height
Nutrition is not the only factor that influences a person's height. Other factors exist; some are under your control, while others are not. An essential factor determining a person's height is their genetic makeup, often known as DNA. This indicates that short individuals are likely to have offspring that battle with height. Typically, most people develop height until the age of 18. Here are other factors that can influence a person's height:
1. DNA
The primary determinant defining a person's height is DNA. Scientists have discovered over 70 different gene variations that influence height. Several of these genes influence growth plates, while others influence growth hormone synthesis. Normal height ranges vary amongst ethnic groups, with DNA serving as the primary factor. Some genetic disorders, such as Marfan syndrome and Down's syndrome, can also affect an adult's height.
2. Hormones
The body produces diverse kinds of hormones to guide the body toward growth. Growth hormones are the most critical hormones for growth and are produced by the pituitary gland. However, some medical conditions may reduce the number of growth hormones generated by the body, affecting height. Youngsters with a rare genetic disorder known as congenital growth hormone deficiency, for example, will develop considerably slower than other children. In addition, thyroid hormones produced by the thyroid gland affect growth and development, including height.
3. Sleep
While you are asleep, your pituitary gland expels growth hormones. Growth hormones are anabolic hormones that boost protein synthesis, which is necessary for muscle, connective tissue, and bone growth. Your bone growth is influenced by both the quality and amount of your sleep.
4. Age and gender
Males are often taller than females. Adolescent boys typically undergo a big growth spurt during the start of puberty, around two years later than girls, but they may continue to develop for a more extended period. Females often have a growth spurt that subsides following the beginning of menstruation, which happens at about 12.5 years. The typical adult man in the United States is 5.7 feet, or 175.2 cm, tall, and the average female is 5.3 feet, or 161.2 cm, tall.
5. Exercise
Exercise has a direct impact on your physical attributes. Consequently, those who work out consistently have more control over their physique. For example, exercises involving strong muscles and bone stretching can influence a person's height. People who do not work out will not grow as tall if all other circumstances remain constant.
Ways to remedy stunted growth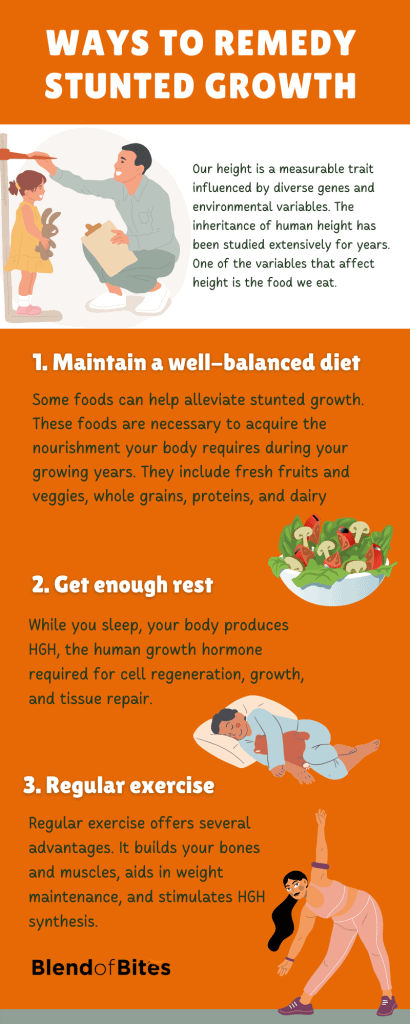 1. Maintain a well-balanced diet
Some foods can help alleviate stunted growth. These foods are necessary to acquire the nourishment your body requires during your growing years. They include fresh fruits and veggies, whole grains, proteins, and dairy. You should increase your calcium intake if an underlying medical issue or advanced age compromises your bone density and makes you shorter. In addition, foods that contain significant amounts of vitamin D can help improve the health of the bones. Vitamin D is found in egg yolks, fish, and fortified milk. If your diet does not contain a large amount of vitamin D, consult your physician about taking supplements to complete your required daily amount.
2. Get enough rest
Short-term sleep deprivation will not significantly alter your height, but if you consistently get below the needed hours of rest during adolescence, it can cause growth difficulties. While you sleep, your body produces HGH, the human growth hormone required for cell regeneration, growth, and tissue repair. When you sleep less, the body cannot synthesize the hormone that it needs to enable development. Better sleep can even improve HGH production, so take advantage of that period of rest.
3. Regular exercise
Regular exercise offers several advantages. It builds your bones and muscles, aids in weight maintenance, and stimulates HGH synthesis. You should try to concentrate on strength-enhancing workouts like push-ups and sit-ups, aerobic sports such as yoga, and flexibility exercises like jumping rope or bike riding.
Conclusion
While other factors influence the height of an individual, diet is an essential aspect of the human body's development. As a result, you must keep a close eye on your diet now you have figured out what foods make you shorter in height. You should focus on meals that will help you grow taller and ensure that you are maintaining a balanced diet.