Nowadays, health is a valuable asset. Individuals go to great lengths and make significant efforts to ensure that their bodies are in the best condition possible. Many people turn to nutritious foods that are not necessarily mainstream to improve their health and well-being.
Among these foods are Kasuri Methi, or dried fenugreek leaves. However, what exactly is this food? What are its origins? What are Kasuri Methi's benefits? Read on!
Jump to:
What is Kasuri Methi?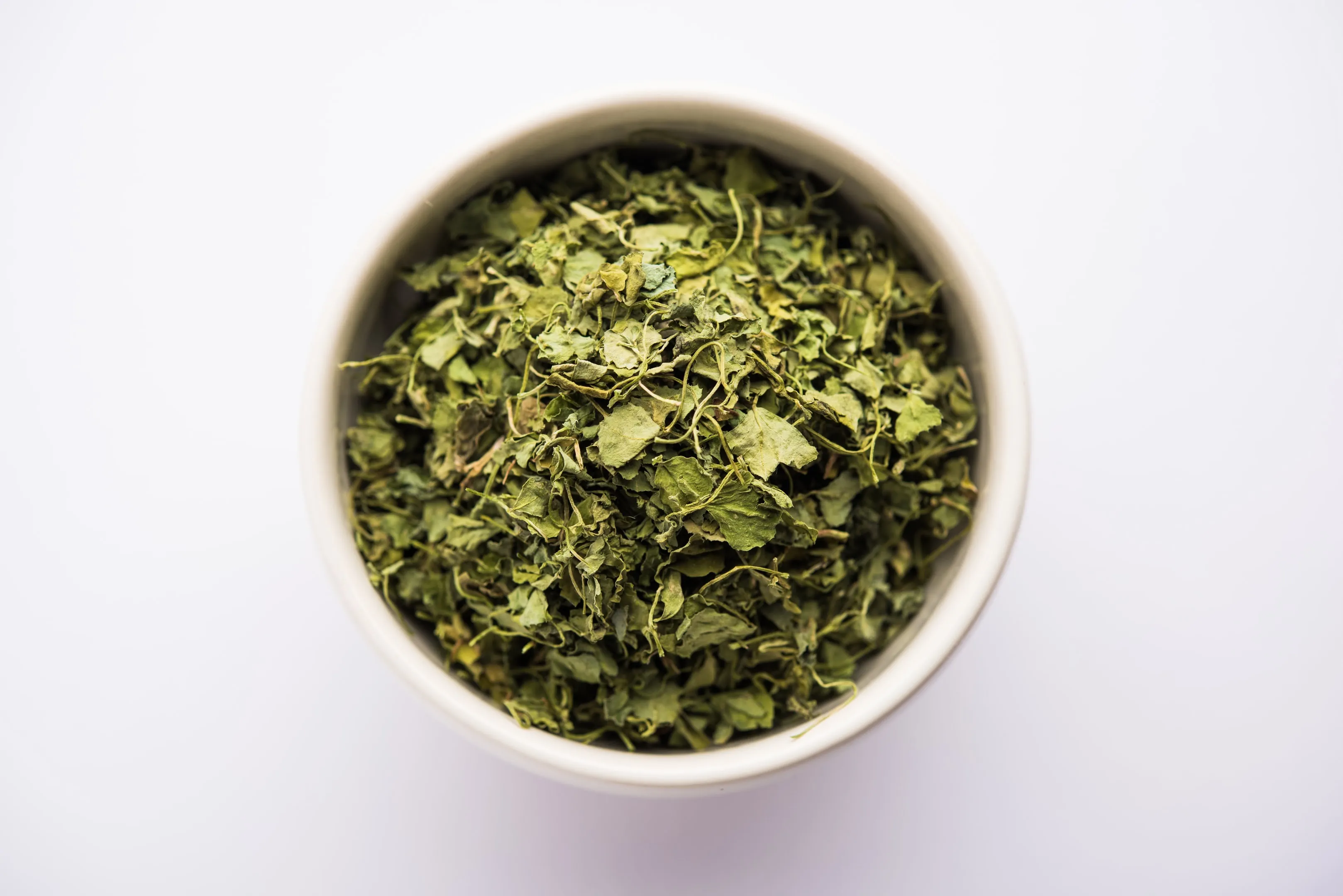 Kasuri Methi refers to the leaves of a plant called Trigonella foenum-graecum. Users of this plant leave out the leaves to dry in the sun, and this produces Kasuri Methi.
Trigonella foenum-graecum is also known as fenugreek. The word "methi" itself refers to the seeds of the fenugreek plant.
Dried fenugreek leaves are integral to achieving the unique taste of Indian cuisine. It is well-known for its distinct flavor that many liken to celery and fennel, with a slightly bitter bite. It is also famous for its one-of-a-kind aroma that some people compare to burnt sugar.
The plant is generally believed to have originated from southern Europe and the Mediterranean region. However, fenugreek is most commonly cultivated in parts of Europe and Asia, the Indian subcontinent, and northern Africa.
What are the uses of Kasuri Methi?
Kasuri Methi has a long, drawn-out history both in the Indian subcontinent and outside of it. Ancient Indian civilizations have used the fenugreek plant itself as a spice, food, and even dye!
Elsewhere in the world, the fenugreek plant has also been used for a variety of purposes. Its earliest recorded usage was as an embalming agent in ancient Egypt.
Fenugreek also has a history of being used medicinally. In particular, people believed that the herb aided in the digestion process and promoted breast milk production in lactating women.
Nowadays, the fenugreek plant, specifically its dried leaves, is a popular and integral ingredient in Indian food. People often add this herb as a condiment to salads, curries, and other dishes.
The health benefits of Kasuri Methi
Kasuri methi has long been believed to boost one's health and well-being. Buckle up as we round up the top benefits that you can derive from this excellent herb.
1. Source of vitamins
First on our list of Kasuri Methi health benefits is its abundance of essential vitamins. Kasuri Methi is an excellent source of vitamins C and B6, both associated with good health.
Ascorbic acid (vitamin C) is essential to the body tissues' growth, regeneration, and fortification. Aside from these benefits, vitamin C is also vital to strengthening one's immunity, protecting against heart diseases, eye disease, and even skin wrinkling.
However, to fully reap and feel the benefits of this vitamin, one has to consume quite a lot of vitamin C-rich foods, such as Kasuri Methi. Thankfully, our humble spice is rich in this vitamin, so it is naturally a great addition to one's diet.
On the other hand, vitamin B6 is also a vitamin that is essential to good health. Vitamin B6 is critical to the production of energy in the body. Without it, many of our bodily functions are severely compromised.
Aside from this, vitamin B6 is also involved in the production of hemoglobin, which is the compound in human blood that transports oxygen to the different parts of the body. Vitamin B6 also aids in proper brain development and function. In particular, it helps in the production of serotonin (the happiness hormone), norepinephrine (the stress regulation hormone), and melatonin (the sleep hormone).
Kasuri methi has much vitamin B6, making it an excellent way to not only spice up a bland meal but also boost your health.
2. Source of minerals
Aside from being a treasure trove of essential vitamins, dried Kasuri Methi leaves benefits also include an abundance of minerals. In particular, it contains a copious amount of calcium, zinc, potassium, iron, sodium, and magnesium, which are crucial to bodily functions and one's overall health and well-being.
Calcium
Calcium lends itself to the fortification of one's skeletal system and is an essential factor for good bone health. Aside from this, calcium is also a powerful mineral against cancer, diabetes, and high blood pressure. A deficiency in calcium can lead to shortness in younger kids and an increased risk of osteoporosis in older adults.
It's essential for a person to get the daily requirement of calcium, which can be done by adding calcium-rich foods such as Kasuri Methi to one's diet.
Zinc
Another mineral that can be found in Kasuri Methi is zinc, which is essential to metabolism and immunity. It is also known for reducing the risk of acquiring age related-diseases, accelerating wound healing, treating acne, and reducing inflammation.
Potassium
Potassium is hailed as one of the essential minerals to the body. Luckily, Kasuri methi is an excellent source of this mineral.
Potassium aids in a wide range of bodily functions such as blood pressure, blood pressure, water balance, muscle contractions, nerve impulses, digestion, heart rhythm, and acidity and alkalinity. Aside from this, it has also been linked to the prevention of numerous diseases such as stroke, osteoporosis, and kidney stones.
Iron
Iron is a mineral that is most commonly found in human blood. Similar to vitamin B6, iron is also essential to the production of hemoglobin. Hemoglobin is necessary for the transportation of blood to various parts of the body.
The body also uses iron to produce myoglobin. Myoglobin is a bodily protein that is responsible for carrying oxygen to various muscle groups in the body.
100g of Kasuri Methi provides 186% of the body's percent daily value of iron.
Sodium
The mineral sodium is necessary for the proper functioning of the body's muscles and nerves, as well as to control blood pressure and volume.
Aside from the benefits listed above, sodium also helps with the conduction of nerve impulses and muscle contractions. Sodium can be derived from a wide range of sources, including Kasuri Methi.
Magnesium
Magnesium is a necessary mineral for the body. It aids in biochemical reactions in the human body, such as energy creation, protein formation, gene maintenance, muscle movement, and nervous system regulation.
Not consuming the proper amount of magnesium has been linked to an increased risk of depression, type 2 diabetes, and other diseases. It is of utmost importance to receive the proper amount of magnesium the body needs to avoid getting these illnesses. Kasuri Methi provides 47% of the percent daily value of magnesium that the body needs.
3. Source of nutrients
Aside from vitamins and minerals, Kasuri Methi is also a host of different nutrients such as healthy proteins, fats, and fibers.
Protein
Receiving the proper amount of protein is essential to improving and maintaining one's health. Protein is known for speeding up muscle recovery, reducing muscle loss, building lean muscle, helping in weight maintenance, and reducing the feeling of hunger.
Protein is also associated with numerous bodily functions, including:
Building bones, skin, and cartilage
Repairing damaged tissue
Carrying oxygen and other nutrients to the body through the bloodstream
Digesting food
Making new cells and body chemicals
Regulating hormones during puberty
Kasuri methi is rich in protein, making it an excellent addition to any protein-deficient diet.
Fat
Despite how it is vilified by the media, fat is actually beneficial to the body. The trick is consuming it in moderation to get only the benefits and none of the side effects.
Fat is essential to the body in many ways. First, it is an excellent source of energy. Without energy, one's body cannot perform the processes that need to be done.
Second, fat helps keep the brain healthy. In effect, consuming the right amount of healthy fat can reduce the risks of degenerative cognitive diseases such as Alzheimer's.
Lastly, fat helps your body absorb vital nutrients. Cutting fat out of your diet can do more harm than good. It is better to look for healthy sources of fat, such as Kasuri Methi, and to eat fat-rich foods in moderation.
Fiber
Fiber is another health benefit that can be derived from Kasuri Methi. Fiber is essential because it helps with digestion and bowel movement, cholesterol, sugar levels, weight, vitality, and longevity. In particular, fiber has the following effects:
Lowers glucose levels
Lowers blood cholesterol
Prevents constipation
Reduces the risk of heart disease, diabetes, constipation, colon cancer, and other diseases
4. Low caloric content
Aside from being jam-packed with vitamins, minerals, and nutrients, Kasuri Methi also boasts a low caloric content.
Consuming more calories than your body actually needs can lead to obesity, cancer, and heart disease. It's important to look for healthy sources of calories that do not exceed the daily required caloric intake.
In a 100g serving, Kasuri Methi only has 323 kCal. This makes it a good and healthy source of calories and other nutrients.
5. Low carb content
Aside from low caloric content, Kasuri Methi also boasts a low carb content.
Like calories, carbs are not necessarily bad. However, they need to be taken in moderation to avoid their side effects from dominating the benefits. Too many carbs in one's diet can lead to increased blood sugar levels, increased weight gain, and increased risk of heart disease, among many others.
Luckily, Kasuri Methi provides 58% of the daily required carbs intake that the body needs. This is a healthy enough amount to guarantee the health benefits of carbs while also reducing the risk of getting the side effects.
How do you add Kasuri Methi to your diet?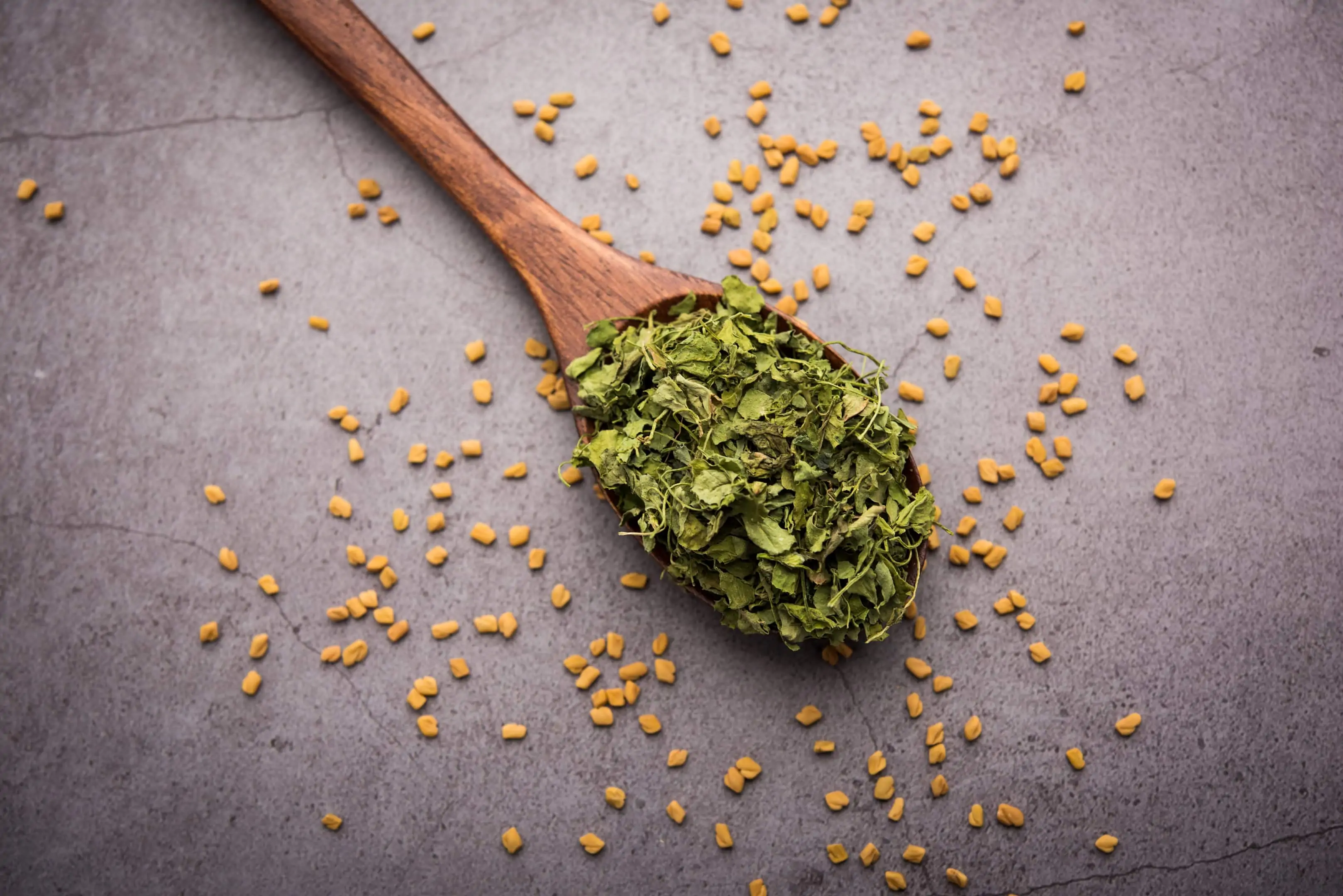 Kasuri Methi is an ancient herb, and people have developed many ways to consume this herb.
Some easy ways to add this food to your diet is by adding it to salads. You can also add it while preparing starchy veggies like potatoes and carrots to enhance their taste. Some culinary experts also like to add this herb to gravies and raitas for extra flavor.
Some people also like to add Kasuri Methi to curries and chutneys to elevate the flavor. You can also try to add it to other foods that are not necessarily Indian.
There are many ways to incorporate this herb into your diet since it is also popularly used as a condiment. With a bit of creativity, you can do so much with it!
Conclusion
As this article proves, Kasuri Methi's benefits are numerous. The herb is jam-packed with vitamins, nutrients, and minerals that all aid in boosting one's health and well-being. It helps prevent many diseases and illnesses while boosting your health along the way.
Kasuri Methi is a great herb that is not only an excellent condiment but also a superb health supplement.