You have probably tasted the punchy flavor of ginger in salads, smoothies, and stir-fries. Although ginger is famous for the distinctive flavor that it adds to dishes, it has also been widely employed as an alternative form of medicine for many years. According to the earliest records, the medical use of ginger originated in 500 BC.
Originating from Southeast Asia, ginger is one of the tastiest and healthiest plants in the world. It is a member of the Zingiberaceae family and is interconnected with cardamom and turmeric. It is believed to help alleviate any condition from migraines to a common cold, and even period cramps. Ginger is available in diverse forms including dried, fresh, ground, pickled, and preserved. 
Jump to:
Ginger and nutrition
Often called 'zingiber officinale', which translates to 'the root', nutritionally ginger has very few calories. According to the USDA's food data central, a ¼ cup of fresh and sliced ginger can contain about 20 calories. Even though ginger contains little or no protein or fat per serving, it has a ton of antioxidants.
Apart from antioxidants, ginger contains different nutrients such as magnesium, vitamins B6 and B3, folate, vitamin C, riboflavin, niacin, potassium, and phosphorus. Furthermore, ginger contains gingerol, which is the primary bioactive compound that is responsible for its medicinal advantages, flavor, and fragrance.
Unique health benefits of ginger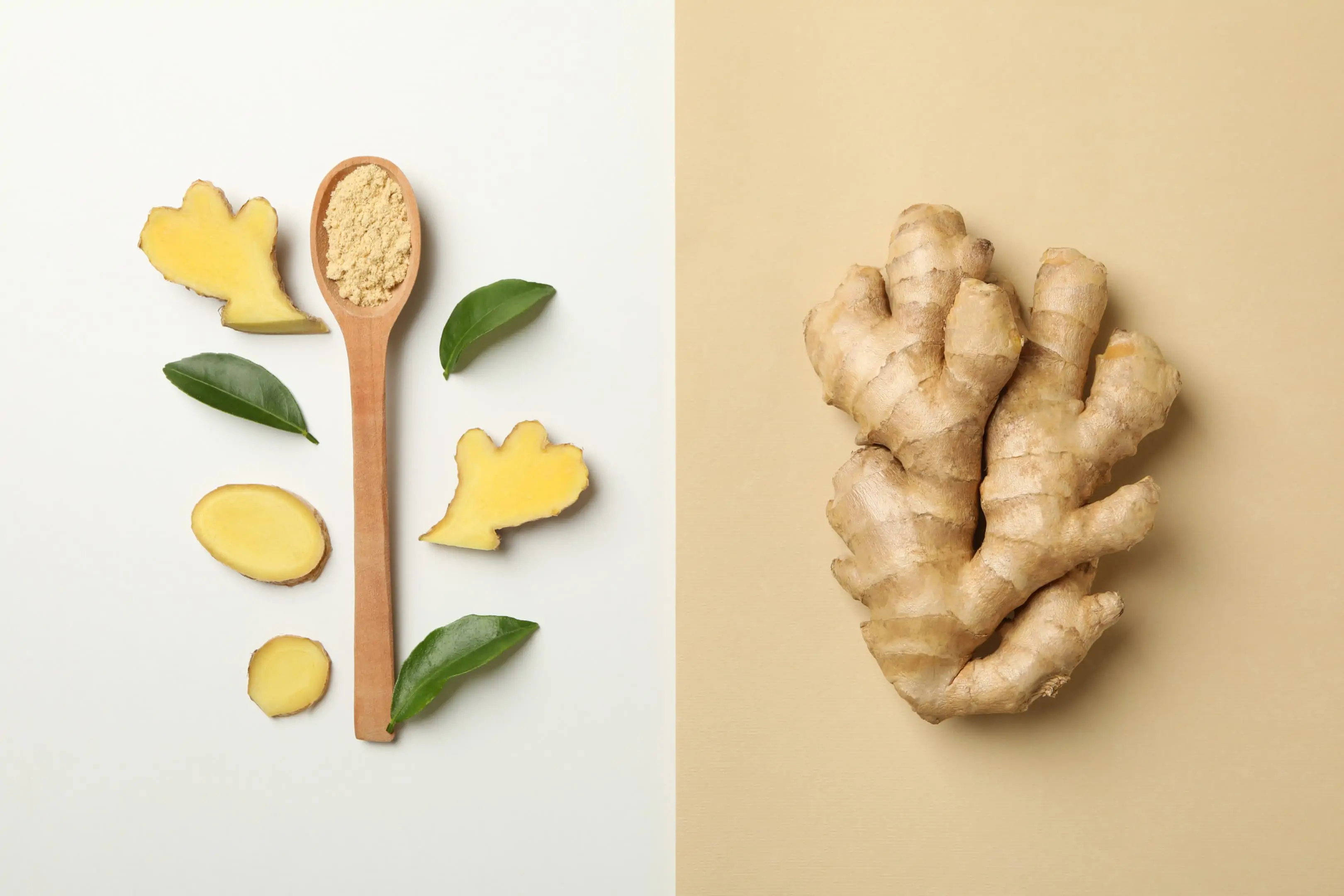 1. To alleviate pain
Due to its gingerol content, ginger is potent against pain and inflammation. For example, osteoarthritis is a common medical problem that causes deterioration of the joints, leading to symptoms such as stiffness and joint pain. Gingerols can help shut down pain compounds in the body thereby reducing inflammation. One study found that the combination of ginger with cinnamon, sesame oil, and mastic decreased stiffness and pain in individuals with osteoarthritis that affects the knee. Another research review conducted in 2017 further determined that using ginger to reduce inflammation was possible. While medications are frequently prescribed for arthritis sufferers to reduce inflammation, ginger is a potent natural alternative that can lessen pain.
2. To aid in weight loss
Studies have shown that obesity can result in inflammation, cardiac diseases, and oxidative stress. Damage from free radicals is responsible for oxidative stress. However, ginger contains antioxidants that can help limit the progression of these free radicals thereby countering inflammation and preventing other health conditions. Although ginger might not directly help you to get rid of excess pounds, it can help prevent side effects like cardiovascular damage that might occur because of being overweight.
In addition, ginger can help you stay fuller, make food digest faster and regulate blood pressure — all of which can contribute to weight loss. However, a small study suggests that consuming ginger for weight management might have a great effect on belly and body fat, helping elevate the number of calories burned.
3. Can reduce blood sugar and regulate blood pressure
Ginger can help regulate blood sugar in different ways. The herb does this by acting as a natural ACE inhibitor and calcium channel blocker, which are both types of blood pressure medications. A study revealed that those who consumed high amounts of ginger per day had a decreased risk of high blood pressure. Ginger can also aid in the reduction of blood sugar by improving hemoglobin A1c, a marker for having prolonged blood sugar levels. Although researchers are not a hundred percent as to why ginger can reduce blood sugar, a theory stipulates that ginger might be potent in suppressing the factors that might affect glucose control.
4. Can ease nausea
The use of ginger to alleviate nausea is one of the most popular health benefits of ginger. One way ginger helps to reduce vomiting and nausea is by speeding up gastrointestinal mobility, thereby decreasing the chances of food languishing in the stomach to produce bloating, indigestion, nausea, and stomach upset. Morning sickness during pregnancy can be treated with ginger. You can eat it as well to reduce the discomforts associated with chemotherapy by reducing the occurrence of post-treatment nausea. However, it is important to note that the effects of fresh ginger might be greater than that of powdered ginger tea because the latter has a higher concentration of gingerol. In addition, check with your health practitioner before consuming ginger for nausea associated with pregnancy.
5. To treat chronic indigestion
Delayed stomach emptying is a key cause of indigestion, and ginger can help with this. Consuming ginger can stimulate stomach emptying, hence eliminating indigestion. Although ginger cannot combat food poisoning, it can ease stomach pain by helping the stomach move food faster to the intestine for absorption and digestion. In case of counteracting indigestion because of a harmful substance, visit a medical expert immediately. In addition, ginger can also help eliminate excessive gas from the digestive system and calm the intestinal tract.
6. To prevent cancer
Another fantastic health benefit of ginger is that it can aid in the prevention and alleviation of certain cancers. It has been researched for years as an alternative treatment for cancer due to its gingerol. This can be found in high amounts of raw ginger. Some studies have shown that ginger can be effective in the treatment of certain cancers like liver, ovarian and pancreatic cancers. In addition, ginger can aid the alleviation of cancer symptoms by halting the growth of cancerous cells and might contribute to the elimination of these infected cells.  
7. Can ease menstrual pain
As earlier discussed, one of the potential benefits of consuming ginger is that it can reduce pain and combat inflammation. Every month, many women suffer from dysmenorrhea or period pain. One of the traditional uses of this spice is to ease menstrual pain. One research concluded that ginger is as effective as painkillers like ibuprofen and mefenamic acid in reducing menstrual pain. Another study suggests that consuming ginger during menstruation can significantly reduce heavy bleeding. Make sure to take ginger at the beginning of your menstrual period to get the most pain relief.
8. To reduce the risk of infections
Infections that are not treated can move to other parts of the body and become more serious or even cause other diseases. Ginger can help decrease the risk of infections. It can help impede the development of bacteria, thereby aiding the elimination of infections. In addition, ginger can help combat oral bacteria that are the major culprits of inflammatory gum diseases like gingivitis. Consuming fresh ginger may also be effective in fighting against viruses that can cause respiratory infections such as respiratory syncytial virus (RSV). Generally, adding ginger to your diet can enhance your immune system, therefore, supporting fast recovery from illnesses and preventing diseases.  
9. Can help eliminate unhealthy cholesterol levels
One major cause of heart disease is unhealthy levels of bad cholesterol, i.e., LDL (low-density lipoproteins). A high level of it in the blood can contribute to fatty buildup in one's arteries. Your risk of having a heart attack and cerebrovascular disease can rise because of this fatty buildup. However, ginger has been shown to be successful in lowering LDL cholesterol levels.
10. Can boost brain function
Chronic inflammation and oxidative stress can speed up the aging process, the primary drivers of age-related cognitive decline and Alzheimer's disease. The bioactive compounds present in ginger can help restrict inflammatory responses in the brain. This can actively help to boost brain functions and prevent cognitive decline. Although there are medications for Alzheimer's, consuming ginger can help alleviate the disease naturally. In addition, ginger can help elevate dopamine and serotonin levels, therefore, reducing and improving the signs of depression. The consumption of ginger, especially by the elderly, can help improve memory.
Conclusion
Ginger is a spice that has been used for medicinal purposes for decades. It is perfect for all types of diets whether vegetarian, low-carb diet, or raw food diet. Although it is not a size-fit solution to all diseases and infections, you can gain many health benefits from adding ginger to your diet. The health benefits of ginger include enhanced memory and learning skills, treatment of the common cold, prevention of infections, alleviation of menstrual pain, elimination of LDL cholesterol, and alleviation of inflammation and pain. Add ginger to your diet today to benefit from all its health advantages!