Calcium is one of the most essential and beneficial minerals that our body needs. The body requires calcium to perform diverse functions like blood circulation, nerve massaging, muscle movement, and release of hormones.
However, while most people are familiar with the benefits that can be obtained from consuming calcium-rich foods, you probably do not know that one can be affected by having high levels of blood calcium. This condition is commonly referred to as hypercalcemia and if left untreated, can result in other health problems. In this article, we will explore the causes, and symptoms of high levels of blood calcium. We would also describe how to lower calcium levels in the blood naturally.
Jump to:
What is hypercalcemia?
This is a condition that develops when the levels of calcium in the blood are beyond normal. Although calcium is necessary for the circulation of blood and its clotting, having a high level of this mineral in the blood can cause weakness in the bones, increase the risk of kidney stones, and can interfere with the functions of the brain and heart.
High levels of calcium in the blood are usually caused by the over-activity of the parathyroid glands. These glands are located at the back of the thyroid gland, which is at the bottom of the neck. They are little, about the width of a rice grain, but they are in control of regulating the volume of calcium in the blood and tissues. This function is necessary for you to have good bone health and proper muscle and nerve function.
Hypercalcemia can also be caused by taking too many dietary supplements like vitamin D and calcium carbonate. Constant dehydration can also cause the levels of calcium in the blood to rise. In addition, certain health issues can increase one's chances of having high amounts of blood calcium, including chronic heart disease, adrenal gland disease, tuberculosis, severe fungal infections, and certain cancers like lung, breast, and blood cancers.
What are the symptoms of high calcium levels in the blood?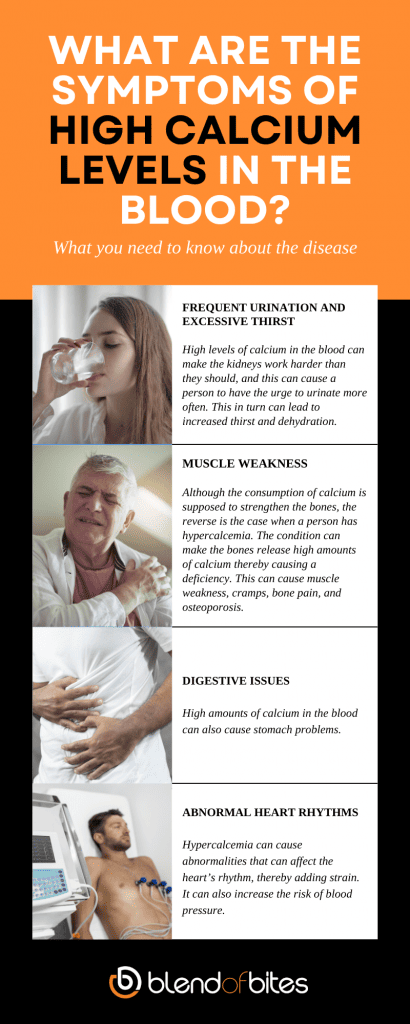 When the parathyroid glands are overactive and there is an imbalance of calcium in the blood, the result is hypercalcemia. What are the symptoms of this imbalance?
Frequent urination and excessive thirst — High levels of calcium in the blood can make the kidneys work harder than they should, and this can cause a person to have the urge to urinate more often. This in turn can lead to increased thirst and dehydration. The overworking of the kidneys can also elevate the risk of kidney stones, thereby leading to pain between the upper abdomen and the back.
Muscle weakness — Although the consumption of calcium is supposed to strengthen the bones, the reverse is the case when a person has hypercalcemia. The condition can make the bones release high amounts of calcium thereby causing a deficiency. This can cause muscle weakness, cramps, bone pain, and osteoporosis.
Digestive issues — High amounts of calcium in the blood can also cause stomach problems. A person can have a decreased appetite, which can cause overall body weakness. It can also cause vomiting, nausea, constipation, and abdominal pain.
Abnormal heart rhythms — Hypercalcemia can cause abnormalities that can affect the heart's rhythm, thereby adding strain. It can also increase the risk of blood pressure.
Other common symptoms and indicators that might emerge from having high levels of blood calcium include constant fatigue, headaches, depression, and irritability. When left untreated for a long time and in extreme cases, hypercalcemia can make one confused and might even make an individual go into a coma.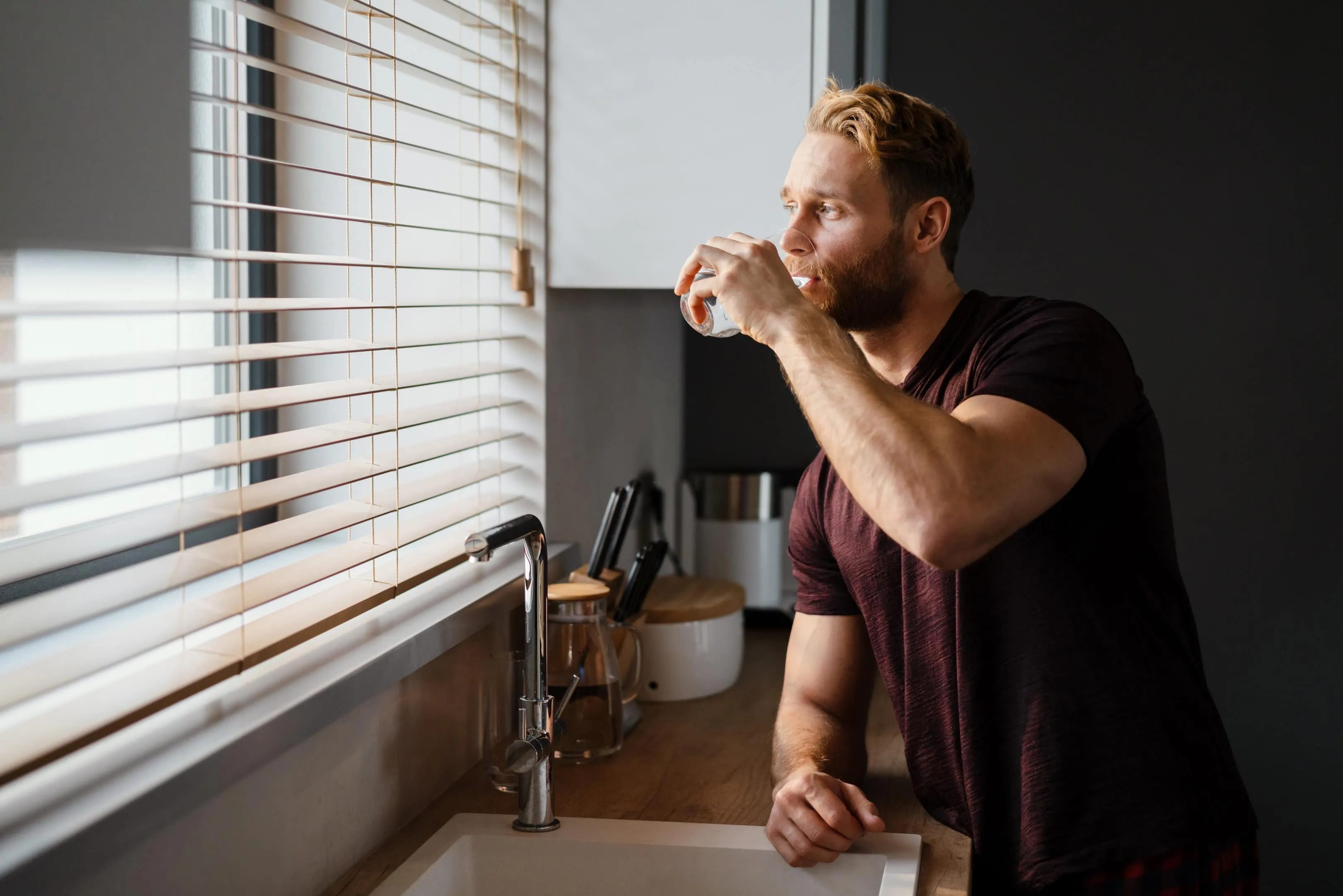 How to lower blood calcium naturally
Knowing that having high blood calcium levels is a concern and having established its causes and signs, let us shed more light on how to reduce calcium levels in blood naturally.
1. Reduce the consumption of vitamin D
High consumption of vitamin D can trigger the absorption of calcium in the gut thereby allowing calcium to freely flow into the bloodstream. Usually, our bodies absorb only about 10-20 percent of the calcium in foods consumed and eliminate the rest in stools. The risk of hypercalcemia is increased by consuming too much vitamin D, whether in the form of supplements or food. Several studies have suggested that high usage of vitamin D supplements has a high chance of causing calcium levels in the blood to rise. The office of dietary supplements recommends that an adult only needs about 600 to 800 IU daily.
2. Adopt a low-calcium diet
Since our body absorbs most of its nutrients from foods that we consume, one vital way to reduce the levels of calcium in the blood is to adopt a diet that contains low-calcium foods. Although it might be hard to get foods that are relatively low in calcium, there are still several foods that you can consume if you have been diagnosed with high levels of calcium in the blood. Keeping in mind that the recommended daily intake of calcium is about 1000 milligrams, there are certain foods to consume and there are others that people dealing with hypercalcemia should stay away from.
Foods to consume — Chicken and beef fat are good choices, as both contain no calcium. Beef fat contains few calories and chicken fat contains some fatty acids making them an excellent combination to consume for hypercalcemia. Another food that you can consume is soy milk which contains only about 10 mg of calcium, making it a great replacement for regular milk in your diet. Other foods that you can consume include mushrooms, brown rice, dried cranberries, and corn pasta. You can get more information in our article about low-calcium foods.
3. Stop calcium supplements
Another method of how to lower calcium in the blood naturally is to refrain from consuming calcium supplements. If you are a frequent user of heartburn and acid flux medications that contain calcium carbonate, you could elevate the risk of your hypercalcemia. It is better to cut back on these if your calcium levels are notably high.
4. Hydration
Hydration provides many advantages that help us function well. It is necessary to drink water because it is needed for temperature regulation, lubrication of joints, cognition, nutrient transport to where they are needed, and for infection prevention. When we do not drink enough water, we are not only at risk of getting dehydrated, but health issues can manifest. Dehydration in certain instances may contribute to or worsen hypercalcemia therefore, it is crucial to drink at least six glasses of water each day. You should even drink more if you have been exercising or engaging in tasks that are tiring. The human body can digest food better when we stay hydrated. Additionally, when high amounts of calcium build up in the body, it can elevate the risk of developing kidney stones; this is why it is also necessary for the body to have sufficient water.
5. Abandon the sedentary lifestyle
When it concerns how to reduce calcium in blood naturally, having an inactive lifestyle for hours every day can worsen the levels of blood calcium. Research has shown that a sedentary lifestyle can elevate the risks of death, metabolic diseases, osteoporosis, and cancer. Staying active can help with high levels of calcium in the blood. This is to ensure that calcium is delivered to your bones and muscles rather than the blood while you exercise because your digestive system is continuously working. Additionally, a sedentary lifestyle can increase one's chances of developing hypercalcemia since it increases the chance that the calcium that is supposed to be transported to the bone and muscles for activeness, will instead go into the bloodstream.
Conclusion
If you are looking for how to lower calcium levels in the blood naturally, you should try the above methods. Abnormal blood calcium levels, which are also referred to as hypercalcemia, can result in other health issues like kidney stones if it is not well taken care of. From staying active to hydration and to abandoning supplements that contain vitamin D or calcium carbonate, there are diverse ways for you to reduce blood calcium naturally.
Nevertheless, it is crucial to seek medical advice first before adopting any diet or medications. In addition, natural treatments for high blood calcium might only be effective in mild cases, you should always rely on the expertise of your physician should you experience any noticeable symptoms.