Originating from the Philippines, Jollibee spaghetti is a creative take on the traditional Italian dish. With a unique sauce that gives the dish its particular taste, Jollibee spaghetti is quite addictive. It's easy to cook, as the ingredients you need are accessible. Although it provides little nutritional value, Jollibee spaghetti is great comfort food to rely on at the end of a busy day. There is no doubt that the umami taste of Jollibee spaghetti will bring you back to your childhood days, especially if you make it for special occasions. Make sure you look at our Jollibee spaghetti recipe before heading to the kitchen. 
Jump to:
How to prepare Jollibee spaghetti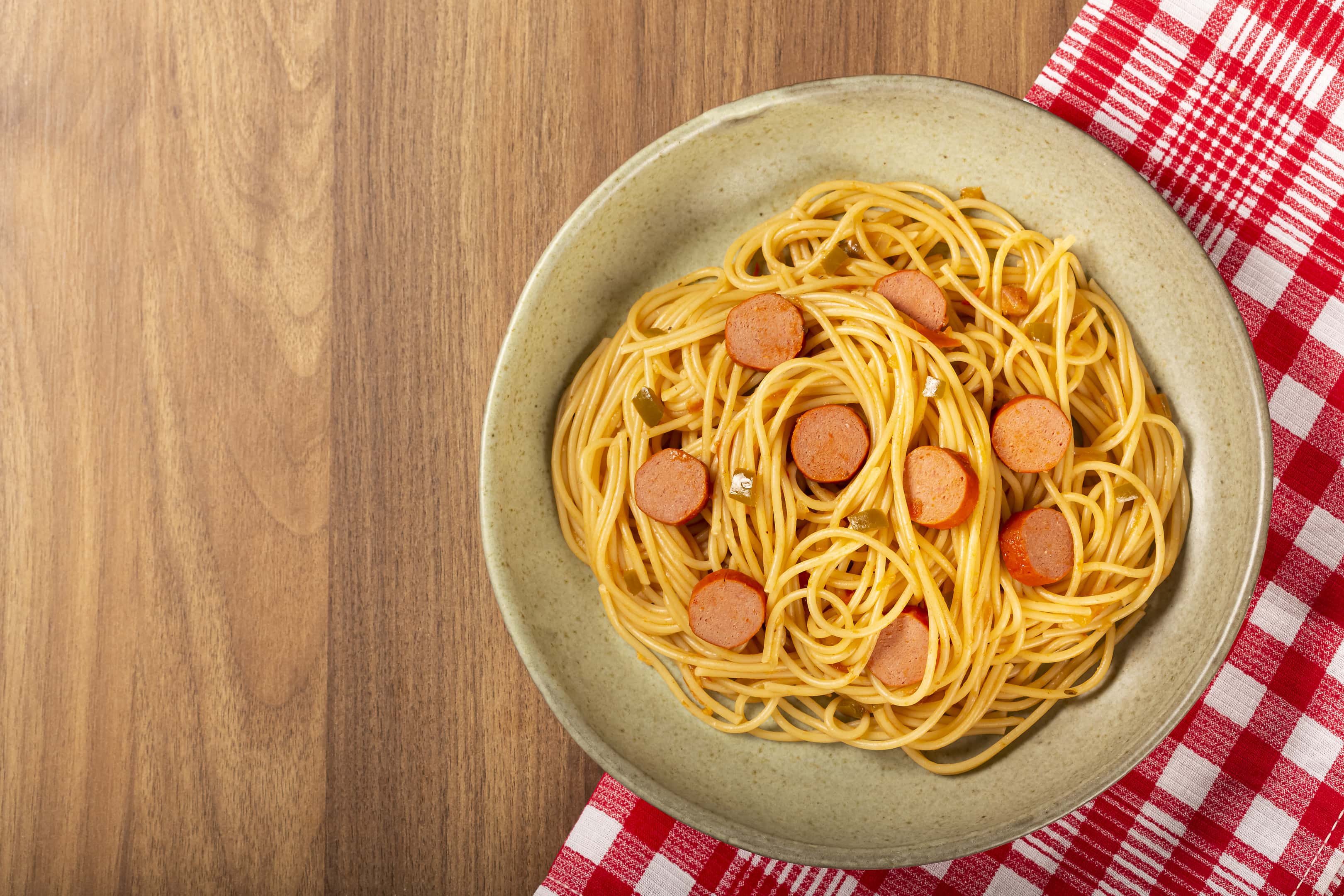 There are three parts to making a great authentic Jollibee spaghetti — the toppings, the pasta, and the sauce, the latter of which is the most important. However, there are some subtle tips and tricks that you should follow for an authentic Jollibee spaghetti. Remember, the devil lies in the details!
Our Jollibee spaghetti recipe will specifically discuss these parts, covering all the essential things you should know before getting started.
1. The pasta
The easiest part is cooking the pasta correctly. Choose a pot large enough for the amount of pasta you will be cooking. Fill it with water, add salt for taste, and one Tbsp. oil to prevent the pasta from sticking. Stir the pot, and add the pasta once the water is boiled. Jollibee spaghetti is known for its softness, so make sure you cook the spaghetti noodles according to the package instructions until they become soft and tender for a better taste, usually approximately 8 to 10 minutes. Afterward, drain the pasta and set it aside.
2. The sauce
After the pasta, let's focus on the sauce. Correctly preparing the sauce is essential, as the sauce is what sets a Jollibee spaghetti from a regular Bolognese. A proper Jollibee spaghetti sauce also requires many ingredients.
To begin with, chop some onions, garlic, and pepper and mix them with oil in a pan. Saute them for a few minutes until they become soft and tender. When the onions start to turn brown, it is usually a sign to stop. Feel free to add ground pork or minced ham, and let it cook until brown. Afterward, feel free to add the signature hot dogs with tomato sauce and let it simmer for about an hour or so. You can also use banana ketchup and condensed milk to spice things up. Some prefer banana ketchup as it is thought to add a more authentic taste. Finally, remember to add salt and pepper to taste.
3. The cheese
The cheese will not only make your dish even more delicious, but it will also serve as an aesthetic topping. Go with a quick melt cheese like Cheddar, Edam, and Queso de bola cheeses.
Ingredients for Jollibee spaghetti recipe
1 pound of spaghetti
2 tablespoons oil
1 pound of ground beef
2 hot dogs, sliced
½ onion, diced
1 green bell pepper, diced
½ garlic, diced
½ teaspoon salt
1 (15-ounce) can of tomato sauce
Grated cheese for topping
Jollibee spaghetti recipe instructions
Boil approximately one quart of water in a pot.
Add salt and oil to the water, and bring to a boil. Then, add spaghetti.
In a frying pan, sauté garlic, onions, and peppers in olive oil.
Add the ground beef. Cook until brown.
Add the hotdogs and tomato sauce. You can also add banana ketchup and condensed milk.
Let it simmer for about an hour.
Mix the sauce with spaghetti.
Add the cheese toppings and serve hot.
To sum up
Jollibee spaghetti, the Filipino take on the classical Italian dish, is the perfect option for those who crave a meaty and sweet dish. The soft and tender spaghetti noodles, combined with an umami tasting, authentic sauce, and cheese as the topping, are delicious and easy to prepare. Our Jollibee spaghetti recipe is prepared to help you cook this delicious dish authentically.