The rise in popularity of several diets, such as keto and intermittent fasting, is a testament to one of the chronic problems of modern society. Due to the combination of a sedentary lifestyle and poor food choices, the number of overweight and obese individuals continues to reach all-time heights. Recently, the pandemic forced a lot of us to stay at home and ditch our gym schedules, further aggravating the dilemma of weight gain among the population.
Fortunately, a ton of options are available in the market to address this quandary. One such solution is the methi ajwain kala jeera powder.
Jump to:
What is methi ajwain kala jeera powder?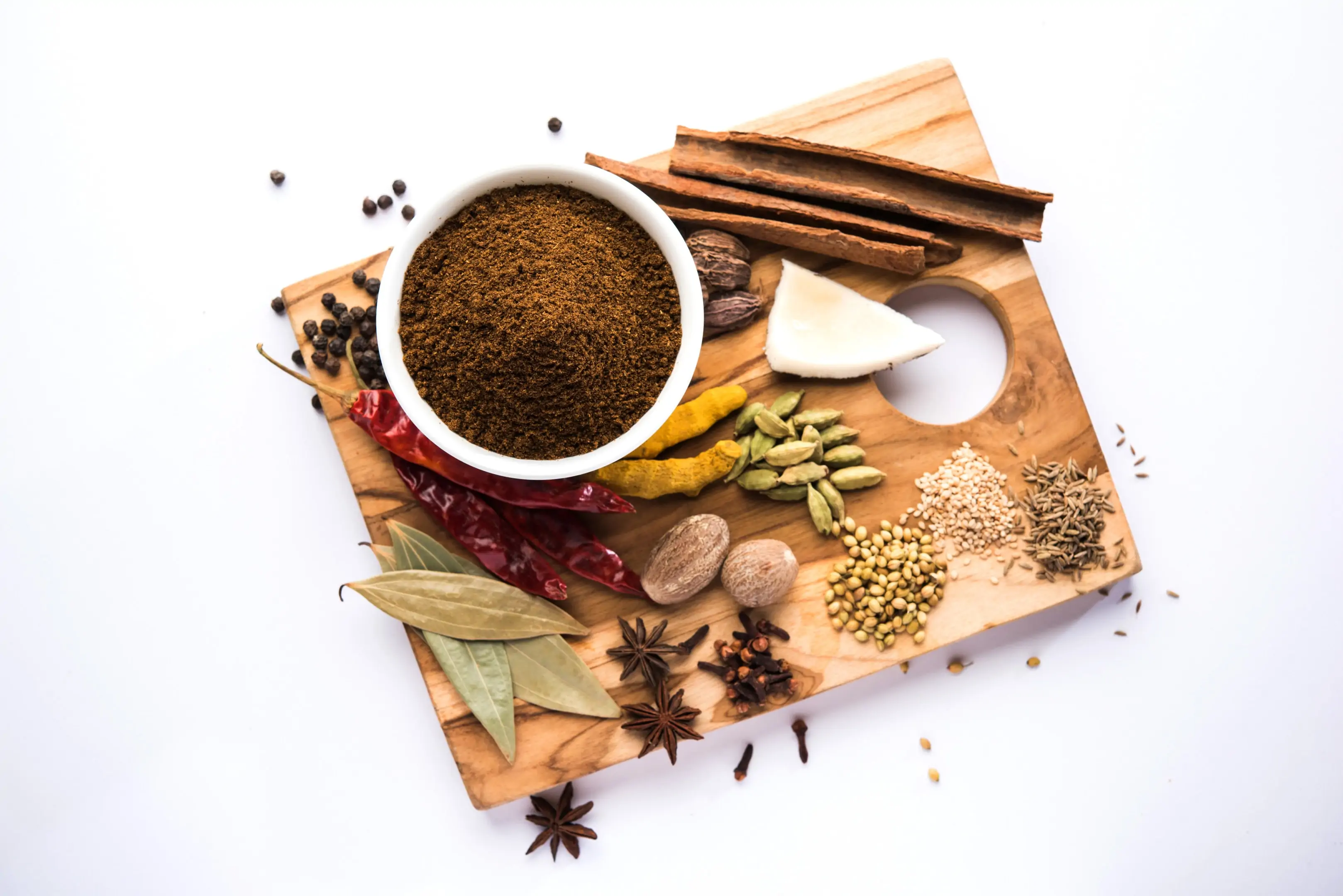 To better understand what methi ajwain kala jeera powder is, let us examine each component of this blend. All the components are Indian names for popular herbs. Methi is fenugreek, ajwain is caraway or carom, and kala jeera is black cumin.
How is methi ajwain kala jeera powder prepared?
Each component of the mixture is first roasted separately until a certain aroma is released. They must be processed separately since each one requires a different roasting time, ranging from several seconds to one minute. Set aside and let them cool completely.
Once the herbs are cool enough, combine all three and blend using a food processor. When a fine powder is obtained, add other ingredients such as turmeric or ginger powder, salt, or asafoetida. Store in an airtight container and away from sunlight and high temperatures.
The mixture can be consumed in a variety of ways. The most basic is to put in lukewarm water and drink in the morning. Alternatively, you can combine this blend with curd and rice for added flavor. Lastly, you may opt to add one teaspoon of it to a cup of plain yogurt or buttermilk.
Health benefits of methi ajwain kala jeera powder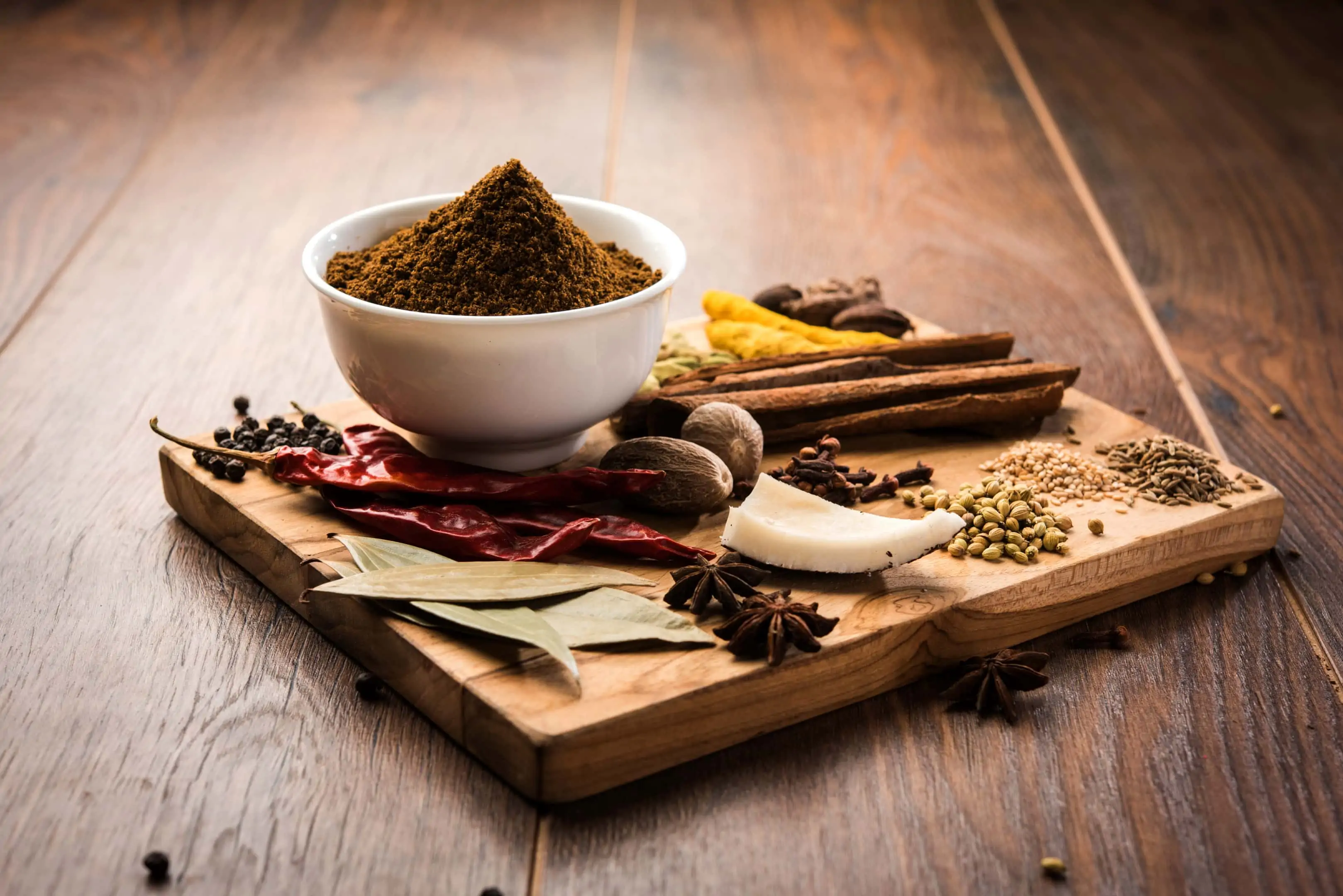 Like with their names, the methi ajwain kala jeera powder health benefits are best discussed when we dive into the individual ingredients of the blend.
1. Methi seeds
More popularly known as fenugreek seeds, methi seeds are rich in dietary fibers. Aside from aiding in digestion, dietary fibers are also famous for inducing satiety. This means that when you consume foods rich in this nutrient, you feel full longer, thereby reducing your food intake frequency and quantity.
Aside from dietary fibers, methi or fenugreek seeds also contain carbohydrates in low amounts. Remember that carbohydrates are the main energy source of the body. However, any excess of this nutrient that is not metabolized contributes to the build-up of body fats and weight gain.
One of these carbohydrates is a galactomannan, which comprises 45-60% of the methi seed. Despite it being a carbohydrate, galactomannan also acts as an insoluble dietary fiber. This is because digestive secretions in the human small intestine cannot digest galactomannan.
Galactomannan also has anti-hyperglycemic effects. For example, it inhibits sugar absorption into the bloodstream.
Diosgenin (the most bioactive component of methi) — Diosgenin is a steroidal saponin used as raw material in 60% of commercially produced cortisone, progesterone, and other steroids. It has been investigated for its anti-cancer properties. Meanwhile, saponins have been found to play a vital role in glucose and lipid balance, fat deposition prevention in the adipocytes, and release of the growth hormone from the pituitary gland.
Methi seeds are also rich in the amino acid 4-hydroxyisoleucine — The amino acid 4-hydroxyisoleucine content of methi seeds was shown to increase glucose-dependent insulin secretion and lower plasma triglycerides and total cholesterol levels. When administered orally in diabetic rats, 4-hydroxyisoleucine also lowered the blood glucose level and elevated lipids.
Fenugreek seed helps in liver health — Chronic alcohol consumption is widely associated with poor liver health. Polyphenolic extracts of fenugreek seeds were found to protect the liver from ethanol-induced dysfunction. Its effects were comparable with another popular hepatoprotective substance known as silymarin.
2. Ajwain seeds
Ajwain seeds contain bioactive substances such as thymol, cymene, terpene, pinene, and limonene. Thymol makes up 35-60% of the carom oil and is known as being germicidal and fungicidal. Together with carvacrol, thymol can help in food poisoning issues as it helps fight the pathogenic microorganisms Salmonella and E. coli.
Also, ajwain seeds help in the treatment of other digestive disorders such as flatulence, constipation, and irritable bowel syndrome (IBS).
A natural antibiotic — Aside from the two bacteria mentioned previously, essential oils from caraway were also found to have antimicrobial properties against Staphylococcus aureus, Candida albicans, Listeria innocua, Saccharomyces cerevisiae, Pseudomonas aeruginosa, Bacillus subtilis, Campylobacter spp. and Aspergillus niger.
Anti-inflammatory properties of ajwain — Caraway seeds were also found to reduce inflammation and infiltration of white blood cells in mucus and sub-mucosal layers. In rats, essential oils from carom seeds suppressed the pro-inflammatory substances known as cytokines.
Antispasmodic — The ground seeds can be inhaled to alleviate headaches caused by migraines and heavy colds. When applied topically, the combination of carom seeds, ginger powder, and salt brings faster relief.
It is a diuretic — Extracts of caraway seeds increased the urine output, total volume of excreted urine, and urinary level of potassium and sodium in lab rats, while no renal toxicity was observed. This is probably the reason why since ancient times, traditional medicine in Morocco includes caraway fruits as a diuretic.
A known antifungal agent — Ajwain volatile oil was found to reduce the growth of the following fungi species by 72-90%: Alternaria grisea, A. tenuissima, Curvularia lunata, Drechslera tetramera, Acrophialophora fusispora Fusarium chlamydosporum, F. poae, Myrothecium roridum, Papulaspora sp., and Rhizoctonia solani.
Caraway seeds in weight management — In clinical studies, patients have significantly reduced appetite and carbohydrate intake when given caraway extracts. Intake of caraway oil also resulted in the reduction of waist circumference, waist-to-hip ratio, mid-upper arm circumference, and thigh circumference.
3. Kala jeera
Otherwise known as black cumin, the seeds of kala jeera have been used globally for centuries as a treatment for various human and animal ailments. Its active component of thymoquinone was shown to be medically effective in the treatment of various neurological and mental illnesses, diabetes, cancer, cardiovascular disorders, infertility, and inflammation.
Tinctures prepared from black cumin seeds are used in the treatment of worms and skin eruptions. When applied topically, it can function as an antiseptic and anesthetic.
Although literature sources vary in the estimation of the nutritional composition of black cumin seeds, the nutrients identified remained the same. For its protein content, the amino acids isolated are glutamic acid, arginine, aspartic acid, cysteine, and methionine.
Minerals and vitamins such as iron, copper, phosphorus, zinc, calcium, thiamin, niacin, folic acid, and pyridoxine are also present in significant amounts. Due to its high iron content, kala jeera is an excellent food to consume to prevent anemia.
Black cumin seeds are rich in phytochemicals — Phytochemicals are high-value biologically active compounds. In kala jeera, the main phytochemical is thymoquinone.
However, other phytochemicals are also present such as saponins, phenolic compounds, volatile oils, alkaloids, and novel lipid constituents and fatty acids. Thymoquinone is present in the essential oil, as well as other compounds including trans-anethole, carvone, p-cymene limonene, α-thujene, thymohydroquinone (THQ), carvacrol, thymoquinone, and β-Pinene.
Black cumin seeds were also found to contain significant levels of tocopherol, which is a powerful antioxidant. The tocopherol content of black cumin seeds ranges from 9 to 28 percent, and the most common are alpha- and gamma-tocopherols and beta-tocotrienol — all of which are widely recognized in the medical and scientific community.
Improves mental health — With the increasing number of stress sources, mental disorders such as depression have become more prevalent today. Medicinal plants such as black cumin are being continuously explored as a treatment for these conditions.
Vital compounds such as flavonoids isolated in black cumin were found to be able to modulate critical neurological processes and mechanisms. These discoveries give this wonder plant great potential in treating mental and neurological disorders such as Alzheimer's disease, Parkinson's disease, depression, anxiety, epilepsy, and opioid dependence and tolerance.
Treatment for arthritis — The incidences and number of inflamed joints, morning stiffness, and disease activity among female rheumatoid arthritis patients were reduced after consumption of black cumin. Since kala jeera is known to have anti-inflammatory properties, it can help in various conditions where inflammation is involved.
These diseases include cancer, diabetes, cardiovascular disorders, Alzheimer's disease, amyotrophic lateral sclerosis, epilepsy, and asthma.
Antiviral activity — Aside from COVID-19, another viral disease that still does not have treatment is AIDS. However, it was found out that the administration of black cumin and honey concoction to an HIV-positive patient gave promising results. After a year of treatment, the test results came back negative, and the patient proceeded to have breastfed children, all of whom are negative for HIV.
Nephroprotective effect — The oil of black cumin seed has a nephroprotective effect by lowering the values of serum creatinine, blood urea nitrogen, and antioxidant activity. When combined with Vitamin C, a synergistic effect is created.
Treatment for ulcer — Stomach ulcers occur when the stomach acids eat away the mucus lining of the stomach. By stimulating mucus production, kala jeera seeds help in preventing the formation of these painful sores.
Improved male fertility — If you are updated to the current news, you might have heard that the quality of sperm cells of Americans is declining. This decline in fertility is being blamed on the different stressors our generation faces today. By taking antioxidants, oxidative stress is reduced, and fertility is restored.
In rats, black cumin was found to increase the production of viable and motile sperm cells, enhanced epididymal sperm reservation, blood testosterone density, gonadotropins content, amount of mature Leydig cells, weight gaining of reproductive organs, and fertility indexes. Also, the amount and the motility of sperm and the content of semen volume increased significantly in infertile men who took black cumin oil after two months of therapy.
When mixed, methi ajwain kala jeera powder health benefits also include improved hair health and dandruff removal, weight loss, relief from itchiness and eczema, treatment of toothache, improved heart health, clears nasal cavity, and improved immunity and memory.
Conclusion
Indeed, nature cannot seem to run out of surprises for human beings. Just when we thought that we are very advanced in the medical field, another superfood will pop up that can treat or alleviate diseases, which would otherwise seem incurable. The kala jeera methi ajwain health benefits presented in this article are proof of that.
Surprisingly, our ancestors have been using these plants way before our time. Some, like black cumin, were even mentioned in the Bible and by the prophet Mohammed himself. The only thing left for us to do is to use these God-given resources to their full potential.