A single unpleasant rash or skin irritation can make anyone feel less beautiful, and a cause for worry. If you have any white patches around the skin near or on your genitals, then you might be dealing with lichen sclerosus. A diet for lichen sclerosus is essential for people battling this unpleasant condition. Lichen sclerosus is a serious health condition that affects the skin that causes itchiness and irritation. Although it has no cure, a lichen sclerosus diet can help in addition to medical treatment.
Certain foods can increase inflammation and worsen the condition of lichen sclerosus, while some other types of food can drastically ease the pain levels. Read along as we discuss foods that are good for a lichen sclerosus diet.
Jump to: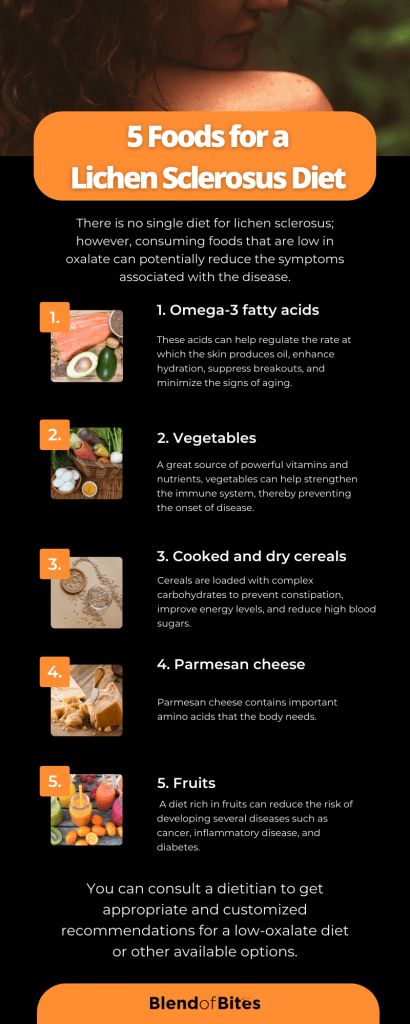 What is lichen sclerosus?
Lichen sclerosus is a disease that attacks the skin. It is an inflammatory health condition that can cause irritable skin changes that comes with pain, discoloration, and itching. It causes a thin-like white patch on the skin, and the affected areas can tear easily. These patches can be present on different parts of a person's body but are commonly found around the anus, vulva, or on the foreskin of the penis. It can also cause sores and blisters to form around the genitals.
Although the primary cause of lichen sclerosus has not been established, healthcare experts believe it is a kind of autoimmune disease because it behaves the same way. Even though it mainly affects women past menopause, it can occur at any age. When left untreated, this inflammatory disease can cause scarring making it extremely painful to have intercourse, urinate, or pass bowels. The symptoms of lichen sclerosus vary; they could be severe or mild. When the disease is mild, one might not experience any symptoms, but the symptoms are bound to manifest when severe. Here are some of the symptoms of lichen sclerosus:
Irritation and itching — In women, lichen sclerosus comes with discomfort and itching around the vaginal and vulva. It might become difficult to ride a bike or wear tight clothes as both could worsen the symptoms. Uncircumcised men may experience itchiness and irritation on the foreskin; the opening and the foreskin might become narrow and scarred, thereby affecting erection. In addition to the itchiness, one might experience burning in the vagina, especially when urinating.
Scarring — When left untreated, lichen sclerosus can cause scarring around the penis or vulva. It can make the hood above the clitoris look flat, making the vaginal anatomy look different. This scarring can cause constipation and painful sex.
Changes in the skin — White patches can appear on the genitals, and as the patches develop, the skin will become thin, shiny, transparent, and white. The affected area of the skin might appear crinkled. In women, the white patches can form a figure-eight pattern around the vulva.
Sores and ulcers — This is a common symptom of lichen sclerosus. It causes sores, fissures, and blisters on the genitals, especially when scratched due to itchiness. These blisters can make the skin around the genitals crack and bleed with the smallest touch.
Nutrition and lichen sclerosus
Although diet is not a cure for lichen sclerosus, it can significantly alleviate the inflammatory condition. A diet containing foods that are low in oxalates can provide benefits that can help reduce pain. This is because high amounts of oxalates in the urine can cause irritation and burn in the vulva. In addition, a study has shown that foods that contain high amounts of oxalates should be avoided when treating lichen sclerosus.
5 Foods for a lichen sclerosus diet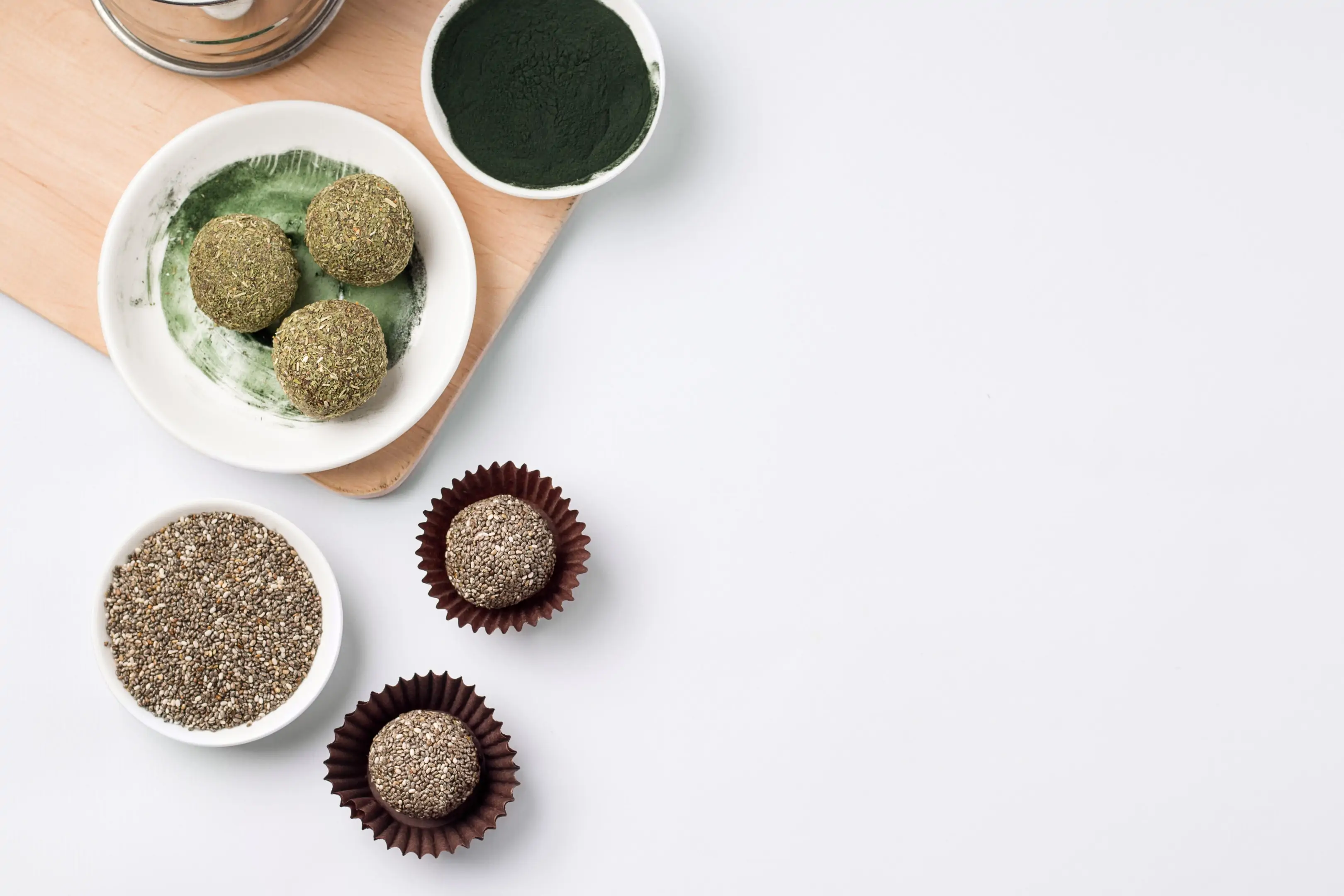 1. Omega-3 fatty acids
These acids can help regulate the rate at which the skin produces oil, enhance hydration, suppress breakouts, and minimize the signs of aging. Consuming foods that contain omega-3 fatty acids in your lichen sclerosus diet can help reduce the roughness of skin patches by providing a soothing effect to the irritated area. In a small study, women who consumed flaxseed oil, which is rich in omega-3 fatty acids, for twelve weeks, developed less sensitive and rough skin. Incorporating foods that contain generous amounts of omega-3 fatty acids can help boost skin barriers, thereby preventing skin conditions. Moreover, foods with omega-3 fatty acids reduce the risk of skin cancer, enhance wound healing, and decrease hair loss. Foods that contain omega-3 fatty acids include soybean oil, cold chia seeds, tuna, walnuts, and canola oil.
2. Vegetables
A great source of powerful vitamins and nutrients, vegetables can help strengthen the immune system, thereby preventing the onset of disease. Consuming vegetables can also reduce the symptoms of lichen sclerosus, but it is vital to ensure that you are only consuming vegetables that are low in oxalates. They include radishes, water chestnuts, zucchini, Brussels sprouts, chives, cabbage, endive, cucumbers, and mushrooms. In addition, vegetables can help improve mental health, boost heart health, enhance the health of the gut and digestive system, and prevent chronic diseases.
3. Cooked and dry cereals
Cereals are loaded with complex carbohydrates to prevent constipation, improve energy levels, and reduce high blood sugars. Cereal grains can also improve your health by providing the body with beneficial minerals, fats, vitamins, proteins, and lipids. When eating for lichen sclerosus, it is important to opt for dry and cooked cereals that contain little or no oxalates. Some examples include Cheerios, Rice Krispies, and Rice Chex. However, because these kinds of cereals are made from refined grains, try to refrain from eating them consistently and make sure you consume them with fruits to obtain all the necessary ingredients that your body needs. In addition, ensure the cereals do not contain bran or nuts.
4. Parmesan cheese
Also referred to as 'Parmigiano Reggiano', Parmesan cheese is an Italian cheese with nutritional contents that can decrease the risk of certain diseases. Parmesan cheese has high amounts of calcium and protein, and a one-ounce serving of Parmesan cheese contains up to 26% of the daily calcium our bodies require. According to studies, calcium can help reduce the number of oxalates the body absorbs. Other health advantages that you can get from consuming Parmesan cheese include enhanced bone health and better absorption of minerals like zinc and iron. Moreover, Parmesan cheese contains important amino acids that the body needs. Our body requires these amino acids to perform essential processes like the developing hormones and body tissue repair.
5. Fruits
Fruits containing a tiny amount of oxalates or none include cherries, bananas, yellow plums, nectarines, green plums, grapefruit, mangoes, and melons. A diet rich in fruits can reduce the risk of developing several diseases such as cancer, inflammatory disease, and diabetes. Fruits like bananas contain an amazing amount of potassium that can aid the reduction of anxiety, and high blood pressure and prevent strokes. Fruits are beneficial in helping to upgrade the functions of the immune system.
Watermelons, apples, and grapes are examples of some fruits that you consume for an enhanced immune system.
Foods to avoid with lichen sclerosus
It is recommended to avoid the following foods, as they can enhance the symptoms of the disease and make the pain more severe. They are high in oxalates which can cause skin irritability and burning sensations. In addition, make sure you stay away from foods that can increase inflammation.
Here is a list of lichen sclerosus foods to avoid:
Okra
Rhubarb
Spinach
Soybeans
Miso soup
Corn grits
Raspberries
Bulgur
Beets
French fries
Processed meat, such as sausage and hot dog
Bagels
Almonds
Margarine and lard
Tobacco
Alcohol
Lentil soup
Brown rice flour
Bran flakes
All forms of potatoes — whether baked or fried
Conclusion
There is no single diet for lichen sclerosus; however, consuming foods that are low in oxalate can potentially reduce the symptoms associated with the disease. Consuming foods that are high in oxalate can aggravate the inflammation.
Certain irritants such as shower gels, bubble baths, and detergents can worsen itchiness and lead to skin tears. In addition, avoid wearing restrictive or tight underwear; instead, wear the types made of silk or cotton. Other tips to alleviate lichen sclerosus include staying hydrated and consuming foods that contain healthy fats.
Regardless, it is important to consult a licensed health professional immediately if you notice any abnormality on the skin, especially around or on the genitals. You can consult a dietitian to get appropriate and customized recommendations for a low-oxalate diet or other available options.