Pecan oil is a derivative of pecan kernels that is starting to gain popularity among cooking oils around the world. You are probably more familiar with cooking oils like peanut oil, olive oil, coconut oil, and peanut oil, but you should definitely consider adding pecan oil to the list. Pecan oil does not only grace your recipes with an amazing flavor but it can also offer your body generous benefits.
Although primarily used for cooking, pecan oil is a familiar ingredient in the production of essential oils and aromatherapy products. It contains an abundance of nutrients that include protein, manganese, B vitamins, carbohydrates, zinc, phosphorus, vitamin A and E. However, one distinctive reason why pecan oil is a great alternative to many vegetable oils is that it possesses a low quantity of saturated fats; this advantage contributes to the many pecan oil benefits that we will be talking about in this article.
Jump to:
Pecan oil taste and appearance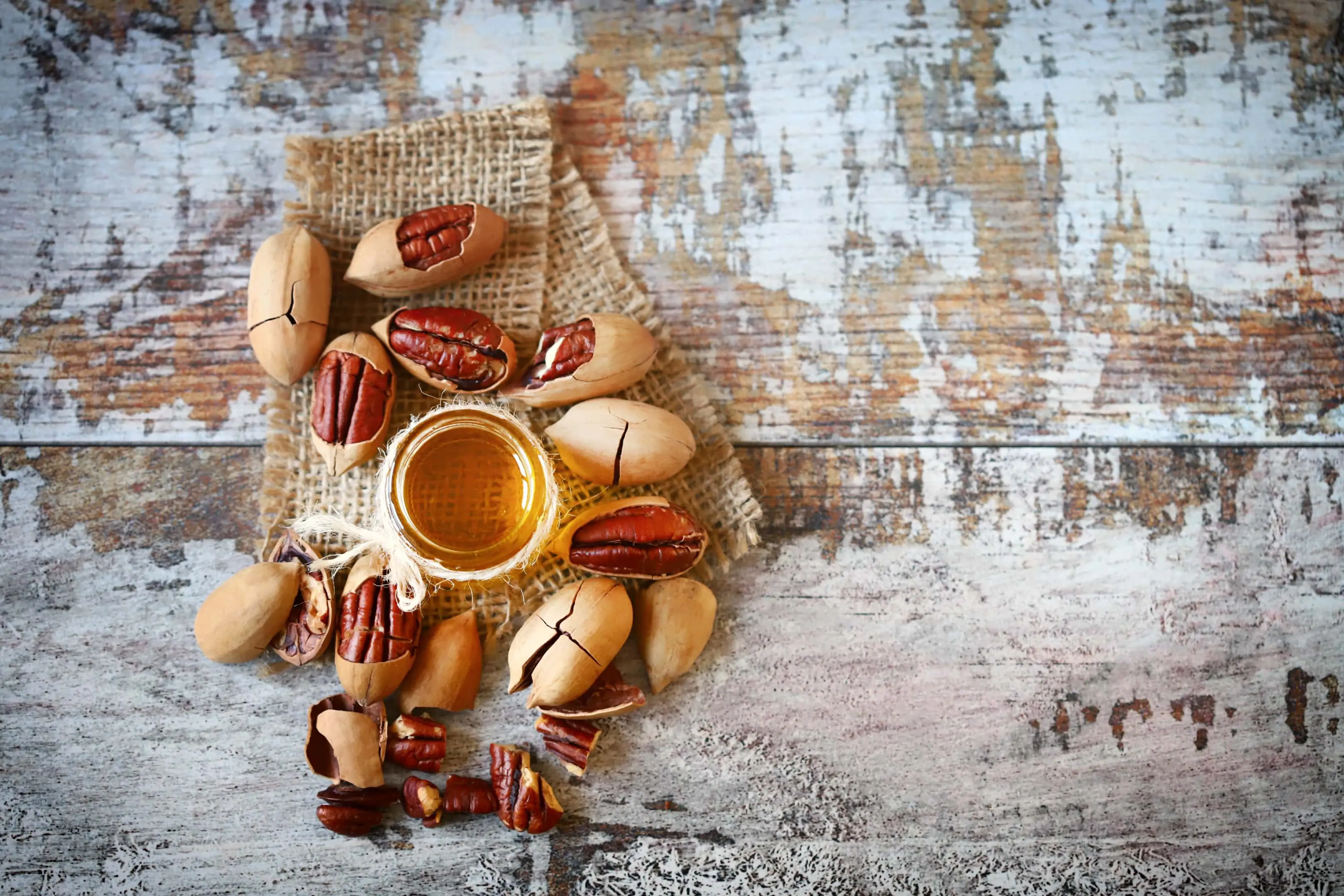 Pecan oil is edible and generally cold-pressed; its flavor and odor are neutral ones that can only be determined by the type of seasoning that you are using it with. In other words, pecan oils take on the actual flavor of the seasoning present in your recipe. The oil is light in weight and commonly carries a pale-yellow color.
Generally, pecan oil does not contain additives or preservatives and has a higher smoke point than most cooking oils, making it perfect for deep-frying, grilling, and other cooking methods. It is suitable for everyday cooking and can be utilized as a healthy alternative for butter and olive oils. You can drizzle it over a plank of salmon, use it in roasting vegetables or just mix it into a salad dressing. Its uses are numerous and so are the pecan oil health benefits.
History and processing of pecan oil
The pecan tree from which the pecan oil is derived is considered native to North America, South America, and Central America. Today, ninety-five percent of the pecans cultivated around the world come from the Americas.
Although pecan nuts have been in existence since the 16th century, pecan oil was discovered in the past fifteen years as a byproduct. Before extracting the oil from the pecan kernels, the nuts are roasted slightly, followed by a mechanical extraction; this method of extraction is chosen over chemical methods to conserve the naturally nutty taste and nutrients of the oil.
10 remarkable pecan oil benefits
Whereas most people use pecan oil for cooking purposes, pecan oil also boasts of many uses beyond just tasty dishes; the oil can offer benefits both to the skin and the body. Pecan oil health benefits and pecan oil benefits for skin are incredible and innumerable, and below we list a few of these benefits.
1. Prevention of iron deficiency
If you continuously consume foods that contain a low amount of iron, you are at risk of developing anemia, an iron deficiency. The occurrence of anemia happens because the blood does not have enough red blood cells that are healthy. Red blood cells are unarguably important in the body because they are in charge of transferring oxygen to tissues that require it. Without proper functioning of the red blood cells, you are most likely to have shortness of breath, headaches, dull skin, and fatigue. However, a good consumption of foods that contain Iron can prevent the advent of this deficiency. One of the pecan oil benefits is that it contains high amounts of Iron, thereby guaranteeing that your body gets iron when consumed.
2. Enhanced tooth and bone health
One of the many beneficial minerals that pecan oil contains is phosphorus, which is efficient in promoting strong teeth and bones. Phosphorus can also help the muscles tissues to contract well and speed up recovery after exercises. It can also aid the production of RNA and DNA in the body. In addition to this, the phosphorus composition in pecan oil can also help the human system to manage its energy storage and usage. Utilizing pecan oil in foods that contain other minerals like magnesium and calcium will most likely strengthen teeth and bones.
3. Can help the brain function better
Pecan oil contains valuable nutrients that can help boost the function of the brain, such as polyunsaturated fats and monounsaturated fats. Specifically, according to advanced biomedical research, monounsaturated fatty acids can help to diminish inflammation and mental decline. Over the years, pecan benefits for the brain have gained a high reputation due to the potent antioxidants that pecan contains. These antioxidants can provide the body with neurological protection and boost cognitive function. Using pecan oil in your salad dressing along with different fresh fruits that contain antioxidants like vitamin E, magnesium and flavonoid can diminish the symptoms of dementia and other diseases linked to brain function.
4. Management of blood pressure
Pecans have a high level of magnesium in them and guess what? Magnesium is great for lowering irregular blood pressure. However, it does not have the same consequence on people with normal pressure levels. Additionally, foods that contain magnesium, according to studies, have anti-inflammatory advantages which can help slacken the signs of obesity, aging, and certain chronic diseases. The magnesium in pecan oil can also aid in the prevention of migraines, decrease the body's resistance to insulin, relieve bloating, cramps, and stomach pain associated with monthly periods. Other benefits of this mineral in pecan oil include the improvement of mood to combat depression, and enhanced performance during fitness activities.
5. Can amplify heart health
The generous fiber content in pecan oil is a great contribution to the health of the heart. Pecan oil can contribute to the functions of your heart by helping to decrease your chances of developing a coronary health disease. Pecan oil contains oleic acid and monounsaturated fats, which along with certain antioxidants, can help maintain the health of your heart. Pecan oil aids in the prevention of different diseases in your body by holding back the unfavorable oxidation of various blood lipids, and can also prevent the development of strokes.
6. Has anti-aging qualities
In addition to pecan oil health benefits, this healthy oil can also offer benefits to the skin by warding off the factors that contribute to premature aging. Pecan oil contains an antioxidant called ellagic acid which can reduce skin pigmentation that is caused as a result of UV rays. Many people have wrinkles and fine lines on the cheeks and below the eyes due to premature aging; the cooperative action of vitamin E, ellagic acid, and vitamin A can help combat the free radicals that cause the appearance of the wrinkles. Pecan oil benefits for the skin also include the advantage that vitamin A and E in the oil can help your skin achieve smoothness and softness.
7. Eliminates factors that can lead to breast cancer
Today, doctors are recommending that we use more pecan oil in our cooking, because pecan oil has been found to be able to reduce the risk of getting cancer. Pecan oil contains oleic acid, which is a kind of fatty acid that is potent in lessening the risk of breast cancer. Although there is not enough research on whether pecan oil can be completely used to get rid of cancer, a study has also shown that pecan oil can decrease the growth of tumors in cells. The oleic acid in pecan oil can support the migration of cells causing breast cancer so that the growth of these harmful cells is not supported.
8. Supports weight loss
Although many fitness enthusiasts and dieticians are used to recommending olive oil to those who are overweight, pecan oil is more effective than olive oil. Pecan oil can help to eliminate unhealthy and undesirable fat in the body. Nuts are always a part of sustainable diets; for example, the Mediterranean diet revolves around foods like vegetables, fruits, poultry, grains, and nuts. Eating pecan oil can support satiety and accelerate metabolism, so that calories and fat are broken down to churn out energy whilst reducing weight.
9. Clearer complexion and prevention of skin problems
If you have pale-looking skin, you should without a doubt utilize pecan oil to get a brighter complexion. It can help add moisture to your skin to make it supple and fresh-looking. Pecan oil for the skin can also prevent the advent of breakouts and the accumulation of oil in skin pores. Also, pecan oil can aid the regeneration of damaged skin cells by restoring them with new ones to help you look beautiful.
10. Supports healthy hair
Pecan oil can also render various advantages to the hair by nourishing it and giving it a shining color, as it contains L-arginine, an amino acid. This amino acid can help eliminate baldness in men and decrease hair patchiness. An increased blood flow to the roots of the hair can assist in stimulating the growth of hair. Pecan oil benefits for hair can also help you manage damaged hair by using pecan oil in combination with other ingredients to produce a hair mask. Additionally, pecan oil can be also used to cure dandruff and make the scalp feel less itchy.
Conclusion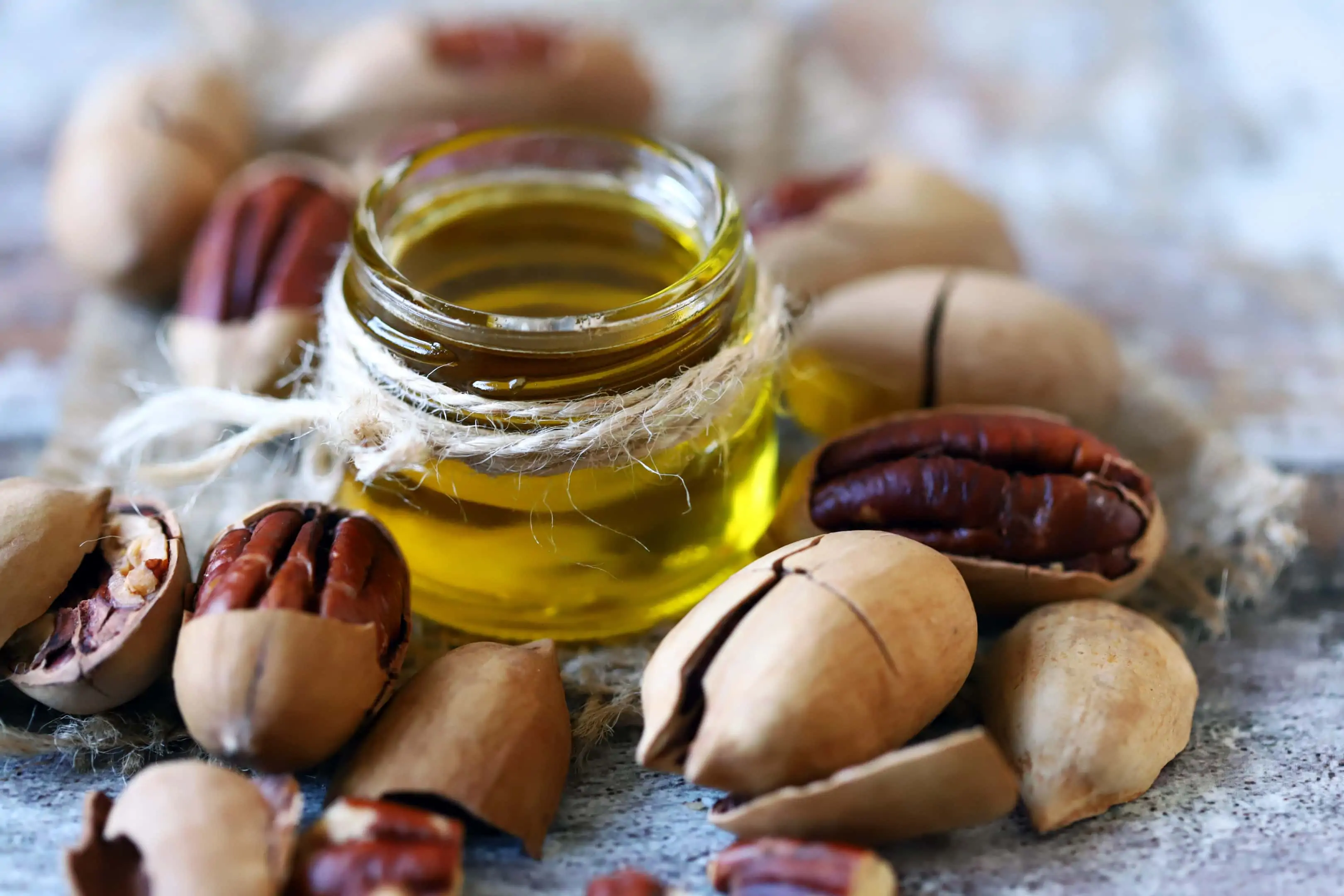 It is astonishing how many advantages one can gain from the use of one oil. From pecan oil health benefits to pecan oil benefits for skin and hair, we can see how pecan oil is a fountain of many benefits. You should replace your common cooking oils with pecan oil where you can, to reap from these benefits.