Nuts are generally of great benefit to most types of diets. Aside from possessing amazing flavor and being a great option for a healthy snack, they contain vitamin E and other minerals such as fiber, protein, and beneficial fats that can aid the elimination of different kinds of illnesses. However, even though most people consume a lot of nuts, they are not familiar with the healthy byproducts that come from these nuts and one of such nuts is the pistachio nut.
Pistachio nuts have been used over the years as a symbol of healthiness, and its oil is one of the healthiest oils extracted from kernels. Due to this, there are a plethora of pistachio oil benefits that await you to learn about.
Jump to:
What is pistachio oil?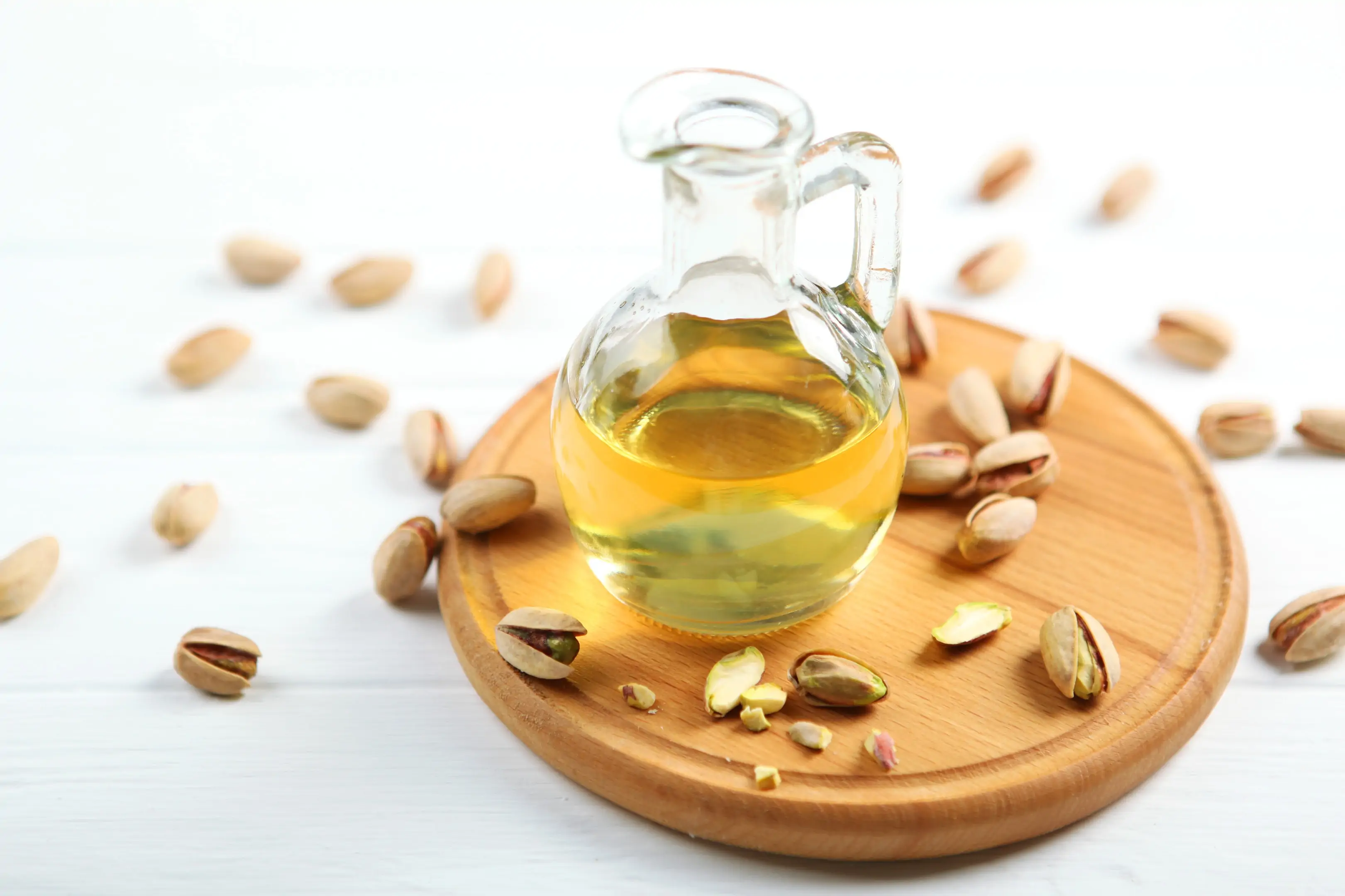 Pistachio oil is the oil obtained from pistachio nuts, which are the fruits of the tree referred to as Pistacia vera which belongs to the Anacardiaceous family. This tree is majorly cultivated in Turkey, the U.S., and Syria. Although generally categorized as nuts, pistachios are practically the seeds of the fruit. Pistachio oil is filled with beneficial fats and minerals that can strengthen your quality of life. Pistachio oil can be used for many purposes ranging from hair to skin, as well as for your health.
Description and process of pistachio oil
Pistachios have an amazing taste and they are considered by most people as one of the most flexible nuts because they can be used in making different tasteful foods. Pistachio oil has a flavor similar to the taste of the nut; it possesses a fierce nutty taste with a bright green color. However, because of the intense flavor that the oil has, it is most suitable for adding flavors to recipes.
Pistachio oil is produced through a rigorous process that involves different stages that first begins with heating the pistachio nuts, then the extraction process which involves utilizing different pressure systems like screw press and hydraulic to draw out the oil. After the process of extraction, the extracts are then transferred to be separated from the impurities. After that, you have fresh pistachio oil.
Pistachio oil benefits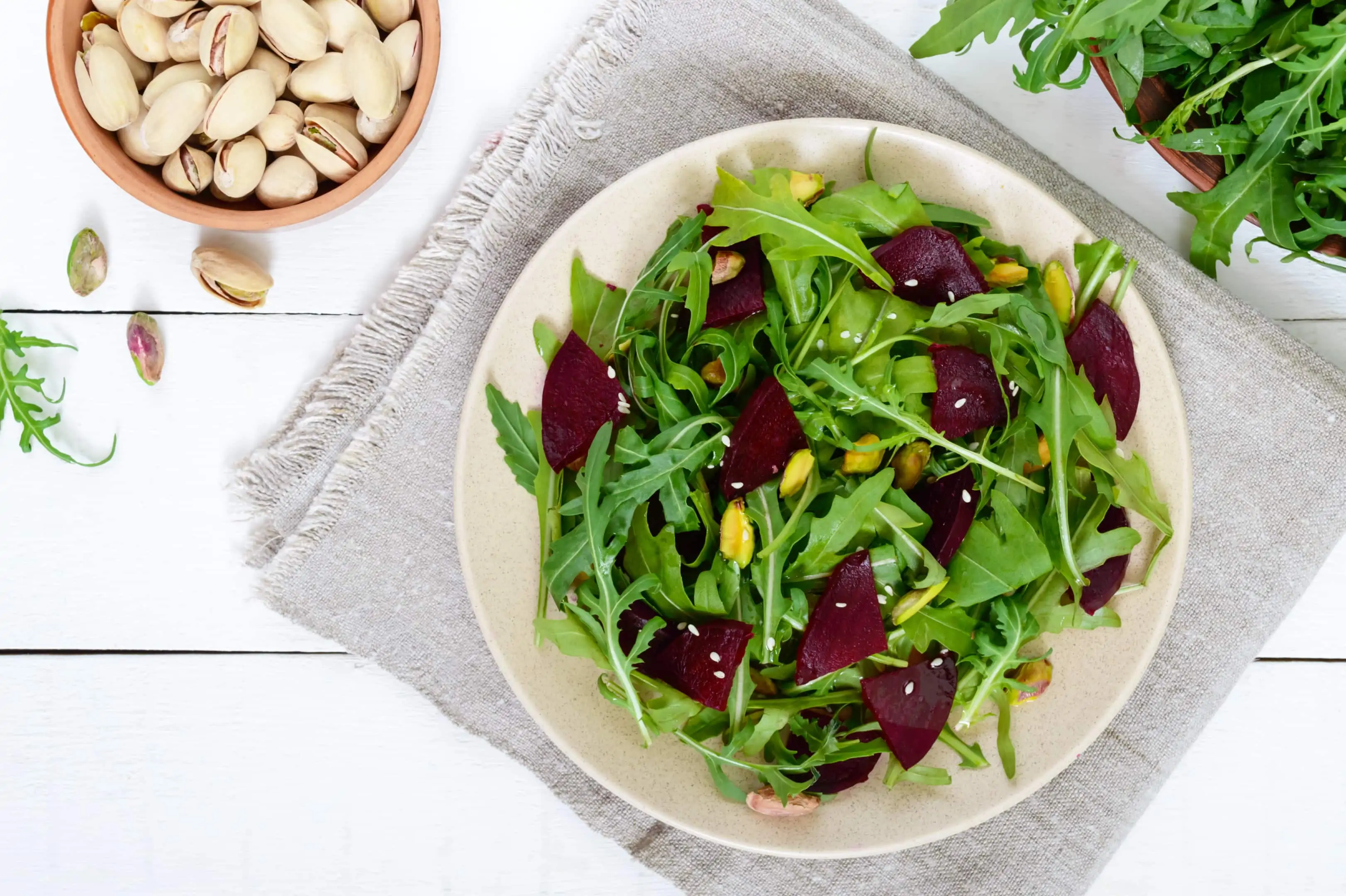 The benefits of pistachio oil are numerous because it contains nutrients like biotin that is great for hair loss, vitamin B6 which can help maintain the function of the brain, and vitamin E for radiant-looking skin. Let's dive in and explore the many awesome pistachio oil benefits:
1. Aids in the development of red blood cells
One of the main nutritional compositions of pistachio oil is vitamin B6, which is popularly recognized for its role in aiding with the adequate distribution of oxygen in the blood during circulation. Good blood circulation in the body is necessary for the maintenance of optimal health, as it supports functions like a fast healing process from wounds, a healthy heart, and a radiant complexion. Vitamin B6 in pistachio oil can also facilitate the development of cells and support the balance of white and red blood cells; the balance of white and red blood cells helps to ward off illnesses and promote body metabolism.
2. Is a source of antioxidants
Antioxidants are unarguably important for our body to deal with infections and diseases. They protect the body from harmful radicals that can give rise to heart illnesses and cancer. Pistachio oil contains more potent antioxidants than most of the byproducts of other nuts. This oil contains antioxidants like zeaxanthin and lutein which can give the body several advantages, such as supporting healthy eyesight by protecting your eyes from unhealthy blue light and absorbing excess light energy. According to the National Library of Medicine, these antioxidants can also protect age-related macular degeneration from totally progressing to blindness. Zeaxanthin and lutein can also offer protection to the eyes by slowing down the formation of cataracts, reducing the symptoms of diabetic retinopathy, and alleviating the inflammation that arises because of an eye condition called uveitis. Pistachio oil also contains other potent antioxidants like polyphenols and tocopherols which can aid in the reduction of inflammation associated with cancer.
3. Aids in sexual vitality
Another benefit of pistachio oil is that it contains effective aphrodisiac qualities that can enhance sexual desire in women and men. It is often used in aromatherapy, which has calming effects and can help calm the body to necessitate a feeling of pleasantness. As a result, blood is effectively channeled to the reproductive organs. Sexual vitality increases, as a result. So, if you desire a natural method to boost your sex drive, utilize pistachio oil when engaging in aromatherapy.
4. Contains considerate amounts of dietary fiber
Unlike other kinds of carbohydrates, our bodies do not digest dietary fiber; instead, it passes it straight down to the stomach and intestines. Dietary fiber is one of the most popular and efficient ways to eliminate constipation and stomach aches. Apart from this, dietary fiber can also support fitness and help you lose excess weight. One notable pistachio oil health benefit is that it contains dietary fiber in quality amounts, and consuming it can aid the alleviation of difficult bowel movements. Using pistachio oil to make your foods can give you the advantage of a reduced chance of getting cardiovascular diseases and certain cancers. The fiber that pistachio oil contains can also help to feed your gut a kind of bacteria that is referred to as 'healthy'; the good development of these healthy bacteria can lead to a reduction in gut inflammation and decreased risk of Crohn's disease.
5. Helps to boost the immune system
An important advantage that your body can get from the consumption of pistachio oil is a better functioning immune system. Pistachio oil possesses vitamin C and many other antioxidants that can prevent the body from getting sick or attracting some infections caused by bacteria or viruses. A healthy immune system is an important factor that can guarantee you a well-functioning body system. The vitamin C in pistachio oil can also give rise to pistachio oil benefits for skin that include the elimination of dark spots and excellent skin radiance. Pistachio oil through its vitamin C composition can also help the body accelerate its wound healing process and help strengthen its guard against chronic ailments.
6. Aids in the prevention of heart attacks
When your body has a balanced level of cholesterol, you are less likely to get a heart attack. An abnormal rise in cholesterol levels can cause several health problems like stroke, peripheral vascular disease, and coronary heart disease. However, pistachio oil has fascinating cholesterol-reducing properties that can help you avert these health issues. Pistachio oil contains L-arginine which is an amino acid that can help your body reduce and unclog arteries and long-term prevent the advent of heart-related diseases. According to the research carried out by the Indian Journal of Clinical Biochemistry, L-arginine has been proven to be able to decrease the quantity of cholesterol in the body.
7. Boosts blood circulation to support brain function
Amazing vitamins like vitamin B6 can give rise to smooth blood circulation. When there is an unhindered flow of blood through the body, the lungs, muscles, and heart can properly perform their duties. The blood transmits white blood cells to the parts of the body where they are needed to combat diseases. Vitamin B6 in pistachio oil can support the blood in producing hemoglobin, which is one of the important elements necessary for the brain's health. The more vitamin B6 in the body, the better the functionality of your brain because the neurons are well protected. Asides from brain functionality which is one of the pistachio oil health benefits, vitamin B6 can also aid the regulation of mood by helping your body handle stress better.
8. Supports healthy skin
Besides the multiple pistachio oil health benefits, the oil also proffers astounding benefits to the health of the skin. The pistachio oil benefits for the skin include the ability of the oil to produce smooth and silky skin. Pistachio oil contains vitamin E, which is one of the most popular natural methods that is being utilized around the world to enhance skin's appearance. If your skin is prone to hyperpigmentation or you keep having breakouts, the vitamin E in pistachio oil can help you deal with this. Vitamin E contains anti-oxidative qualities that can give the skin some protection against skin damage caused by constant exposure to the sun. In addition to this, vitamin E also contains ingredients against premature aging, by mitigating the effects of harmful radicals in the body. Pistachio oil also contains fatty acids that are great for the healthy maintenance of beautiful-looking skin.
9. Beneficial for healthy hair
Pistachio oil benefits for hair include the prevention of breakage and protection of hair from dryness. It contains ceramides which can help keep the hair cuticles shining and able to endure wear. How? Ceramides enhance the retention of moisture and boost hair elasticity. Additionally, pistachio oil contains vitamin K, a natural source of biotin; this vitamin can promote faster and healthy hair growth. Consuming pistachio oil can also give your hair a more lustrous and smooth appearance.
Conclusion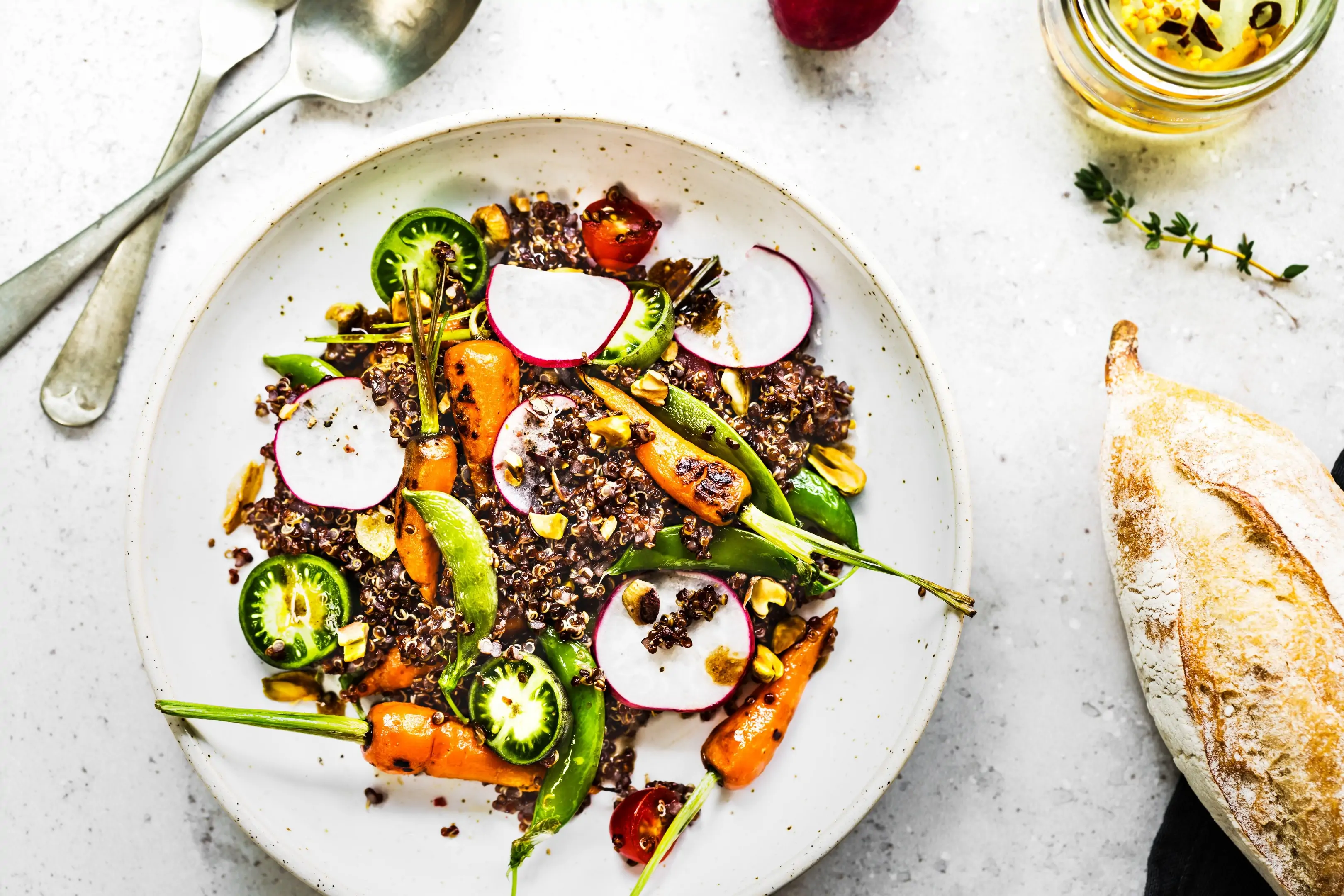 The pistachio oil benefits are not limited to only body health, as this oil can also offer many advantages to the hair and skin. To enjoy these numerous benefits, opt for the use of pistachio oil today.