Shiitake mushrooms are popular around the world because of their edibleness, savory flavor, and many benefits that they offer. These mushrooms are considered medicinal in nature. They can also promote excellent benefits to the hair and skin. This is because they contain valid and important antioxidants and nutrients like niacin, vitamin B5, manganese, zinc, fiber, vitamin D, selenium, copper, and vitamin B6.
Additionally, shiitake mushrooms also boast anticancer qualities, cholesterol-reducing, and immune-support effects. However, in this article, we will be concentrating on the awesome shiitake mushroom benefits for the skin.
Jump to: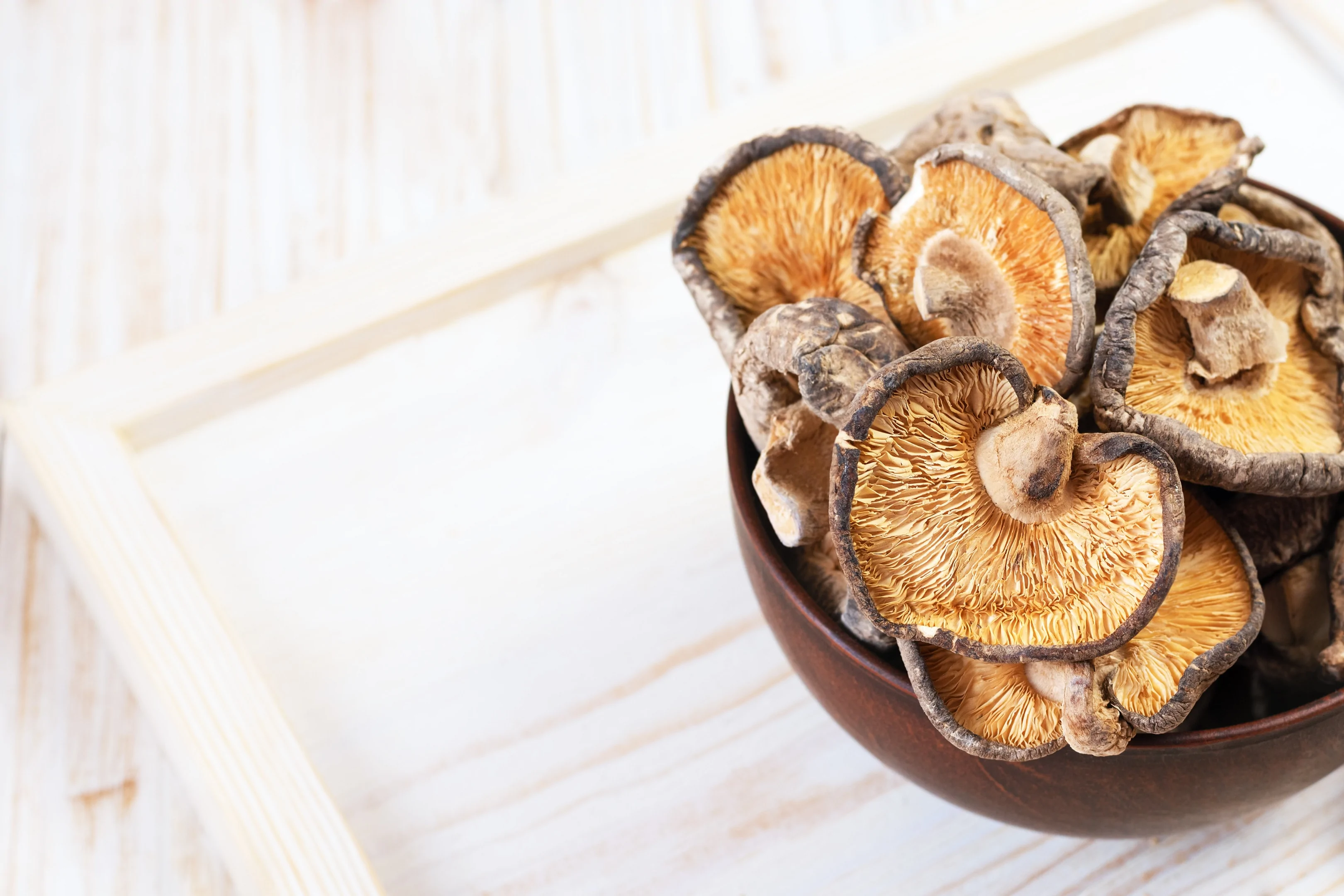 What are shiitake mushrooms?
Shiitake mushrooms are esculent mushrooms that are native to most East Asian countries. They possess umbrella-like caps that are large and have a dark brown to tan color; sometimes, they often take on completely black color. These types of mushrooms are often likened to portobello mushroom or a cremini. However, shiitake mushrooms have rough and thinner stems which are mostly cream in color. The flesh of the shiitake mushroom is firm, spongy, and chewy.
They have a unique appearance and are easy to identify, so you probably won't confuse them with other kinds of mushrooms. Although dried shiitake mushrooms are more available and popular in stores, they can be utilized both in their dry and fresh forms. Their aroma can be likened to a garlic-pine. When dried, shiitake mushrooms have a umami and smoky taste that's more profound than when the mushrooms are fresh. An umami taste is described as the fifth taste after the other four tastes; it is meaty or filled with savor. Fried and fresh versions of shiitake mushrooms can be used in stews, stir-fries, and other kinds of foods.
Origin of shiitake mushrooms
Today, shiitake mushrooms are the second most distinct type of mushroom cultivated in the world. However, their history can be traced back to China from 1000 A.D to 1100 A.D., where they were mostly grown for the benefits that they offered to traditional medicine. In China, shiitake mushrooms are thought to have the ability to improve longevity, sexual drive, and health.
With the scientific name 'Lentinus edodes', shiitake mushrooms develop in groups on deciduous trees that have wood that decays particularly trees like maple, hornbeam, sweetgum, mulberry, oak, and chestnut. They grow well in moist and warm climates in Southeast Asia all year-round. Shiitake mushrooms are also referred to as Oak mushrooms, Black Mushrooms, Shiang-gu, Dongo, and Shanku.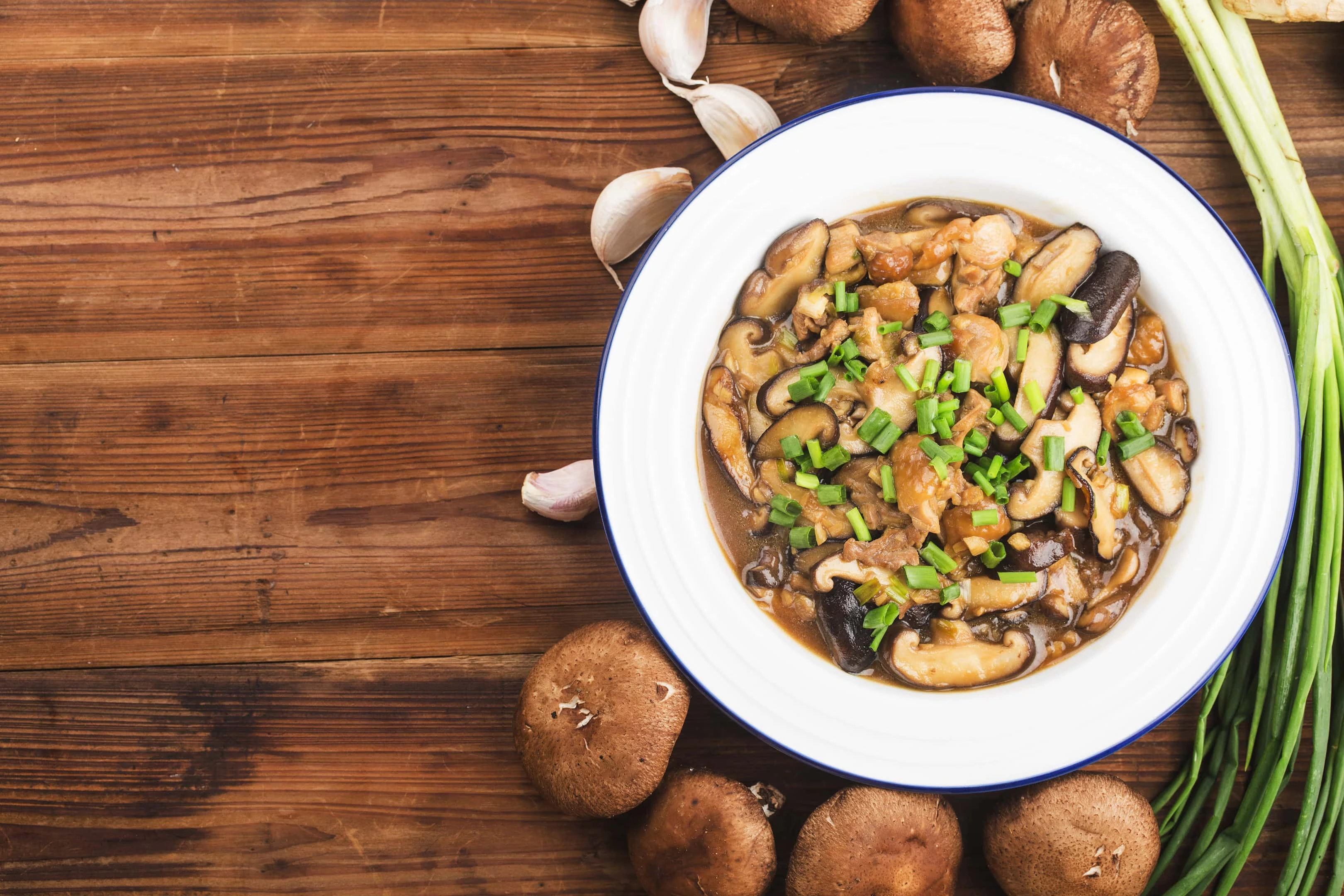 Other facts about shiitake mushrooms
As previously mentioned, shiitake mushroom can be used in different dishes and is also suitable for different cooking methods like grilling, steaming, sauteing, frying, baking, and boiling. You can also rehydrate the mushrooms for long-term use. When used as a flavoring agent, shiitake mushrooms go well with different kinds of pasta, bell peppers, carrots, ramps, ginger, shrimps, garlic, onions, rice, soy sauce, water chestnuts, potatoes, and baby corn.
In traditional medicine, they are generally considered medicinal because of all the quality minerals and vitamins that they contain that can give the body many advantages like the maintenance of heart health, sustainability of the immune system, inhibition of the development and spread of certain tumors, and support of healthy bones. Shiitake mushrooms are a great part of the medical traditions in China, Korea, Eastern Russia, and Japan.
In addition to the above uses, shiitake mushrooms can also offer a number of benefits to our hair, such as eliminating hair loss, supporting fuller hair, preventing dandruff, and supporting a more shiny and lustrous hair appearance. Let's dive into a few of shiitake mushroom benefits for the skin.
5 awesome shiitake mushroom benefits for the skin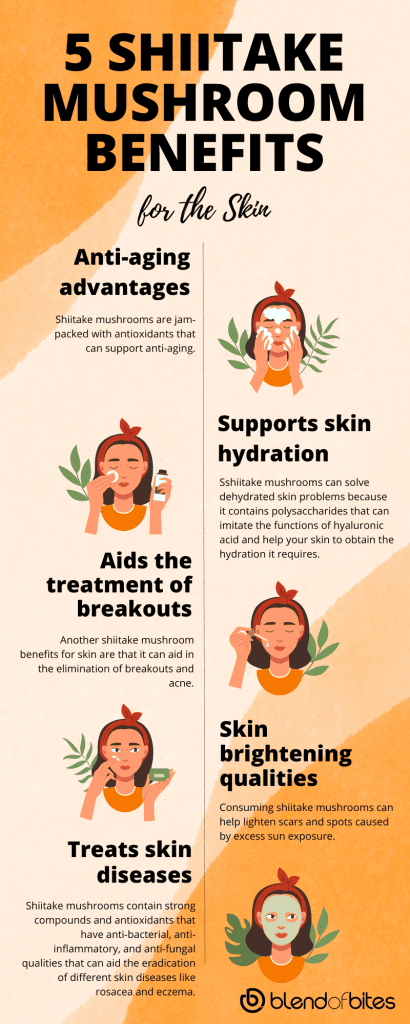 Shiitake mushrooms are not just edible mushrooms with a great taste and aroma; they are also an excellent dietary supplement when it comes to proteins for vegetarians and they also possess multiple benefits that they can offer to the skin. Here are some of shiitake mushroom benefits for the skin:
1. Anti-aging advantages
Shiitake mushrooms are jam-packed with antioxidants that can support anti-aging. They contain nutrients that include choline, vitamin C, and selenium which are powerful and beneficial to the skin. Choline is a unique member of the vitamin B family and it can support the functions of other B vitamins that play a role in collagen production and elasticity of the skin. When consumed in foods like shiitake mushrooms, choline can help your skin get back its suppleness and recover from sun damage. Selenium, on the other hand, can help your skin cells put a stop to the harmful radicals that bring about wrinkles prematurely. It can also offer protection for the skin by maintaining firmness and providing a barrier against UV rays, to hinder pigmentation and inflammation. Vitamin C in shiitake mushrooms can support the functions and abilities of both selenium and choline. It can aid in promoting even skin tone, repair dry skin, brighten pigmentation and unwanted spots, and help damaged skin recover. These nutrients together can help your skin stop the premature emergence of wrinkles and prevent the dull appearance of skin.
2. Supports skin hydration
Hydration is considered vital for the health of the skin; poorly hydrated skin can attract itchiness, uneven complexion, fine lines, and oiliness. However, shiitake mushrooms can solve dehydrated skin problems because it contains polysaccharides that can imitate the functions of hyaluronic acid and help your skin to obtain the hydration it requires. These polysaccharides have skin-protecting abilities that can help improve skin problems, thereby helping your skin to stay in an excellent condition. As is known, dry skin generally occurs when damage has occurred to the protective barriers of the skin. However, when you consume shiitake mushrooms, polysaccharides give your skin an increased ability to renew and repair. According to a study, polysaccharides have antioxidative qualities that can help combat fine lines, wrinkles, and dry skin.
3. Aids the treatment of breakouts
Another shiitake mushroom benefits for skin are that it can aid in the elimination of breakouts and acne. This is because shiitake mushrooms are filled with vitamin D, which when used topically can prove to be very effective in shrinking the appearance of breakouts and decreasing the symptoms of acne. When you add these mushrooms to your diet, they can help your skin improve its healing ability to recover from the damage done to it by the appearance of acne. Vitamin D generally possesses antimicrobial qualities that can alleviate the symptoms of acne, especially when it is a result of bacterial growth. Additionally, vitamin D in shiitake mushrooms has anti-inflammatory characteristics that can reduce inflammation caused by acne. Aside from these advantages, vitamin D can also help the skin cells in metabolism, repair, and rejuvenation. The vitamin can also help to support the immune functions of the skin so as to eliminate harmful elements that might damage the skin.
4. Skin brightening qualities
Kojic acid is mostly known for skin lightening and brightening advantages for the skin. However, the kojic acid in most skincare products when used continuously for long-time harms the skin, that is why using a more natural type of kojic acid is better. Most mushrooms predominantly contain kojic acid, the kojic acid in shiitake mushrooms has antifungal qualities that can help combat skin infections like candidiasis, ringworm, and other bacterial infections. If you have acne spots that have not yet faded, kojic acid can help lighten the spots and help your skin get back to its former appearance. Also, consuming shiitake mushrooms can help lighten scars and spots caused by excess sun exposure.
5. Treats skin diseases
This is one of the vital shiitake mushroom benefits for skin that your skin most definitely needs. Shiitake mushrooms contain strong compounds and antioxidants that have anti-bacterial, anti-inflammatory, and anti-fungal qualities that can aid the eradication of different skin diseases like rosacea and eczema. This mushroom contains L-ergothioneine which is an excellent antioxidant that can support the exfoliation of the skin, thereby helping the skin to get rid of harmful elements that might give rise to infections and illnesses. Consuming shiitake mushrooms or utilizing them topically can prevent and alleviate the symptoms of many skin diseases. Also, shiitake mushrooms are high in niacinamide, which is a potent B vitamin that can calm the skin and shield it from irritability. If your skin suffers from sensitivity, shiitake mushrooms can help give your skin a soothing relief and prevent the aggravation of other skin problems. Niacinamide in shiitake mushrooms can also assist the skin in efficiently building its cells, while also protecting skin cells from pollution, toxins, and sunlight. Niacinamide can also help the skin to regulate the amount of oil the skin glands secrete to prevent oily skin and prevent glands from experiencing an overdrive.
Conclusion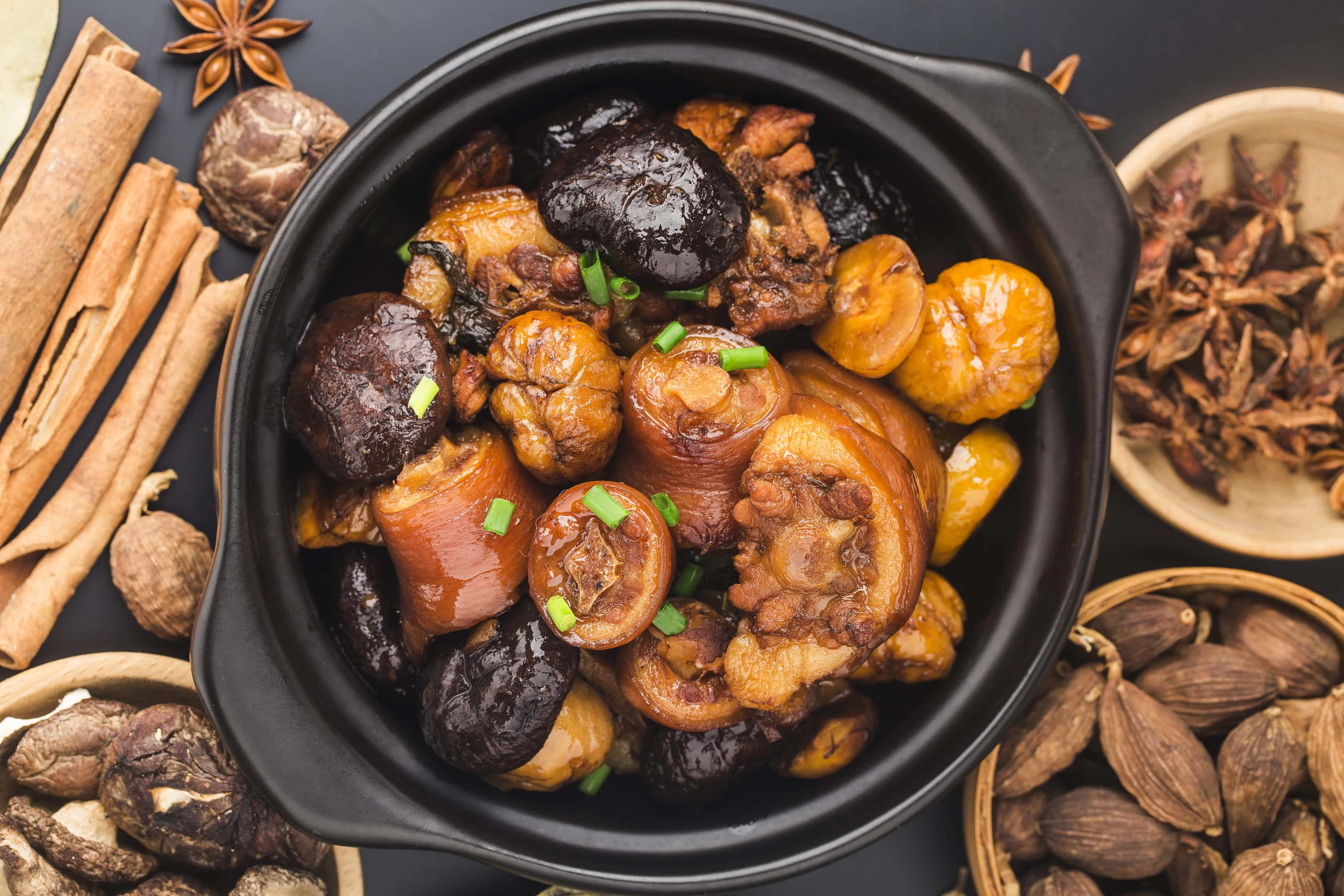 Other advantages that shiitake mushrooms can offer the skin include the reduction of pore appearance and the support of the skin's ability to retain moisture. Consuming these mushrooms can guarantee your skin will be free from acne and dark spots, hyperpigmentation, and uneven skin color. The addition of shiitake mushrooms to your diet can help you obtain anti-inflammatory and anti-bacterial benefits that ultimately help you to maintain glowing skin. This glowing skin can serve as a protective barrier, helping to protect it against skin illnesses and infections. To obtain these benefits and more, make sure you consume shiitake mushrooms in your diet.