While many people might have reservations once they hear the word 'snake', snake fruit is in no way related to any reptile. It is just a nickname that the salak fruit has earned over the years because of its unique snake-like skin. The snake fruit is a tropical fruit with a blend of different fruit flavors such as banana, apple, and pineapple.
Apart from its spectacular name, snake fruit also contains many important nutrients and organic acids that the body can't do without; these nutrients include potassium, beta carotene, calcium, protein, iron, vitamin B2, and vitamin C. Due to the numerous nutrients that snake fruit contains, it can benefit the human body in many ways.
Jump to:
What is snake fruit?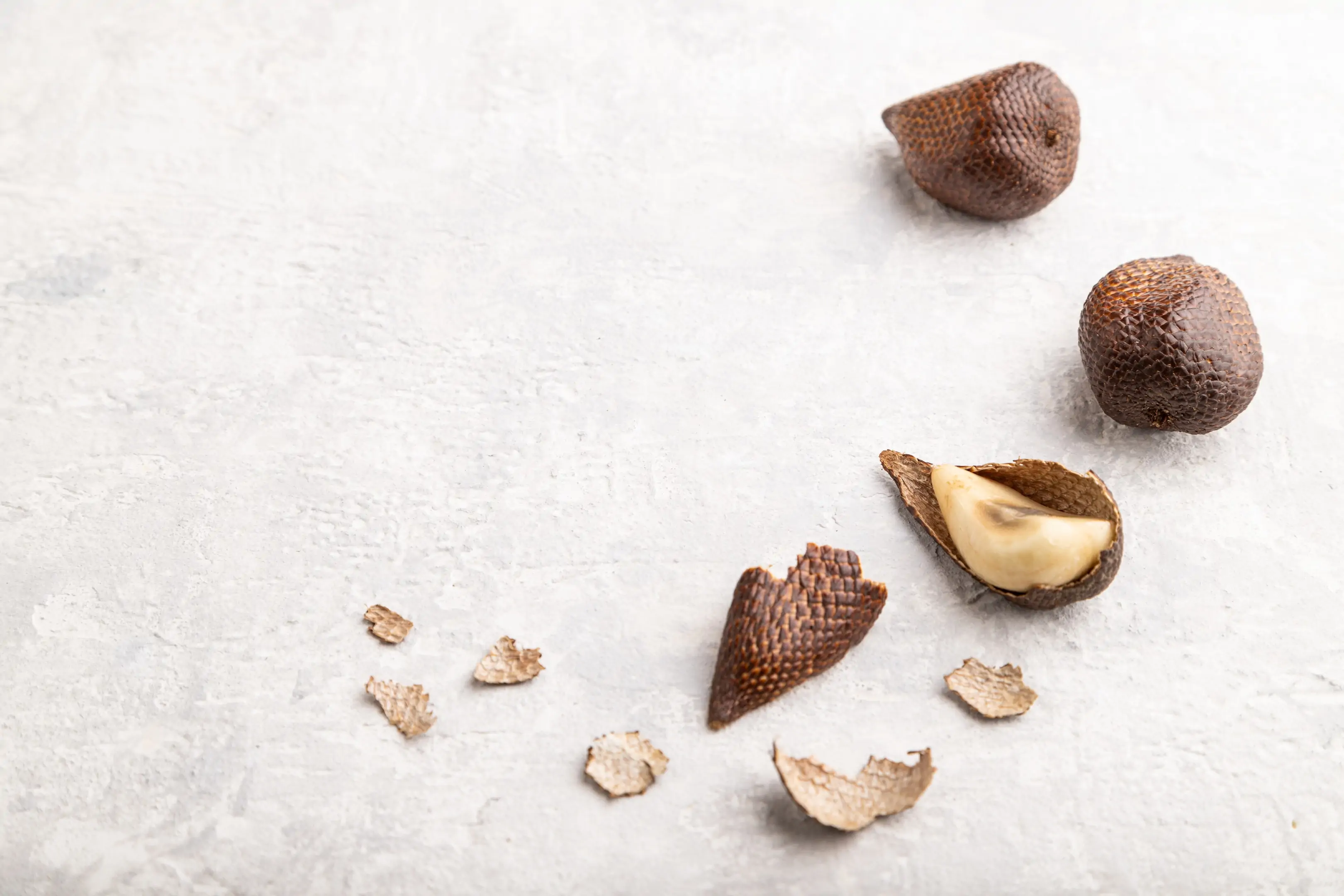 Also known as salak fruit, the snake fruit has a light to dark red color and an exterior that is scaly and prickly. It has a size that is similar to that of figs and might have a look like that of a garlic clove when it is peeled. You can get rid of the outer texture of the salak fruit by pinching it at one end to reveal the three lobes that are usually inside; in these lobes, each fruit has one inedible seed. The lobes are similar to one another.
It is the flesh surrounding these seeds that are usually consumed because of their flavor. The taste of snake fruits is usually acidic-like and sweet and their texture resembles that of an apple depending on the ripeness and type of the fruit. Some varieties of the fruit can be drier and have a flaky texture. Asides from being consumed as a fruit, snake fruits are also used to make candies, juices, and wine.
History of snake fruit
The snake fruit is indigenous to the people of Indonesia. It is derived from a palm tree species referred to as the 'salak tree' that is distinct to the natives of Southwest Java and South Sumatra in Indonesia. The tree is botanically referred to as 'Salacca zalacca.' The salak tree requires good harvesting skills because the tree possesses spiked leaves and stems. The salak tree has up to thirty varieties of which most of them possess a sharp and sweet taste. However, the two most common cultivars are 'salak pondoh' which is native to Yogyakarta, and 'salak Bali' that is native to Bali Island in Indonesia.
Snake fruits have a maturation of about five to seven months after they might have been pollinated. Although the tree produces fruits throughout the year, in Indonesia, its peak is usually around December and May. To optimally enjoy salak fruits, it is recommended that the fruits should be harvested before full ripening. Snake fruits are today cultivated in countries like the Philippines, Australia, Thailand, Singapore, and India.
Snake fruit health benefits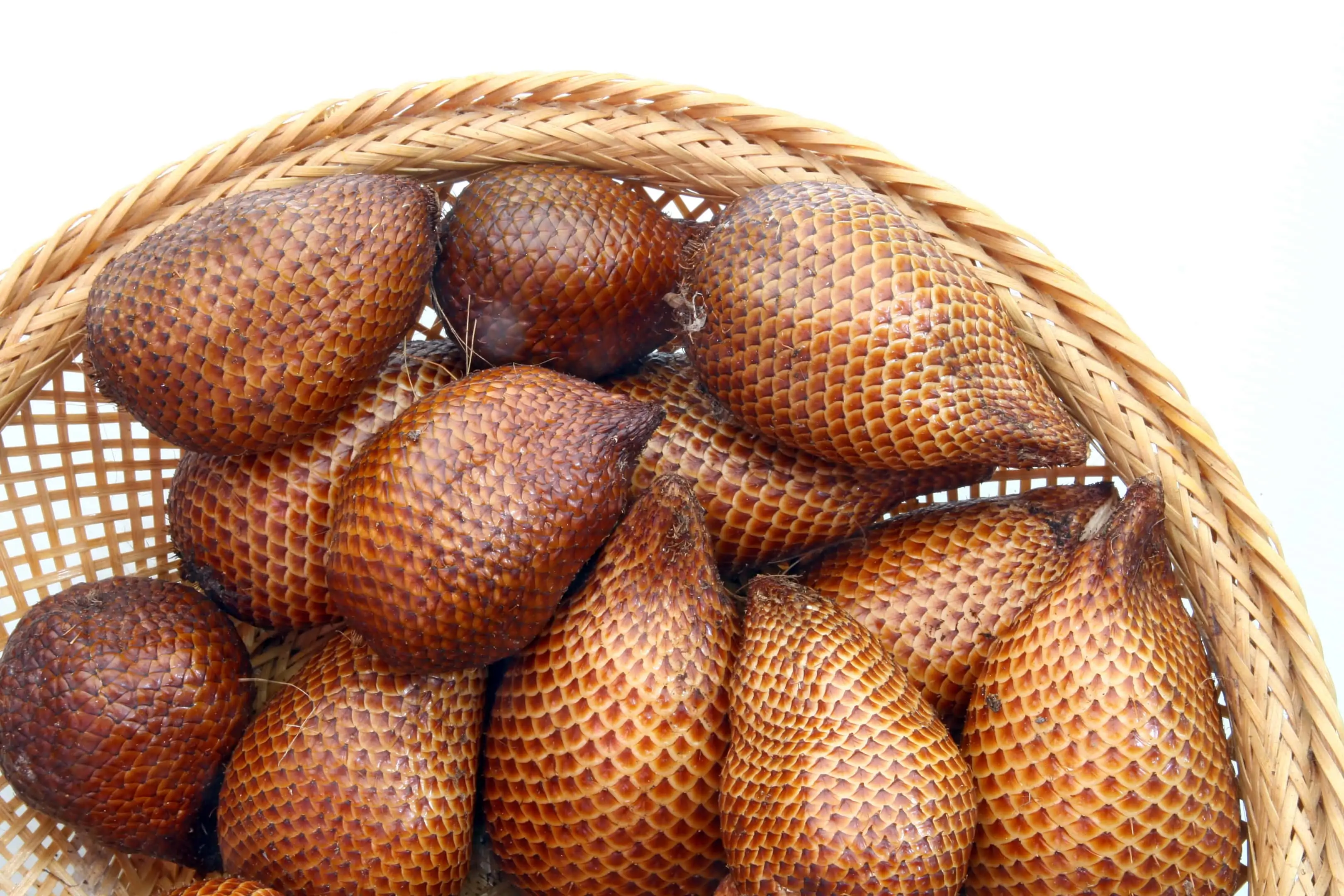 Snake fruit has important nutrients and even possesses anti-diarrheal properties. To learn more about what the snake fruit can do, let's extensively discuss some of the snake fruit health benefits:
1. Excellent for eye health
Salak fruit contains beta-carotene which is potent for vision. Consuming snake fruit can be likened to adopting a natural eye medication, and can be eaten regularly to boost eye health. Foods and fruits that contain beta-carotene have the advantage of protecting the eyes from diseases, especially ones related to age and that can cause vision loss such as cataracts. According to studies, beta-carotene can have a huge effect on age-related macular degeneration. Beta-carotene can also contribute to cognitive function. Also, the body converts beta-carotene to vitamin A which aids the prevention of night blindness and the treatment of myopia.
2. Enhanced memory
Snake fruit contains active minerals like pectin, beta-carotene, and potassium, which are good for enhancing memory. This fruit can improve memory by increasing the flow of blood to the brain; this brings about enhanced memory power and also amplifies cognition. This is why many have given salak fruit the 'memory fruit' nickname. Another one of salak's benefits is that it can help shut out oxidative stress and decrease one's risk of developing neurodegenerative disease.
3. Great for weight management
Dietary fiber is generally popular and efficient for weight management. Snake fruit is filled with high amounts of dietary fiber that can aid the prevention of unneeded snacking and excessive eating because it can give one a heightened level of fullness. This snake fruit health benefit can further support the elimination of cramping, bloating, and constipation. If you are looking to start a weight loss diet, you should consider adding this great fruit to your weight-loss diet.
4. Helps to control blood sugar
For people who are suffering from diabetes, snake fruit is one of the healthy fruits that you can consume. Apart from being filled with fiber, it can also help to control and balance the body's sugar level. Also, snake fruit has several traces of pterostilbene, which are very functional in reducing the amount of blood glucose that is in the body. The skin of salak fruit can be processed into tea, which is very good for accelerating the cell renewal process of the pancreas.
5. Boosts the immune system
A hundred grams of salak fruit can give your body up to 14% of your daily intake of vitamin C. Having high levels of vitamin C composition in the body can promote good health, as it is a potent antioxidant that can aid the eradication of toxic chemicals and free radicals. While enhancing the functions of the immune system, vitamin C can prevent the complications of cold, decelerate skin aging, aid in better absorption and protect the body from chronic diseases. To efficiently understand the importance of vitamin C, note that a deficiency of vitamin C can give rise to fatigue, bleeding gums, depression, and tooth loss.
6. Can be used in the treatment of diarrhea
Salak fruit has anti-diarrhea properties, and consumption of up to 20 grams of snake fruit can be used to stop diarrhea. This salak benefit can also help to relieve stomach aches, flatulence and alleviate irritable bowel movements. Many natives of Indonesia today still use the bark of the salak tree to combat diarrhea.
7. Can improve stamina
Snake fruit contains many vital nutrients that are useful for boosting stamina. The combination of the minerals and vitamins in snake fruit helps the body to have better stamina and enhanced energy. Including salak fruit in your diet can help your body refill the energy it needs for you to perform daily activities. You can even opt to include snake fruit in smoothies when engaging in workouts or exercises.
8. Improves skin health
The benefits of salak fruit are not limited to the body's health alone. This fruit can also offer potential advantages to the skin. If you want beautiful and clear skin, you should try to consume snake fruit regularly, as it contains antioxidants that can protect the skin from the bad effects that free radicals can wreck. Snake fruit also contains vitamin C, which is very efficient in promoting youthful skin by aiding the skin's regeneration process.
9. Boost cardiovascular health
Potassium is one of the mineral compounds that are present in snake fruit and it has different advantages that it gives to the body; potassium can help the body to properly regulate fluid and aid the proper functioning of the cardiovascular system. Additionally, this mineral content of the salak fruit can decrease tension in the blood arteries and vessels, thereby reducing the overall stress to the cardiovascular system. Potassium can also help to improve the body's water retention, improve muscle contraction, and aid in the prevention of strokes.
10. Great for pregnancy
Women are generally advised to consume nutrient-rich foods during pregnancy, to ensure that the baby gets the best nutrition that it needs to develop well. Salak fruit is a good fruit for pregnant women, especially those that have symptoms of morning sickness such as nausea and tiredness. However, pregnant women should not consume too much of this fruit and should balance it with other foods that contain protein.
11. Good for digestive health
This is also one of the salak benefits; it contains vital compounds such as flavonoid, tannin, and saponin which are useful in enriching the digestive system. Flavonoids have been discovered to help deal with irritable bowel diseases and inflammation. Saponin can strengthen your body's immune system. On the other hand, tannin possesses efficient bacterial properties that can help in eliminating some pathogens that afflict the digestive system. Snake fruit can help the stomach in the prevention of digestive disorders. However, to perfectly utilize this benefit, be sure to consume salak fruit along with its skin.
Conclusion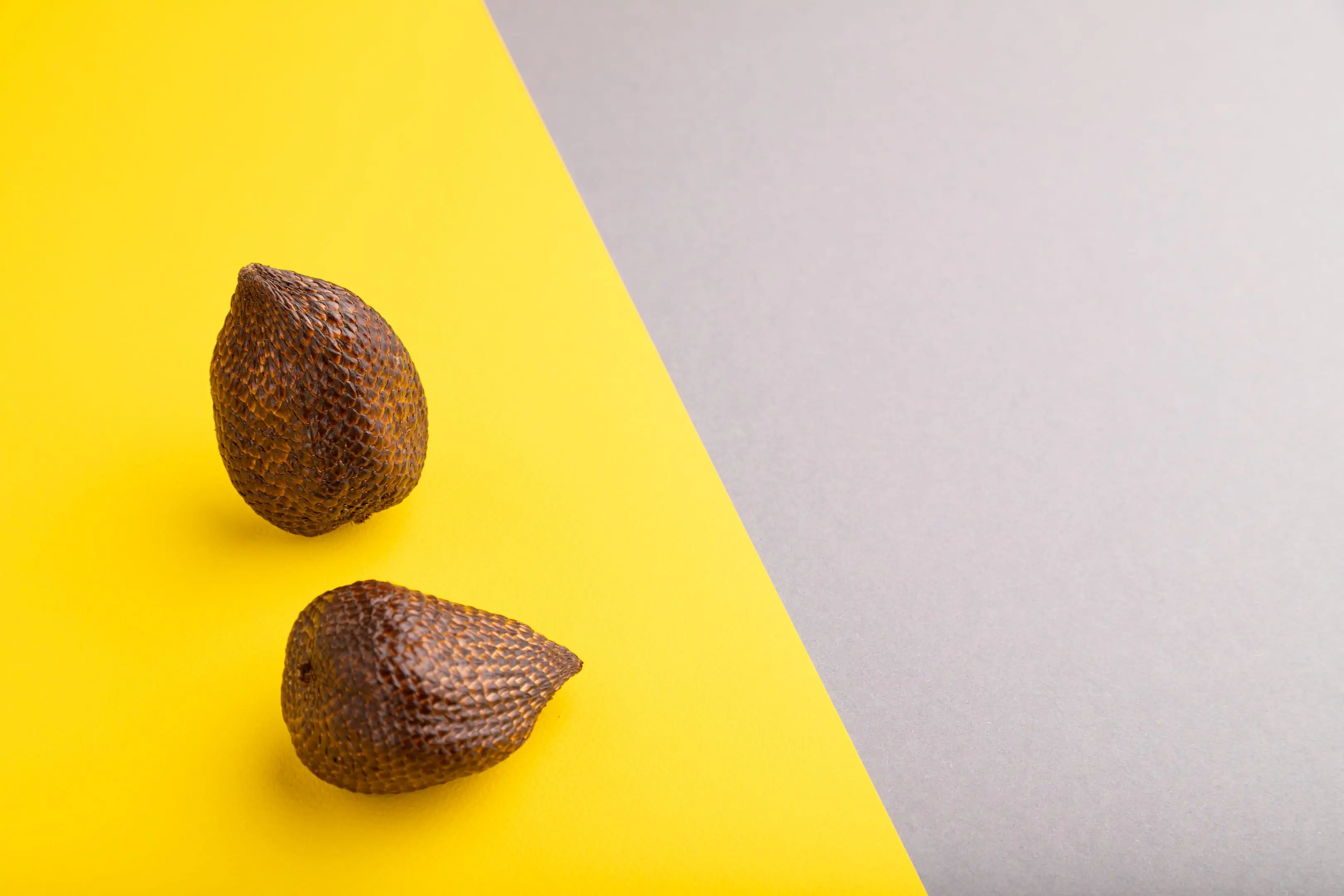 It is safe to say snake fruit is more than a mere fruit; it is an embodiment of diverse nutrients and organic acids. It is advantageous to the body's health and can enhance overall body functions. Snake fruit health benefits can protect the body from cell damage. Furthermore, the regular consumption of snake fruit can slow down the aging process and prevent the emergence of several diseases. Although snake fruit might not be easily found in Europe and the U.S. because it is most common in counties that are in Southeast Asia, however, you can purchase fresh and canned versions of the fruit from certain specialty stores.