Seeds and nuts are of great benefit to any type of diet because they can notably influence your health. They are not only loaded with fantastic and beneficial nutrients, but they also are healthy to consume and can protect your body from many types of chronic diseases. An advantageous type of nutritious seeds that you should be consuming more often is sunflower seeds.
Sunflower seeds possess high-quality minerals, healthy fats, and amazing plant compounds that can aid the prevention of certain types of illnesses and diseases. The nutritional elements that they contain include vitamin E, selenium, niacin, magnesium, fiber, and zinc. All of these nutrients work together to bring about the many sunflower seeds benefits for males that we shall extensively dive into in this article.
Jump to:
Description of sunflower seeds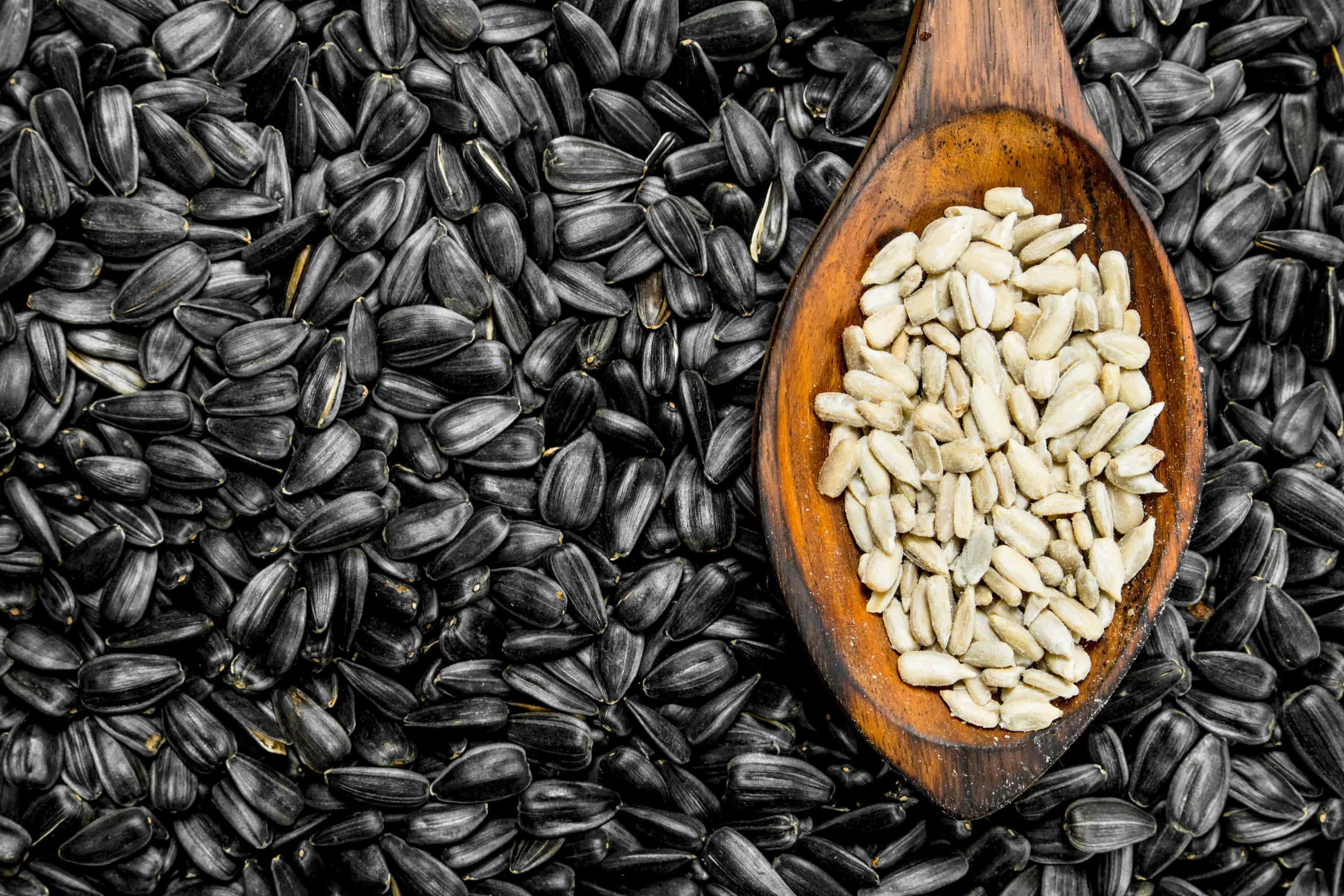 These seeds are generally described as the fruit of the sunflower plant. One sunflower head can produce more than 2000 sunflower seeds. There are three kinds of sunflower seeds: 'linoleic' which is the most popular and widely consumed, 'sunflower oil seeds', and 'high oleic'. Each of these seeds has their qualities and contain a distinct amount of saturated, polyunsaturated, and monounsaturated fats. The linoleic variety, which is the type that is being discussed in this article, can be eaten as a snack or used in nutrition bars after being stripped.
The kind of sunflower seeds that is suitable for consumption is enclosed in striped white and black shells that are inedible; these shells are also referred to as hulls. On the other hand, the different types of sunflower seeds that are mainly used for oil extraction have thick black shells. The taste of the sunflower seeds is gentle and nutty with a texture that is rather tender but firm at the same time. The seeds are about 10 to 15 millimeters long and about 4 millimeters broad or drop-shaped. Although you can get raw sunflower seeds from stores, some people choose to roast them to enhance the taste. Sunflower seeds can also be used as an ingredient in different recipes or to garnish different foods.
Other things to know about sunflower seeds
The origins of the sunflower plant can be substantially traced to North America where it was first originally cultivated by American Indians for different uses that include flour milling to make cakes and bread; the seeds were also cracked, roasted, and eaten whole with other grains or consumed alone. Today, Argentina, and Russia are some of the main producers of these seeds.
Even though sunflower seeds naturally possess a great nutritional profile, some processes are used to improve their nutritional content. Such processes include dehulling and heat treatments. The dehulling process is utilized to improve the protein content and reduce the fiber content in sunflower seeds; this process is mostly carried out when sunflower seeds are being used in making confectionery products. On the other hand, heat treatments can be done through roasting and this method can help preserve the longevity of the seeds. However, regardless of the dehulling or heating process, this has nothing to do with the sunflower seed benefits for males.
Seven surprising sunflower seeds benefits for men
Men relatively have a higher rate of developing diseases that are linked to diet than women and this is why males need to make good choices when it comes to foods that should be in their meal plan. Here are some of sunflower seeds benefits for men that should make you include sunflower seeds in your next grocery list:
1. Good source of energy
Sunflower seeds contain a good quantity of thiamine and plant proteins. Thiamine helps the body to break down proteins, fats, and carbohydrates in the foods that we consume to bring about energy. Thiamine, also referred to as vitamin B1 can aid the prevention of complications in the brain and nervous system. Apart from this, sunflower seeds are also an abundant source of protein; when it comes to muscle building, men like to consume meat; however, excess consumption of meat can escalate your intake of cholesterol and harmful fats. Sunflower is a great alternative to consuming meat to acquire protein because a half cup of sunflower seeds contains more than 12g of protein. If you want to add to your intake of protein, while engaging in muscle building, consider adding sunflower seeds to your meal.
2. Improved sexual function
Not only can eating sunflower seeds help you get great muscles, but it can also help you to improve your performance in bed. Sunflower seeds contain vitamin E and potent antioxidants like L-arginine and omega-3 fatty acids that can help jump-start your sexual desires. Enhanced sexual function and stimulated blood flow go hand in hand; vitamin E is very effective in aiding the free flow of blood to the necessary parts of the body. Good heart health and blood flow would essentially help to amplify your libido by helping the blood vessels around the penis relax. With these sunflower seeds benefit for males, you don't even have to consume them alone; you can sprinkle the seeds on your yogurt or use them to top your salad. In addition, according to research, the antioxidants that sunflower seeds contain can be consumed along with other seeds and nuts like peanuts and walnuts to correct erectile dysfunction.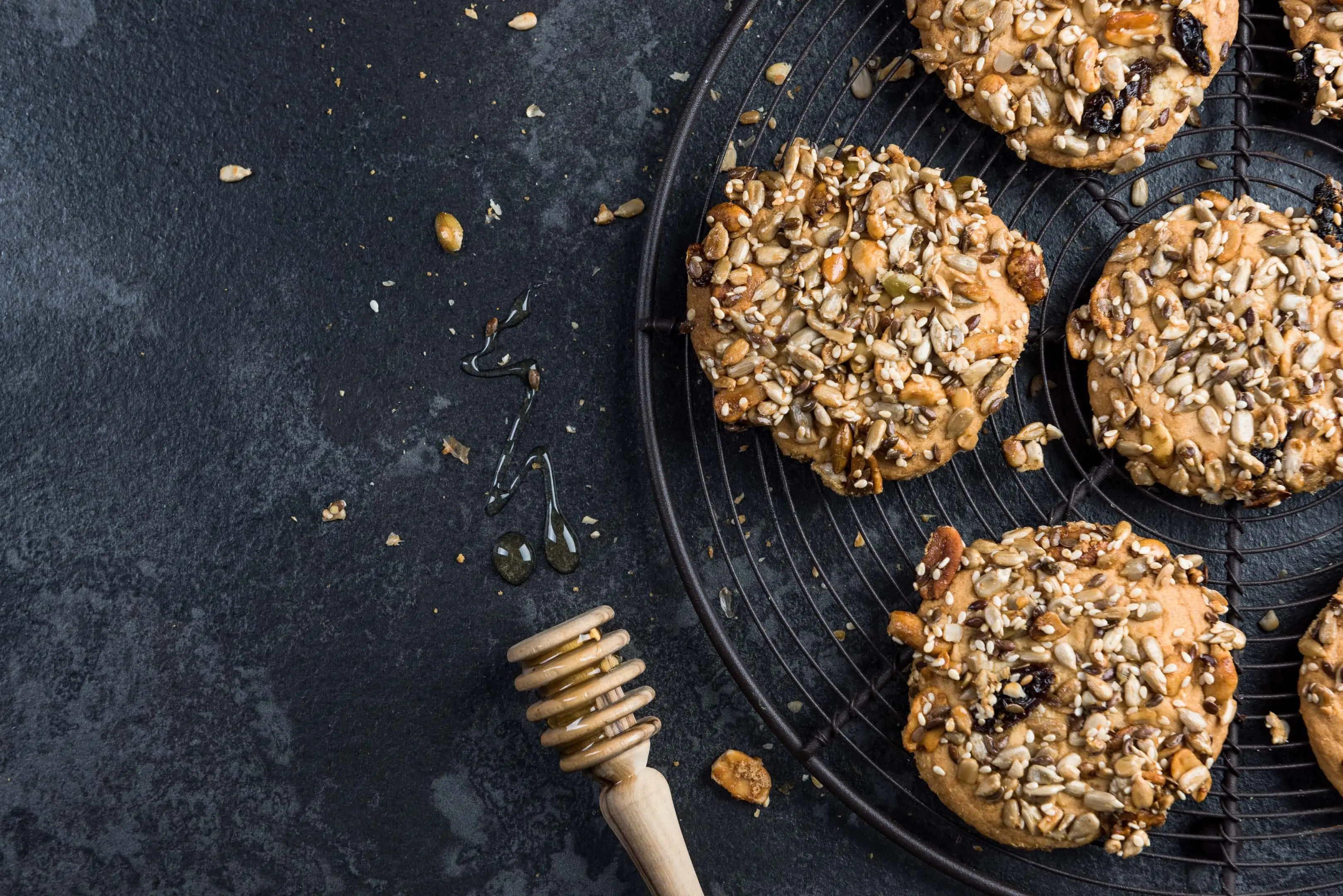 3. Decreased inflammation
Inflammation is one of the factors that highly contributes to the emergence of several types of chronic illnesses like type 2 diabetes and heart diseases. Sunflower seeds have a notable amount of vitamin E which has high anti-inflammatory and antioxidant qualities that can help decrease the symptoms of inflammation and chronic diseases. This amazing seed also contains plant compounds like flavonoids which have been proven to help reduce the factors that can add to inflammation symptoms. This can in the long run assist in combating cancer and certain cardiovascular diseases.
4. Beneficial for good skin
Glowing skin is another sunflower seeds benefit for men. Having healthy skin as a man will not only make you more attractive, but it can also enhance your confidence. Sunflower seeds contain antifungal and antibacterial properties that can help ward off skin infections. Sunflower seeds also possess linoleic and oleic acids, which are great for the production of elastin and collagen; this can help your body accelerate the process of wound healing and protect your skin from unwanted scar formation.
5. Supports a strong immune system
An immune system that is effectively functioning is non-negotiable when it comes to good health, and sunflower seeds are an excellent immune system supporter. These seeds contain selenium, zinc, and vitamin E which can help protect the body from infections and bacteria. Vitamin E can help to improve the body's immune response; zinc can create a barricade around the body's system to protect it from harmful pathogens and allergies; selenium can boost immunity by supporting anti-inflammatory activities and decreasing oxidative stress. According to certain studies, vitamin E can contribute to overall well-being by enlarging blood vessels, thereby preventing blood clots from occurring within these vessels.
6. Improves and contributes to quality heart health
Foods that contain potassium can benefit the heart by aiding in reducing blood pressure and eliminating the factors that can contribute to hypertension. Men require up to 4,700 milligrams of potassium per day as stated by the Academy of Nutrition and Dietetics. Sunflower seeds can help men meet these needs as you can get more than 200 milligrams of potassium in a quarter serving cup of sunflower seeds. Also, sunflower seeds are rich in mono-unsaturated and poly-unsaturated fats, which can offer benefits to the heart. Sunflower seeds can be used to replace foods that contain saturated fats which can affect heart health. Consuming sunflower seeds can balance your body's cholesterol levels and decrease your risk of developing a heat-related illness.
7. Can decrease the cancer risks and symptoms
While there is no solid research that there are foods that can reduce the development of cancerous cells, a proper and healthy diet can aid in decreasing the signs of some kinds of cancers. Sunflower seeds contain a phytosterol referred to as beta-sitosterol which can support the aversion of breast cancers by clamping down on the development of the tumor. Sunflower seeds also contain other antioxidants that can lower the chances of you getting colon cancer. According to the national center for biotechnology information, beta-sitosterol can also prevent the formation of other types of cancers like stomach cancer, leukemia, prostate cancer, and lung cancer by reducing inflammation and supporting angiogenesis.
Other sunflower seed benefits for men include the improvement of mood, brain function, and concentration to support good cognitive function, as well as the support of weight management by aiding the reduction of calories being consumed because sunflower seeds contain fiber. Sunflower seeds can also be beneficial to people suffering from anemia because they contain substantial levels of iron, which is indispensable to produce red blood cells.
Conclusion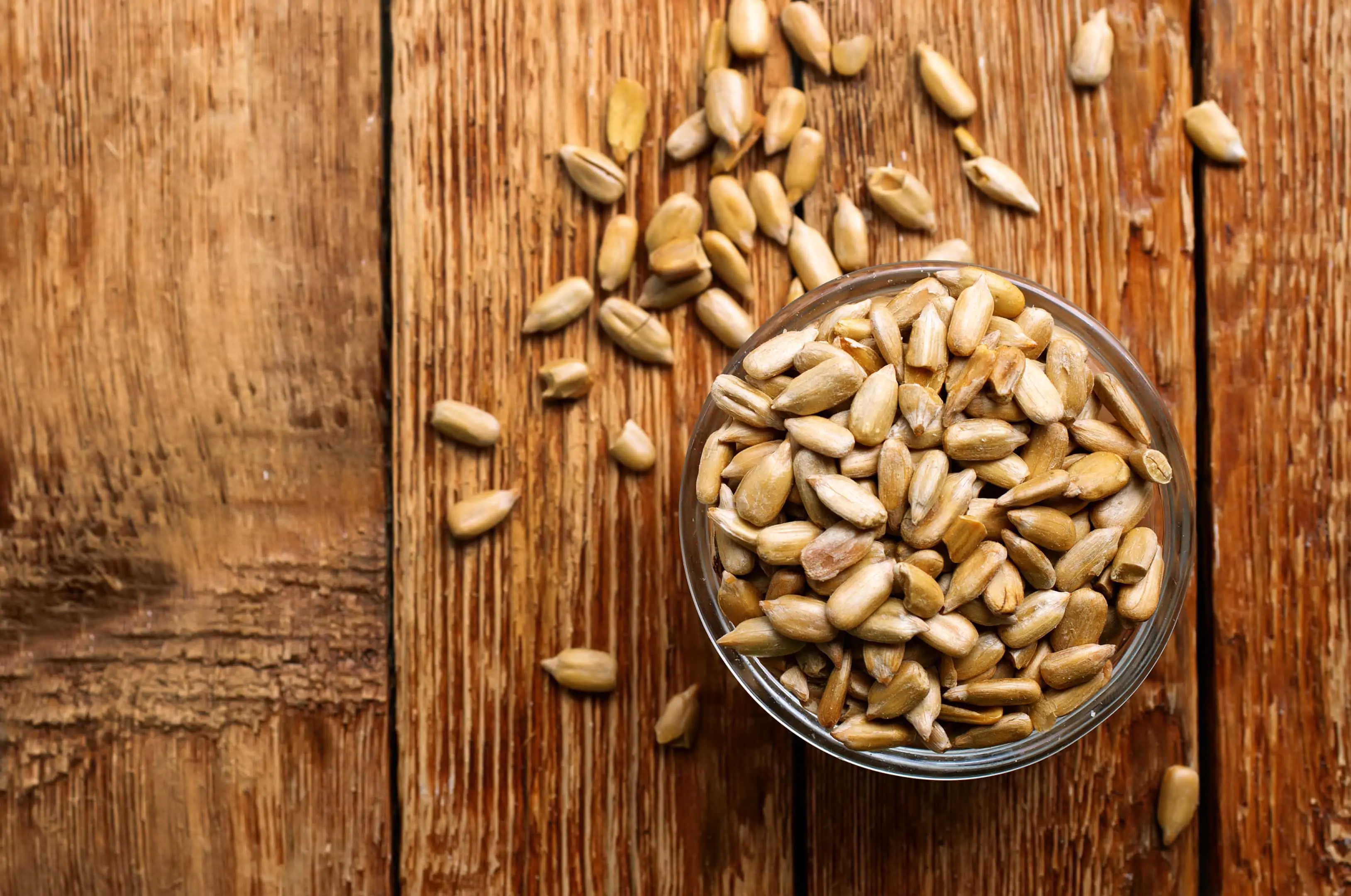 From being able to enhance sexual function, supporting excellent heart health, and giving you an astonishing boost of energy, sunflower seeds are undeniably one of the most important seeds that every man should continuously consume. As a man, you must make healthy food choices as this can help you reduce the risk of developing chronic diseases and generally enhance the quality of life. The sunflower seed benefits for males are outstanding and numerous; they would be a fantastic addition to your current diet plan. However, you mustn't abuse the use of sunflower seeds by excessively eating them as this can cause constipation and stomach ache.