Currently, plant proteins are incredibly appealing to vegans, vegetarians, and plant-based eaters! The downside is that many fall short in amino acids. An exception is water lentils — a new plant-based food to hit the health and food world!
Not only are these incredibly nutrient-dense, digestive-system-compatible, and allergen-friendly, but they claim to be the only plant-based source of Vitamin B12 today. Also, water lentils at present are one of the most sustainable food options in the world.
If you want to know more, you can continue reading to learn about water lentil benefits and their overwhelming nutritional content.
Jump to:
Getting to know water lentils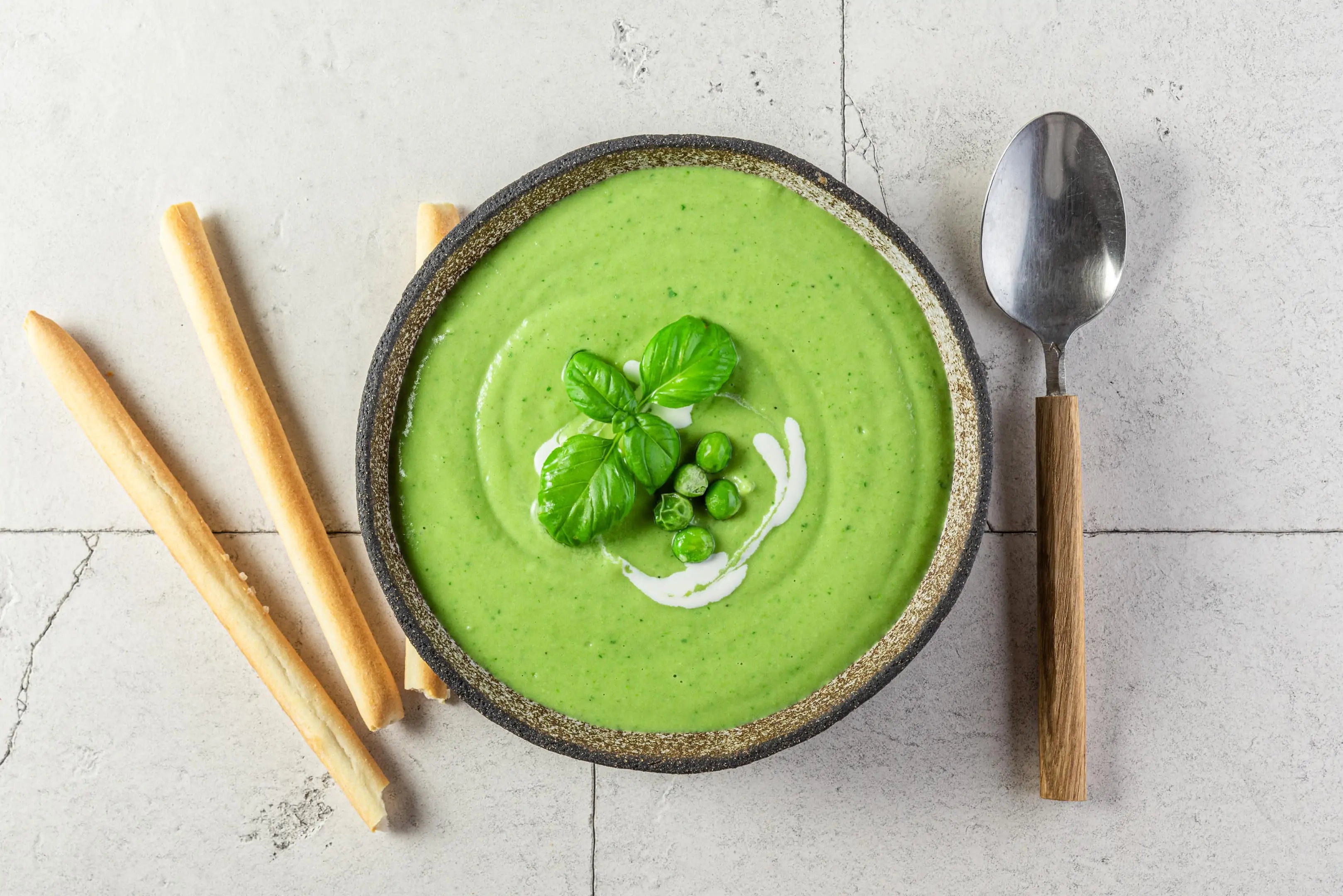 Water lentils, botanically known as Lemnoideae and colloquially as bayroot or duckweed, are currently a significant contender in the plant-based protein industry. You may have seen or encountered these small aquatic plants floating and growing naturally on a slow-moving stream, marsh, or pond. Regardless of its tiny size, who would have thought it is currently revolutionizing the food and plant industry?
Ironically, water lentils are not lentils (or legumes). They are tiny, flowering aquatic plants that also carry the name Lemnoideae. It is a plant family that includes both Wolffia or Duckweed and Lemna. It is considered one of the smallest flowering plants in the world.
Water lentils are usually found growing in subtropical climates and primarily stay above freshwaters. This plant is rich in nutrients and shares few similarities with microgreens and watercress.
Water lentils are traditionally used and included in diets across Southeast Asia. It also serves as a herbal remedy, which allowed it to slowly gain popularity in the food industry's world stage as a high-quality and nutrient-dense plant-based source of protein.
With this plant consuming less water than other plant-based sources of protein, water lentils have a vast potential and chance of being a massive player in both the culinary and food industry.
Water lentils nutritional profile
Unlike most, it contains high-quality protein content, making it somewhat similar to whey protein powder in terms of amino acid profile. This high content protein is unheard of and is extremely rare among plant-based proteins!
Water lentils are nutrient-dense and allergen-free foods containing several minerals, dietary fiber, vitamins, healthy fatty acids like antioxidants, and omega 3 fats. It was recently issued by the U.S. Food and Drugs Administration (FDA) that water lentils are generally recognized as safe (GRAS). This announcement means that this aquatic plant poses no known health threats and is safe to eat as they meet all food safety standards.
Water lentils are a unique and one-of-a-kind plant protein solution that contains a complete amino acid profile. It has an equal or higher percentage or amount of essential amino acid per gram than dairy and has exceedingly higher amounts than soy or peas.
Benefits of water lentils
Water lentil benefits are almost endless with their unique, high-quality protein content that offers an excellent nutritional profile, effectively making them both a superfood and powerhouse.
1. Assists cardiovascular health
Water lentils have a high concentration of polyphenols. This is known to reduce signs of aging. Also, it has cardiovascular benefits too, as it is highly protective of both the heart and the cardiovascular system.
Polyphenols are commonly found in plant foods, like vegetables, fruits, spices, herbs, tea, wine, and of course, water lentils. They can act as antioxidants that can reduce radicals that can harm and damage the cells, lowering the risk of having diabetes and heart disease.
You can add at least a scoop of water lentil powder to your smoothie, and it will help limit and reduce the effects of aging cells in the cardiovascular system.
2. Source of protein
Included in the long list of water lentil benefits is that it is a potent source of protein. Water lentils are a suitable and perfect addition to vegetarian, vegan, and gluten-free diets. In their raw state alone, water lentil protein reaches 45%, nearly 10% more content than in soybeans.
Water lentils have surely debunked all myths about how plant-centered diets can't deliver all the essential amino acids your body needs. Water lentils' amino acid composition has made them a high-quality source of protein that does wonders to the human body.
3. Anti-inflammatory
Inflammation can be due to a low concentration of antioxidants in your body, allowing the increase of cellular damage and radical activity. Consuming a plant-based diet is an effective way of increasing the daily consumption of antioxidants. You can even add in some dietary supplements to accelerate the process.
Water lentils, in particular, contain a high concentration of vitamin A, omega-3, carotenoids, polyphenols, resveratrol, and chlorophyll, all of which are essential antioxidants that can help prevent inflammation. Regularly consuming water lentils can help you fight off inflammation and prevent future-related illnesses.
4. Digestive system support
Another benefit you can have from adding water lentils to your diet is that it supports your digestive system. How? Water lentils contain fiber which serves as food for the bacteria that live in your gut.
The microbiome helps in neurotransmitter production. It also houses more than half of your immune system. When it strays off balance, you can experience digestive problems like IBS. Consuming food rich in fiber and other amino acids, like water lentils, can help maintain and promote digestive health.
5. Promotes eye health
Water lentils include both zeaxanthin and lutein in their nutritional profile. These two carotenoids are proven to promote and improve eye health.
They filter the blue wavelengths as a way to stop the macula in the eye from breaking down. The amount and concentration of zeaxanthin and lutein in the eye are correlated with quality of vision, predicting disease, and brain function. They also protect the cells found in the eye's retina.
Unfortunately, these two carotenoids are not naturally produced by the body. They need to be consumed in leafy greens, such as water lentils.
6. Rich in nutrients
Water lentils are incredibly nutrient-dense. They contain high contents of iron, calcium, Vitamin A, and Vitamin B12. They can serve as a good source of magnesium, zinc, and antioxidants. The mentioned micronutrients are seldom found in leafy greens, making water lentils a distinctive and unique plant perfect to add to plant-based diets.
7. Source of vitamin B12
This aqua-loving flowering plant is currently the only bioactive form of vitamin B12. Vitamin B12 is responsible for several roles like keeping the brain and the nervous system running and contributing to the formation of red blood cells. Therefore, Vitamin B12 is crucial to making the body function properly.
It is most typically found on animal-based sources, making it a common deficiency for vegetarians and vegans. Recently, research suggests that water lentils are a reliable and natural plant source for vitamin B12 with a daily value that exceeds even specific animal sources.
8. Contains dietary fiber
Water lentils contain soluble and insoluble fiber. It is reported that dietary fiber can be beneficial in terms of weight loss, satiety, and regulating blood sugar. The body cannot absorb dietary fiber. Therefore, this fiber does not give calories, making it extremely useful for those trying to lose weight.
The insoluble fiber in water lentils does not dissolve in water, assisting in building bulk in stool. This can help prevent constipation.
Soluble fiber creates and makes a gel-like substance in the stomach that can help bind sugars and cholesterol to prevent and slow their release in the bloodstream. The dietary fiber in water lentils can assist in maintaining and promoting healthy digestion.
9. Solution for iron deficiency
Whenever someone does not receive enough iron, they are at risk of being anemic. Anemia occurs when the red blood cells (RBC) do not have sufficient hemoglobin to transport oxygen throughout your body. It leads to oxygen deficiency in certain parts of your body.
Water lentils contain a high amount of iron. Compared to spinach, a common plant-based iron source, about 100 grams of water lentils has 17 times more than 100 grams of spinach. This makes water lentils a source of bioavailable iron that can help reverse an iron deficiency.
How to eat and find water lentils
In several parts of Asia, water lentils are included in a healthy diet. It is used in curries, stir fry dishes, salads, and more. Water lentils are noted to share a similar taste to watercress.
To find raw water lentils, you will need to do some digging and searching. You might be able to locate legitimate raw water lentils by looking for their non-Lentein-related alias or name such as lemna, duckweed, or man aki. In addition, water lentils are also available in supplements.
How to grow and sustain water lentils
Water lentils are self-sufficient. They are capable of growing and multiplying by themselves without the need for human intervention. For water lentils, there is not much need for pesticides or chemicals for them to flourish. They also grow on top of the water, which means that there is no need for regular watering.
Growing water lentils at home is also an option if you want to try! They grow quickly, needing only a few inches of water to live and thrive. It will multiply to fit a surface of any size. Please note that it is vital to keep the water temperature above 70 degrees.
The internet will be a great teacher for this. You can consult several online sources to find more advice about how to grow and sustain water lentils.
Foods you can make with water lentils
Water lentils have opened a door to new cooking choices and options. A quick search on the internet can help you immediately pull up a recipe you can try in the kitchen.
One fast and immediate water-lentil-centered snack you can conjure in a matter of minutes is smoothies and shakes. With this plant, you can make a nutritious snack that fits your healthy diet and taste buds.
Another nutritious and easy-to-eat snack you can take on the go is energy balls and bars. With water lentils jam-packed with Vitamin B12, you can expect them to play an integral part in your body.
Stews are also one of the various foods you can make with water lentils. Being thick and comforting, a water lentil stew can help make the cold winter more bearable. Other foods you can make with this plant are curry, bread, soup, and more. You can also be creative in the kitchen by making your recipes.
Conclusion
The potential for plant-based proteins is exponential and endless. It continues to develop and improve every day. One of the most recent discoveries is water lentils. Several companies in the food and beverage industry have taken an interest in it and see it as a new solution.
At present, water lentils are considered a superfood plant protein that contains all essential amino acids. It is a good protein source that is sustainable and can serve as a massive step towards global food security.