A blood type diet focuses on the idea that eating the right foods for your blood type will help you maintain good health. These foods can help fight off and prevent specific blood-type diseases, reduce fat storage, and contribute to the general improvement of your overall health.
Diet control is important for B-positives, as they are more susceptible to certain diseases than other blood types. This healthy eating concept is based on the idea that lectins, proteins found in food that interact with your blood, are better suited to some blood groups than others. Lectins differ, and the process of agglutination (red blood cell clumping) results from consuming an inappropriate lectin associated with your diet. The clumping could result in critical medical conditions like kidney disease, cancer, or diseases related to the heart.
Jump to:
What is the B-positive blood group?
B-positive blood type is an uncommon blood type that is among the major donors of platelets for cancer patient treatment. They help treat those who require frequent transfusions due to thalassemia and sickle cell disease. If you are B-positive, you have the B antigen and the Rhesus factor in your red blood cells. In the US, about 9% of people are B-positive blood type. They can donate blood to B-positive and AB-positive patients. However, B-positive patients can only receive blood from B+, B-, O+, and O- donors.
The blood type diet was first proposed by Dr. D'Adamo, in his bestseller book "Eat Right for Your Type", published in 1996. According to Dr. D'Adamo, people with blood type B-positive are usually able to avoid many of the most serious illnesses prevalent in modern life, including cancer and heart disease. A B-positive type may often avoid serious illness and live a long, healthy life by carefully adhering to the advised diet and avoiding undue stress on the body. However, immune system diseases such as chronic fatigue syndrome, type 1 diabetes, multiple sclerosis, and lupus are more prevalent in people with blood type B.
The B-positive blood type and diet
People with type B blood are allegedly descendants of the nomadic Himalayan tribes who were omnivores whose diets majorly included flesh and milk from tamed animals. Therefore, the B-positive blood type diet food list should contain fresh vegetables, game meats, fish, eggs, and dairy products. However, they should keep the consumption of nuts, seeds, wheat, and some lean meats to a minimum.
Foods for the B-positive blood type diet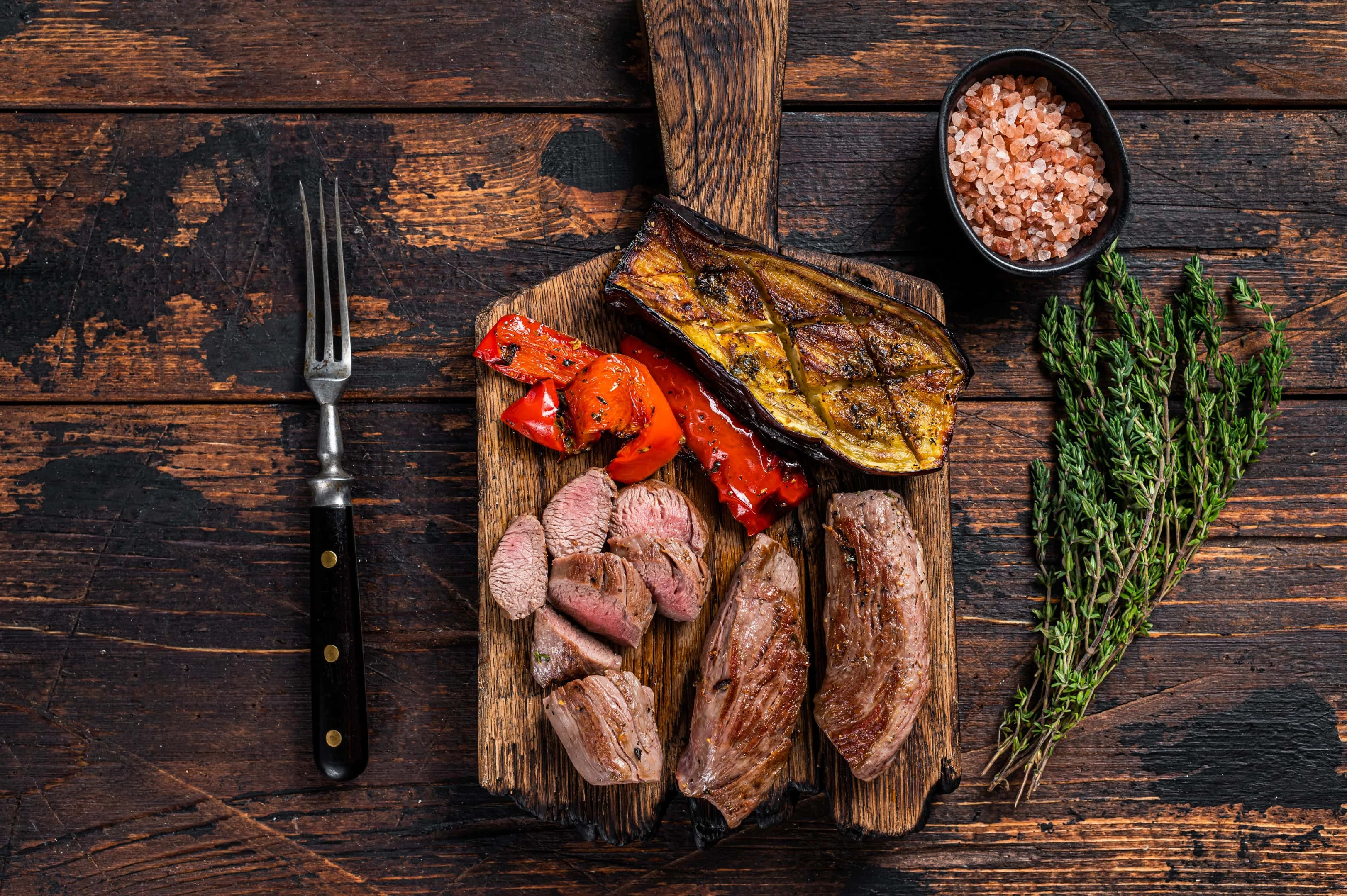 1. Meat and poultry
What to eat — People with blood type B-positive can consume a wider variety of food because they have a digestive system that can handle them. Meat and poultry are excellent protein sources and supply important nutrients that are easily digestible such as iodine, iron, zinc, vitamins, including B12, and vital fatty acids. The ideal protein sources for type B-positive individuals include lamb, mutton, venison, or rabbit. Lamb and venison are abundant in zinc, an important nutrient for the immune system, which B-positive types need to improve illness resistance.
What to avoid — People with B-positive blood type should not have chicken, as the muscular tissue of chicken includes an agglutinating lectin. This lectin can enter the type B bloodstream and cause strokes and immunological diseases. B-positive types should also avoid duck, guinea hen, bacon, ham, beef heart, pork, and Cornish hen, among others.
2. Dairy and eggs
What to eat — Individuals with type B-positive blood can conveniently consume as many dairy products as they wish. They can obtain the greatest benefit from consuming yogurt, goat milk, low-fat milk, and cheeses like farmer cheese, ricotta, feta, mozzarella, or cottage cheese. According to recent studies, cheese supplemented with probiotic bacteria can strengthen the immune system and shield against immunosenescence. By giving your body gut-healthy bacteria, cheese helps boost your immune system. Consuming these products together with eggs helps metabolism for type B-positive individuals function effectively. Eggs contain minerals like magnesium, phosphorus, potassium, iron, calcium, zinc, sodium, and a bulk of vitamins highly needed by blood type B-positive people.
What to avoid — Individuals with type B-positive blood should avoid American, blue, and string cheese as they can raise blood pressure and cholesterol levels, increasing cardiovascular disease risk. In addition, type B-positive people should avoid eggs from quail, duck, and geese.
3. Nuts and seeds
What to eat — Nuts and seeds are high in essential amino acids, which strengthen the immune system and contribute to the prevention of diseases. They are nutrient-dense and are rich in protein, fiber, vital fatty acids, vitamins, and minerals. Ingesting nuts and seeds regularly can help control blood sugar levels and fend against numerous chronic illnesses. Walnuts are the best nut for a B-positive individual since they help to strengthen immunity.
What to avoid — B-positives should intently avoid sesame, hazelnuts, pumpkin, pine nuts, safflower, pistachios, poppy, and sunflower, among others, as they contain lectins that prevent the generation of type B insulin.
4. Legumes
What to eat — A healthy alternative to animal protein is legumes. Among the most adaptable and wholesome foods available for the blood type diet of B-positive individuals are beans, peas, and lentils. They often include healthy lipids and soluble and insoluble fiber, contain low fats, and have a significant amount of beneficial minerals like folate, iron, potassium, and magnesium. Beans have a low glycemic index because they are high in protein, dietary fiber, and complex carbs. They are, therefore, the perfect diet for managing insulin resistance and diabetes, which are susceptible to this blood type. They are essential for developing all body cells, including that of the immune system.
What to avoid — A B-positive diet should not have legumes like black beans, pinto beans, and azuki beans.
5. Grains
What to eat — Whole grains include bioactive substances that support a healthy immune system and aid in illness prevention. Rice, oats, and millet are particularly suitable for B-positive blood types.
What to avoid — Most type B's do not handle wheat well, as it contains a lectin that accumulates in muscle tissues and reduces their capacity to burn calories and speed up metabolism, contributing to weight gain.
Additionally, rye has a lectin that accumulates in the vascular system and can result in blood problems and even strokes. High in lectins, rye might aggravate the digestive system. Furthermore, buckwheat and corn are significant contributors to type B weight gain. They cause slower metabolism, abnormal insulin levels, fluid retention, and weariness than any other meal.
6. Vegetables
What to eat — Vegetables give the type B diet essential nutrients, enzymes, and antioxidants. Vegetable fiber assists in lowering blood cholesterol levels, which could also reduce the risk of heart disease. In green, orange, and yellow veggies, there are huge quantities of beta-carotene, potassium, iron, calcium, magnesium, and vitamins A, B-complex, C, and K. Type B people should consume many leafy green vegetables like celery, beet greens, kale, and collard greens because they contain magnesium, a crucial antiviral agent. This is important as type B people tend to be more susceptible to infections and autoimmune illnesses. For type B people, broccoli comes highly recommended. Sulforaphane, a substance with anticancer qualities, is present in cruciferous vegetables, including cabbage, cauliflower, broccoli, kale, mustard plant, and Brussels sprouts.

It is advisable for individuals who are type B-positive to eat all sorts of cabbage since this cruciferous vegetable is packed with beta-carotene, B vitamins, and fiber and can possibly decrease the likelihood of developing several malignancies, including colon tumors. Anthocyanin, shown in other vegetables to have anti-carcinogenic qualities, is also present in purple cabbage. Indole-3-carbinol, a substance that promotes DNA repair in cells and seems to inhibit the formation of cancer cells, is present in cabbage and other cole crops.
What to avoid — Tomatoes should be avoided as the lectin found in tomatoes can bind to all blood types. Furthermore, it is important to avoid tomatoes as they constantly aggravate the lining of the stomach of B-positive people.
7. Fruits
What to eat — Regular fruit consumption lowers the chances of cancer, cardiovascular disease, stroke, Alzheimer's disease, cataracts, and various functional losses brought on by age. Grapes are a healthy addition to type B's diet. Resveratrol, an antioxidant-rich polyphenol molecule found in purple or red grapes, may help the body fend against various ailments.
People with B-positive blood type can enjoy excessively acidic fruits for other blood types since they often have well-balanced digestive systems with a healthy acid-alkaline equilibrium.
What to avoid — B-positive people should avoid bitter melon, carambola, avocado, persimmon, coconut/coconut milk, and pomegranate.
Conclusion
Although the B-positive blood type is powerful and can donate platelets to cancer patients and blood to AB-positive patients, people with this blood type are more vulnerable to diseases such as chronic fatigue syndrome and diabetes. Adopting a B-positive blood type diet can help prevent and combat these illnesses. Foods for the B-positive blood type include nuts and seeds, eggs, cruciferous vegetables, and lima beans.