All over the world, cardamoms are used to add flavor to meals. In case you are wondering what they are, cardamoms are spices taken from seed pods and used for an array of purposes in the home. Asides from making foods tastier and more delicious, they have some health benefits for the human body. Every human being deserves to be healthy, and this is why cardamoms are necessary for every kitchen. Yes, they are pretty expensive (being the most costly spice in the universe after vanilla and saffron), but they are worth every single penny you shell out.
However popular they are, cardamoms may not always be available all the time. Hence, you could look up other options here in this post; we have put together some of the best substitutes for cardamom on the market. Rest assured that they are just as good and spicy.
Jump to:
Cardamom, and types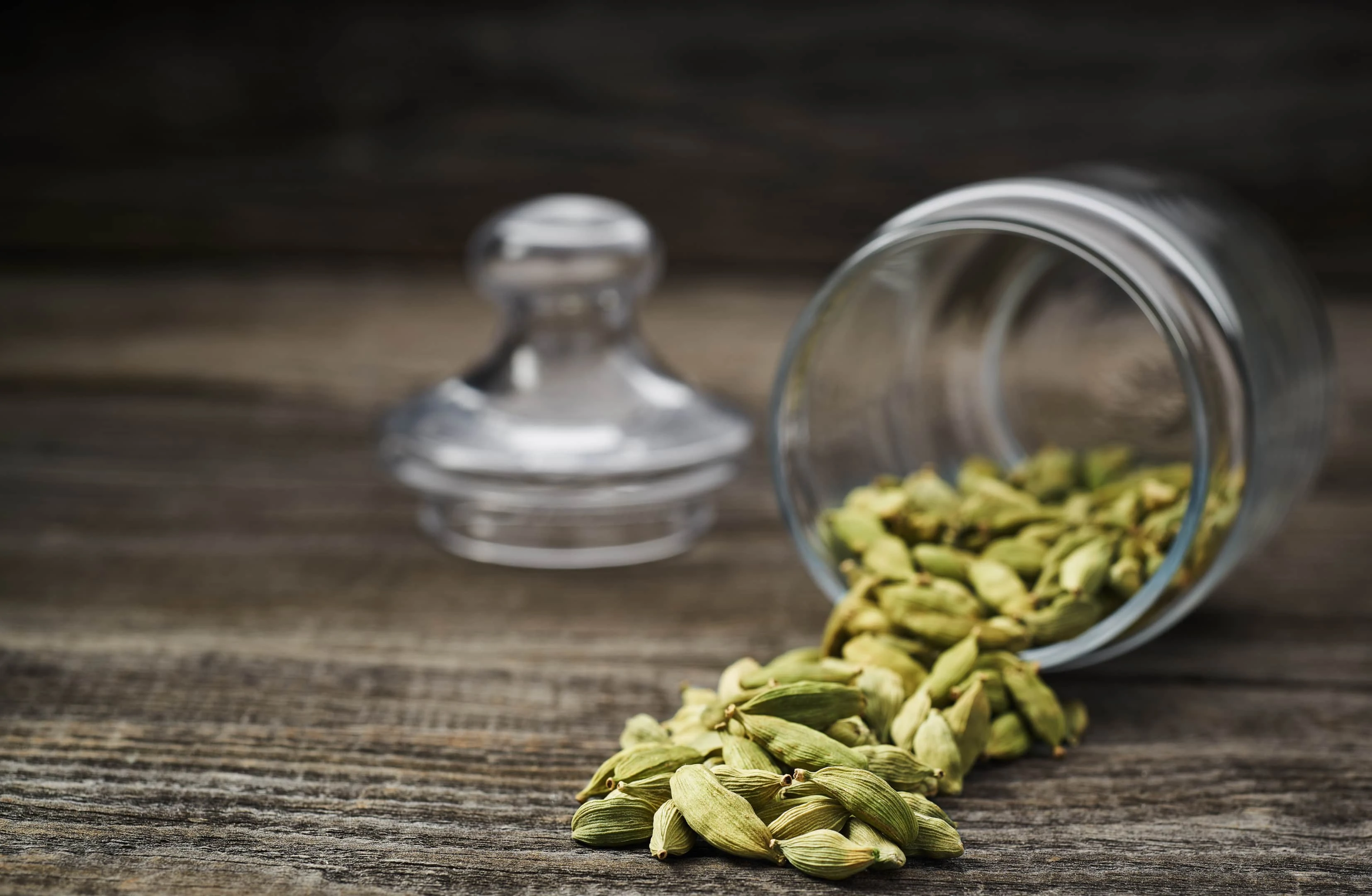 Before we learn about cardamom substitutes, we should know a little more about cardamom itself, right? So here you go!
Cardamoms do not start as spices used in meals. They begin as small, triangular pods with hard shells and tiny seeds inside of them. Then they morph into seasonings after going through several processes.
There are three different types of cardamom—green, black, and white. Black cardamoms are the best pick for savory meals. They have murky flavors that go well with both stews and meats but should be used sparingly. White cardamoms, on the other hand, are taken from bleached seed pods. The process of bleaching dwindles the seeds' flavor and makes them the mildest of all kinds of cardamom.
Finally comes green cardamoms; they are the most versatile of the three and can be easily found anywhere in the world. There's a higher probability that any recipe calling for cardamoms is calling for the green type. You can either buy green cardamoms in powder, pod or seed forms, though the powder form is the most popular.
If you're considering getting cardamom for your next meal, you should buy the pod, and then store it. The moment it gets exposed to air or you mash it into powder, it becomes less potent.
How to use cardamom
Buying ground cardamom can give your dishes additional flavor, if you're looking to use cardamom for your food, you should get the pods and grind them yourself. Apart from saving some extra cash (cardamom pods are cheaper than ground ones), you'll have a tastier dish as the ground product can lose its flavor.
To grind them, remove seeds from cardamom pods, toss them in a coffee grinder, and whirl quickly.
A pod of cardamom equals one-sixth teaspoon of ground cardamom, and by implication, every teaspoon of cardamom your recipe calls for will require that you get six cardamom pods.
Cardamom health benefits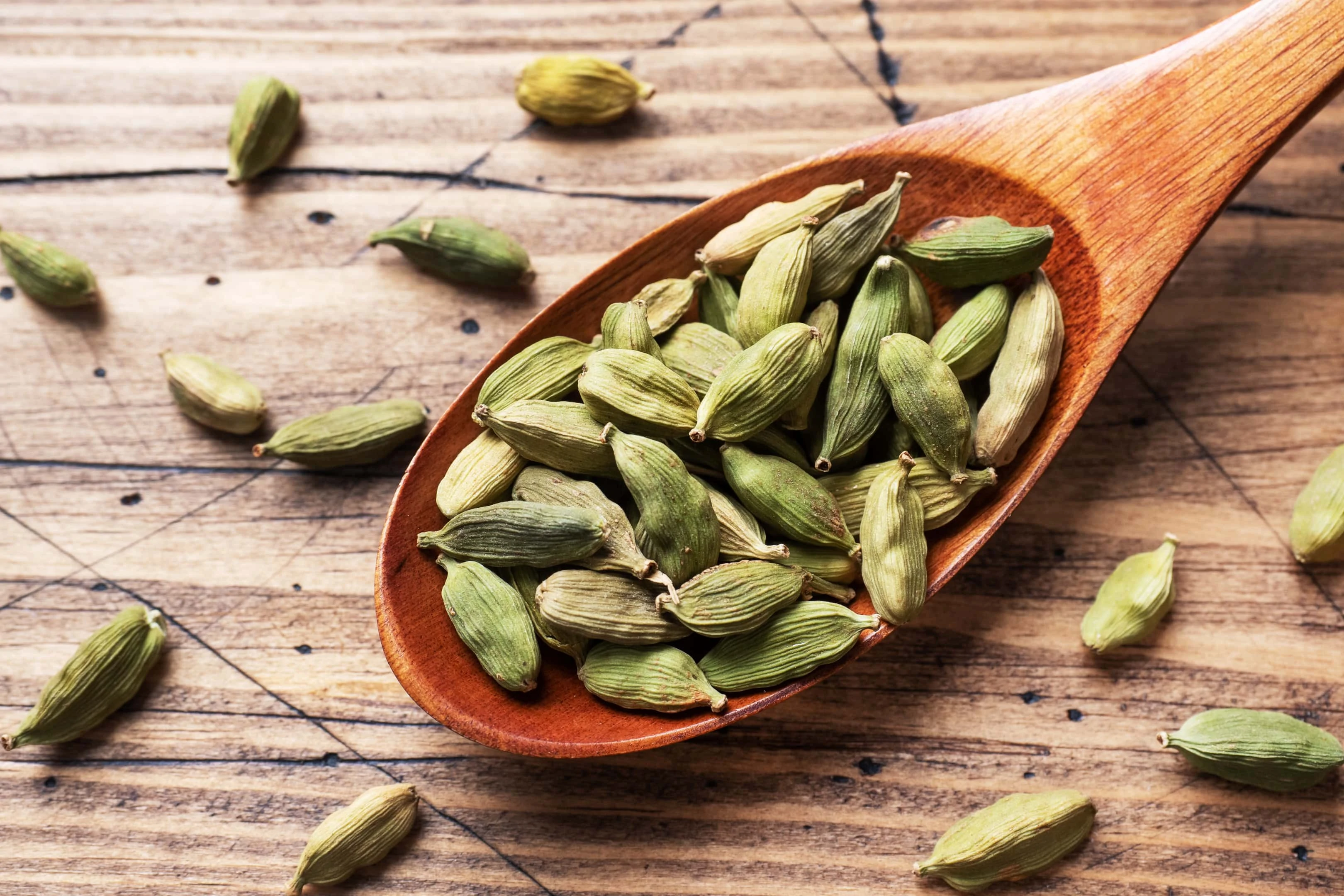 Cardamoms have a wide variety of uses and they're not limited to adding spice to meals. If you want, you can chew the pods or seeds to refresh your breath and help your digestion.
According to healthline, cardamom may be helpful for those with high blood pressure. It possesses some diuretic and antioxidant properties, and taking about three grams of the powder a day can significantly decrease the blood pressure of adults diagnosed with high blood pressure.
Besides this, cardamom may contain compounds that help to deal with cancer; it has been shown to prevent tumor growth in mice and test tubes. It may also contain compounds that combat inflammation and protect the body from certain chronic diseases.
If you have digestive problems or ulcers or you know someone who does, you could try taking cardamom. It has proven effective for solving such health issues and has, over the years, been used with other curative spices to provide comfort and relieve nausea.
In general, cardamom is safe for most people and it can either be used in baking or cooking.
Substitutes for cardamom
As the third most expensive spice in the world, cardamoms may not always be available for use. When your recipe calls for it and, for one reason or the other, you're unable to find it in your area (or you don't have the means at all), we suggest you try one of the following substitutes:
1. Cinnamon and cloves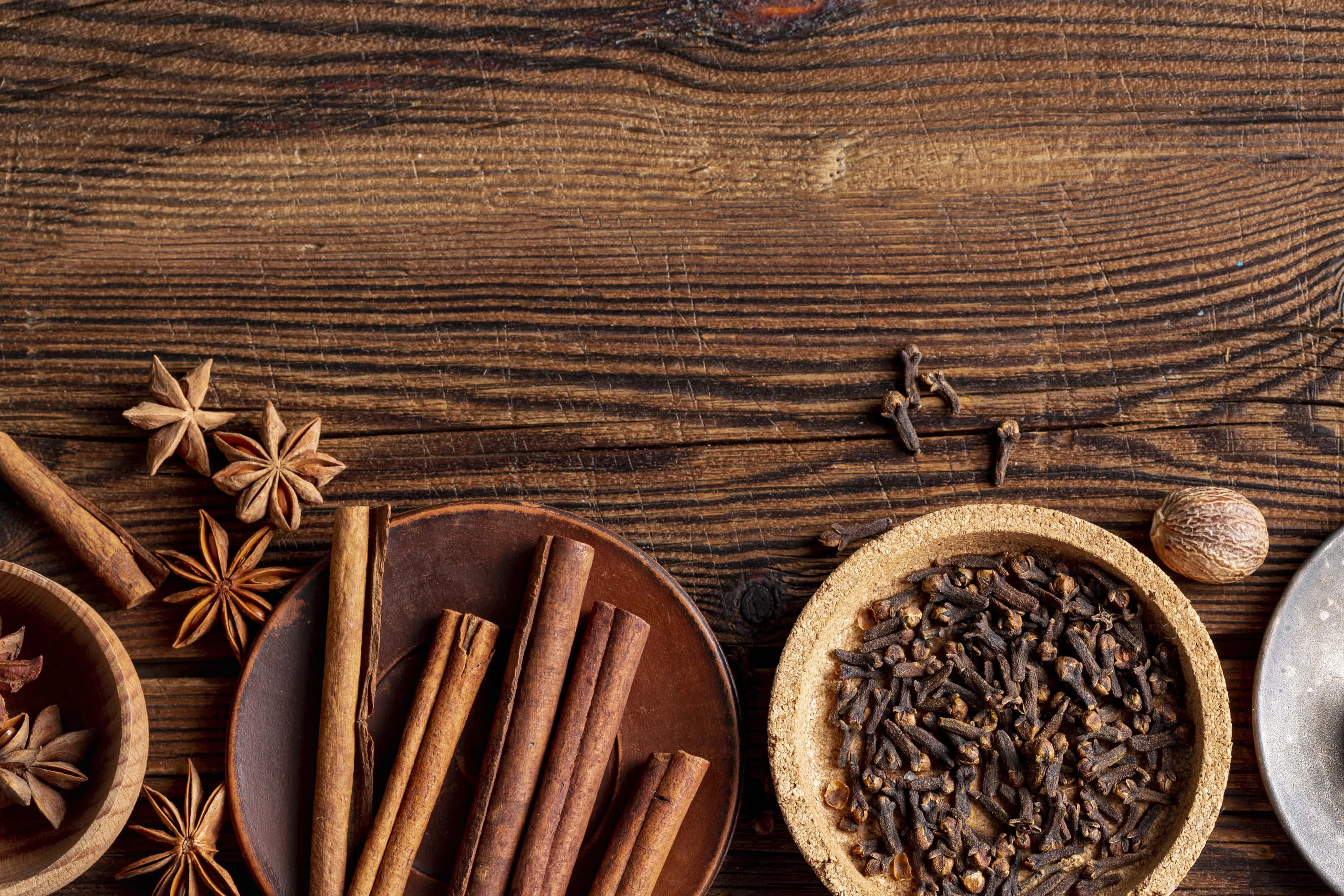 Half a teaspoon of cinnamon mixed with half a teaspoon of cloves works well as a substitute for cardamom. Both cinnamon and cloves have spicy notes that replicate most of the cardamom's intense flavors. So mixing them would replace cardamom perfectly—they taste just as good in savory meals like stews and meats.
2. Cinnamon and ginger
You can use half a teaspoon of cinnamon together with half a teaspoon of ginger in place of one teaspoon of cardamom. It is one alternative anyone would love to jump at.
Cinnamon and ginger are outstanding spices that add a tasty blend of woody notes and warm spiciness to dishes. The blend has the same kind of taste as that of cinnamon and cloves (this is probably why it is considered another ideal cardamom substitute) but is a little bit milder in flavor.
3. Cinnamon and nutmeg
A mixture of cinnamon and nutmeg is another good substitute for cardamom, though it is not as spicy as other combinations mentioned above. Both spices create a blend that is quite pungent, and you can add half a teaspoon each to your meal instead of one teaspoon of cardamom. With spicy and woody notes resembling that of cardamom, this blend will do perfectly well in savory dishes like rice and stews.
4. Cinnamon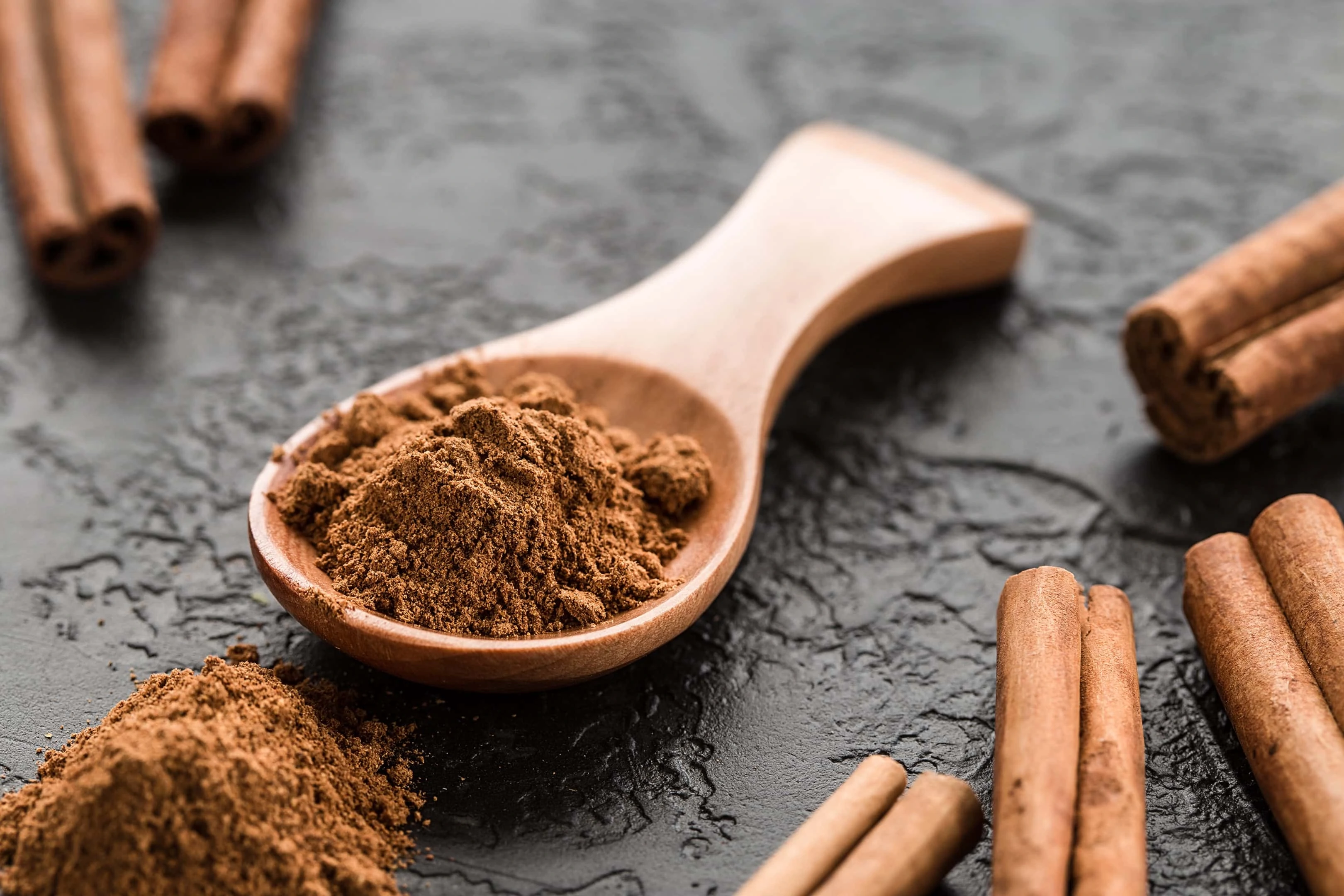 If all you have is cinnamon, you've found just the right substitute you need. Cinnamon has woody notes and a pungent taste that makes it stand out amongst other spices to use as a cardamom substitute. With just half a teaspoon, you are sure to add flavor to your dishes.
5. Allspice
Allspice is another handy substitute for cardamom. It has some hints of ingredients like cinnamon, cloves, and nutmeg, and goes well with many dishes. With such sharp and fragrant spice as this, you can whip up a sumptuous meal any day, any time.
6. Cumin and coriander
If, in any case, you don't find any of the aforementioned combinations a worthy spice to use instead of cardamom, you can try applying a blend of cumin and coriander. Half a teaspoon of cumin mixed with a teaspoon of coriander will produce a flavor that's the equivalent of a teaspoon of cardamom, though this combination is a little bit stronger.
A cumin-coriander spice blend works best for meat dishes and curries, and it provides good taste without sacrificing the overall cardamom flavor.
7. Allspice and peppercorns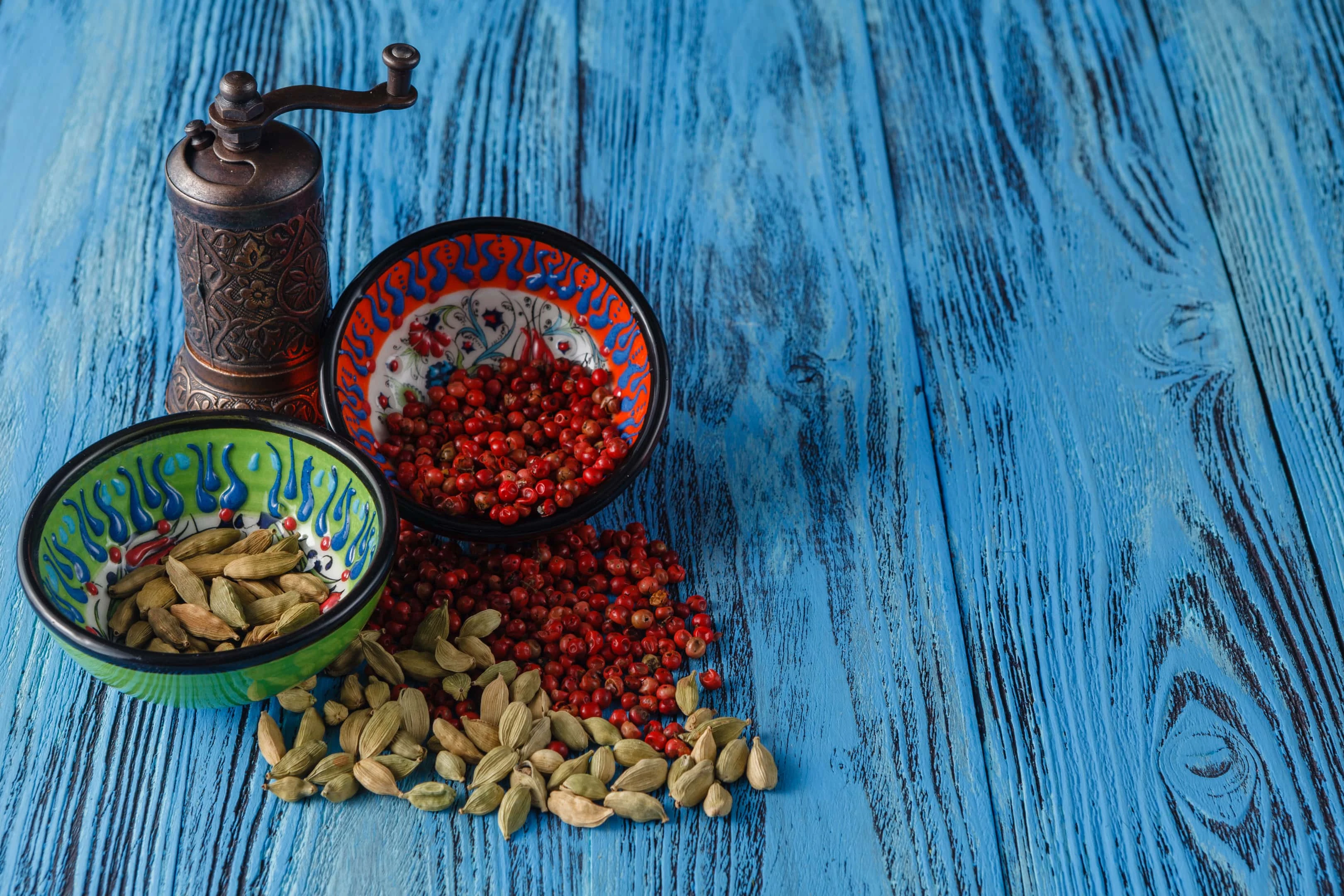 If you're not satisfied with using allspice alone in place of cardamom, you may try mixing it with some ground peppercorns. This will add more sharpness to your meals and make your dishes tastier.
Keep in mind that both allspice and the mixture of allspice and peppercorn are tough spices, so ensure not to apply too much of them; half a teaspoon of both will do.
8. Ground coriander, nutmeg, and peppercorns
Of all cardamom substitutes, this combination is considered the best spice for savory dishes. Unless you've tried it in your meals once or twice, or even thrice, you really might not be able to relate to this.
Of course, you don't want to miss out on the bliss that comes with having this blend in your food. You can mix just the same quantity of ground coriander, nutmeg, and peppercorns to get this splendid combination and apply the same amount as you would cardamom.
9. Apple pie spice
Alternatives like this are not so common, but they do exist. Rather than sprinkling green cardamom powders over your dishes, you can use the apple pie spice, which is made of cinnamon, nutmeg, and allspice. Though it doesn't match up to the taste of cardamom, it would work as a substitute.
10. Cinnamon, ground allspice, and ground nutmeg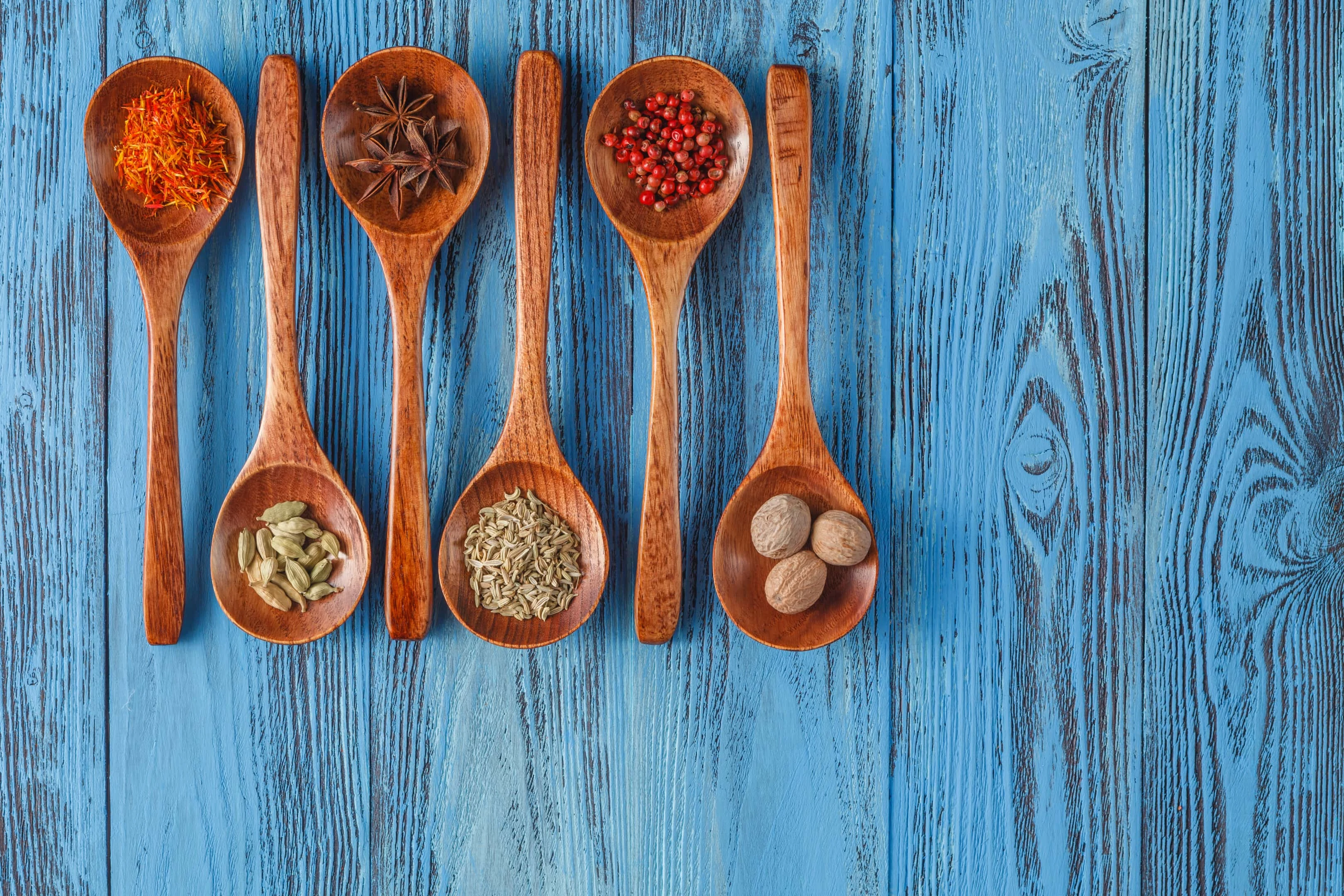 To get this combination, you can mix half a teaspoon of cinnamon, one-eighth teaspoon of ground allspice, and one-eight teaspoon of ground nutmeg. It is another cardamom substitute that goes with any kind of meal and gives the kind of spicy taste you desire.
11. Cumin
This substitute is mostly found in cuisines that have savory dishes. A teaspoon of cumin in your food will do a job quite similar to what a teaspoon of cardamom will. Give it a try!
N.B: All of the substitutes suggested in this post will only give your dishes a flavor that resembles that of cardamom, and not the same taste.
Frequently asked questions (FAQ)
You probably have one or two questions bothering your mind about cardamom. Don't fret, we have the answers, and they are just a scroll away.
1. Can you eat cardamom pods whole?
Yes. If you wish, you can chew the whole cardamom seed pod. But you're not going to eat it all at once. Take it a seed at a time and chew slowly; so you don't get too worked up with the strong taste and flavor that comes with eating too many seeds as one.
2. Is cardamom gluten-free?
In most cases, cardamom spices are gluten-free. But if they get contaminated in the factory or you add a little bit of flour to keep them from hardening, they may contain gluten.
3. Where is cardamom sold?
You can buy cardamom from the spice section of any grocery store around you, or at international specialty groceries (Especially if you're getting the black type). However, if you're unable to find one at any of these places, you may want to opt for one of the cardamom substitutes mentioned above.
4. Is cardamom good for health?
Yes, it is. Much more than adding flavor to meals and making your dishes tastier, cardamom helps to boost digestive health and it contains compounds that help prevent cancer in the human body. It is also good for treating gastrointestinal problems like indigestion, nausea, spasms, stomach pain, and vomiting.
5. What are the side effects of cardamom?
As of now, there are no known risks posed by using cardamom in foods. But it is safe to always avoid adding too much of it when cooking.
6. Can you put cardamom in coffee?
Yes, you can. However, we recommend that you begin with only a crushed pod of cardamom for a cup of coffee, then you proceed to adjust the quantity to suit your taste.
7. Can cardamom prevent cancer?
Most assuredly. The compounds in cardamom can help fight cancer in humans, and this is just one of the many health benefits you can enjoy from using it.
8. Which cardamom is best to use?
The green cardamom is the most widely-used for savory dishes; this is probably why it is considered the best. But the black ones are equally useful and beneficial.
Conclusion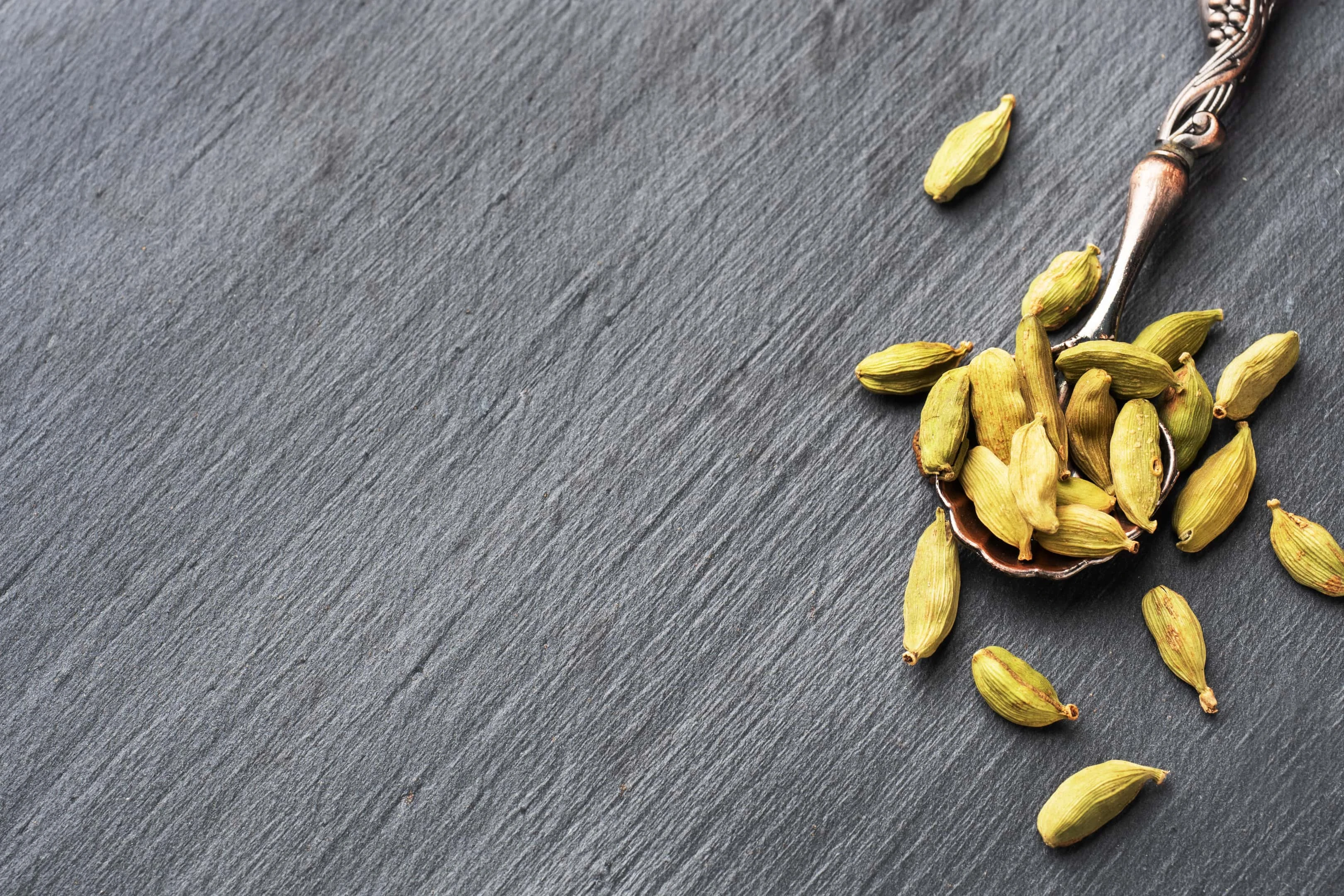 What happens at that moment when you have your hopes raised for a sumptuous meal and your beloved cardamom, which seems to be the most important ingredient, is missing in the spice rack? You would either feel discouraged or give up on the meal completely.
But then, you don't have to worry; there's a way to remedy the situation. With any of the cardamom substitutes detailed in this post, you can enjoy the good flavor and make your dishes tasty.