Do you have the urge to crunch something while you are taking a break from a tedious task, but you are concerned about your calorie intake? Chickpea flour biscuits can be your go-to snack.
Imagine these fluffy biscuits melting in your mouth! Yes, the feeling is indeed heavenly. Guess what? You can easily make this vegan, gluten-free biscuit at home.
Don't worry; you will not end up with a mess. This article will take you through the steps to make perfect chickpea flour biscuits that will not only fill up your stomach but also become one of the favorite snacks of your guests.
Do you know how beneficial chickpea flour is? If not, do not forget to check out our post about chickpea flour.
Jump to:
Ingredients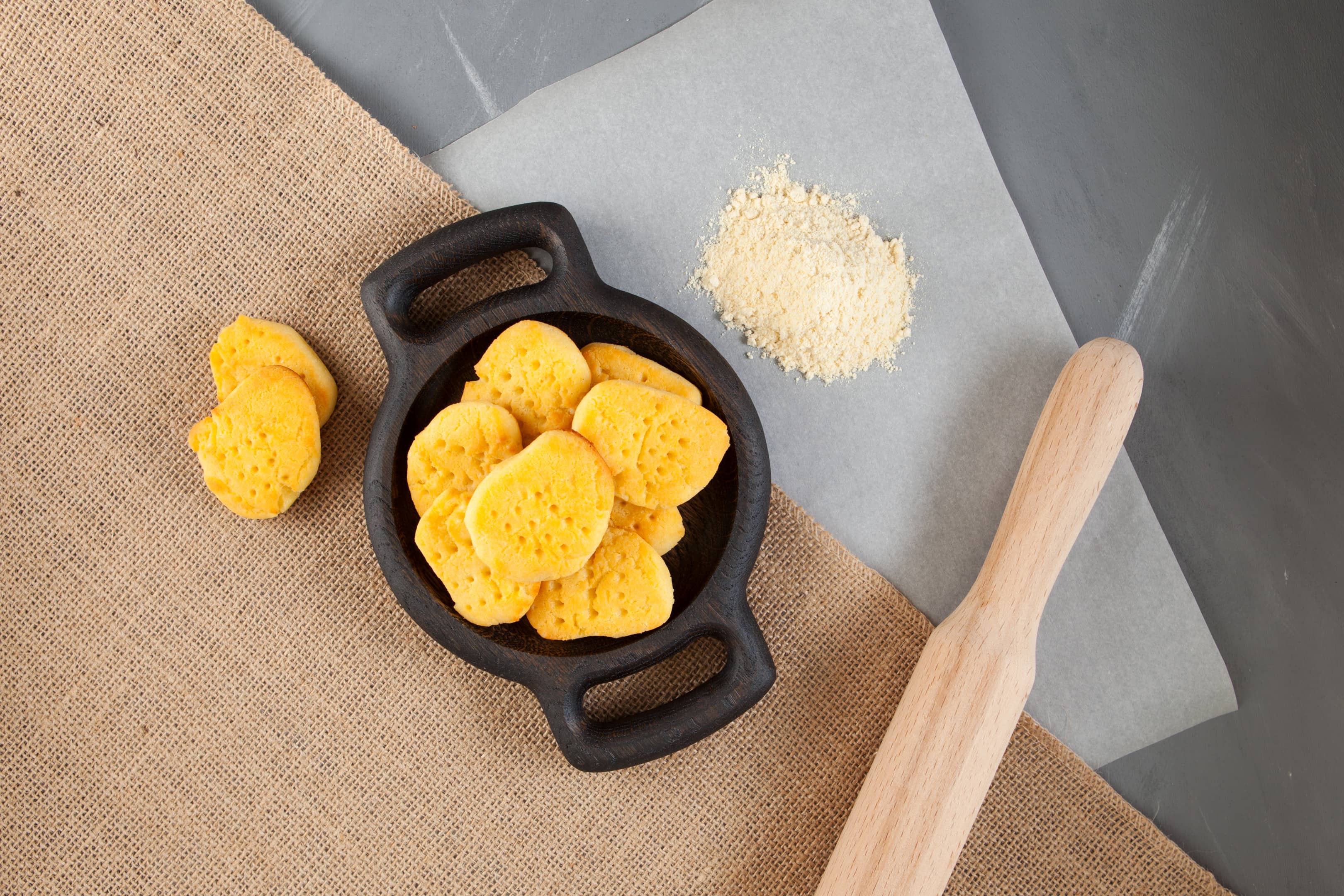 Biscuits are quick breads that you can make with very few ingredients yet can be delicious. For chickpea flour biscuits, you just need to bring out the chickpea flour box waiting in your storage cupboard to be used.
Along with the nutritious chickpea flour, you will need honey as the sweetener and a pinch of baking powder to make your biscuits fluffy and soft.
It's hard to find any baking product without egg and butter in the ingredient list. But you are a vegan; we have the perfect alternative for you. You can use coconut oil, olive oil or vegan butter.
To add to the nutty flavor of chickpea flour, you can add dry fruits of your choice such as cashews, walnuts, almonds, and even raisins.
A teaspoon of vanilla extract can provide a sweet aroma and flavor to your biscuits. Talking about flavor, if you are a chocolate lover, you may want to use cocoa powder and chocolate chips to make chocolate chickpea flour biscuits.
You do not want your biscuits to taste bland, so salt is always on the list.
Make the perfect dough
It is the texture of the dough that contributes to how delicious your biscuits will be. The chickpea flour biscuit making method is simple. You just need to take a big bowl, add 3 cups of chickpea flour, a teaspoon of baking powder, 1 egg (or 3 tablespoons of coconut oil/olive oil), butter (melted), honey, salt to taste, and mix it into a smooth batter. Now you can add elements of your choice, like vanilla extract, cocoa powder, dried herbs, and dry fruits.
Yes, it's all about mixing all the ingredients well. But a few minor things can contribute to the texture of the dough. So, here are a few pro tips to make the perfect dough.
Sieve the chickpea flour to get rid of clumps. Clumpy chickpea flour is the worst ingredient to make your biscuits.
While mixing every ingredient, keep on blending until you end up with the smooth dough.
If you feel the mixture is moist, just add some more chickpea flour. You need dough, not cake batter.
A tough dough may become flaky biscuits. So, if you find that you have ended up with a tough dough, slowly add a few teaspoons of water or milk and keep kneading it till it becomes soft.
You should rest your dough for 2 to 4 hours in the refrigerator before proceeding to the next step.
Shape your little biscuits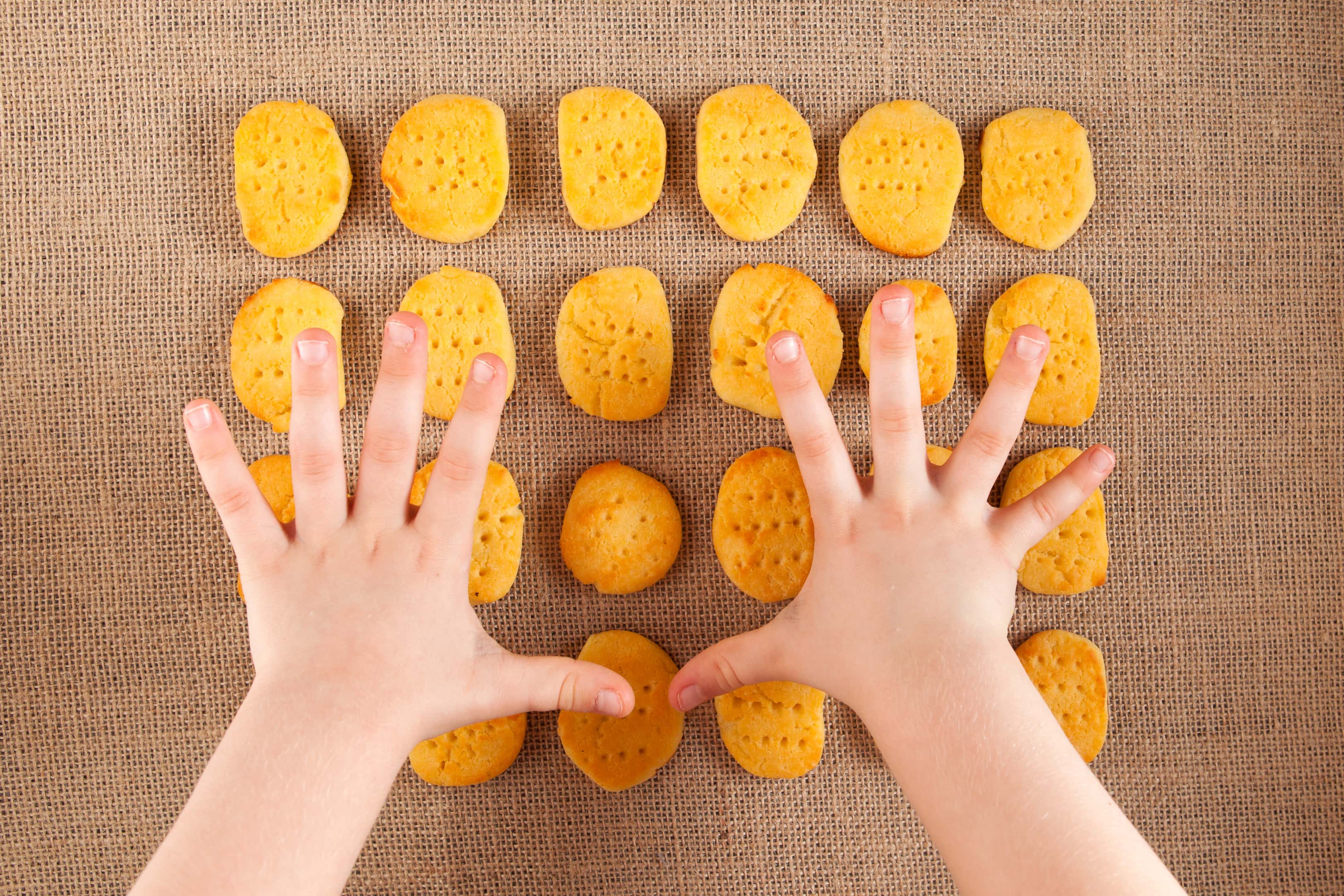 After the long wait, bring out the dough from the refrigerator and use your rolling pin to make thick flatbread. Now comes the part when you can bring out your inner child.
It's your dough and your biscuits. You can shape them as you desire. You can use funky cookie cutters in the market in the shapes of stars, moon, round, heart, and whatnot. Choose for yourself.
Place the cookie cutter on the rolled dough and press it to cut into your little cookies. It is best to start from an edge. Cut down the dough with the little cookie cutters. Once you cannot find space for the next cookie to cut, collect the excess, knead and roll it again. Cut a few more cookies from the newly rolled down dough.
Don't be disheartened if you do not have a cookie-cutter! Here's the trick. Find a cute little container in your closet, use the lid as the cookie cutter.
Baking time!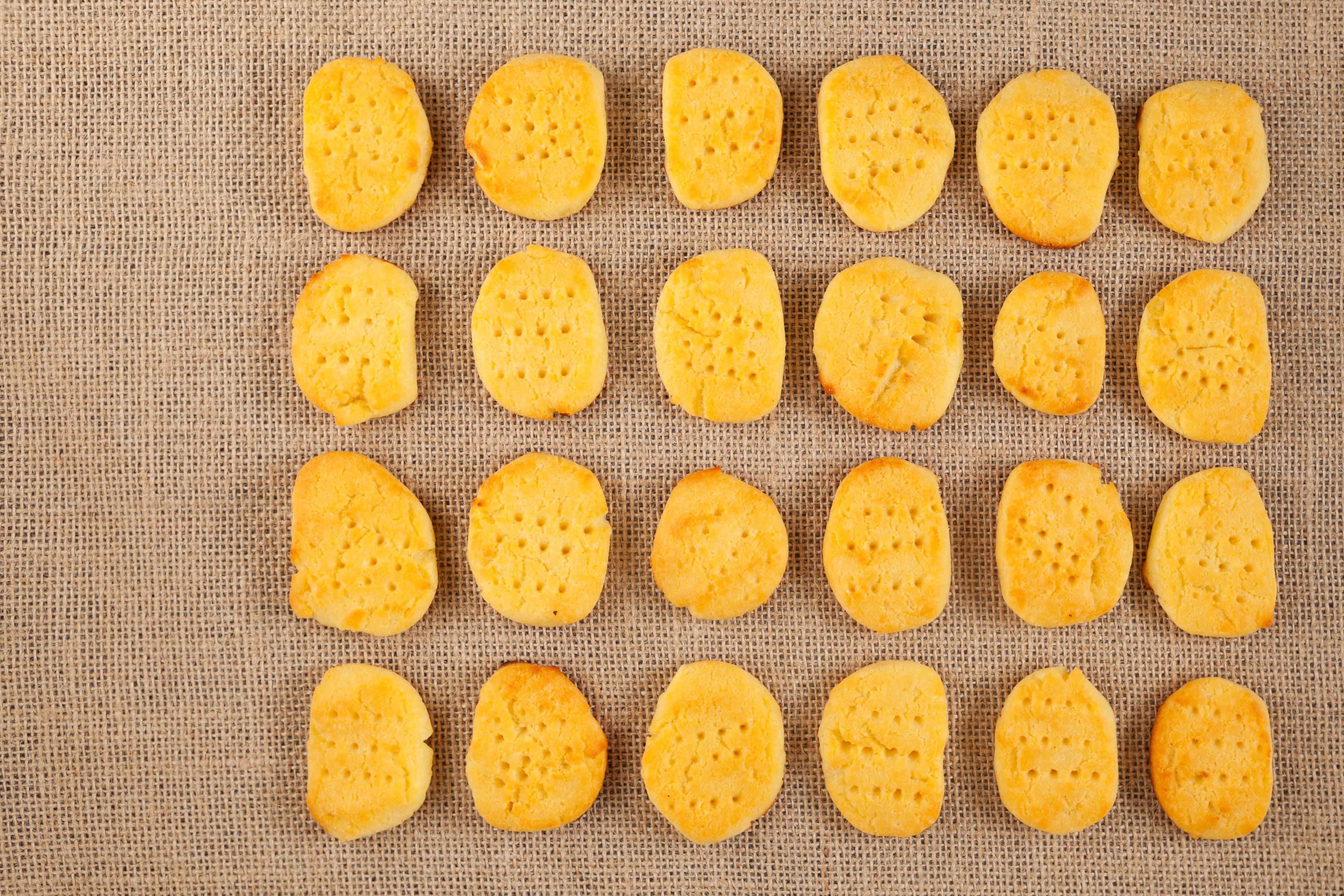 Spread down the parchment paper over your baking tray and place the cookies carefully on the tray. Arrange the biscuits side by side, just touching each other. Do not stack the biscuits. These two pieces of advice will help your biscuits to fluff up without falling out of the oven. Now, you need to preheat your oven.
Do not forget to wear your gloves lest you burn yourself! Slide the baking tray into your oven. Set the timer for 25 mins at 425 degrees Fahrenheit.
You just need to sit and wait now as the biscuits bake and unleash their heavenly aroma. The dough rises in the oven owing to the chemical leverage of baking powder, while every ingredient melts down to bind to each other inseparably. Once the oven dings, you can bring out your freshly made delicious chickpea flour biscuits.
Just a few pantry products can end up into delicious and nutritious biscuits! You can serve the chickpea flour biscuits to your unexpected guests or consume them yourself as morning biscuits. These biscuits can be your daily punch of nutrition as you can consume up to 4.25 grams of protein just by crunching down a chickpea flour biscuit.
These light-weight biscuits can become your on-the-go breakfast option or a great option to calm your hunger craving due to your diet plan. Thanks to the low-calorie content and high-calorie content of chickpea flour, it is acceptable in the keto diet as well. If you have been avoiding biscuits due to your sensitivity to whole grain flour, a chickpea flour biscuit is a perfect alternative for you. Moreover, you do not need to fear lactose or gluten intolerance while munching these vegan, gluten-free chickpea flour biscuits!
Chickpea flour biscuits can be stored for days in an airtight container. So, just spare a bit of sweat in making these delicious quick biscuits to enjoy them for days!