Chickpea flour, also known as gram flour, garbanzo bean flour, and besan, has earned its share of popularity as an alternative to wheat flour. Didn't you find chickpea flour as one of the top vegan, gluten-free options? It has been a staple for Indians for decades, which has stealthily crept into the lists of vegans all across the globe.
You will be amazed by the easy and tasty food items that you can make using chickpea flour. But, before exploring the recipes, let's take a quick look into some interesting facts about chickpea flour.
Jump to:
What's chickpea flour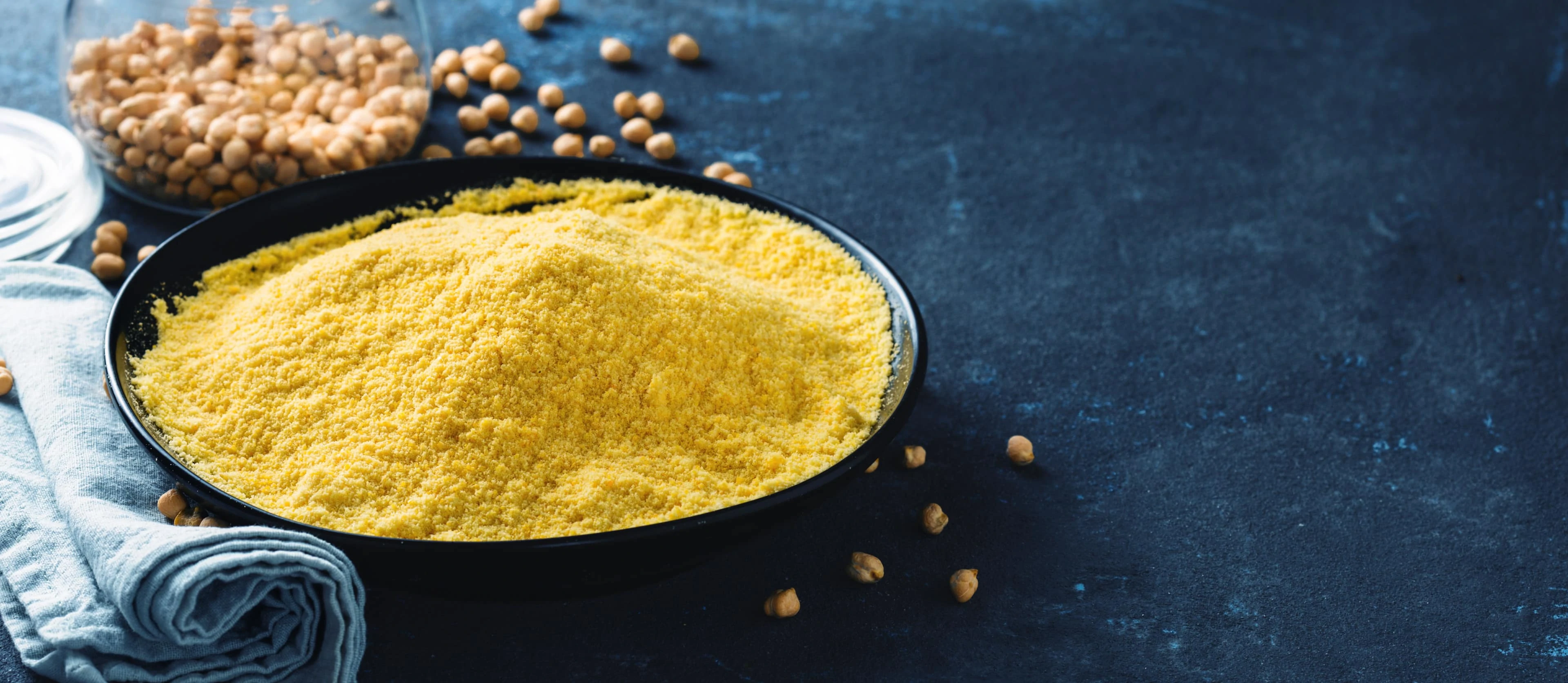 Chickpeas, a member of the legume family, are ground to make chickpea flour. It has a nutty taste that most people love. The thick texture of chickpea flour has enabled it to be on the ingredient lists of several recipes as a binding agent. However, the batter's texture can be easily made lighter, which makes chickpea flour a great coating component too.
If the question 'How to make chickpea flour?' crosses your mind, here's the answer. You can easily make this protein-packed powder at home just by finely grinding some dried chickpeas or Bengal grams (preferably roasted).
Is chickpea flour healthy?
After becoming aware of the nutritional value of chickpea flour, it is quite evident why chickpea flour is considered to be healthy. The appropriate proportion of protein, carbohydrate, minerals, and vitamins in chickpea flour offers a bunch of health benefits.
Indians have adopted chickpea flour as a staple food for centuries. Soon it was warmly welcomed by different countries as a nutritional substitute to their regular flour. In the next section, the health benefits of chickpea flour will be discussed in detail.
Chickpea flour nutrition
Chickpea flour is loaded with nutrition that makes it a super healthy food ingredient. Here's a quick analysis of the nutritional value of 92 grams (approx one cup) of chickpea flour.
20 grams of protein (can be considered as high content)
63 grams of carbohydrate
10 grams of fiber
6 grams of fat
101 % RDI* of Folate
Micronutrients such as iron, phosphorus, magnesium, copper, phosphorus, manganese.
Thiamine
The calorie content in chickpea flour is 3.86 per gram.
*RDI refers to Reference Daily Index
Chickpea flour benefits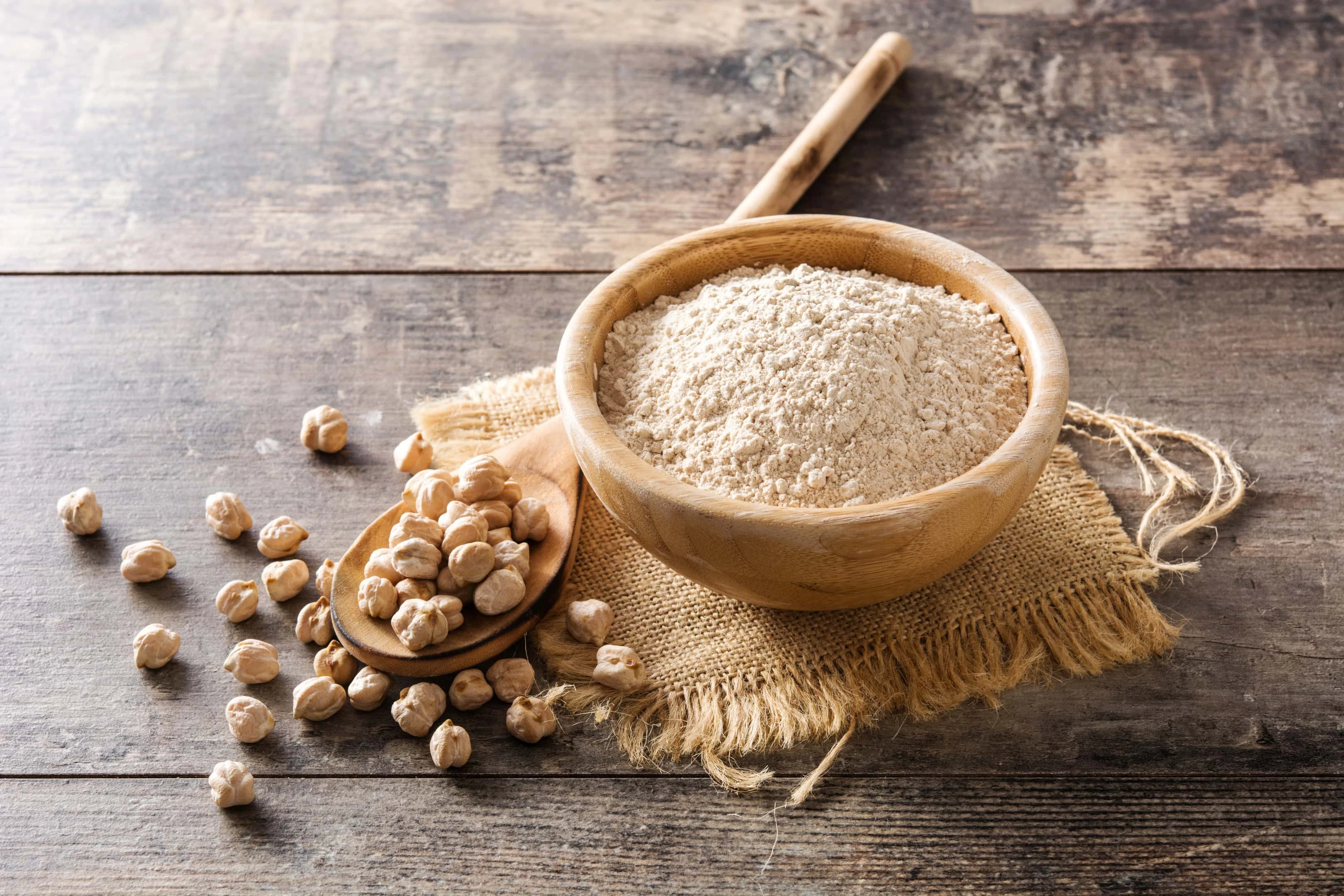 Packed with minerals and vitamins, chickpea flour provides several health benefits.
1. Say hi to a healthy heart
The nutrient-dense chickpea flour balances good cholesterol and bad cholesterol, leading to reducing the risks of cardiovascular diseases. It also effectively controls hypertension, assuring you of a healthy heart.
2. Keeps the sugar levels within the limits
Thinking about what to do when you see your blood sugar levels shooting up? Just replace whole wheat flour with chickpea flour. The high fiber content of chickpea flour calms down your blood sugar level, especially for type 2 diabetic people. Moreover, the starch in chickpea flour provides a steady source of energy, unlike refined carbohydrates.
3. Include it in your diet to lose a few Lbs
Don't be amazed if you find the mention of chickpea flour in a health eccentric's diet? Chickpea flour has been welcomed into diets due to its high fiber content, low-calorie count, and efficiency in turning off hunger signals while dieting.
4. Eases inflammation and boosts immunity
Chickpea flour draws out all the nasty toxins from the digestive tract, contributing to its anti-inflammatory property. The high fiber content and legume family properties further boost the body's immune function, protecting consumers from cancer.
5. Nutrient supplier during pregnancy
The folate content of chickpea flour prevents spinal cord defects during pregnancy. Since it is essential to consume several micronutrients during pregnancy, chickpea flour serves as a potent supplier of minerals and vitamins such as iron, copper, magnesium, manganese, and folate.
Is chickpea flour gluten-free?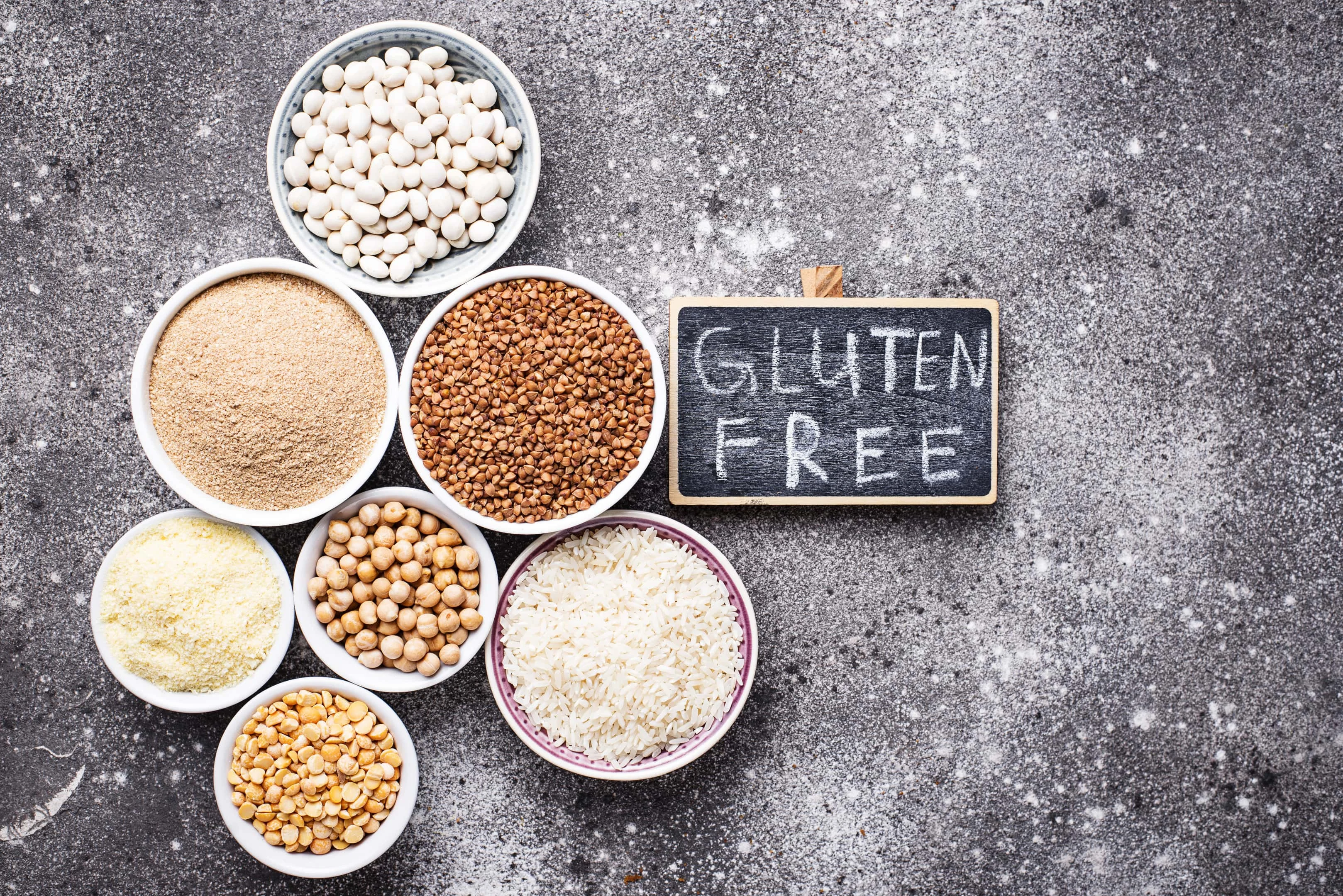 Were you searching for a gluten-free item that can be added to your diet plan? Your search ends here. Chickpea flour is a naturally gluten-free food option that is trending in the health world now. Chickpea flour is a safe pick whether you are gluten-sensitive or seek ways to avoid celiac disease. Gluten-free, chickpea flour can prevent the negative effect of gluten on guts, digestive tracts, and immune responses.
Can chickpea flour be used in baking?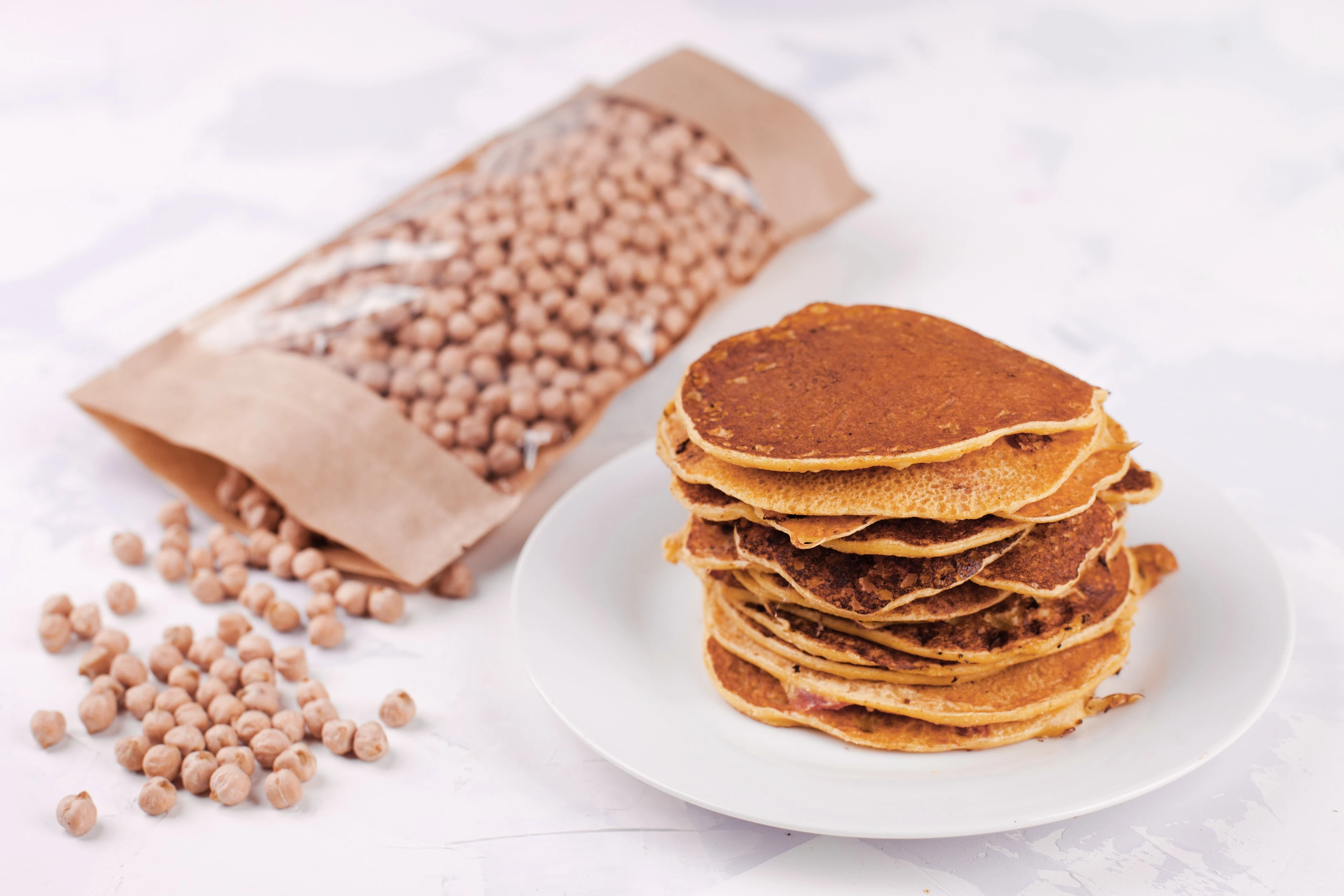 Previously known for hummus, chickpea flour has gained popularity as a baking ingredient, opening a new world of possibilities. The naturally dense flour and the nutty taste of the chickpea flour blend effortlessly into any baking recipe you choose. Have you ever tasted a chickpea flour muffin?
If yes, you would know the tasteful sturdy yet tender texture of a chickpea flour muffin. Its binding property is a savior for those looking for a gluten-free flour that provides great texture. You can easily make bread, muffins, cookies, and many other baked goods using chickpea flour.
Why chickpea flour is good for skin care
Yes, you have not yet completed counting the benefits of chickpea flour. Remember your grandmother insisting you scrub your face with chickpea flour? The chickpea flour has been passed down as a legacy as a skincare product. Here's a quick overview of all the skin benefits offered by this traditional skincare product.
Say bye-bye to acne — If you are a teenager, I bet acne is a nightmare for you. Chickpea flour can be a solution to your big problem. The zinc in chickpea flour can make your acne go away if used regularly.
No more glowing like a disco ball — Chickpea flour is an amazing way to control the sebum that makes your skin shine like a disco ball. Thanks to its awesome absorbent properties! You just need to dedicate yourself to use it at least once a day.
Get the desired glow — This kitchen remedy is an excellent solution to bright skin. You can use chickpea flour with rosewater and honey for more glowing skin.
Exfoliant for dry skin — Chickpea flour or besan is a mild exfoliant that removes dead cells as well as cures dry skin. You can add olive oil to your chickpea flour face pack to lock more moisture into your skin.
Natural way to remove unwanted facial hair — Thanks to its sticky nature, chickpea flour, and honey is a great combination that can help you get rid of all those unwanted hair on your face.
Skin health — Chickpea flour has an alkaline property that helps to maintain a pH balance in your skin to make it healthier.
Chickpea flour skin care packs
I won't be surprised if you were about to search for this very topic after knowing the skin benefits. Here are ideas of a few packs that you can use to get glowing and healthy skin.
De-tanning pack — Mix chickpea flour with 1 teaspoon curd, a pinch of turmeric, and 1 teaspoon of curd and lemon. The vitamin C of lemon juice and moisturizing property of curd contributes to the lightening of tan on your skin.
Natural scrubber — Add 1 teaspoon ground oats, 2 teaspoons cornflour, and an appropriate quantity of milk to your chickpea flour to prepare a natural scrubber. Trust me; you will love the freshness of your skin.
Magical hair remover — Take a bowl and mix chickpea flour with a pinch of turmeric powder, 4 tablespoons aloe vera gel, 1 tablespoon mustard oil. You may also add a few drops of lavender or rosehip oil. Cover every unwanted hair with this paste. Wait till it's completely dry. Now, take a cloth or towel and rub it off in the opposite direction of your hair growth. It can sting a bit. You need to do it religiously thrice a week for the upcoming 4 weeks. Do not forget to moisturize your skin after the process.
Have you ever imagined that chickpea flour could be a part of your skincare regime? It is indeed a cost-effective way to solve all your skin problems.
Wash your hair with chickpea flour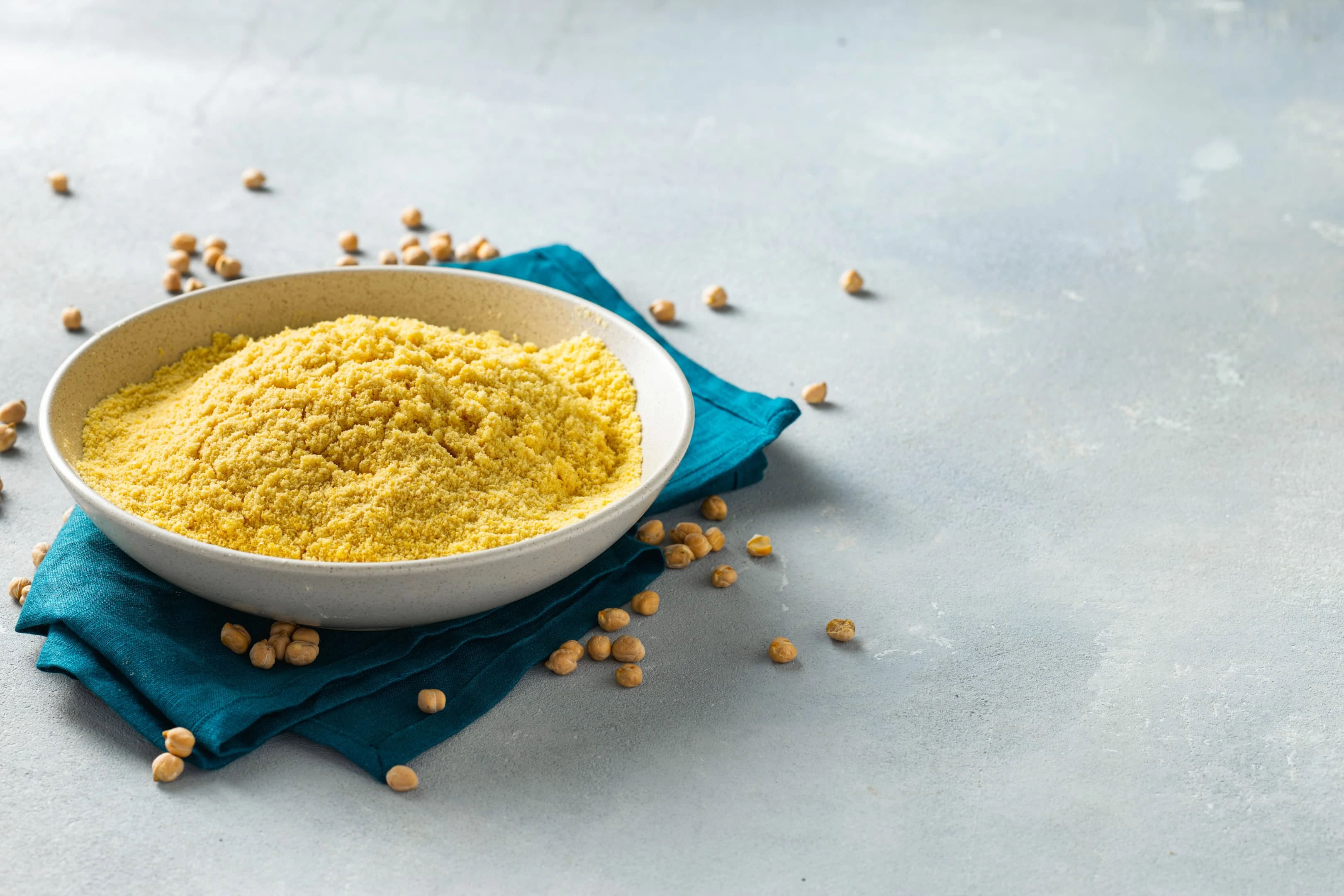 Bored of switching commercially advertised hair cleansers? Why not try the magical ingredient in your kitchen? Yes, you heard it right. Chickpea flour can be used as a hair cleanser to get your hair back to life. Here's how.
You just need chickpea flour and water. Mix them in a 1:3 ratio to prepare a light batter.
Apply the paste all over your scalp. It can become a bit messy. So, do not forget to put a towel on your shoulders.
Leave it for 10-20 minutes. You can relax a bit, read a book, and listen to your favorite music.
Wash off your hair until the water runs clear.
Voila!, You have a clean scalp, which is as good as any nutritional product for hair. However, you may also leave it as it is. You will notice a significant change in your hair after using it religiously for four weeks.
Did you know that chickpea flour is also a hair growth promoter and can effectively fight dandruff?
Is chickpea flour good for weight loss?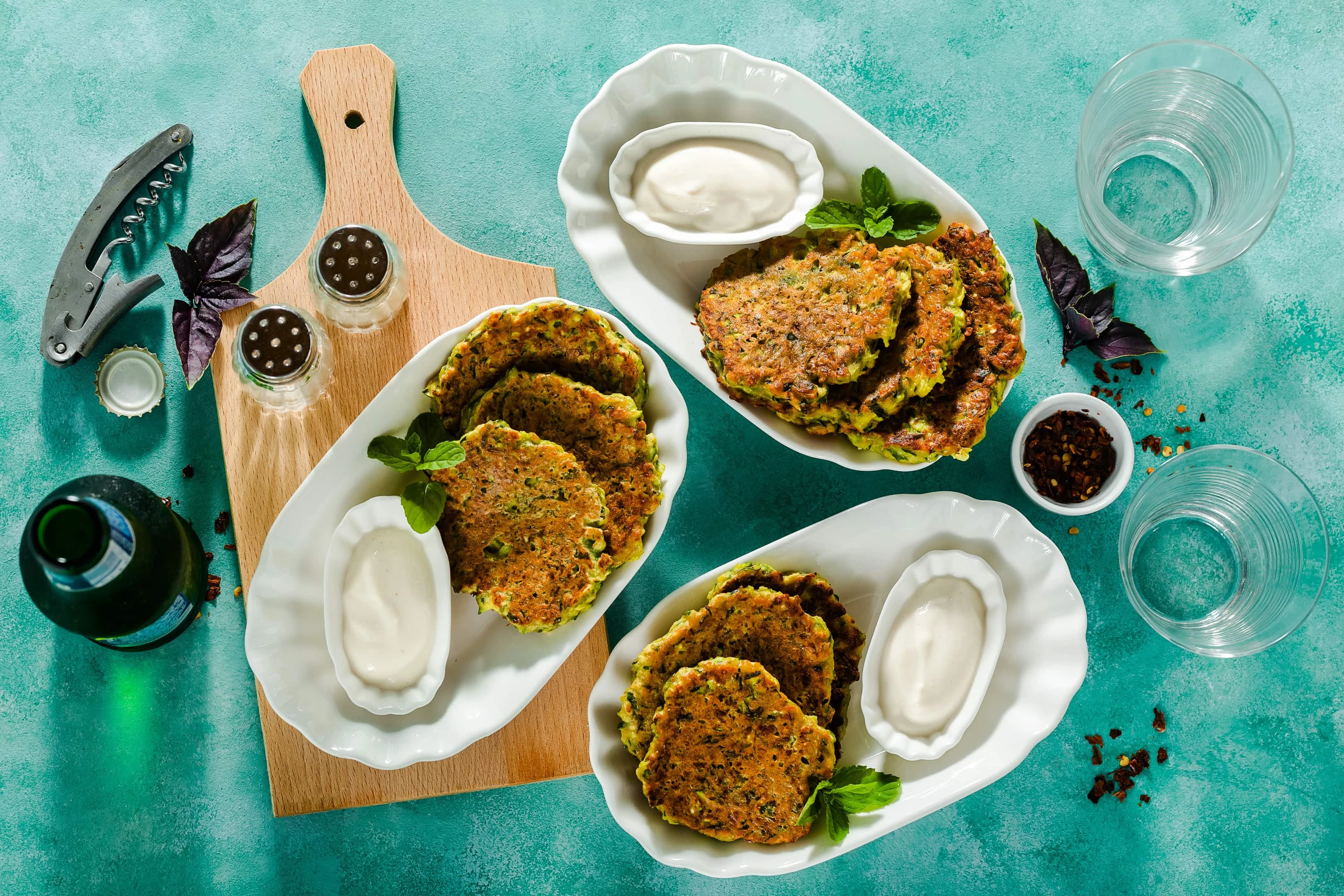 Do you want to lose some extra pounds? Chickpea flour can be your friend in this journey. As per a study conducted in 2010, chickpea flour has helped 42 participants control their appetite and reduce their food consumption over 12 weeks.
Chickpea flour is a nutrient-packed food that can be a part of your regular diet when you are planning to lose a few inches off your waist. The high protein content keeps you fuller for a longer period, thus controlling your appetite. The fiber in chickpea flour saves you from your hunger cravings as well.
Are you thinking about the calorie count? 100 grams of chickpea flour contains only 164 calories. This low-calorie food ingredient even offers you vitamins and minerals that have several health benefits.
Did you know that chickpea flour has calcium levels equal to dairy products like milk and yogurt?
Is chickpea flour keto-friendly?
A keto diet has been adopted by millions of people to achieve their fitness goals. It is primarily the formation of a diet plan that contains low carbohydrate, medium protein, and high fat. Whole grain flours such as wheat, rye, and the like, do not fit well into the keto diet due to their high carbohydrate content.
Chickpea flour is a perfect substitute for whole-grain flour as it has a very low carbohydrate content. Don't be amazed to find a chickpea flour reserve in a health eccentric's fridge!
Chickpea flour recipe ideas
Since chickpeas are a traditional staple of the Middle East, you can enjoy multiple authentic foods from their culture. Have you ever tried 'besan ke laddu' or 'dhokla'?
Here's a list of food recipes that you can make using chickpea flour.
Chickpea biscuits — Yes, you can even make biscuits with chickpea flour to crunch on!
Chickpea brownies — All the credit goes to the neutral flavor of chickpea! You can enjoy brownies made with chickpea flour used as a substitute for white flour.
Besan Chilla — It is the Indian term for savory pancakes. The amazing combination of spices and herbs with chickpea flour makes it a super easy and tasty recipe for breakfast.
Chickpea flatbread — Just mix chickpea flour and water! You can make tasty flatbreads with these two ingredients.
Chickpea cake and muffins — Thanks to the unique texture of chickpea flour, you can easily make soft and spongy chickpea cakes and muffins.
Chickpea bread — Thinking what would be the substitute for your daily white or brown bread? Make your own chickpea bread at home.
Besan Sheera — It is an Indian sweet dish. An excellent choice for a sweet tooth. This delicious sweet dish can complete your meal without adding many calories.
If we look into Indian dishes made with chickpea flour, it would be really hard to end the list. There are more than a thousand delicious dishes made from chickpea flour in the Indian culture alone.
Chickpea flour vs cornflour
Cornflour is commonly used as a thickener in sauces, soups, and gravies. Cornflour is made from dried corn and contains starch that thickens any curry, sauce, and soups.
However, chickpea flour serves as a gluten-free substitute for corn flour that has multiple benefits. Chickpea flour prevents curdling of curries, especially yogurt-based ones. The quantity of chickpea flour as a thickener is the same as that of cornflour.
Chickpea flour vs wheat flour
Wheat flour is a staple that has been adopted worldwide; while chickpea flour is a new member in the list of Western world staples. There are several comparison points between chickpea flour and wheat flour.
Wheat flour is made from grains (whole wheat), while chickpea flour is made from chickpeas that belong to the legume family.
Wheat flour is highly refined. Therefore, the processing gets rid of wheat's natural nutrients. Even though processed wheat flour is fortified with vitamins and minerals, it cannot compete with the nutritional value of chickpea flour.
Wheat flour contains a significant amount of gluten, while chickpea flour is its gluten-free substitute. Consequently, chickpea flour is a popular choice among those who have celiac disease or intolerant to gluten.
Owing to the presence of gluten, wheat flour serves as a great binding agent in food items. On the other hand, chickpea flour is a better binding agent than all other gluten-free flour substitutes, providing a chewy and soft texture when baked.
The chickpea flour vs wheat flour section throws light on every important detail so that you can choose the suitable option for yourself.
Does chickpea flour cause gas?
Yes, this smelly fact is weird but true. Chickpea flour can cause gas that can result in some embarrassing moments in your life. Let us look into the biological factors responsible for this.
The chickpea flour is primarily made of oligosaccharides that are hard to digest. The large units of chickpea flour do not get easily absorbed into the small intestine. Therefore, the undigested particles are passed on to the large intestine. The guts try to break it down through fermentation. During this process, hydrogen and smelling methane gas are produced that make you pass gas.
Another reason for this smelly affair is the fact that humans lack enzymes to digest oligosaccharides completely. So, the consumption of chickpea flour can make you pass gas sooner or later.
Conclusion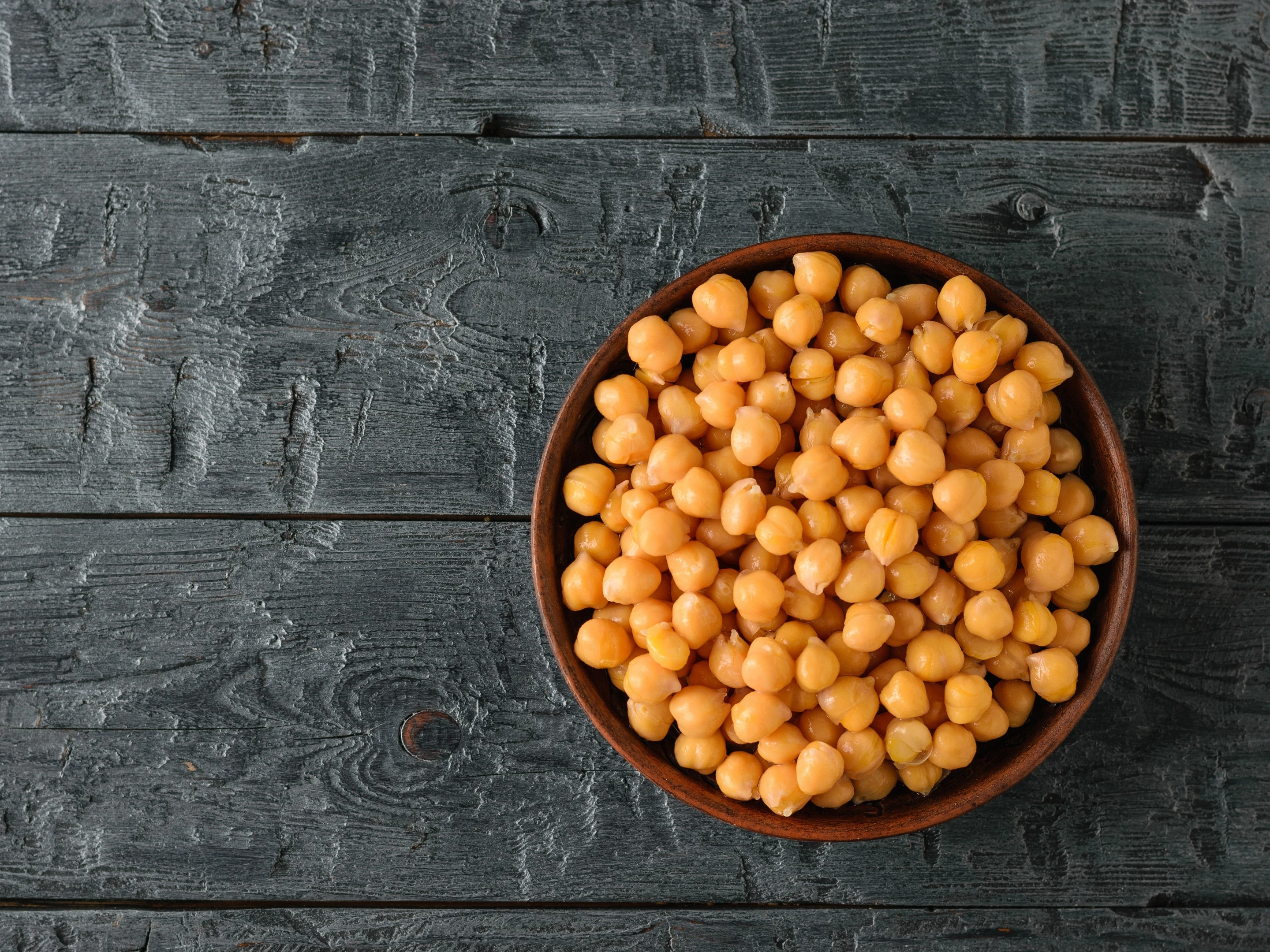 Chickpea flour can also be called the 'Power Flour', due to its truckload of health benefits. Packed with essential nutrients, chickpea flour has successfully been substituted for wheat, rye, corn, and other flours. Most health-conscious people prefer chickpea flour in their diet. Moreover, chickpea flour fits perfectly into the keto diet due to its high protein and low carbohydrate properties. It is a perfect companion to keep weight loss plans on track.
The nutrients such as folate, zinc, phosphorus, magnesium, manganese, etc. in chickpea flour make it a viable alternative to eggs and milk. Therefore, it is an excellent pick of plant protein for vegans. Owing to the absence of gluten, chickpea flour has made its reputation among the gluten-free community.
Apart from its consumption, chickpea flour is an amazing product for skin and hair care that has been passed on through the centuries. However, the delicacies made using chickpea flour can surely win your heart. From savory to sweet, chickpea flour has them all covered.