The most annoying phrase our parents said that we heard as a child was "eat your greens." We have always disliked the thought of veggies touching our taste buds, but they are not that bad. In fact, vegetables are the best things since sliced bread. They provide a lot of nutrients, too!
Broccolini is not the tiny tree wannabe you imagine with a few letters attached at the end. It is a hybrid between ordinary broccoli and Chinese broccoli, otherwise known as gai lan. Due to its rising demand in the market, health enthusiasts are hyped to see people consume these.
It's not just about the exotic appearance that this vegetable brings to the table, but it also contains a ton of nourishment that we will get to later. You won't ever have to feel uneasy hearing about vegetables once we discussed the health benefits of broccolini!
Jump to:
What is broccolini?
It is no wonder that broccolinis are the slender sibling of broccoli, with a massive resemblance of the green hue, less chunky florets, and long stems.
Also known as baby broccoli, they are harvested as fully mature. Its length barely exceeds six inches long. As mentioned, broccolini features a small cluster of florets or tiny leaves, unlike its well-known counterpart, the broccoli.
Broccolini belongs to the family and species of Brassica oleracea. Since it is a hybrid, it also belongs to the cultivar group of alboglabra. Also known as "Gai lan or Chinese kale", Chinese broccoli is crossbred with the common household vegetable, the broccoli.
You might think the taste is similar to broccoli, but its stellar sweetness hits your tongue with a hint of delicate and peppery aftertaste.
8 amazing benefits of broccolinis
1. Regulates blood pressure
Hypertension targets the older population and develops over time. If not caused by genetic problems, it is often because of unhealthy lifestyle options.
Choose a diet plan with broccolinis in it! They are rich in magnesium and calcium, which regulate your blood pressure.
Calcium does not necessarily lower blood pressure, but it does promote a healthy systolic reading. Low calcium intake means a higher chance of having hypertension.
Magnesium is just as essential, as it increases nitric oxide production. This helps to relax blood vessels when needed. Greens are reported to have a dietary allowance of magnesium taurate — the good type of magnesium.
2. Maintains good eyesight
Did you know that color vision declines when you get older? Pair it with the experience of worsening eyesight, and you've got a problem that will gradually worsen if not taken care of.
It is good to know that broccolini is packed with vitamin A, which is good for vision. In addition, it also helps in other physiological processes such as metabolism, the immune system, and repairing soft tissues under your skin.
Preserve your eyesight as slews of eye-degenerative diseases lurk. Vitamin A deficiency has underlying issues such as nyctalopia.
Nyctalopia is known as night blindness. Another disease you should look out for is AMD or age-related macular degeneration. AMD is the culprit for blindness across the globe.
3. Contains antioxidants
Since broccolini is loaded with antioxidants, say farewell to sneaky oxidative damage in your organs. Antioxidants help neutralize free radicals. Free radicals are molecules in your body that contain oxygen but have an odd number of electrons.
Antioxidants can provide electrons to free radicals without going unsettled. Fun fact — antioxidant elements in fruits and vegetables work better than antioxidant supplements.
Lutein and zeaxanthin are potent antioxidants that can be found in broccolini. Adequate amounts of one cup can give you the exact dose you need for fighting molecular imbalance. Note that free radicals could result in arthritis, accelerated aging process, cancer, and even inflammation in the brain.
4. Strengthens the immune system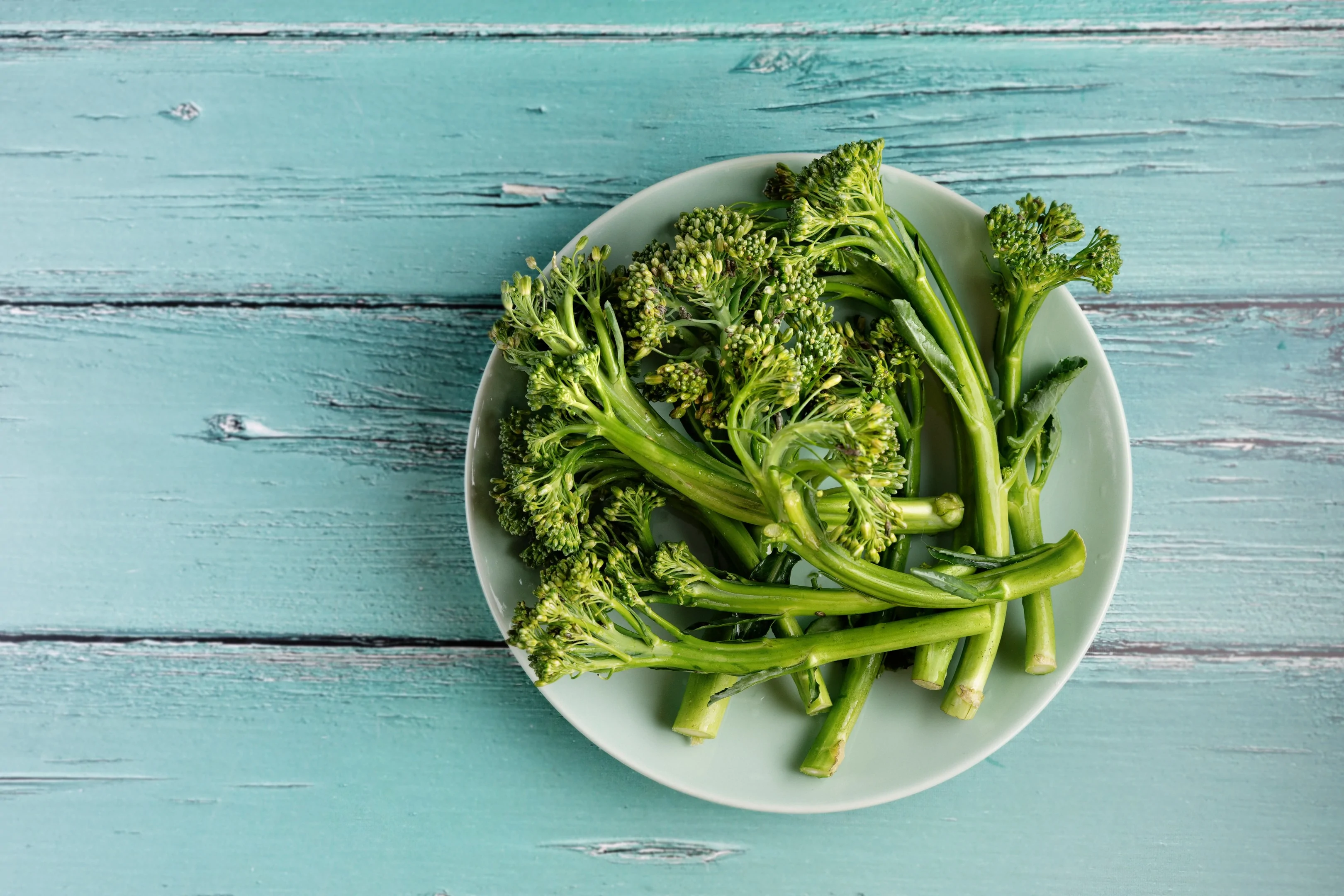 Vitamin A, check. Magnesium and calcium, check. Now, who wants a boost in their immune system? The broccoli and gai lan hybrid offers more than just the vibrant green color.
Your immune system works like security personnel against diseases, allergies, and common colds. Your body produces thousands of white blood cells per liter of blood. However, your body does not produce vitamins, so green vegetables and leafy ones give naturally occurring nutrients that can help build tissues and repair organ decline.
5. Has huge amounts of vitamin C
Vitamin C has the largest percentage (220%) of any single vitamin or mineral in a single broccolini serving. This means that you are getting more ascorbic acid than any other green vegetable.
Vitamin C is a water-soluble vitamin that assists your body in absorbing iron. Vitamin C is universally known to treat common colds. This powerful defense source is overall a good sign of a healthy person when having high doses of vitamin C. They can battle against the spread of airborne viruses, harmful bacteria, and the prevention of cardiovascular diseases.
6. Is good for the gut
There's nothing more upsetting than an upset stomach. You will need more than just water to wash down toxins.
Well, dietary fibers are in broccolini as well. These fibers travel all the way down from your mouth to your colon. They act as a prebiotic for the gut, so a better bacteria feast is on its way.
The kind of dietary fiber this mighty veggie has is the insoluble fiber type. This promotes material movement in good shape, which prevents constipation and loose bowel movement. Beans, legumes, whole wheat food, and nuts are other sources of fiber.
7. Reduces probable cancer percentage
Contrary to public belief, cancer is not only limited to heredity. In fact, cancer cells are in your body as of this very moment. You are what you eat, as the quote says. It is accurate as many carcinogens in unhealthy food are present.
Your parents were also right to educate you that you should eat the veggies on your plate. Broccolini's nutritional value assists your BRCA1 and BRCA2 genes to prevent certain cancers. These genes combat DNA mutations that later become fatal when stage 1 cancer has already begun. Bet you did not expect this as one of the health benefits of broccolini.
8. Has more protein than rice
Unlike rice, broccolini can offer 33% more protein with fewer calories. As part of the cruciferous vegetables, they also have a higher chance of combatting obese-related diseases.
Bodies cannot store their own protein. Instead, they are broken down into smaller amounts of amino acids. It's a known debate between meat lovers and vegans whether animal protein is better or the same as plant protein. Experts say that those with a vegetarian diet composed of greens have lower cholesterol levels than those who consume meat.
Healthier skin with broccolini
You don't have to stuff your face with heavy doses of collagen pills to have radiant, healthy-looking skin. Vitamin A is not only famous for its eyesight maintaining capabilities, but it also has a good impact on the largest organ of your body — the skin.
Another nutritive value of broccolini is the beta carotene responsible for skin health and reduced cognitive decline. Since it was discovered in 1907, beta carotene has been a hot topic ever since. Fortunately, studies have proved that this carotenoid offers a lot of advantages.
Nutritional value from broccolini
Here we are down to the more distinct amounts of nutritional facts about broccolini. These are the ones you see at the back of your milk carton. It tells you how many grams of specific vitamins the product has or how many calories it can give you.
Our base serving will be 122 grams. The biggest contender for the highest amount of vitamin value is vitamin C, with 105%.
On the other note, vitamin A is estimated at around 39%. Calcium and Iron are about 5.8% and 4.3%, respectively. Also, protein is 2.4 grams per serving.
There is no doubt that dietitians opt for broccoli species such as broccolini since they are low in kilojoules and rich in nutrients. This helps with obesity and lowers the risk of having type 2 diabetes.
How to cook broccolinis properly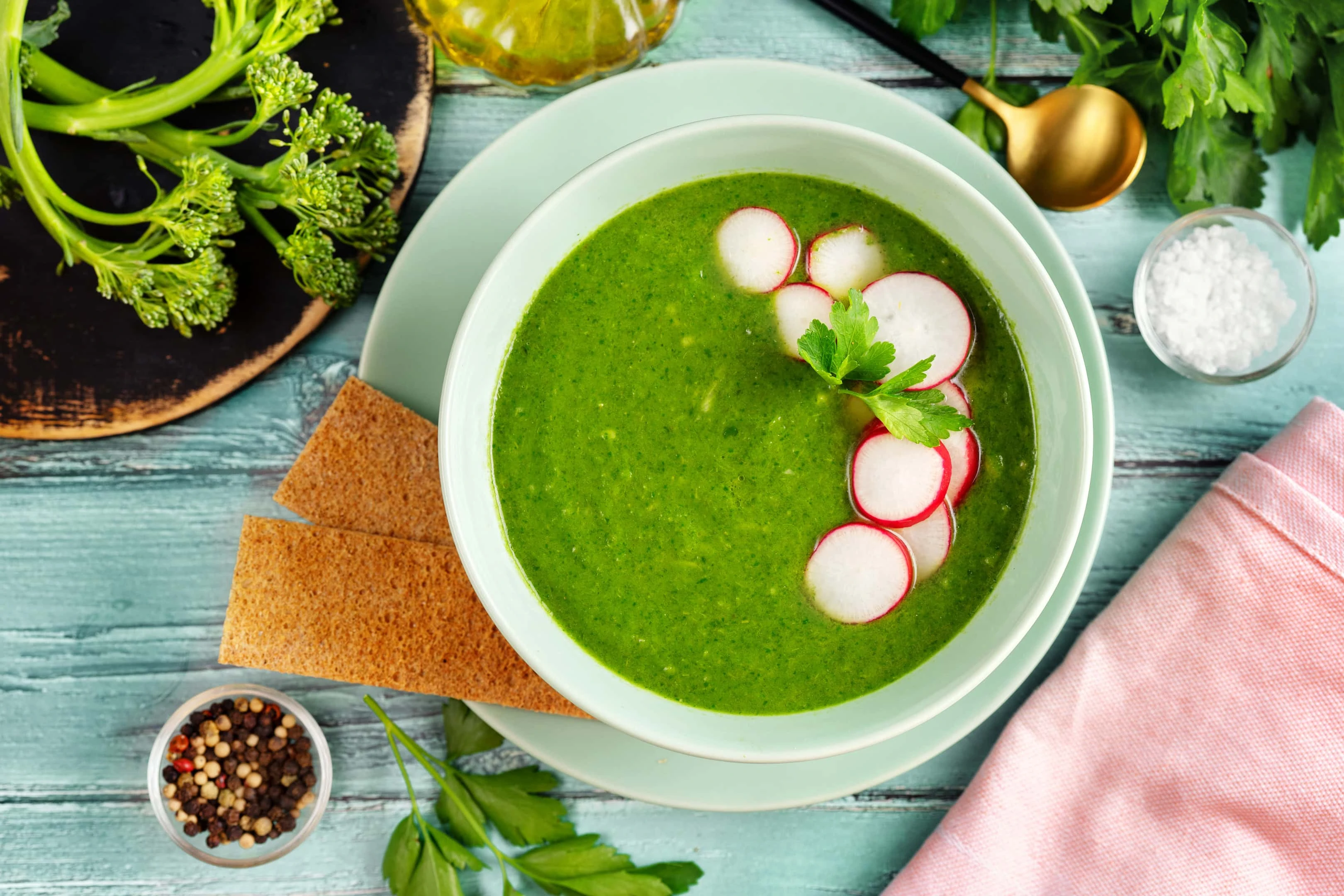 Eating your broccolini raw is the best way to consume it. You can even eat the stalks, the florets, and the side leaves. Sounds like you can eat most of its parts.
Do not use animal fats as unhealthy saturated fats since they can get clogged in your arteries, increasing the risk of cardiovascular diseases.
Instead of sprinkling monosodium glutamate into the meal, opt for natural seasonings such as salt, pepper, garlic, and onion. This will liven up the mildly sweet flavor of the broccoli cousin.
Diet technicians also recommend just steaming your broccolini. They just take about 2-3 minutes in that heat, and voila, it is ready to eat.
Health risks of broccolini overfeed
Perhaps you have been craving greens for the day, and you have accidentally consumed more than the regular food intake you should get. Well, it might provide risks rather than sustenance. Some medical journals confirmed that lethal doses of broccolini can give your stomach constipation and harsh bowel movement.
Scientists in Ohio say that people under blood-thinning medications should bat an eye for their broccoli, broccoli rabe, or broccolini intake. Vitamin K overdose can mess with the aforementioned medication.
Conclusion
When we say broccolini is packed with nutrients, we mean it! Although this human-engineered vegetable is relatively new to most audiences, it is indeed a powerhouse of nutrients if you ask us. Mann Packing Company did a great job cultivating this green veggie to put more colors on your plate.
Dietitians also have their favorites, and you guessed it, the health benefits of broccolini take the spotlight. From bok Choy to cabbages, broccolini is second to none.